In Focus: Delaware Park closing day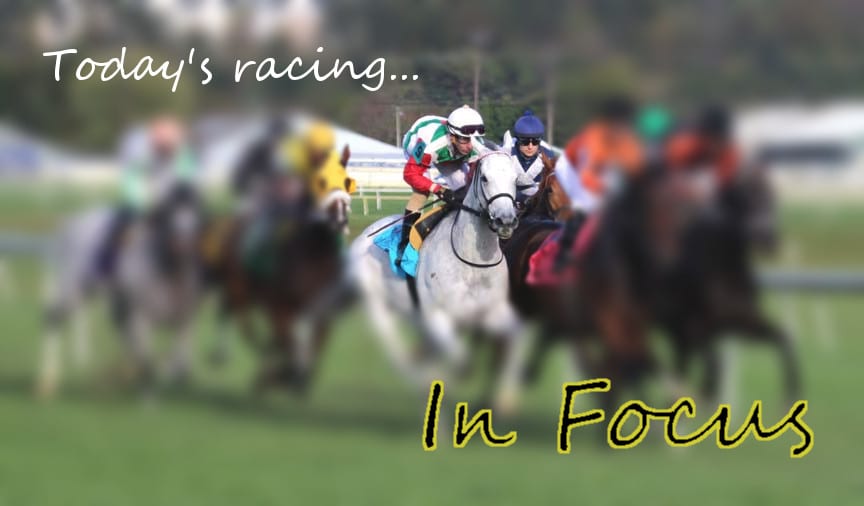 The 2019 Delaware Park race meet reaches its conclusion with today's closing day card. It's a 10-race card with plenty of interesting betting races.
Here, our John Piassek provides full-card picks and analysis. And don't forget to play in our FREE handicapping contest!
RACE 1: CLAIMING $4,000, 3YO AND UP, FILLIES AND MARES, 6 FURLONGS
#2 Rockin Ruth (2-1): Won three straight at Laurel Park over the winter. She hasn't raced since June at Suffolk Downs, but looks superior enough to this field that the layoff shouldn't bother her.
#3 Patty Mac's Girl: Ran a dull race at Parx two starts back; outside of that, has been in great form. She's been wide in her last two races, and has lost ground after stalking the pace both times. Is drawn a little further to the inside than usual this time, so hopefully she'll get a better trip.
#1 Ms Picadilly: Showed speed and held on to finish third against similar last out. She should get pace pressure again, but looks to at least hold on for the minors.
RACE 2: CLAIMING $6,250 (N/W2L), 3YO AND UP, FILLIES AND MARES, 5 ½ FURLONGS
#4 Come on Callie (7-2): Showed good form as a 2-year-old, including a win over this track first time out. Didn't do much in her first race off the layoff, but should bounce back with a race under her belt. Angel Suarez, one of the leading jockeys here, jumps aboard.
#7 Sheza Handfull: Took a big lead in the late stages last out, but stopped cold in Laurel's long stretch. Comes to Delaware for the first time, and with a better-timed move and a shorter stretch, should perform better.
#9 American Glory: She's been second three times in a row at the level, going off as the favorite each time. Look for her to show speed from the outside post, then hold on for a placing.
RACE 3: MAIDEN SPECIAL WEIGHT, 2YO, 7 ½ FURLONGS (GRASS)
#3 Oceans Map (3-1): He's been competitive against better at Monmouth Park, and hung in well after showing speed last out. Jeremy Rose, who has had an excellent meet, jumps aboard.
#4 Spooky Island: Closed very well in his debut, over dirt. A switch to the lawn may be beneficial for his running style.
#7 Eastern Ocean: Has been working out well, and trainer Keith Nations is a respectable 20% with grass runners in recent times.
RACE 4: CLAIMING $25,000 (N/W2L), 3YO AND UP, 5 ½ FURLONGS
#5 Under a Spell (3-2): Last year, he returned off a long layoff in an easy spot at this track, and crushed. Now, he's making his second start off a long layoff, coming off a comeback at Belmont Park where he approached his career-best speed figure. As long as he shows up in any capacity, he's going to win easily.
#2 Padrino's Heart: Finished an even second against similar two starts back, but didn't show much closing kick in that race. Still, outside of the top pick, it's not a great field, so he should be good enough to get a piece.
#4 San Marco: Ran a lifetime best figure with a wide move at Laurel Park last out. Has shown speed in the past, but didn't have much of it last out. It'll be interesting to see what he does here.
RACE 5: MAIDEN CLAIMING $5,000, 3YO AND UP, FILLIES AND MARES, 6 FURLONGS
#7 Beachtreasuregirl (2-1): She's been steadily improving in her three races this year, and is the only member of the field to show consistently good form (relatively speaking).
#2 Bally Squall: Finished a good second against these types three starts back, before getting buried by better at Parx in her last two. Should find things easier in this one.
#1 Driver's License: Another one who's been showing improvement all year. Look for her to show some mild kick in the stretch.
RACE 6: MAIDEN CLAIMING $40,000, 2YO, 5 ½ FURLONGS
#6 Palvera (4-1): Chased a loose leader who snuck away from the field in his dirt debut, bull still ran a solid second with a big figure. Hopefully, he won't be as pace-compromised this time.
#2 Cpl. Dionicio: Had a terrible break in his debut, rushed up, and flattened out. Now gets lasix for the first time. If he can get a clean start, I expect big things.
#5 Garnett: $20,000 yearling purchase debuts for Kathleen O'Connor, who hits at 21% when debuting horses for a tag.
RACE 7: CLAIMING $12,500, 3YO AND UP, 1 MILE
#6 Tuff Duff (5-2): Raced wide throughout against similar last out, and flattened out. He's drawn wide once again, but hopefully will be able to save more ground. If nothing else, he's got the most consistent form in the race, including two wins in a row earlier in the season.
#2 Expect Drama: The pace scenario plays right into his hands. If he's allowed to set slow fractions while loose on the lead, he could be gone.
#3 Maynooth: Very rarely misses the board against dirt horses, but also doesn't have any early speed. Should slog along and hit the board again.
RACE 8: ALLOWANCE (N/W1X), 3YO AND UP, FILLIES AND MARES, 1 MILE (GRASS)
#9 Don't Charge It (6-1): Coasted to an easy win on the lead in his last race. There's a good chance he gets a similar trip in this race.
#12 Blue Atlas: Held on well in his last race, finishing second after opening up to a big early lead. Defeated a similar field four races back at Pimlico.
#1 Ever Changing: New York invader gets lots of class relief and Nik Juarez hops aboard.
RACE 9: MAIDEN CLAIMING $25,000, 2YO, FILLIES, 5 ½ FURLONGS
#2 Foxy's Edge (5-2): Outlasted her rival in a speed duel in her last dirt race, but was nailed on the wire. Drops back in for a tag after a less-than-stellar try against straight maidens on grass.
#1 Signing Bonus: Showed promise going short on debut, but was no factor when going long last out. The cutback in distance should help.
#7 Revolving Love: Speedy gelding runs second off the claim for Scott Lake, and should at least hang around for the trifecta or superfecta.
RACE 10, CLAIMING $6,250 (N/W3L), 3YO AND UP, 6 FURLONGS
#5 Stormy Forecast (5-2): Narrowly missed at Monmouth Park last out after a good stretch battle. The primary concern is his inability to get over the hump at this level, but his recent form has been consistent enough to be optimistic.
#6 Camp Counselor: Turned in a good account of himself in his first try at the level, finishing second by a neck after setting a loose lead. This time, he'll try to finish the job.
#7 Unclenedwhodrank: He's another who has put in decent accounts of himself, in limited tries at this level. Should stalk and pounce.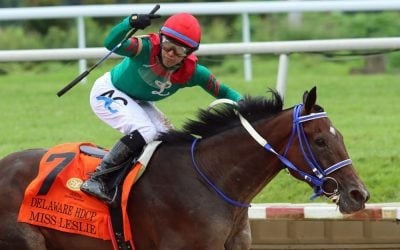 Racing returns to Delaware Park May 24, and we return with Delaware Park picks and analysis for the track's 86th racing season.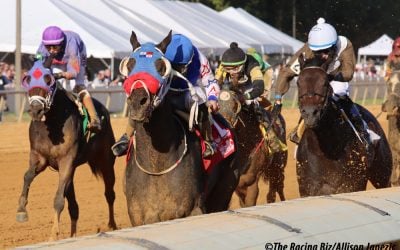 We provide full-card picks and analysis for this afternoon's races at Laurel Park.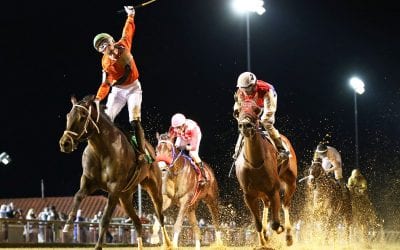 Full-card picks and analysis for this evening's live racing card from Charles Town Races!