In Focus: Wagering Delaware Park Owners Day 2019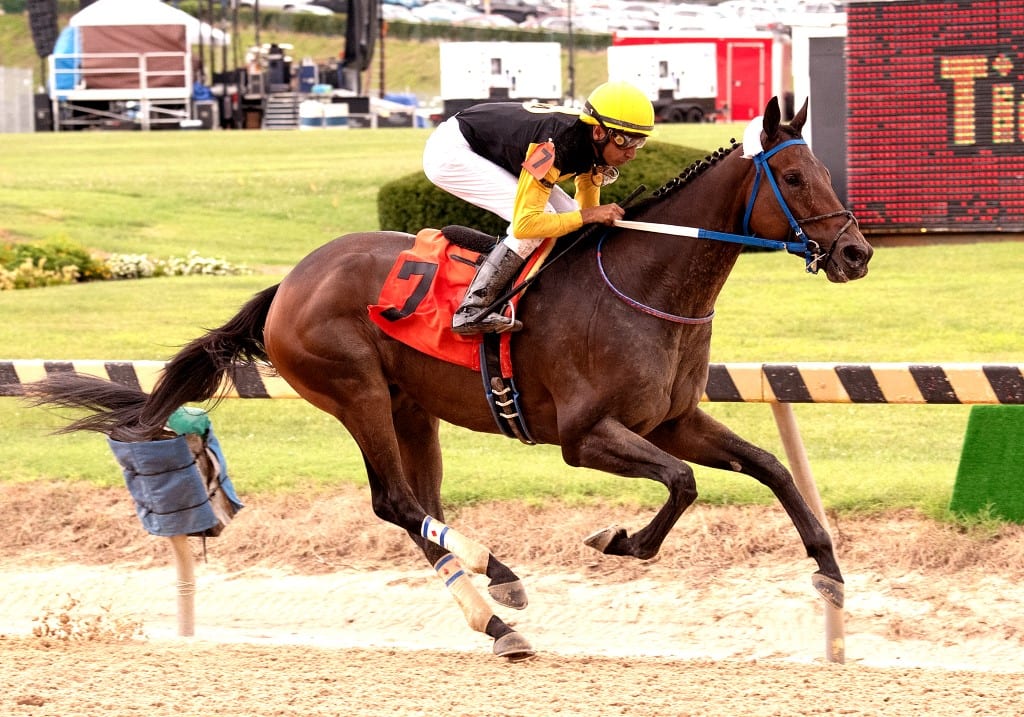 Clubman was much the best in the Maryland Coalition Stakes. Photo by Jim McCue..
Our In Focus Guide offers the most in-depth analysis and commentary to the six stakes on Delaware Park Owners' Day 2019!
Also: don't forget to play in our FREE handicapping contest featuring Delaware Park and the MATCH Series races from Monmouth! You can enter here.
RACE 4 – DTHA GOVERNORS DAY H.
RACE PARTICULARS: Race 4 (2;45 pm EDT), $75,000 guaranteed purse for three-year-olds and up which have started at Delaware Park in 2019, 1 mile 70 yards
THE FIELD
Cordmaker (6-5): Impressive closer was beaten just a half-length in the Pimlico Special, and has won two stakes races on the year. The expected pace scenario might not work in his favor.
Tybalt (5-1): A three-year-old facing his elders, he just barely got up to win in a prolonged stretch duel last out. Now jumps in company, and will have to show more of a closing punch to have a chance.
Flowers for Lisa (8-5): Hard-knocking gelding is the only one in the race who is certain to show early speed. He could end up with a very advantageous trip. Clearly the one to beat.
Positivist (10-1): His grass form has been decent, but his three races on dirt, which were early in his career, were not impressive. May give Flowers for Lisa a challenge on the early lead, but that is about it.
Clubman (8-1): Won the Maryland Coalition Stakes going away last out, and won the Russell Road Stakes earlier in the year at Charles Town. Clearly, he's been impressive in two-turn sprints, but going a mile, he's not as sharp. Can he last?
THE PICKS
#3 Flowers for Lisa: They'll have to run him down
#1 Cordmaker: Always turns in good effort
#2 Tybalt: Will have to step forward tackling elders here
In the paddock at Delaware Park. Photo by The Racing Biz.

Race 5 — SMALL WONDER S.
RACE PARTICULARS: Race 5 (3:15 pm EDT), $100,000 guaranteed purse for 2-year-old fillies that are Delaware-certified, 5 1/2 furlongs
THE FIELD
Broad Storm (6-1): Beat a weak maiden claiming field on debut, in a race where she was not well-supported. Not sure what to make of that.

One Slick Chick (4-1): Went from the Gonzalez barn to the Ness brigade, and didn't skip a beat. She broke her maiden in style last out, with a great stalking trip. Has improved in all three of her races up to this point, but returns off just a seven-day layoff. Still, the career-best form cannot be ignored.

Hufflepuff (3-1): Makes her first start since an open-length over maiden claimers in July. Workouts since then have not been overly impressive.

Mismeyet (12-1): Hasn't been a factor against Jersey-bred maidens in two starts. Don't see why this would go any better.

Shatter Me (6-1): Survived a tough speed duel last out, and drew off to victory with a career-best speed figure. Looks to be the primary early speed of the field.

Steady Love (12-1): Rallied wide and got clear in the last eighth last out. Should put in a good rally from behind.

Pink Caddy (2-1): She absolutely destroyed a maiden field at Monmouth Park two starts back, then struggled over the grass in the Colleen Stakes. Now gets back to her preferred surface, and should whip this field if she's in top form.
THE PICKS
#7 Pink Caddy: Return to preferred surface should get her back to winning ways
#2 One Slick Chick: Improving with every race, wheels back on short rest
#6 Steady Love: Improved effort to score in last, will be running on late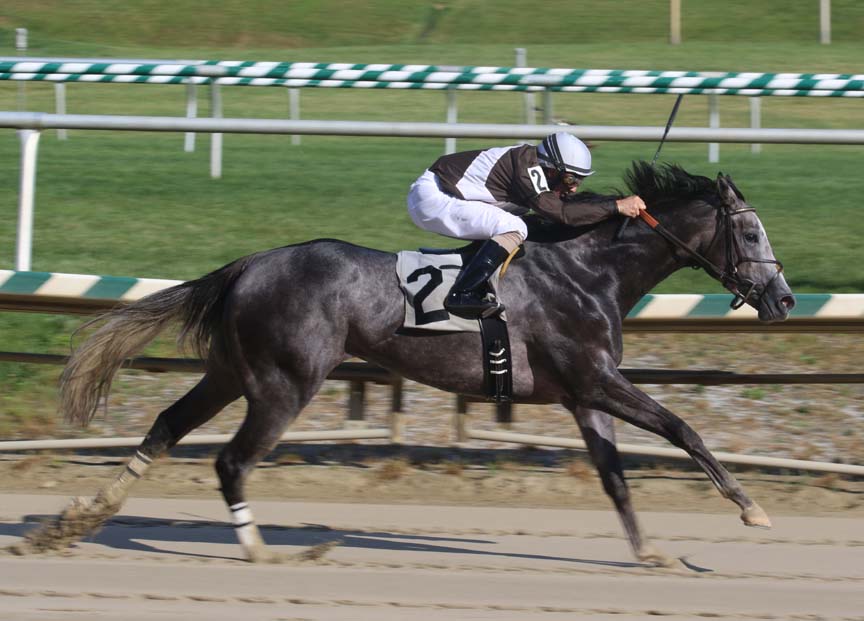 Shimmering Aspen took the 2017 Alma North Stakes. Photo by Laurie Asseo.

Race 6 — TAX FREE SHOPPING DISTAFF S.
RACE PARTICULARS: Race 6 (3:45 pm EDT), $100,000 guaranteed purse for fillies and mares 3-years-old and up that are Delaware-certified, 6 furlongs
THE FIELD
Had the Notion (8-1): Lightly-raced filly chased the leader last out, holding on for second. She hasn't yet taken the big step forward needed to win this race.
Queen Nekia (5-2): She's been dominant around two turns, having won three out of her last five, with dominant speed figures. I don't know how she'll fare cutting back to one turn, but she must be respected all the same.
Buff's in Love (10-1): Showed speed then stopped badly in her last race. She was claimed out of that race by Rodolfo Sanchez-Solomon, who hits at 26% with that angle.
Sarah's Treasure (8-1): Tends to press and fade, and has not recovered her good form from early in the year.
Shimmering Aspen (8-5): Like Queen Nekia, she's coming in here in top form, and with great figures, but has plenty of recent sprinting experience. She was outkicked by Anna's Bandit last out, but doesn't have to face a rival of that quality here. Was a clear-cut second to Late Night Pow Wow two starts back, as well.
Odd Gal (12-1): Broke her maiden easily last out, drawing off to win by nine lengths. Of course, it was in a slow time, and against easier competition then she'll see here.
Fillupcohensapiker (4-1): She's been running competitive figures this year, but has been finishing third and fourth against similar rivals. Could suck up for a piece here.
THE PICKS
#5 Shimmering Aspen: Defending champ looks for repeat
#2 Queen Nekia: Formful, but is sprinting her best game?
#7 Fillupcohensapiker: DEL lover live for a piece
Defending champ Winplaceorshowono. Photo by The Racing Biz.
Race 7 — NEW CASTLE STAKES
RACE PARTICULARS: Race 7 (4:15 pm EDT), $100,000 guaranteed purse for 3-year-olds and up that are Delaware-certified, 6 furlongs
THE FIELD
Call Paul (7-5): He scratched out of the Vosburgh Stakes at Belmont Park to try his luck here. He was an easy winner of the Danzig Stakes at Penn National three starts back, then was outclassed in two stakes tries at Saratoga. He's run plenty of fast races, but it's fair to wonder how he'll handle older horses for the first time.
Threes Over Deuces (9-5): He's finished in the top two in his last six races, with his last race probably the most impressive out of that bunch. Has a good stalking style that makes him dangerous if the pace collapses.
Tappin Cat (8-1): Star De Naskra Stakes runner-up hasn't yet run a brisnet figure above 90, something that his rivals can do with ease. Needs to take a step forward to contend.
Winplaceorshowono (8-1): Both his races this year were unimpressive, and he hasn't shown the form that catapulted him to back-to-back wins in this race. Maybe he'll find himself third off the layoff, but I wouldn't bet on it.
Bronx Sandman (3-1): Raced wide all the way last out, and still closed some decent ground. The lone sprint in his running line was his worst race, so he might want longer distances.
THE PICKS

#1 Call Paul: Looks to be too much for these
#2 Threes Over Deuces: Formful type hopes for stalk-and-pounce trip
#5 Bronx Sandman: Distance may be too short; was hung out wide last time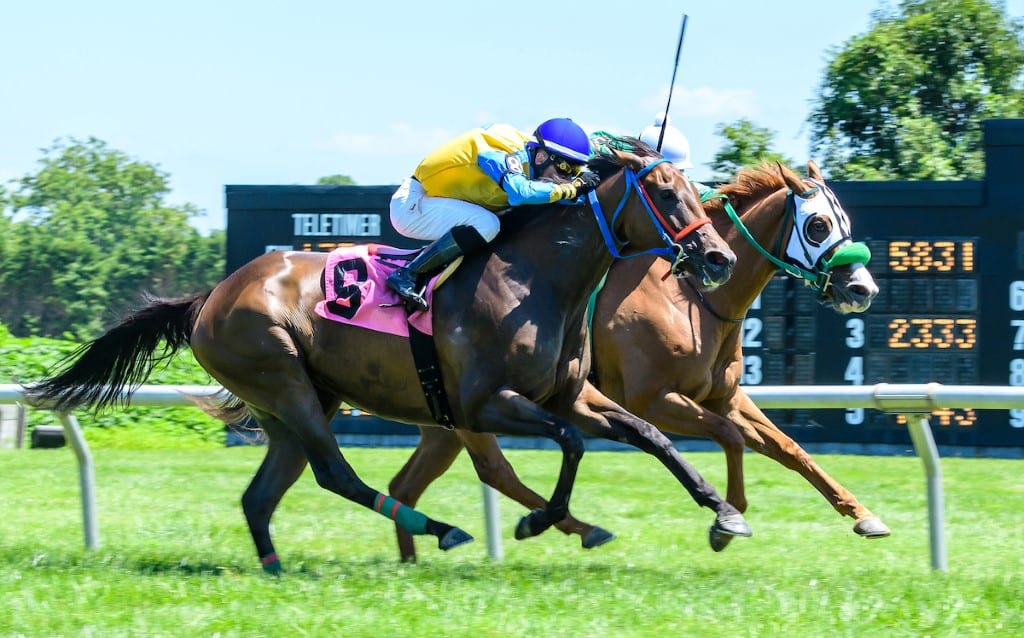 Shifra Magician (inside, green shadow roll) won a race at Delaware Park. Photo by HoofprintsInc.com.
Race 8 — GEORGE ROSENBERGER MEMORIAL S.
RACE PARTICULARS: Race 8 (4:45 pm EDT), $100,000 guaranteed purse for fillies and mares 3 years-old and up, 1 1/16 miles on the turf
THE FIELD
Steelin Magnolias (12-1): Speedy mare was in over her head in the Robert Dick Memorial two back,but scored an impressive win against starter allowance horses last out. She'll be a factor on the early pace; I just don't know how long she'll hang around for.
Raining Lemons (5-1): Flattened out in her last two races against similar horses, but was caught behind very slow paces each tirme. For her sake, hopefully the pace will be more honest here.
Pamina (5-2): Had a rough trip but still rallied for fourth last out at Woodbine. Ran big in her first start off a long layoff three back. Will be tough if she can avoid traffic.
Purrageous Dyna (12-1): She's fallen in flat in most of her starts this year, and lost to two of her rivals here in her last three races.
Monkey Mind (6-1): Another front-runner, she's won three races in a row when on or near the pace. She's facing better company than she's seen recently, but if Raul Mena can get her on a loose lead, she could steal away.
Broken English (20-1): Needs to improve sharply to even be considered a threat.
Tightly Twisted (10-1): Has been showing speed and fading against allowance company all year long. In a race loaded with quality speed, that's not good news.
Shifra Magician (12-1): A winner in three of her last four races, she is a deep closer who does well when she gets a pace to run at. As noted, there's tons of front-runners in this field, so she will be heard from late.
Play Me a Memory (10-1): Yet another horse expected to show early speed, she rated off the pace in her last grass start, and didn't fire. Raced well on dirt last out, but this is obviously a different ballgame.
I'm Listening (10-1): She's won three of her last four, getting perfect trips stalking the pace each time. Her usual jockey at Monmouth Park, Paco Lopez, will not be making the trip down, but she gets the next best thing in Carol Cedeno. Look for her to rate and pounce.
Queen Nekia: Main track only
Alydarius (20-1): Outclassed against allowance horses both here and at Colonial Downs, and I don't see why she would fare any better here.
THE PICKS

#8 Shifra Magician: Upset special as formful runner should get lively pace to close into
#3 Pamina: G3 winner owns class edge, major player with clean trip
#2 Raining Lemons: Hoping for more honest pace to showcase late run to best effect
Race 9– FIRST STATE DASH S.
RACE PARTICULARS: Race 9 (5:15 pm EDT), $100,000 guaranteed purse Delaware-certified 2-year-olds, 5 1/2 furlongs
Heckler's Veto (10-1): Broke his maiden third time out at Charles Town, drawing off at racing wide early. Needs to keep improving to contend here.
Pitching Ari (15-1): Raced well last out against maidens on this track, finishing third after staying close to the pace. He also improved his figure 23 points when compared to last time.
Sight of Heaven (4-1): Stopped badly against out at similar horses as today. Hasn't yet been able to recover the form that saw him break his maiden by six lengths three back.
Golden Candy (5-2): Went gate-to-wire to win in impressive fashion last out. Should be forwardly placed.
Tommy Sheldy (7-2): He hasn't missed a beat in his career, with two impressive victories at Laurel Park. I imagine his connections are using this race as a prep for the Maryland Million.
Band on Tour (9-5): He's had by far the best speed figures in the field, including a dominating win against maiden claiming horses last out. Will be tough to beat.
SELECTIONS: 6-4-5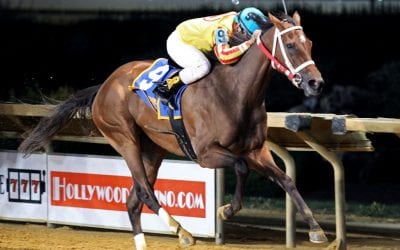 We provide picks and analysis for this evening's card at Charles Town Races.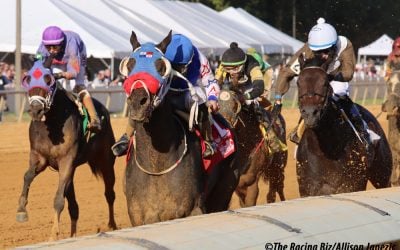 We provide full-card picks and analysis for this afternoon's races at Laurel Park.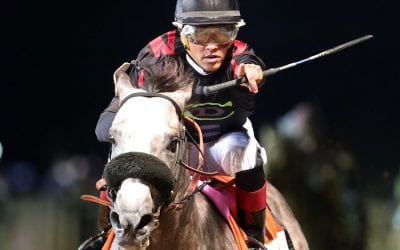 We've got Charles Town picks and preview today as the track presents its Friday card!