Laurel Park picks and ponderings July 28, 2019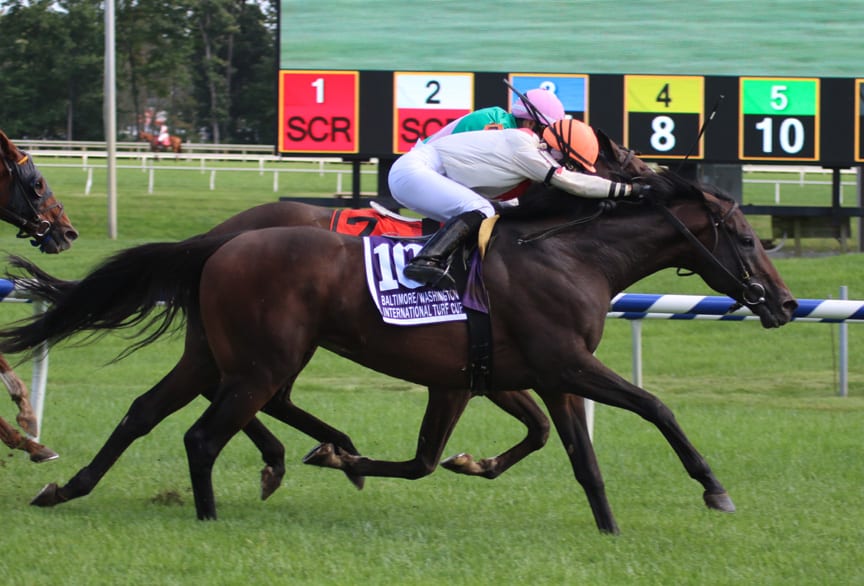 Doctor Mounty held off Projected narrowly to upset the 2018 G3 BWI Turf Cup at Laurel Park. Photo by Laurie Asseo.
by Frank Vespe
In which we pick the races from Laurel Park each day…
Post time: 1:10 p.m.
Carryovers: Rainbow Jackpot Pick 6 — $8,202; Super High 5 — $736; Late Pick 5 — None
Notable: Trainer Mary Eppler's last six starters have all finished first or second, including four wins.
ANALYSIS
RACE 1
The Lynn Ashby-trained #8 Polished Gal (7-2) rates a big shot in here on the cutback. She broke her maiden for $25,000 three back, and then found the going a little tough against starter/optional types in a sprint and at this level going a route of ground. She can move forward getting back to what she does best. Notable stat in here: trainer Wayne Potts and rider Jevian Toledo have a 4-for-10 mark when teaming up, as they're doing with #2 Awe Honey (15-1).
RACE 2 
How modest is this group of bottom maidens? Every horse in here (except for the first-time starter) was at least 13-1 last time out against similar. That leads us to the firster, #3 The Magical One (2-1), who likely isn't especially magical, since he's debuting at the bottom, but if the Claudio Gonzalez trainee can run at all — and some of his sibs have — he should have enough to take care of these. A longshot who could move forward to impact this race is #4 Shadow Boxer (15-1), who has shown speed in a couple of starts and has been gelded since his last.
RACE 3 
We'll eat the chalk in this one with second-time starter #6 Dreaming of Love (8-5), who was a good third on debut behind Lebda, who had earned an 82 Beyer in his debut, and next-out winner Quad Eights. This one has been gelded since then and gets blinks. Normal second-race improvement would make him an absolute handful in here. Also worth a look: #7 Mister Frank's Way (10-1) out of the John Salzman barn. This one didn't cost much at auction — $35,000 at the Fasig-Tipton Midlantic two-year-old sale this past May — which, given his breeding, suggests there may have been physical issues that scared buyers away. But he's certainly bred to be a runner: by top sire Union Rags, he is a half to Breeders' Cup Classic winner Bayern.
ANALYSIS
RACE 4
The Jane Cibelli-trained #10 Mr. Discretionary (6-1) was much the best last time out when winning at the $40,000 level at Monmouth. He had to bide his time for much of the stretch run before getting a chance to tiptoe through the inside and then clear for a length-plus win. He shows up in the appropriate next spot here and can repeat. A longshot we'll have on the ticket is #3 Jorrin (12-1). Trainer Mary Eppler's last six starters have all finished in the exacta, with four wins, and twice this weekend, she's sent out a horse to victory in its first start of 2019, as is the case with this one. Horacio Karamanos is up.
RACE 5
The Kieron Magee trainee #5 Cash Exchange (4-1) scored at the $16,000 never-won-two level three back before being pretty well-beaten twice at the same claiming tag against never-three rivals. In this spot, he takes the multi-level drop into a place where he can get back to the winner's circle. He's showing three works towards his return, with Magee gradually tightening the screws on a horse who's been in the money in four of six at the trip.
RACE 6 
To be clear, the most likely winner of this dirt allowance is #7 Well Hello (8-5), who galloped last time out against Maryland-bred allowance foes. But what's fun about that? We'll take a little shot with another Kieron Magee runner, #6 Little Song (15-1). Admittedly, this one hasn't shown much to date and has made just a single inconsequential start this year. But it's curious that Magee, who claimed the horse out of that race, moves her up into allowance company off the claim, though she was well-beaten that day. It's a move he's had success with before: he's 7-for-35 with a $3.47 ROI moving horses into allowance company first time off the claim.
ANALYSIS
RACE 7
You can't see it on the page, but #5 Allaboutmike (4-1) has some turf sprint tries at similar distances that would win in this spot. The Zensational gelding raced most of his career in California, and while the downhill turf course at Santa Anita is tough to compare to 5 1/2 furlongs on a normal turf course, farther back in his PPs are a couple tries going five furlongs at Delmar, in which he was beaten just a length or two in allowance company. That kind of effort would be sufficient here. We'll also give another shot to #7 Great Herman (6-1), who's been gelded since his last and whose lone turf try can be ignored, since he bolted on the turn
RACE 8
Trainer Dale Capuano has played the claiming game with a lot of success for a long time, and a good example is #7 Eastern Bay (5-1). He claimed the E Dubai gelding for $35,000 back in April and put him on the grass, on which he won a third-level allowance (optional claiming tag of $50,000) two back. That win is surrounded by two mediocre tries in stakes company. Capuano's apparently making the calculation that those stakes tries mean this one has hit his ceiling, so he drops him back in for the same $35,000 he paid for him having shaken the last allowance condition out of him. In other words, you've got a three-other-than horse running against two-other-than rivals here.
RACE 9
Damon Dilodovico will send out our top choice here in #6 Ten Eyck (3-1), this runner's first start in the local barn after having raced in New York for Tom Morley. This one competed at this level last time out, and if Dilodovico can get him back to the form he showed a bit earlier in his career, he'll win here. Looking for a longshot? How about #3 To Be Or Not to Be (15-1). The Kevin Boniface trainee graduated last time out and retains leading rider Trevor McCarthy.
RACE 10
In a June 23 nickel claiming race, #1 Port Louis (9-2), #2 Greek God (15-1), and #3 A True Gentleman (10-1) all were within a neck of each other, with #6 Broad Expanse (6-1) a couple of lengths behind them. Here's the thing: all four significantly exceeded their immediate prior Beyer speed fig in that race, with the average being a 12-point improvement. That suggests all four ran super or, more likely, the fig is inflated. And that points us to a horse who wasn't in that race, #7 City Gold (7-2), who's run two straight good races and won pretty easily last out.
RACE 11
Eleven races? You're killin' me, Smalls! Bottom maidens close out the card, and why can't #6 Press Release (8-1) win here? That two-back effort — at the $40,000 level — likely gets it done today, and he should appreciate being back at a sprint distance. Yes, he was sixth and beaten 10 lengths — but note there was a runaway winner, and this guy missed second by less than two lengths.
PICKS
RACE 7 
RACE 8
RACE 9
RACE 10
RACE 11