Laurel Park picks and ponderings July 25, 2019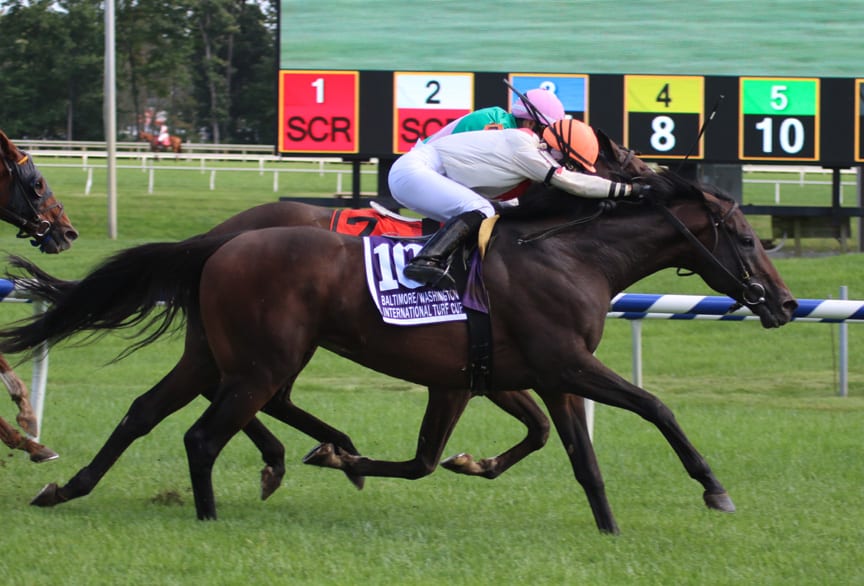 Doctor Mounty held off Projected narrowly to upset the 2018 G3 BWI Turf Cup at Laurel Park. Photo by Laurie Asseo.
by Frank Vespe
In which we pick the races from Laurel Park each day…
Post time: 1:10 p.m.
Carryovers: Rainbow Jackpot Pick 6 — $3,494; Super High 5 — None; Late Pick 5 — None
Stat of the day: The first race of the day is for amateur riders, hence the increased weights.
ANALYSIS
RACE 1
Full fields abound on today's 10-race extravaganza, and the lid-lifter has a 2-1 favorite in #4 War Lance. The Marco Salazar trainee is taking a steep drop from $40,000 company, against which he's been somewhat overmatched; he should appreciate the class relief. But I dunno… short odds on a nondescript horse in an amateur rider race seems awfully… cautious. Let's take a swing here instead. #1 Unbelievable Story (12-1) showed pretty much nothing last time out against better and drops here to a more fitting level; his debut, against similar, wasn't terrible after a bit of a rough start. With only two tries under his belt, he can step forward and contend today.
RACE 2 
Though this is a sprint race with a 10-horse field, there's not a lot of early lick in it; #5 Top Czar (6-1) and #10 Elusive Hero (5-2) are the only horses with much history of being involved early, and the former appears to be the faster of the two. But we suspect he's not quite good enough to seal the deal, which points us in the direction of a horse who ought to be second-flight or so, and that's #1 Junction (3-1), who — granted — never ever wins, but whose first try with trainer Mark Reid was a good one.
RACE 3 
There was nothing wrong with what #8 Mia Gift (3-1) did last time out when just missing against similar, and a reprise of that might get the money. The favorite here is #7 Friesing Waters (9-5), but those odds are a little tough to stomach on a horse who's lost at this level three times. Also worth a look is #3 In Class (12-1); the Damon Dilodovico trainee has run just OK on the main track, failing twice as the favorite, but is a half-sister to two horses with a combined five turf wins.
ANALYSIS
RACE 4
She'll have to work out a trip breaking from the parking lot, but #12 Glam (10-1) is our pick to get the money if he can. She won easily at the $30,000 two back, and while she didn't have much impact in her last, against allowance foes, that was a plus group. Five of six have finished in the triple in their follow-ups, and winner Valiance came right back to win a stake next time out at Monmouth. Trainer Kent Sweezey likes what he's seeing enough to waive the claiming tag, and he attracts leading rider Trevor McCarthy in the irons. The favorite here is #5 Firth (3-1), who keeps running good races, leading for a long way, and then not quite sealing the deal; she'll be tough if she can figure out how to finish, but she's lost two straight versus similar, and you suspect a slightly shorter race — say, a mile — would play a bit more to her strengths.
RACE 5
The extremely tepid favorite in this allowance test at 7f is #7 Thatwouldbegrand (9-2), who just missed last time out against similar and deserves to be on the ticket. We will try to beat him, though, with #9 Follow the Dog (5-1), who won last year's Maryland Million Nursery and then just missed against Scrap Copper (who's in later today) in the James F. Lewis, III. He didn't race from November until late last month, but returned with a good effort to be third in a seven-furlong allowance at Parx. That was a useful return to action and presages a move forward today. Mychel Sanchez comes in for just the one mount.
RACE 6 
The chalk in here — and a horse who'll be on our ticket — is #7 Back to Back (2-1). The Arnaud Delacour trainee has run a pair of good ones against similar in his last two, finishing second both times. We'll try to beat him, though, with a horse who's already done just that: #9 Hard Fought (7-2). The Damon Dilodovico trainee enters off a win against starter/optional claiming types, and three back finished ahead of Back to Back in an allowance test at Pimlico. The winner that day, Eons, has won back-to-back stakes since that race, most recently winning the G3 Kent at Delaware Park, so no shame in running behind him. Horacio Karamanos will ride.
ANALYSIS
RACE 7
The morning line favorite, Blue Sky Venezuela, is a scratch from this race, making a wide-open contest even wider-opener. We're gonna take another swing in this one — no reason not to in a race in which all of these have flaws — with #4 Congrats Graduate (12-1). Trainer John Salzman has tried multiple times on the page without success to get this one on the lawn and finally succeeds here. The reason for that: she's faster on the grass. Her three tries at this distance on the turf all netted Beyer figs between 49 and 52, and while that may not sound like anything special, it's competitive in this group — and it was about 20 points better than her best dirt races at the time. She looks to be better now than she was then, and if she steps forward on the turf again, she can make noise here at a price. Also of interest here are #9 Princess Killmain (9-2), who's finished second twice versus similar and gets Sheldon Russell in the irons; and #5 Nightmare (9-2), who's two-back try on the lawn would put her right there.
RACE 8
This second-level allowance is perhaps most notable for the return of #8 Scrap Copper (5-1), whose best juvenile efforts included a stakes win. We'll have him on the ticket, because he's clearly a horse with talent. This is a pretty rugged group, though, including the class-dropping #4 Mr. Brix (8-5), who's favored on the drop-down and whose better recent efforts would likely be good enough. We'll take a shot here — are you sensing a theme today? — with #5 Old Time Revival (8-1). The Kenny Decker trainee has been plagued by in-and-out form during his career, but we think his last effort, in the Polynesian, was sneaky good. He led for a long way against a tough group, carving out a 44.70 second half-mile and still being in contention after six furlongs in 1:08.93. He couldn't stay on, fading to sixth, but the horse he beat, No Dozing, returned to win a stake at Delaware. In this spot, he shouldn't have to go nearly as fast to grab the early lead, and we'll see if bug boy Julio Correa can ration his speed.
RACE 9
The morning line favorite in this contest is #8 Native Flora (5-2), who's been consistently posting low-70s Beyer figs. The knock against him, though, is that he's lost at this level sprinting on the grass seven times, and while he certainly rates a legit shot here, betting on favorites that have repeatedly failed to win the race they're in is a good way to go broke. Of more interest from a value perspective is #6 Creative Artist (3-1); he tackled better last out in his first try in the Claudio Gonzalez barn and gave a decent account of himself. He drops today to the right spot and should contend. Also of interest (to us, anyway) is #1 Zitarrosa (6-1), making his first start for new trainer Jerry Robb. Robb claimed him for $10,000 last out and jumps him up a step here; in his lone prior turf try, he didn't run badly despite a sub-optimal trip against $25,000 maidens.
RACE 10
We'll eat the chalk in the finale with #1 Yesterdaysplan (6-5), for trainer Claudio Gonzalez. This one is dropping in price and has been off about two months — a move with which Gonzalez has won four of 11 times, with nine in the money.
PICKS
RACE 7 
RACE 8
RACE 9
RACE 10