Laurel Park picks and ponderings July 13, 2019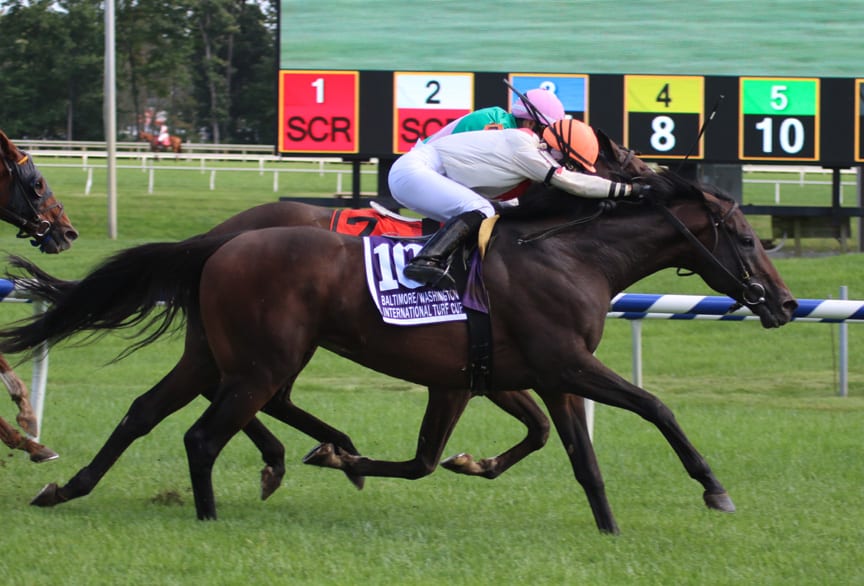 Doctor Mounty held off Projected narrowly to upset the 2018 G3 BWI Turf Cup at Laurel Park. Photo by Laurie Asseo.
by Frank Vespe
In which we pick the races from Laurel Park each day…
Post time: 1:10 p.m.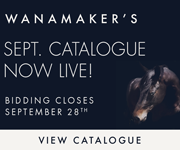 Carryovers: Rainbow Jackpot Pick 6 — $66,162; Super High 5 — None; Late Pick 5 — None
Stat of the day: Trainer Kieron Magee wins one-third of the time (69% in the money) when giving horses a big drop in claiming level, as he's doing with Poplar Avenue in race eight.
ANALYSIS
RACE 1
He'll be chalky, but #4 Resident Liberal (6-5) figures to be tough on the drop in this $25,000 maiden claimer. The Tom Proctor trainee ran third last out against better at Santa Anita, and the horses that finished second and fourth both returned to win. One horse a little interesting at a price here is the Elizabeth Voss trainee #6 Tir Na Nog (8-1); this one's been off a year after a poor try but has a couple of good efforts against similar in his background.
RACE 2
There's no question that #1 Naughty Thoughts (3-5) can win in this lower maiden event for two-year-old fillies, but anything like those odds seems awfully short on a horse who is very much just a horse and was a middling third last out at the $25,000 level. We'll try to beat her with #6 Capture the Light (5-1), who drops a couple of levels after a rough start last out when reluctant to load and a bit fractious in the gate and breaking a little awkwardly. But in her debut, at the maiden special weight level, she did run a little bit and gets blinkers back on — she wore them on debut — today. Sheldon Russell is up.
RACE 3 
Let's take a bit of a swing this maiden claimer. #4 My T Talk (10-1) has poor speed figs relative to her rivals in this event, but a closer looks suggests she fits with these. She's raced at this level twice, finishing second once and a close-up fifth — after closing almost 14 lengths in the final quarter — the other time. Out of that latter race, the winner and runner-up both won their follow-ups. Trainer Jerry Robb claimed her from her most recent start, against lesser but on the turf, and though she ran poorly, he chooses to run her back here against better. He'll also add blinks. The favorite, #3 Jump for Sally (1-1), also is on the ticket but hard to endorse on top at what figure to be short odds despite having run poorly, albeit on the turf, last out. She finds her lowest level here.
ANALYSIS
RACE 4
Intriguing race in this $16,000 turf sprint. The favorite, #8 Electro (5-2), enters off a race in which he finished eighth but with this short comment: "brutal trip 3/8 to 1/8." And that doesn't even quite give you the flavor of how bad it was: checked repeatedly in traffic, he finally seemed to have a seam when another horse sawed him off at the eighth. For all that, he was beaten less than three lengths and would be an easy choice on top, except for this: that race was at 1 1/16 miles and this one is at 5 1/2 furlongs and will be the first true turf sprint of his career. He figures to have a lot of work to do late, and while we will have him on the ticket, we'll try to beat him. #2 Smokin Hot Factor (4-1) takes a big drop after a credible try against better, namely, the speedy American Sailor and hard-hitting runner-up Wise Dan, who would have won on Thursday had his rider not misjudged the finish.
RACE 5 
A mile-and-a-half turf allowance here, and while these races often pull together horses who've never gone this far, in this contest two runners actually have. #4 No Mans Land (5-2) is our top choice, was a good third in his one try at the trip, broke his maiden going 1 1/4 miles, and has kept generally better company. And #3 Family Tree (6-1) has credible tries in a pair of stakes in Ireland at 1 3/8 miles and 1 3/4 miles. We're also going to use #1 Polished (3-1), whose breeding says he can do this and who last out was a decent fourth behind next-out stakes winner Vallance. He's also a half to multiple stakes winner Dog Tag.
RACE 6
In the keep-it-simple-stupid vein, we'll stick with the chalk here in #10 Nevisian Sunset (9-5) who enters off credible tries versus better. A longshot worth a look is #2 Colton's Horseplay (20-1); though the page doesn't look too spiffy, she did just break her maiden by eight at Charles Town, and her sibs have generally been much, much better on turf than dirt.
ANALYSIS
RACE 7
The last time #5 Irish Lassie (3-1) saw dirt, she was moving like a tremendous machine — winning by (no, seriously) 31 lengths at Suffolk Downs. She has an intervening weak try on the turf to darken her form, but here she gets back to the main track at a level where she can compete. 
RACE 8
Big effort last time out for #4 Frathouse Music (4-1). This Limehouse gelding set a fast pace and came home willingly — just not quite fast enough to hold off the later runners, ultimately settling for third. Three of five to run back from that event won next out and a fourth finished second. This is also a race light on speed, with (most likely) only #1 No Fly Zone (9-2), a stretching-out sprinter who generally hasn't been close to the pace at short distances, to challenge him. And by the way, what's wrong with #7 Charmn Charlie Ray (15-1)?  Sure, his last was poor, but that was on dirt, and we wouldn't fault his prior try, against a salty field in the Robellino at Penn National.
RACE 9
The Arnaud Delacour-trained #3 Burning Man (5-2) has a couple of decent tries in the bank, having finished second against roughly similar maidens two back at Tampa — a race that produced three next-out winners — and third against better at Delaware Park. He can graduate today.