Laurel Park picks and ponderings June 23, 2019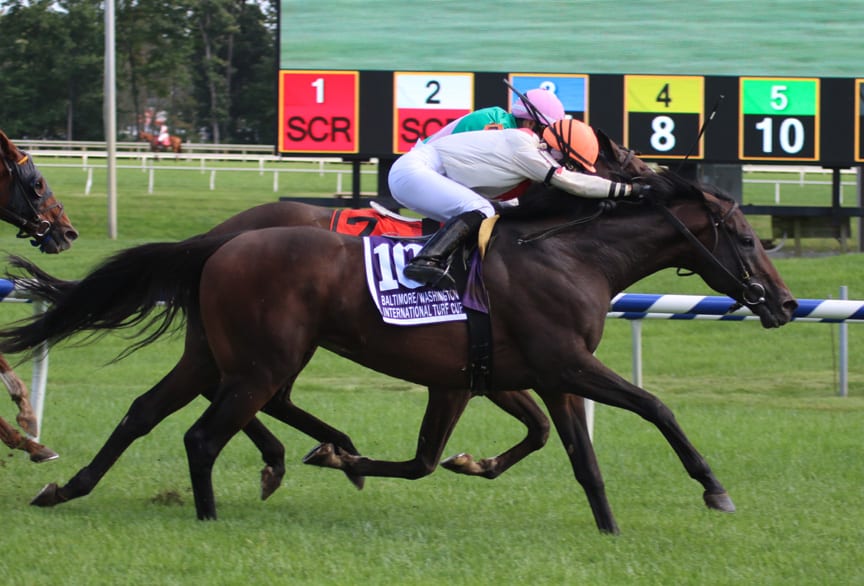 Doctor Mounty held off Projected narrowly to upset the 2018 G3 BWI Turf Cup at Laurel Park. Photo by Laurie Asseo.
by Frank Vespe
In which we pick the races from Laurel Park each day…
Post time: 1:10 p.m.
Carryovers: Rainbow Pick 6 — $16,742; Super High 5 — None; Late Pick 5 — $7,650
Stat of the day: Trainer Rodolfo Sanchez-Salomon is 3-for-8 at the current meet with horses that went off at odds of 8-1 or higher. That's the most wins of any trainer with longshots.
ANALYSIS
RACE 1
If #8 Jabuticaba (2-1) repeats her last effort — when she won by four while earning a 72 Beyer fig — she'll be a handful in here. Will she? Tough to know; that was her first time sprinting on the turf, so it may just be that trainer Phil Schoenthal has discovered her best game, and she's ready to be a consistent hard-hitter. But she'd never shown anything like that before, and it was just two weeks ago. She could win here, and we'll keep her on the ticket. But we'll try to beat her on top with #2 Why Now (6-1). Trainer Rodolfo Sanchez-Salomon is enjoying a productive 2019, winning at a 23 percent clip, and here puts up go-to rider Angel Cruz on a horse who was a respectable third last out versus similar.
RACE 2
A long time ago, a horse I owned broke his maiden after several poor efforts. I asked the trainer what had changed from his prior starts; he laughed and said, "Well, that was a pretty sorry group of maidens." Anyway… we're going to try to beat the favorite in this maiden claimer, #1 That'sthewaytodoit (9-5), who really made no particular impact in two recent tries versus better and will try sprinting on the grass for the first time here. #3 Princessof Philmar (10-1) has been trying better with little success, though her three-back effort, when beaten less than two lengths, would put her right in the mix here, and note that jockey Forest Boyce lands here in lieu of the seven-horse, whom she also rode last out. Also of note: trainer Larry Curtis has a 4-for-11 mark with debut maiden claimers, such as #9 Nun (15-1).
RACE 3
Two-year-old maiden claimers will go five-eighths on the main track, and we'll try out luck with the class-dropping #2 Cold Sweat (7-2), whose debut, when third behind next-out stake winner Rookie Salsa, is probably the best effort of any runner here. Of course, you'll also need to include #4 Promising Pistol (2-1); the favorite ran a good one last out against similar, winning the speed duel before settling for second. And let's see if we can get an improved effort from #1 Victory Given (15-1), who was reluctant to load and slow out of the gate in his debut. He gets Lasix and blinkers here for his second try.
ANALYSIS
RACE 4
If you want to see what an absolutely perfect trip looks like, watch the replay from the last race for #2 She's Divine (9-5), who had a dream run to break her maiden under Jorge Vargas, Jr. At the same time, though, she was absolutely tons — and we mean tons — the best and won with what looked to be plenty in the tank while never asked. She appears to be sitting on a right-back victory here. Her toughest competition looks to come from #5 Nevisian Sunset (7-2), who last time out, in a sprint, was allowed to settle well off the pace before running well late, making up a half-dozen lengths in the final furlong before galloping out ahead of everyone, including the winner. The runner-up from that event scored in her next start.
RACE 5
Last time out, #1 Railmaster (5-2) absolutely — and, really, unexpectedly — obliterated a maiden claiming turf sprint by 10 lengths at Pimlico. Where'd that come from? Did the lightbulb finally go on for the five-year-old? Or was it just a bad group? We're gonna gamble the latter and try to beat him here. #2 Baron of Bluegrass (6-1) cruised to his maiden score last out at the $40,000 claiming level. That was on the main track, but worth noting is that, prior to that effort, his best work had come on the lawn. He has the look of an improving sort, and though he's scuffling a bit at the moment, trainer Jose Corrales has enjoyed some solid success at the claimbox this year
RACE 6
Nickel claimers slug it out here, and we'll back the class-dropping #7 Broad Expanse (5-1), who shifts back to the main track and finds the lowest level at which he's competed. Three back, he ran fourth on the dirt against allowance foes, and one before that, he dead-heated for the win against $12,500 claimers at this diatance. The big challenge here will be for jock Rosario Montanez to work out a trip from the outside stall, given the short run to the first turn. We also expect #1 Port Louis (6-1) to run well here as he drops down from pretty rugged starter company and might be able to control this one on the front end.
PICKS
RACE 4

2-5-9-12
SCR: 4, 8, 13, 14, 15

RACE 5
RACE 6
ANALYSIS
RACE 7
Trainer Jesus Cruz sends out #8 Baysider (5-2) first time off the claim in this maiden turf sprint, and this one exits an Oaklawn Park race that's produced four next-out winners. That was on the main track, but it's notable that in his only prior turf try — which was also his career debut — he finished third at a higher level. That's enough for us to give him the nod here. Similarly, #6 Top Hat Hustle (6-1) also exits a race that's produced four next-out winners. He drops a step here after rallying a little bit late and can make an impact against these.
RACE 8
Two races back #7 Junipero Avenue (7-2) missed by a neck at this level and distance. He found the going a little bit rough last time out against better in a race from which runner-up Rule Yourself came back to win yesterday, but here dropped back into the spot at which he's competed, he figures to be a major player. The favorite in this spot is #2 Jupiter Rising (5-2), who needs to be on the ticket after a tough defeat at this level last out but who has lost at this level five times.
RACE 9
The favorite in the nightcap is #4 Two Hot Betty (8-5), who has obvious virtues, among them that she has the top last-out Beyer fig in the field and just missed in that race versus similar. But she has some negatives, too: that she's now lost at about this level five straight and that she's 0-for-6 at this six-furlong distance. Oh, and also that she's 8-5 and might get bet down from there. Let's try to beat her on top with #3 Allison K (10-1). The Linda Albert trainee is the only runner here to own three wins (she gets in the never-three race by virtue of being a three-year-old) and has bee in the top three in four of six tries at six furlongs, including two wins. Two of her recent tries against older runners weren't bad, and moving her up off the claim is a nice vote of confidence.
PICKS
RACE 7 

8-6-1-4
SCR: 11, 12, 13, 14, 15, 16

RACE 8

7-2-8-4
SCR: 11, 12, 13, 14, 15, 16

RACE 9