Laurel Park picks and ponderings June 16, 2019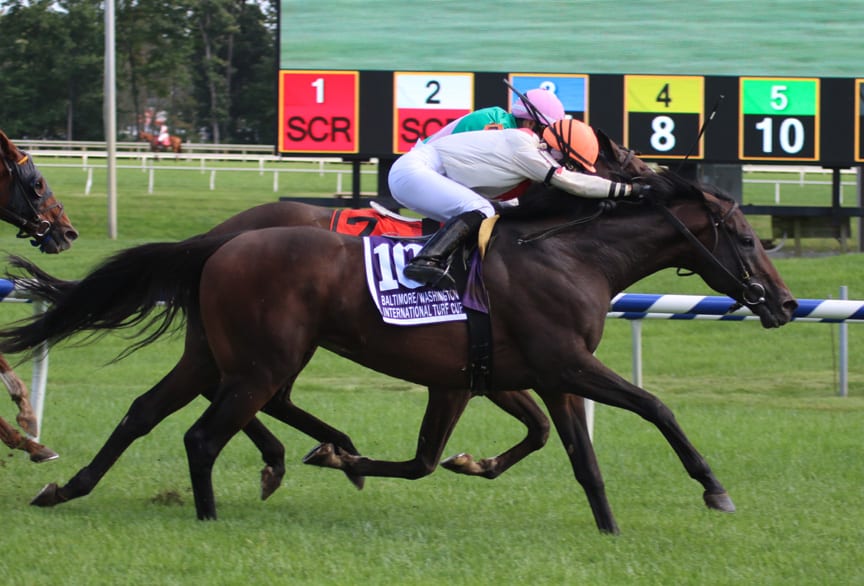 Doctor Mounty held off Projected narrowly to upset the 2018 G3 BWI Turf Cup at Laurel Park. Photo by Laurie Asseo.
by Frank Vespe
In which we pick the races from Laurel Park each day…

Post time: 1:10 p.m.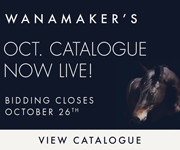 Carryovers: Rainbow Pick 6 — $10,324; Super High 5 — None; Late Pick 5 — $8,265
Stat of the day: Trainer Marilyn McMullen's one turf winner at Laurel in the last five years paid $119.40
ANALYSIS
RACE 1
A maiden 40K dirt sprint kicks off Sunday's card and #5 Mis Guided (5-2), a three-year old Speightstown filly, is dropping to the claiming ranks after two attempts at the MdSplWt level. #1 Rockstar Girl (2-1), trained by Mark Reid, also gets some class relief and will be piloted by apprentice jockey Julio Correa. This trainer/jockey combo wins at a 28% clip with a $3.14 ROI. #4 Indigo Midnight (20-1) will try dirt for the first time for trainer Rudolfo Sanchez-Salomon who has won 43% out of a 14 race sample with a $5.44 ROI.
RACE 2
Next up is an open $16K claimer with six entrants and two short-priced favorites look to have the advantage over the rest of the field. #5 Follow the Petals (1-1) has two wins this year at higher levels and sports the highest last out Beyer speed figure of the group. #6 Velocita Brillante (7-5) is stretching out to a mile for trainer Claudio Gonzales who wins 25% of the time with this move.
RACE 3
This grassy maiden race is slated to have seven starters with a strong favorite in #2 Jag (3-5), hoping that his 11th career start will turn out differently than previous efforts. Jag could be tough, but the repeated defeats — including two at this level — make the expected short odds a little tough to take. We will try to cash a ticket with the only first time starter in the field, #8 Aladdin Sane (8-1). Trainer Chuck Lawrence has a 21% win rate with first time starters and when debuting in maiden claiming company that percentage rises to 27%.
ANALYSIS
RACE 4 – ALMA NORTH S.
Arguably the best performance of the year thus far in Maryland was that of Covfefe, when she won the G3 Miss Preakness by eighth lengths in a six-furlong time — 1:07.70 — that shattered the nearly-30-year-old track record by more than a second. The runner-up that day looms a prohibitive favorite here in #1 Please Flatter Me (6-5), who chased willingly, was no match for the winner, but finished more than three clear of any rivals. Two others from that race are both here as well: #3 Tomlin (3-1) rallied for third after a bit of trip trouble, and #5 Never Enough Time (7-2) looked to be a bit outfooted in the early going, which left her uncharacteristically well off the pace, but should appreciate the easier company and added ground here.
RACE 5 – POLYNESIAN S.
The deserving favorite in this seven-furlong test is #5 No Dozing (9-5), who completed his 2018 season by destroying the field by nine lengths in the G3 Bold Ruler at Aqueduct. If he returns in that sort of form, everyone else is running for the minor awards. But it's his first start of the season, and while trainer Arnaud Delacour can get 'em ready to run off the break, and this guy has returned running before, perhaps he'll be a bit vulnerable. We'll have him on the ticket but try to beat him with an apparent horse for the course, #1 Majestic Dunhill (8-1). This late-running sort has basically run two bang-up race in his career; both were at seven furlongs, and both were at Laurel. He won last year's City of Laurel at 9-1 odds, and earlier this year, he ran into second at 25-1 in the G3 General George here. As has been the case in both of those previous efforts, Feargal Lynch will ride for George Weaver. We're also curious to see how #2 Cordmaker (3-1) runs in this spot; he's been in the best form of his career, and last time out rallied into third in the G3 Pimlico Special. That result was not especially flattered by winner Tenfold's never-involved ninth place finish in last night's G1 Stephen Foster, and we're curious to see how this one responds to shortening from 10 furlongs to seven.
RACE 6 – PRINCE GEORGE'S COUNTY S. 
We're thinking that, though it's a salty field, the Grade 1-winning millionaire #2 Divisidero (5-2) is going to have a bit too much class at what will be, if the morning line holds, a square price. He was a bit hampered by a glacial early pace last time out in a Grade 2 at the Fair Grounds, and there's no shame in being beaten two lengths by Bricks and Mortar, who's probably the best US-based turf horse in training and is riding a five-race win streak, three in Grade 1 company. The longshot we're using here is #4 Douglas Road (15-1), who doesn't really figure on paper. But trainer Arnaud Delacour brings him all the same and puts go-to rider Daniel Centeno in the irons. This one has been gelded since his last start, late in 2018, and must move forward to contend here.
ANALYSIS
RACE 7 – BIG DREYFUS S.
The favorite, albeit a lukewarm one, in this grassy route stake is #7 Andina Del Sur (4-1). But we're having a hard time getting excited about her; though she's run some very good races, she rarely wins and in fact could still run in a second-level allowance. We're going to try to beat her with #8 I'm So Fancy (9-2), who didn't run badly last time while chasing loose-on-the-lead Mitchell Road in the G3 Gallorette. The only horse to run back from that race, Dynatail, returned to win a stake in her next try, and this one can step forward in her second race since last September. Also worth having on the ticket is #5 Hogans Holiday (8-1), who came flying late in her last to win the Miss Liberty at MTH and will be hoping for a pace to materialize in front of her.
RACE 8
The eighth race is a mile conditioned claimer for three-year olds or older horses who have never-won-three races. #3 Johnny Banks (5-2) is a four-year old gelding whose two wins in 11 starts are both at today's distance at Laurel. The only horse with three wins on his record is #6 Charging Lion (5-1) who won last outing in a non-winner-three lifetime at 12.5k and who has hit the board in all seven starts in 2019. The morning line favorite is #1 Incorporate (2-1) who has won twice in 24 starts but is winless in four outings this year.
RACE 9
The last race of the day is another maiden claiming event and appears to be wide open. #2 Weltha (5-2) is making her second career start after an 18-month break for trainer A. Ferris Allen. #5 Orbiting the Moon (9-5) is dropping in class but has shown little in her four previous starts.  And maybe we'll drop in the Susan Cooney-trained firster #7 Grand Skylark (6-1), who catches a very modest group for her debut.