Alwaysmining overwhelming choice to dig victory in Tesio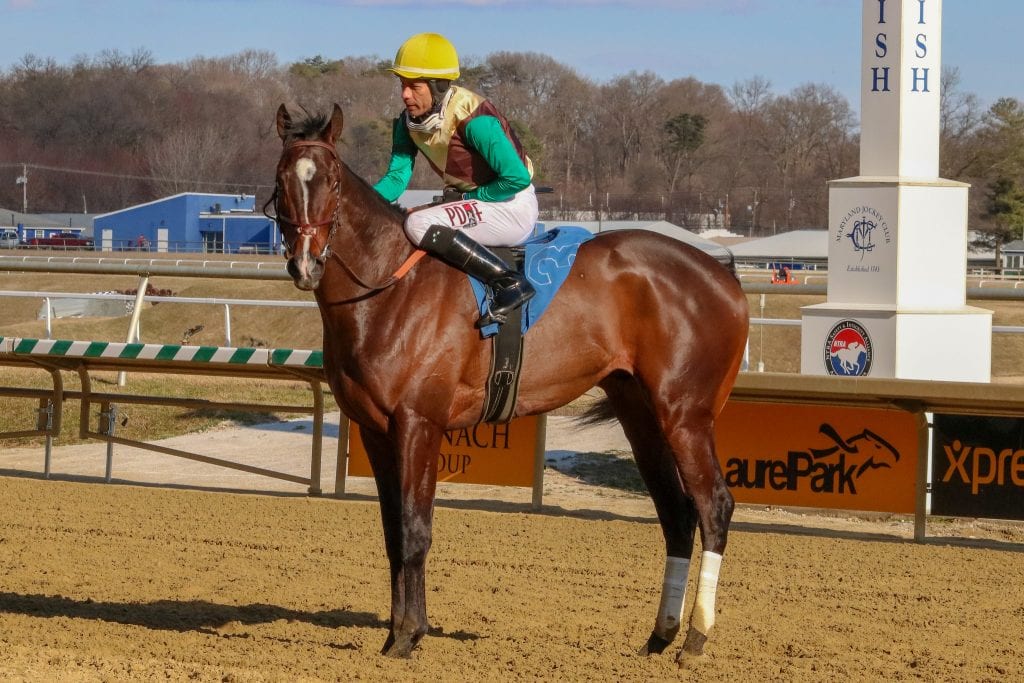 Jockey Daniel Centeno gives Alwaysmining a little love after winning the Private Terms Stakes at Laurel Park. Photo by Dottie Miller.
Alwaysmining has run up a five-race win streak — four of those in stakes company — and almost all with consummate ease. His combined margin of victory in those races has been 25 lengths.
That's led some observers to call for his connections to test him in deeper waters, such as some of the major Kentucky Derby points races.
And indeed, Alwaysmining was nominated to Kentucky Derby (G1) point-qualifying races in California, Kentucky and New York the first weekend of April. But ultimately his connections stayed true to their plan: a conservative approach gradually adding ground and (in theory, at least) quality to each successive start.
That brings him to Saturday's $125,000, 1 1/8-mile Federico Tesio Stakes — a "win and you're in" for the Preakness Stakes next month at Pimlico — as the overwhelming 1-5 morning line favorite against a field that includes just five rivals.
"My gosh, I wish it was tomorrow," said Joe Cassidy, racing manager for Greg and Caroline Bentley's Runnymede Racing. "This is another question for him. He has to get the mile and an eighth. We don't want to put too much in front of him. He has to get the distance. It's always a question for these young horses. We know he'll show up, and hopefully we're not asking him to do more than he's up for."
The Bentleys purchased Alwaysmining after his maiden-breaking score last June. In his third start in their colors, he ripped off a 10-length win in allowance company and then followed that up with late season wins in the Maryland Juvenile Futurity and Heft Stakes. The latter came by 1 1/2 lengths over Win Win Win, who is Kentucky Derby-bound following a rallying runner-up effort in the Blue Grass Stakes at Keeneland.
That's when they decided on the Maryland series of sophomore races: the Miracle Wood in February, the Private Terms in March, and now the Tesio.
"When [trainer] Kelly Rubley, the Bentleys and myself sat down after the Heft Stakes, we mapped these three races out for him. It was from a timing figure, a distance figure, and everything worked out perfectly," Cassidy said. "He's stabled at Fair Hill, so he didn't have to do a lot of shipping.
"After the Private Terms there was a little more pressure to go on the road, but we said, "This is what we mapped out, it's been working so far, why deviate from that?'" he added. "He's a gelding, so his longevity is most important. The best interests of him is most important. We weren't sure about going the two turns and then after the last race, he did a great job, so let's just stick to the plan, and the Bentleys have been great with it."
In Saturday's Tesio, Alwaysmining will face a middling crew with only one other runner in single-digit odds. That's the Claudio Gonzalez-trained Tybalt, who is 8-1 on the morning line. He finished third in both the Miracle Wood and Private Terms Stakes and was nearly 10 lengths behind Alwaysmining in the latter.
Also in the race are Bozzini (10-1), a Jeremiah Englehart trainee who took a claiming race at Laurel Park two back and was second in allowance company last out; maiden winner and Private Terms fourth-place finisher Dixie Drawl (12-1) for trainer Ham Smith; maiden winner Trifor Gold (15-1), second against allowance foes last out for Mark Shuman; and the Rudy Rodriguez trainee Majid, who won a local allowance last out.
All of which leaves Alwaysmining in a pretty  nice spot. Regular pilot Daniel Centeno is slated to do the honors.
"You have to give Kelly a tremendous amount of credit, and her team," he added. "Danny Centeno has ridden him perfectly. We're lucky that we have the people we have. They've done a fabulous job for us and we're just enjoying the ride. If [the Preakness] were to happen, you'd have to peel us off the ceiling."