The GQ Approach – Laurel December 22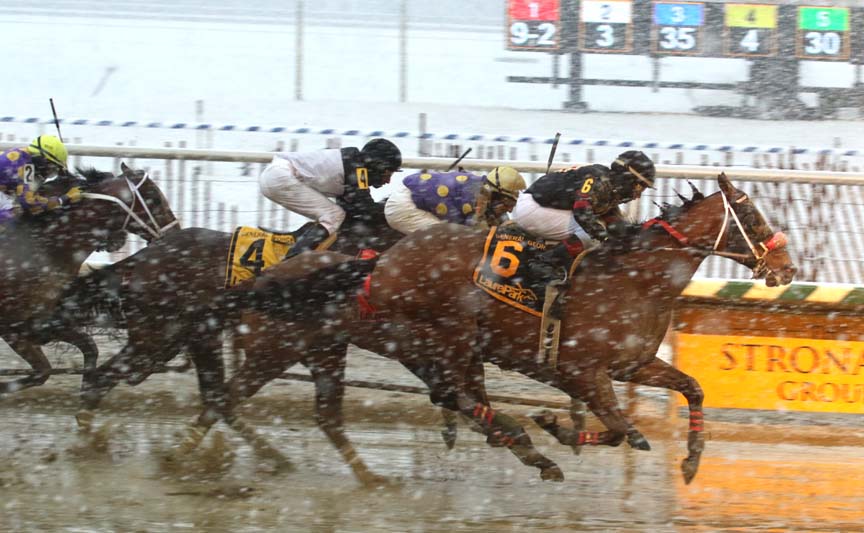 Something Awesome. Photo by Laurie Asseo.
The GQ Approach features full-card selections from Laurel Park, including a daily Best Bet, Longshot Play, and multi-race wagers — including the 20 cent Rainbow Pick-6, 50 cent Jackpot Pick-5, as well as Pick-4s and rolling Doubles, Pick-3s and the Super High-5.

[su_box title="Today's Carryovers" style="glass" box_color="#66ADCC"]
Rainbow Pick 6: $21,746
Super High 5: $1,530
Late Pick 5: $5,796[/su_box]
[su_box title="GQ'S Tip of the Day" style="glass" box_color="#66ADCC"][stray-random][/su_box]
[su_box title="Best Bet of the Day" style="glass" box_color="#66ADCC"]Race 5 / #5 – No More Talk (3-1)[/su_box]
[su_box title="Longshot Play of the Day" style="glass" box_color="#66ADCC"] Race 4 / #3 – I'mthetapitnpow (12-1) [/su_box]
[su_box title="Multi-race Wagers" style="glass" box_color="#66ADCC"]
Race 1 – $2 Double 2, 3 w/ 7, 8 ($8)
Race 3 – 50 cent Pick-3  2, 5, 9 w/ 3, 10, 11 w/ 4, 5 ($9)
Race 8 – $2 Double 2, 3, 4 w/ 3, 8 ($12)
[/su_box]
[su_heading size="21″ align="left"]Analysis[/su_heading]
Weather: Sunny, highs in the 40s
Projected condition of main track: SLOPPY to GOOD; Turf: None
Post time: 12:30 p.m. EST
Race 1
 #3 – Blow the Whistle (7-5): 16-time winner from 40 starts, 9 of last 11, 3 of 4 on Lrl main oval, 2 for 3 at distance; not much value but BRIS Prime Power # towers over today's foes; gelding can only beat himself by suddenly losing his form
#2 – Double Whammy (7-2): Can only threaten top pick with his best effort of late which came while in K. Magee barn versus similar; toss latest at GP when over his head as M. Eppler sends him back home to help pay the bills
#5 – Watch My Dust (4-1): First start after leading trainer C. Gonzalez $16k claim (31%) finds nice spot thanks to competing in $5kn1y three back; go to rider C. Carrasco (36% at meet w/ trainer) gets a leg up 
Race 2
#7 – Shecor (8-1): 3-year-old 4-time winner faces elders who still seek 3rd career win; there's enough early speed in here which sets it up nicely for this Closer in 3rd race after layoff
 #5 – Lonely Drifter (9-5): Despite what looks like a dull effort on paper in Alwn1x event in last outing, her BRIS# equaled that of her romping 8+ length win versus $16kb two back in Lrl slop
#8 – Madame Tiger (7-2): Hard to ignore trainer C. Gonzalez prowess the first time he saddles a runner (25%) with V. Carrasco as the pilot (29%) especially one who has natural speed, a trait this trainer seems to enhance under his conditioning
Race 3
#5 – She's Stunning (4-1): Regular rider D. Haddock (13%) opts for 3 mounts at Prx so C. Cedeno (16%) will gladly take the reins and take a stalking position to get first run on dueling leaders late
#2 – Fillupcohensapiker (5-1): Short priced winner of OC25k/n2x contest at Prx off brief layoff can handle step up as she's faced the best gals the Mid-Atlantic has to offer while ITM in 16 of 18 starts
#9 – Enchanted Ghost (6-1): Toss restricted stakes try and focus on previous two in this same condition missing by a nostril at this distance and decent third in what was a paid workout off an 8-month break
Race 4
 #3 – I'mthetapitnpow (12-1): $$$ LONGSHOT $$$ Has best last race BRIS#, now stretches out and 2nd Lasix for trainer D. Dilodovico who's had two winners from four starters in this scenario; jock/trainer combo has gotten to Winners' Circle at a 23% clip in the past year
 #11 – By the Bay (9-2): Takes a one-level drop after a disastrous trip in third lifetime start; this might be why Rosario lands on #10 (Trion Wings) and 5 lb. (3 for 10 w/ C. Gonzalez) got the call
#10 – Trion Wings (5-1): Outfit rolled the dice on claiming this one for $10k on drop from MSW in latest and got a bonus when he did not graduate (retained maiden status) but was 6+ clear of SHOW finisher; can brag best BRIS# (73) among this lightly raced group
Race 5
#5 – No More Talk (3-1): *** BEST BET *** Can make amends for failing in latest when sent off betting choice and checked in traffic behind a pair quicker then he that day; V. Carrasco should recognize there's none of that kind of early speed in this contest, so a gate-to-wire score is in order
#4 – General Downs (5-2): Second start with blinkers, first with J. Pimentel in the irons after former rider circled foes 6-wide as Post Time favorite, finishing fourth behind two next out winners
#7 – Measured (10-1): Fresh out of Claiming jail for trainer H. McMahon, this 6-year-old gelding will try to return to winning ways and/or competitiveness he enjoyed at this level not long ago
Race 6
#10 – Honor Run (6-1): Speedster stumbled leaving the gate in latest when equipped with blinkers for the first time; steadied in prior outing in slop when fourth; needs an effort like from 3 back 
#11 – Belmont Ride (6-1): Tired after quick early fractions trying to stretch out to one mile in first start after C. Gonzalez claim when sent off 7-5 choice, in second career outing; return to sprint a wise move
#13 – Rafter (5-1): Third career start could be the charm as this May foal continues to mature after education in one mile when he dueled early with #11 in here; nice maintenance work since
Race 7
#1 – Shane's Jewel (3-1): Tough rail assignment for speedster who will have company early; trust that T. McCarthy won't get sucked into a speed duel as this gelding has won from just off the pace  
#4 – Cozy Lover (3-1): 5-year-old exits 7-month layoff, longest of 25-race career and makes Lrl debut; speed of the speed is 3 for 3 going 5 ½ furlongs; regular rider R. Rosado makes trip down I-95 from Prx to ride  
#8 – Wild Lover (8-1): First start off $25k claim for trainer W. Komlo who does well in scenario (2 for 7); would prefer an off track (6:3-1-1) but has BRIS#s to compete on fast track with these foes  
Race 8
#3 – Special Risk (7-2): Multi-level class dropper, Prx shipper for trainer A. Velazquez (3 for 12 at Lrl meet) after confident stin first start after claim when "out of jail"; should revert to early speed tactics
#2 – Picadilly (15-1): This contest doesn't have much early speed (unless top pick gets sent) so with bug boy A. Flores in the irons, look for this gal to be prominent early on with chance to steal it
#4 – Holiday Magician (4-1): Tis the season for a Hunch Play as Girl Power (trainer M. Eppler and jock K. Davis) try to repeat winning performance from off the pace
Race 9
#8 – Lawn Dart (7-5): Will likely dart to the early lead improving in second career start, first off K. Magee $40k claim who gets them to Winners' Circle 21% in this scenario; trainer/jock combo have won 9-times from 27 outings in the past year
#3 – Clover Bottom (10-1): Rough career debut when shuffled at the half pole when sent off 16-1; KY-home bred facing mostly MD-breds… if that's an angle you like to consider
#7 – Bratt Stack (3-1): Scratched from MSW yesterday to go here; like that J.D. Acosta stays aboard after giving this one an education in first fast track try following 4 competitive ones on Pid synthetic surface
Yesterday's News
On Friday, December 21 at Laurel had 4 winners from the 9-race card (1 Top Selections; payoff in BOLD below).
Top Selections are 455 for 1621 (28.07%). In 2017, Top Selections went 340 for 1,197 (28.40%). The payoffs of the day's winners…

R1: $4.00
R2: xxx
R3: $7.40
R4: xxx
R5: xxx
R6: xxx
R7: xxx
R8: $7.80
R9: $10.00

Of the suggested multi-race wagers, did not hit any.
BEST BET of the Day (162:50-40-15; in 2017 119: 39-25-19) War of the States (7th race: 5-2 M/L; 6-5 PT) pressed the pace, made a two-wide bid for the lead, held a narrow advantage leaving the furlong grounds, but could not hold on, settling for third while beaten by 2 1/2 lengths, returning $2.10 to SHOW.
LONGSHOT PLAY of the Day (155:24-28-17; in 2017 107: 18-13-15) Third Son (4th race: 15-1 M/L; 8.70-1 PT) saved ground to no avail, finishing fifth while beaten by 20 lengths.