The GQ Approach – Laurel December 21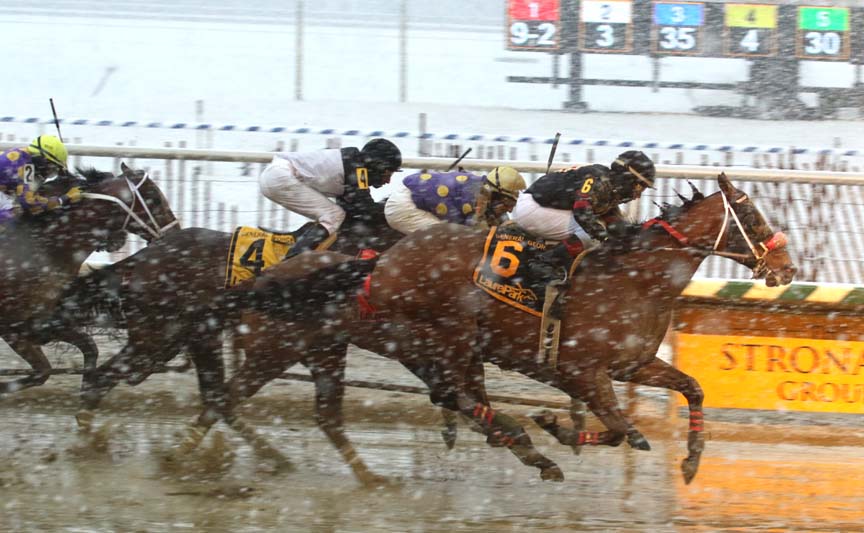 Something Awesome. Photo by Laurie Asseo.
The GQ Approach features full-card selections from Laurel Park, including a daily Best Bet, Longshot Play, and multi-race wagers — including the 20 cent Rainbow Pick-6, 50 cent Jackpot Pick-5, as well as Pick-4s and rolling Doubles, Pick-3s and the Super High-5.

[su_box title="
Today's Carryovers
" style="glass" box_color="#66ADCC"]
Rainbow Pick 6: $17,184
Super High 5: none
Late Pick 5: none[/su_box]
[su_box title="GQ'S Tip of the Day" style="glass" box_color="#66ADCC"][stray-random][/su_box]
[su_box title="Best Bet of the Day" style="glass" box_color="#66ADCC"]Race 7 / #2 – War of the States (5-2)[/su_box]
[su_box title="Longshot Play of the Day" style="glass" box_color="#66ADCC"] Race 4 / #8 – Third Son (15-1)[/su_box]
[su_box title="
Multi-race Wagers
" style="glass" box_color="#66ADCC"]
Race 4 – 50 cent Pick-4  6, 8 w/ 2, 12, 13 w/ 2, 3, 9 w/ 2, 6 ($18.00)
Race 7 – 50-cent Pick-3 2, 6 w/ 7, 8, 11 w/ 4, 5, 8 ($9.00)
[/su_box]
[su_heading size="21″ align="left"]Analysis[/su_heading]
Weather: Showery, high around 60
Projected condition of main track: SLOPPY; Turf: None
Post time: 12:30 p.m. EST
Race 1
#3 – Federal Walk (3-1): Dusted by fave in here in last but shortening up a half-furlong looks to be to his advantage; controlling speed might be able to parcel out his energy a bit more judiciously here
#7 – Whirlin Curlin (8-5): Two-time stake winner finally found best stride again when dropped to this level in last when parlaying good trip into easy win; no reason he can't repeat
#2 – Miami Tiger (8-1): Indiana-bred makes first start in Gorham barn
Race 2
#1 – Lady Terp (5-2): Enters with three straight wins; trainer Lake strikes at 19 percent clip when running horses back in 10 days or less
#3 – Follow the Petals (3-1): Solid effort in last when closing for third going 6f; added ground on offer here a positive, as is addition of rider Hernandez
#4 – Pretty Enuff (3-1): Mid-pack sort gave solid account of herself in last when just missing despite early trip troubles; the four rivals from that race to run back have all finished in the money next out (4:2-1-1)
Race 3
#5 – Souper Echo (9-2): Intrigued to see this Trombetta trainee land here after a pair of OK tries at PEN; addition of go-to rider Pimentel suggests a live runner
#7 – Bye Bye Blues (6-1): Speedster loves this short trip and is 3-for-3 on off tracks; note that he was a recent gate scratch when acting up during the load
#6 – Ghoul's Night Out (2-1): Huge effort in last when winning off by seven and earning career-best Beyer of 84; fired a bullet work in the meantime, too, but we're inclined to be slightly dubious that he's suddenly made a big leap forward
Race 4
*** LONGSHOT PLAY #8 – Third Son (15-1) ***: Off recent form, trainer Englehart (36% at LRL, 24% overall) could safely drop this one in for a nickel but chooses to land here at $16,000 level; will leg up main local man Vargas
#6 – I've Gotta Plan (5-1): Last was a mess vs. better but drops here to appropriate spot; has a win at the trip and on an off track
#2 – Smokin Hot Factor (6-1): Drops back to level at which he was claimed three back following disastrous try vs. better
Race 5
#2 – Spooky Tooth (9-2) ***: Rallied for place after wide journey in last going two turns; cutback and inside draw can work to her advantage
#13 – War Tweet (6-5): Sure seems like solid hunch play today! Fave makes third start off a layoff and clearly owns best figs of these but will need to work out a trip from far outside
#12 – Welly (15-1): Good news: for first time in three starts is not drawn widest of all; bad news: still pretty far outside; makes third start off a five-month break here
Race 6
#2 – Ingadore (6-1): Useful return to action in last when earning fourth in first try in two-plus months; that was his first race at less than a mile – ever; returns to preferred distance today and can step forward
#3 – Ride This Train (9-2): Closing sort has a couple wins at the trip and owns an off-track score
#9 – Hirschbein (5-1): Last-out was runner-up at PEN; winner came back to win vs. slightly better
Race 7
*** BEST BET#2 – War of the States (5-2) ***: Trombetta trainee got away with slow fractions in last but could not contain the winner while still holding onto place spot; cutback could work to her advantage today; show horse from last returned to be runner-up in MSW at AQU
#6 – Lemon Drop Kitty (8-1): Closed a bit of ground last out going two turns in first try since February; can improve here
#3 – Atlantic Avenue (3-1): First start in seven weeks for a runner who looks like she may need a bit easier group to get the money; has been in top three in six of eight starts
Race 8
#7 – Yesterdaysplan (4-1): First time in Gonzalez barn (3o% first off the claim) for a runner whose best to date probably is good enough
#8 – Weekend Flyer (8-1): Wouldn't judge that last one too harshly: winner Fashion Faux Pas came back to win a $100k stake at TAM and the fifth-place finisher graduated as well; takes drop to more appropriate level here
#11 – Silver Sides (10-1): Makes first start off the claim for trainer Geralis (5-for-23 first claim)
Race 9
#5 – Katie's Reward (3-1): Decent effort last out when leading leaving the furlong grounds; cutback may aid cause
#8 – Musabaqa (10-1): Not sure what happened in last, but return to two-back form would probably get the money here; trainer Farrior has had some success with runners claimed at CD
#4 – Shipman's Magic (8-1): First time in three months and first off the claim for this McMahon trainee; galloped in most recent dirt try, albeit against low-level maidens
Yesterday's News
On Sunday, December 16 at Laurel had 6 winners from the 9-race card (1 Top Selections; payoff in BOLD below).
Top Selections are 454 for 1612 (28.16%). In 2017, Top Selections went 340 for 1,197 (28.40%). The payoffs of the day's winners…

R1: $8.40
R2: xxx
R3: $5.20
R4: $5.00
R5: $4.40
R6: $13.00
R7: xxx
R8: xxx
R9: $3.00

Of the suggested multi-race wagers, did not hit any.
BEST BET of the Day (161:50-40-14; in 2017 119: 39-25-19) Draxhall Woods (8th race: 3-1 M/L; 9-2 PT) was four wide on the turn and did not mount a rally, finishing fifth.
LONGSHOT PLAY of the Day (154:24-28-17; in 2017 107: 18-13-15) Mr. Chesapeake City (3rd race: 6-1 M/L; 2.60-1 PT) pressed the pace for the opening portion of the race and faltered to finish sixth.