The GQ Approach – Laurel December 16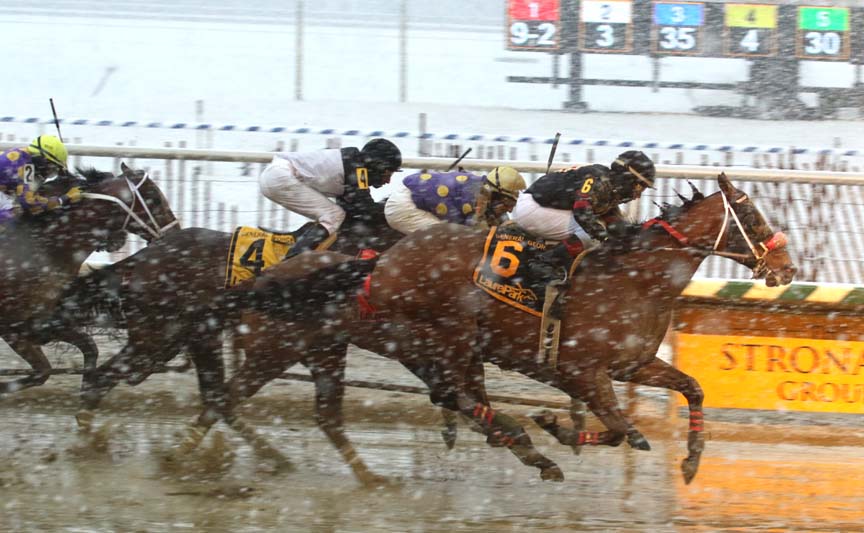 Something Awesome. Photo by Laurie Asseo.
The GQ Approach features full-card selections from Laurel Park, including a daily Best Bet, Longshot Play, and multi-race wagers — including the 20 cent Rainbow Pick-6, 50 cent Jackpot Pick-5, as well as Pick-4s and rolling Doubles, Pick-3s and the Super High-5.

[su_box title="Today's Carryovers" style="glass" box_color="#66ADCC"]
Rainbow Pick 6: $14,360
Super High 5: none
Late Pick 5: none[/su_box]
[su_box title="GQ'S Tip of the Day" style="glass" box_color="#66ADCC"][stray-random][/su_box]
[su_box title="Best Bet of the Day" style="glass" box_color="#66ADCC"]Race 8 / #7 – Draxhall Woods (3-1)[/su_box]
[su_box title="Longshot Play of the Day" style="glass" box_color="#66ADCC"] Race 3 / #3 – Mr. Chesapeakecity (6-1)[/su_box]
[su_box title="
Multi-race Wagers
" style="glass" box_color="#66ADCC"]
Race 1 – $0.50 Pick 3 1, 5, 6 w/ 1, 2, 4 w/ 1, 3 ($9.00)
Race 7 – $2 Double  4, 5, 7 w/ 6, 7 ($12.00)
[/su_box]
[su_heading size="21″ align="left"]Analysis[/su_heading]
Weather: Cloudy with rain, highs in the upper-40s
Projected condition of main track: SLOPPY; Turf: None
Post time: 12:30 p.m. EST
Race 1  
#5 – Star Seed Child (7-5): Three-back claim for top trainer Gonzalez looks to have best chance to graduate here as controlling speed vs. group that's just ok
#1 – Toma (10-1): Drops from special weight company for first try in six months; better tries would compete here
#6 – Nevisian Sunset (2-1): Was less than a length behind top choice in here last out and makes third start off a brief break
Race 2
#2 – Wicked Awesome (7-2): Stuck with it willingly last out despite troubled trip; having route experience gets him the nod over favorite in here
#4 – Secret Zar (8-5): Runner-up in a key race on debut, this Butch Reid trainee graduated in second try; like to see PRX-leading rider Pennington make trip here for this single mount; only question here is the stretch-out to a mile
#1 – Tightly Twisted (4-1): Was a decent third two back over the strip in a race that produced five next-out winners, and two to run back from his last have a ledger of 2:1-1-0
Race 3
*** LONGSHOT PLAY #3 – Mr. Chesapeakecity (6-1) ***: Won the speed duel in last but lost the war as closers came to pick up the pieces; possibility of easier trip in this test
#1 – Oy to the World (10-1): I dunno… just feels like he's about due to run better than he has in last two; debut effort would put him right there
#7 – Ice Docket (7-2): Earned show dough in debut when rallying while on wrong lead; can improve here
Race 4
#8 – Totalitario (7-2): Trainer Maldonado wins at a 19% clip when wheeling runners back in less than 10 days;made a bit of a late bid in last after traffic troubles
#2 – Lovely Games (4-5): You can't leave this guy off the ticket, but you can't very well take 4-5 on a 24-race maiden who has previously lost at this level, either; dons blinks after eight tries without and exits a key race
#4 – Escrow Finnidilly (12-1): Rallied to the lead before tiring after wide journey in latest; mile trip might suit him
Race 5    
#6 – Doinwhatshelikes (7-2): Closing sort likes this 1 1/16 mile trip, and though she has an unsightly record on off tracks, she's actually run some pretty good races without getting the money
#2– Bad Nana (5-2): Loves the off track but is 0-for-5 at the trip; trainer McMahon and rider K. Davis have done well together
#1 – Spicy Girl Red (9-2): First time in the Juarez barn; last couple tries on dirt good enough to compete with these 
Race 6    
#8 – Lord of Misrule (4-1): Trainer Geralis has had his hands full keeping this guy in one piece, but there's nothing wrong with what he's done when actually running, with two wins from five starts; has shown ability to stalk, close, or lead
#1 – Reggie's Buddy (5-1): Makes second start after a two-month break and gave a good account of himself in last; figures to be on the engine while breaking from the rail
#7 – A True Gentleman (2-1): Bullsbay gelding's been passed around a little bit the last year or so, and continues to knock out decent efforts without winning much (2-for-30); may be a bit outfooted going 6f, and expected short odds will be tough to take on a horse with limited interest in winning races
Race 7
#7 – Glengar (7-2): Trainer Gonzalez is 6-for-15 first off the claim with horses who broke their maidens in last; brave effort last out when scooting between to get up, and four of his beaten rivals have been one-two in follow-ups; cutback in distance poses the major question here
#5 – Calculated Thinkin (3-1): Has run second twice vs. similar
#4 – Top Czar (5-1): Motion trainee obliterated $25,000 maidens in last, and runner-up scored next out; retains services of pilot Vargas
Race 8
*** BEST BET #7 – Draxhall Woods (3-1) ***: PEN shipper drops into company he's beaten before after three tries vs. N2X rivals; figures to sit good trip off a couple of early types while getting first run vs. closers
#6 – Stone Bandit (5-2): Speedster stuck with it OK in latest despite losing speed duel; regular pilot Salgado passes on this engagement
#5 – Saratoga Wildcat (3-1): Expecting this veteran to be a little more engaged early than he was in last when rallying willingly from well out of it
Race 9
#2 – Arkadag (8-5): Takes two-step drop in second off the claim for conditioner D'Angelo; not sure how interested in winning this guy is, but if he's ever going to, this'd be the group to do it against
#7 – Linda's Nekia (10-1): Makes second start for trainer Ramirez and second after a two-month break; two-level drop after "outrun" effort; show horse Petion Night — less than four lengths ahead of this runner — graduated yesterday
#6 – Stevie's Joy (9-5): Figs put him right there, but this Allen trainee has lost vs. similar five times on the page
Yesterday's News
On Saturday, December 15 at Laurel had 7 winners from the 9-race card (2 Top Selections; payoff in BOLD below).
Top Selections are 453 for 1603 (28.18%). In 2017, Top Selections went 340 for 1,197 (28.40%). The payoffs of the day's winners…

R1: $5.00
R2: $6.40
R3: $24.60
R4: $8.00
R5: $12.40
R6: xxx
R7: $4.60
R8: $8.60
R9: xxx

Of the suggested multi-race wagers, hit the R1-R2 Double, which returned $17.00 for a $2 wager (total wagered: $12.00) and R3-R5 Pick-3, which returned $161.30 for a 50 cent wager (total wagered: $13.50).
BEST BET of the Day (160:50-40-14; in 2017 119: 39-25-19) Aspect (2nd race: 3-1 M/L; 3.20-1 PT) saved ground stalking the pace, was urged along mid-turn, failed to respond and retreated to finish sixth.
LONGSHOT PLAY of the Day (153:24-28-17; in 2017 107: 18-13-15) Greek God (8th race: 8-1 M/L; 5.00-1 PT) three deep disputing the pace, raced four wide between rivals into the stretch and gave way in mid-stretch finishing fifth.