The GQ Approach – Laurel December 15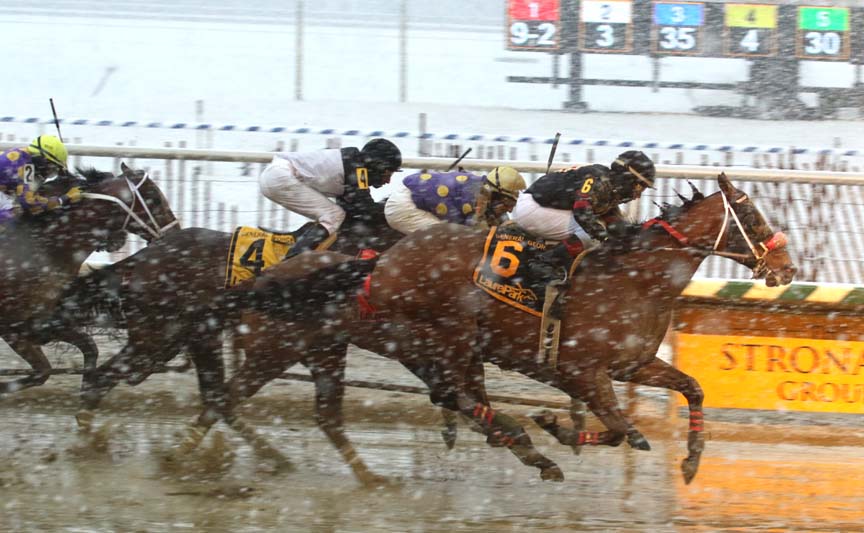 Something Awesome. Photo by Laurie Asseo.
The GQ Approach features full-card selections from Laurel Park, including a daily Best Bet, Longshot Play, and multi-race wagers — including the 20 cent Rainbow Pick-6, 50 cent Jackpot Pick-5, as well as Pick-4s and rolling Doubles, Pick-3s and the Super High-5.

[su_box title="Today's Carryovers" style="glass" box_color="#66ADCC"]
Rainbow Pick 6: $12,760.86
Super High 5: $898.10
Late Pick 5: none[/su_box]
[su_box title="GQ'S Tip of the Day" style="glass" box_color="#66ADCC"][stray-random][/su_box]
[su_box title="Best Bet of the Day" style="glass" box_color="#66ADCC"]Race 2 / #2 – Aspect (3-1)[/su_box]
[su_box title="Longshot Play of the Day" style="glass" box_color="#66ADCC"] Race 8 / #5 – Greek God (8-1)[/su_box]
[su_box title="Multi-race Wagers" style="glass" box_color="#66ADCC"]
Race 1 – $2 Double 1, 3, 5 w/ 1, 2 ($12.00)
Race 3 – 50 cent Pick-3  2, 7, 9 w/ 2, 5, 6 w/ 1, 4, 11 ($13.50)
Race 6 – 50 cent Pick-4  1, 8, 9 w/ 2, 5 w/ 3, 5, 6 w/ 2, 6, 7 ($27)
[/su_box]
[su_heading size="21″ align="left"]Analysis[/su_heading]
Weather: Cloudy with rain, highs in the upper-40s
Projected condition of main track: SLOPPY; Turf: None
Post time: 12:30 p.m. EST
Race 1  
#3 – Bourbon Streak (6-1): Second start with blinkers and good gate-rider J.D. Acosta along with cut back in distance could see this gelding turn in a front running performance much like his only previous main track sprint three back when third v. $40kMCLs
#1 – Petion Night (9-2): No problem getting the early lead in latest when breaking from the rail at this level going a furlong further, he just could carry that speed to the wire
#5 – Caneel Bay (3-1): Makes dirt debut after seven turf decent (7:0-3-2); this 5-year-old gelding by Midnight Lute out of a Sharp Humor mare form should certainly translate well to the main track, more so over an anticipated sloppy track 
Race 2
#2 – Aspect (3-1): *** BEST BET *** Impressive debut win after poor start, came back to get SHOW purse in 2-yr-old stakes, both at Del; a rough, traffic troubled trip in PA-bred stakes while managing fourth and a nice 85 BRIS# indicates the talent is there
 #1 – Mount Travers (9-2): After a promising start of career with debut win in slop at Del and game SHOW effort at Prx in Alwn1x, not so much at Lrl when blinkers were added; they come odff here after being transferred from A. Delacour to L. Rice barn
#7 – Amino (8-5): 87 BRIS# earned in maiden breaking score is tops among these youngsters; T. McCarthy/G. Motion are a tough duo (3 for 8 this meet) especially when having the logical choice
Race 3
#7 – Hail the Queen (7-2): First start off trainer C. Lynch $20k claim, a race after being claimed for $16k; Lynch does well with 2-year-olds (20%) and will likely get this one to improve or at least run back to those two 70+ BRIS#s at Elp
#9 – Call Me Jelly Roll (10-1): More of a Jekyll & Hyde type bouncing after her two best efforts; away since getting trounced by a group of nice local fillies in September, as don't see any of those that talented in here; her best effort to date puts her in the mix
#2 – Starr Designer (8-1): Not a great outing in first try against winners but runner-up came back to win so she'll likely improve against this bunch plus this Capper's daughter is a Graphic Designer, so why not a pre-holiday hunch play?
Race 4
#5 – Joy Drive (3-1): Goes for natural Hat Trick following nice win while stepping up after trainer D. Houghton claim; sprinter speed stretching out for just second time in career (runner-up in only other one mile contest) should be able to control modest pace
#6 – Ten Hut (9-2): Continues to dance every dance regardless of competition level; no shame in fourth-place effort v. OC35k/n2x in first off trainer P. Schoenthal claim; handles off track just fine (6:2-2-1)
#2 – Divine Interventio (7-5): Hasn't been OTB in last six starts, winning three of them, the latest as PT favorite in an OC35k/n2x; will need pace help as this Closer has been runner-up in all 3 off track efforts
Race 5    
#1 – Slewzer (3-1): This 3-year-old, 4-time winner takes advantage of this N3L condition for elders one last time; nice off track record (3:1-0-2) as career best BRIS# (83) came in that win two back
#11– Bourbonstreetlady (10-1): In a field with plenty of early speed, she scored in latest coming just a bit off the pace in the slop v. $5kN2L on a class drop; could repeat with another patient ride by C. Carrasco, his only mount on the card   
#4 – Gloria's Gal (5-2): One might raise the caution flag on this 3-year-old MD-bred taking multi-level class drop to bottom when she's competed just fine against allowance level gals; then again outfit might want to take the profit now ($62k in earnings for $6k yearling purchase)
 
Race 6    
#1 – Jagger Baby (7-2): Makes Lrl debut in fourth career start coming off 2-month layoff and best effort when running on Lasix first time; jock A. Suarez off ML favorite (#8) due to clicking on all cylinders with trainer J. Ness (21% over the past year)     
#9 – Artful Splatter (6-1): Hasty drop from $40kMCL in debut when outrun and chilly (30-1) which is rare for a Hillwood Stables/trainer R. Jenkins runner; catches a much easier group as A. Cintron (1 for 2 w/ Jenkins) takes the reins  
#8 – Two Way Road (5-2): Very brief speed at Pen in latest, fifth start but first on fast track; if turf, synthetic and/or off track is to his liking, as was the case v. MSW and $40kMCL types, then today might be Graduation Day                           
Race 7
#2 – Pleiadian (3-1): Gate-to-wire candidate especially on an off track (14:6-5-0); succumbed to foe late in same condition in latest as PT favorite; fits this condition N2Y nicely as 2 wins during timeframe came against lesser which are not considered for eligibility in this contest
#5 – Definitely Tonight (6-1): One could only wish… hits the board whenever running on an off track (4:1-0-3) and gets top rider in T. McCarthy
#8 – Rare Candy (9-2): Seen this movie before as leading trainer C. Gonzalez wins in first after layoff, runner lays an egg next out then comes back to win at a more attractive price
Race 8
#5 – Greek God (8-1): $$$ LONGSHOT $$$ If top pick is vulnerable, look here as J. Pimentel stays aboard after hustling this one to early lead going two-turns in first start off the bench then packed it in late; trainer J. Maldonado (13%) is 21% with route-to-sprint angle
#6 – Chief Tarhe (4-1): Winner in latest giving 10 lb. bug F. Pinero first ever victory who may have discovered this gray gelding prefers going to the lead which was first time in 32 career outings he's never seen the hind end of any foe
#3 – Plenty Elusive (3-1): Tough run in latest in slop at Prx for same tag as trainer J. Ness nab this 8-year-old 11-months prior; drop to bottom may be yellow flag or just where outfit can get a ROI 
Race 9
#6 – Angelinas Star (3-1): Speed of the speed on a track that will likely be kind to early speed; couldn't last the 6 furlongs in spite of her climbing speed figures; with just another slight step forward she gets takes the nightcap
#7 – Ginger in Disguise (20-1): Invader from CT took to the slop like a fish to water when breaking her maiden coming from off the pace, which there will be plenty in this contest; finished just behind top pick here two back in only other start outside of CT
#2 – Two Carat (6-1): Encountered traffic late in latest yet still finished just over a length behind top pick; only reservation in liking this one more is her worse two outings came on an off track
Yesterday's News
On Friday, December 14 at Laurel had 8 winners from the 9-race card (3 Top Selections; payoff in BOLD below).
Top Selections are 451 for 1594 (28.29%). In 2017, Top Selections went 340 for 1,197 (28.40%). The payoffs of the day's winners…

R1: $4.00
R2: 2.80
R3: $9.40
R4: $3.20
R5: $4.00
R6: xxx
R7: $2.80
R8: $5.00
R9: $4.60

Of the suggested multi-race wagers, hit the R2-R3 Double, which returned $17.00 for a $2 wager (total wagered: $12.00).
BEST BET of the Day (159:50-40-14; in 2017 119: 39-25-19) S W Briar Rose (3rd race: 3-1 M/L; 3.70-1 PT)  was towards the rail early, steadied near the three-eighths, and slipped through inside to win by a half-length, returning $9.40 to WIN, $3.80 to PLACE, and $2.10 to SHOW.
LONGSHOT PLAY of the Day (152:24-28-17; in 2017 107: 18-13-15) Jonathan McD (8th race: 8-1 M/L; 6.90-1 PT) saved ground but had no bid, finishing sixth.