The GQ Approach – Laurel December 14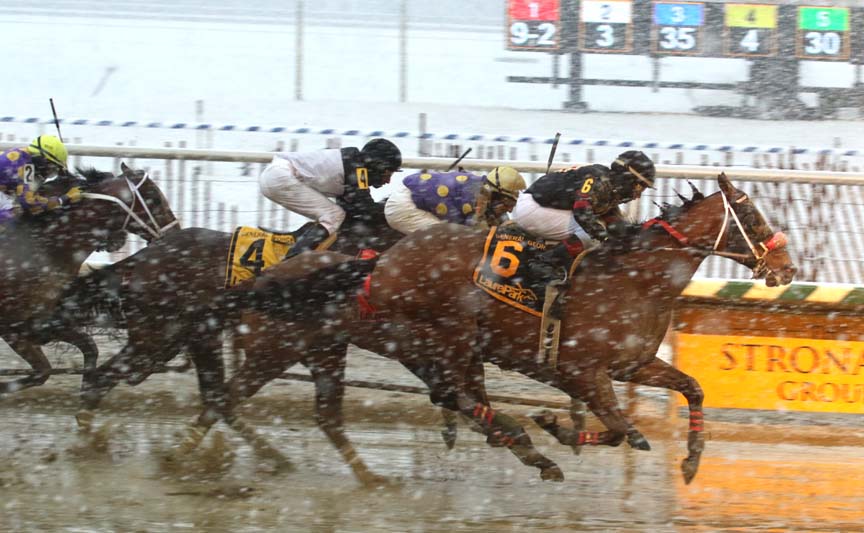 Something Awesome. Photo by Laurie Asseo.
The GQ Approach features full-card selections from Laurel Park, including a daily Best Bet, Longshot Play, and multi-race wagers — including the 20 cent Rainbow Pick-6, 50 cent Jackpot Pick-5, as well as Pick-4s and rolling Doubles, Pick-3s and the Super High-5.

[su_box title="
Today's Carryovers
" style="glass" box_color="#66ADCC"]
Rainbow Pick 6: $10,170
Super High 5: none
Late Pick 5: $4,939[/su_box]
[su_box title="GQ'S Tip of the Day" style="glass" box_color="#66ADCC"][stray-random][/su_box]
[su_box title="Best Bet of the Day" style="glass" box_color="#66ADCC"]Race 3 / #3 – S W Briar Rose (3-1)[/su_box]
[su_box title="Longshot Play of the Day" style="glass" box_color="#66ADCC"] Race 8 / #9 – Jonathan McD (8-1)[/su_box]
[su_box title="
Multi-race Wagers
" style="glass" box_color="#66ADCC"]
Race 2 – $2 Double 2, 4, 5 w/ 3, 5 ($12.00)
Race 5 – 50 cent Pick-5  1, 6 w/ 1, 2 w/ 2, 9 w/ 9, 13 w/ 4, 5, 13 ($24.00)
[/su_box]
[su_heading size="21″ align="left"]Analysis[/su_heading]
Weather: Cloudy, highs in the mid-40s
Projected condition of main track: FAST; Turf: None
Post time: 12:30 p.m. EST
Race 1
#6 – Storm Raven (7-5): First time in the Schoenthal barn; runner's lone dirt try was an even third vs. better
#4 – Empire Panther (8-1): Rider Montanez lands here rather than #2; Corrales trainee made a middle move before emptying out in last and has competed at this level
#7 – A Little Info (4-1): Nunn trainee makes third start off a three-month break and enters off a runner-up effort vs. similar
Race 2
#4 – Grand River (3-1): Theory: trainer Billy Campbell isn't so much cutting bait with this one as trying to sneak one by and make him eligible for starter conditions; if we're right, he's the likely winner; if not, well, never mind
#2 – Glad Dad (6-1): Favorite figures to take on more early pressure, and this guy, who was third in last, may be a beneficiary
#5 – Readytotapit (8-5): Bested similar in last, but perhaps telling that trainer McMahon goes down — rather than up — the ladder off the win
Race 3
*** BEST BET #3 – S W Briar Rose (3-1) ***: Albright trainee has defeated N2X foes at PEN in last two (though DQed from one of those); mid-pack sort may sit right trip off the speed here
#5 – Bye Bye Blues (7-2): Speedster has never crossed the line worse than second in nine career starts, including five wins
#6 – My Chesa Charm (6-1): In good form now with back-to-back wins; journeyman rider Cintron winning at 25% clip for trainer Reid
Race 4
#4 – Music of Life (7-2): Bodemeister filly debuted with a good-looking score; inclined to toss last, as winner Congrats Gal is a different sort of beast than these
#1 – Enjay's Brass (8-5): Nothing wrong with what this runner's done to date; odds feel a little short on the cutback from a mile to 5 1/2 furlongs
#2 – Knock Out Kid (9-2): Robb trainee moving in the right direction
Race 5
#1 – Flying the Flag (5-2): Rallying sort was an easy winner at CD; recency gives this one the nod over chalk in here
#6 – Speightsford (8-5): Looks to be controlling speed in here, has been working well, and winner from last gave good accounting of himself in follow-up at KEE; two-plus month break makes short odds tough to stomach, though
#3 – Southern Wild (6-1): Closer was along for show dough in last, and winner took an N2X in follow-up
Race 6
#2 – So Gracious (6-1): Trainer Russell is 2-for-8 with five in the money in debut races; Speightstown filly out of a Medaglia d'Oro mare possesses major pedigree advantage here
#1 – Rockstar Girl (5-2): Reid trainee gets blinks for second career start and shows a bullet work in the interim
#3 – Margie's Band (10-1): Half-sib Margie's Money won twice at two
Race 7
#2 – Sacred Walk (3-5): Just won this race by 11, and last two Beyers are both better than any other runner's best
#9 – Awesome Times Two (15-1): Arrives from CD in first off the claim for trainer O'Dwyer
#4 – Tattooed (15-1): Improved try last out vs. similar; makes third start off seven month break here, and like to see rider McCarthy remain
Race 8
*** LONGSHOT PLAY #9 – Jonathan McD (8-1) ***: Makes second start for trainer Potts and takes major drop here following even effort on major raise; he's gonna love the class relief
#13 – Great Adventurer (5-2): Only negative here is far outside post; last out was a sneaky good race, as this one was pinched back to last, rushed up between horses, steadied in traffic, and still stuck with it to the end; if he can overcome breaking from the parking lot, he can be a handful
#10 – Pro Riot (8-1): Major rally to get the money in last raises question of whether the lightbulb went on or this one's a mudlark; answer pending
Race 9
#5 – Road Guard Post (6-1): Third start off a layoff and second time on Lasix for this Unbridled's Song gelding; showed new dimension in sticking with it to the end despite not making lead in last
#13 – Midnight Cry (7-2): Speedster bested similar in last, can repeat here
#4 – Best Surprise (3-1): Takes major drop in company here in first in Lake barn but may be outfooted a bit early in short sprint
Yesterday's News
On Sunday, December 9 at Laurel had 5 winners from the 9-race card (1 Top Selections; payoff in BOLD below).
Top Selections are 447 for 1576 (28.36%). In 2017, Top Selections went 340 for 1,197 (28.40%). The payoffs of the day's winners…

R1: $3.40
R2: xxx
R3: $2.80
R4: $6.20
R5: xxx
R6: xxx
R7: xxx
R8: $9.00
R9: $5.40

Of the suggested multi-race wagers, none was hit.
BEST BET of the Day (158:49-40-14; in 2017 119: 39-25-19) Justanarch (2nd race: 3-1 M/L; 2.10 PT)  had an inside trip and came up empty to be fourth.
LONGSHOT PLAY of the Day (151:24-28-17; in 2017 107: 18-13-15) Hurricane Bear (5th race: 15-1 M/L; 21.90-1 PT) showed good speed, disputed the pace for three-quarters of a mile, and faded to be ninth.