The GQ Approach – Laurel December 9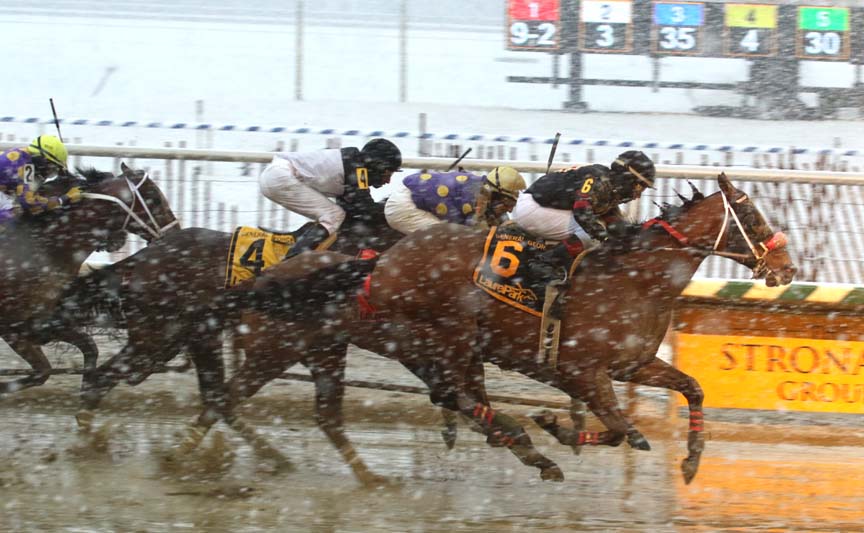 Something Awesome. Photo by Laurie Asseo.
The GQ Approach features full-card selections from Laurel Park, including a daily Best Bet, Longshot Play, and multi-race wagers — including the 20 cent Rainbow Pick-6, 50 cent Jackpot Pick-5, as well as Pick-4s and rolling Doubles, Pick-3s and the Super High-5.

[su_box title="
Today's Carryovers
" style="glass" box_color="#66ADCC"]
Rainbow Pick 6: $7,992
Super High 5: $2,109
Late Pick 5: none[/su_box]
[su_box title="GQ'S Tip of the Day" style="glass" box_color="#66ADCC"][stray-random][/su_box]
[su_box title="Best Bet of the Day" style="glass" box_color="#66ADCC"]Race 2 / #2 – Justanarch (3-1)[/su_box]
[su_box title="Longshot Play of the Day" style="glass" box_color="#66ADCC"] Race 5 / #7 – Hurricane Bear (15-1)[/su_box]
[su_box title="
Multi-race Wagers
" style="glass" box_color="#66ADCC"]
Race 2 – $2 Double 2, 10 w/ 1, 5, 8 ($12.00)
Race 7 – 50 cent Pick-3  4, 11 w/ 4, 6, 7 w/ 1, 3, 9 ($9.00)
[/su_box]
[su_heading size="21″ align="left"]Analysis[/su_heading]
Weather: Cloudy, highs in the 30s
Projected condition of main track: FAST; Turf: None
Post time: 12:30 p.m. EST
Race 1
#8 – Her Royal Highness (8-5): Motion trainee ran a good second on debut, and four of six to run back won their follow-ups, includng the winner, show horse, and fourth-place finisher, winner going to CD to take an N1X; Motion is 16-for-75 with second-time maiden special runners who were in the money on debut
#5 – End Result (9-5): Would be no surprise to see this runner get the money here after a solid second behind runaway winner in debut tilt
#2 – Havennow (8-1): O'Dwyer trainee made a bit of a middle move before emptying out in first try, can improve here
Race 2
*** BEST BET #2 – Justanarch (3-1) ***: Absolutely never caught a break in last, when breaking from far outside and having company every step of the way while hung out wide; better draw here, and repeat of last would get her her diploma
#10 – Gateau St Honore (4-1): Makes third start off a layoff here while dropping to bottom; runner-up from last returned to be second again at MC 16k level
#1 – Parched Ghost (8-1): Makes second start off a bit of a break
Race 3
#5 – Saratoga Jack (4-1): Good try in last to hold second vs. hard-hitting Bonus Points, multiple graded winner Imperative; slightly cutback in distance might play to his strength
#1 – Tiz He the One (4-5): He might just be, after huge effort last out when winning easily and earning 100 Beyer; race produced a next-out winner, too, but there's no value to be found here
#8 – Flashy Kyem (15-1): Has to find best form after a couple of duds, but trainer Servis is 27% at LRL, and added ground on offer here should help
Race 4
#6 – Smile Bryan (2-1): Pretty good effort on debut when holding second, as winner came back to repeat — but note he did so while stretching out, and this runner cuts back to 5 1/2, which gives us slight pause; all four to run back from debut have run one-two
#7 – Mandatory Payout (12-1): Maldonado-trained Strong Mandate colt has been throwing down some solid workds, including a couple bullets; trainer is 2-for-7 with first-timers, and puts up rider he's had success with (25%)
#12 – Danz a Rebel (3-1): Was put up to second in last at PEN, but this Lynch trainee always seems to find trouble
Race 5
*** LONGSHOT PLAY #7 – Hurricane Bear (15-1) ***: Last was best since switch to Scott barn, when runner caught a pretty rugged crew, including multiple WVBC Onion Juice winner Follow the Notion; not necessarily the most likely winner of these but offering best value
#8 – Done Acting (4-1): Drops out of allowance company after a pair of credible attempts; runner-up from last returned to win the N1X condition yesterday; solid journeyman Cintron lands here vs. #10
#9 – Forty Acres (9-2): Makes third start after a four-month break; scored via good trip last out and may sit similar journey today
Race 6
#2 – Chief of Staff (5-2): What – 5 1/2 furlongs was too far for these guys? Has been facing better than these, though ultra-short, rarely run sprint distance may leave him a bit outfooted early on
#7 – Key Mono (4-1): Big try in last when winning the speed duel against the favorite before closers came and picked up the pieces; cutback should be just fine in a race that feels like there's not a ton of early speed
#4 – Dr. Bolt (6-1): Closing sort encountered trouble in last
Race 7
#11 – Girl Drama (7-2): First time in Gonzalez barn (29% first time in the barn) for a runner who's been facing better at SA and DMR
#4 – Sweet Walela (10-1): Last-out graduate tries winners for the first time in third start off a break; runner-up returned to take MC 10k; look for this one on the engine early
#8 – Dancingwithpaynter (6-1): Not too much dancing going on here with a runner whose early promise has evaporated in trip to bottom level; takes multi-step drop here
Race 8
#7 – Miz Creed (9-2): Two good efforts to start her career, and breeding says added ground should be fine; shows a couple of works since last
#4 – Real Point (5-1): Trainer Corrales has done well with runners shipped down from synthetic surface at WO; Lasix on, blinks on and first dirt here
#6 – Lady Vicki (6-1): Won off by six in last and three of five to run back have finished in the triple; lightly raced sort retains upside
Race 9
#9 – Tidy Stripe (4-1): Trainer Sillaman does well first off the claim (19%) and adds blinks here in effort to get runner more focused
#3 – Doit for Spite (2-1): Good effort in last in first in Lynch barn when running second vs. better; winner returned to be second for $16k, and rider chose this one over #2; looks like all systems go
#1 – Thalia's Song (7-2): Dropped to bottom in last and nearly got the money; rallying sort will need a pace to develop up ahead
Yesterday's News
On Saturday, December 8th at Laurel had 7 winners from the 9-race card (1 Top Selections; payoff in BOLD below).
Top Selections are 446 for 1567 (28.46%). In 2017, Top Selections went 340 for 1,197 (28.40%). The payoffs of the day's winners…

R1: $30.40
R2: $6.80
R3: $7.20
R4: $8.80
R5: xxx
R6: $13.20
R7: $6.20
R8: $6.80
R9: xxx

Of the suggested multi-race wagers, hit the R1-R2 $2 Double for $139.20 (total wager cost: $12).
BEST BET of the Day (157:49-40-14; in 2017 119: 39-25-19) Lewisfield (7th race: 8-5 M/L; 3-5 PT)  sprinted clear leaving the backstretch, set the pace slightly off the rail around the turn and weakened late to finish one-and-one-half-lengths behind the winner and returned $2.10 to SHOW.
LONGSHOT PLAY of the Day (150:24-28-17; in 2017 107: 18-13-15) Huntin'theholidays (6th race: 10-1 M/L; 8-1 PT) off the pace, steadied near the three eighths, came four wide for the drive, altered out near mid-stretch, finished with good energy to finish in a Dead Heat for the runner-up position and returned $5.00 to PLACE and $6.20 to SHOW.