The GQ Approach – Laurel December 8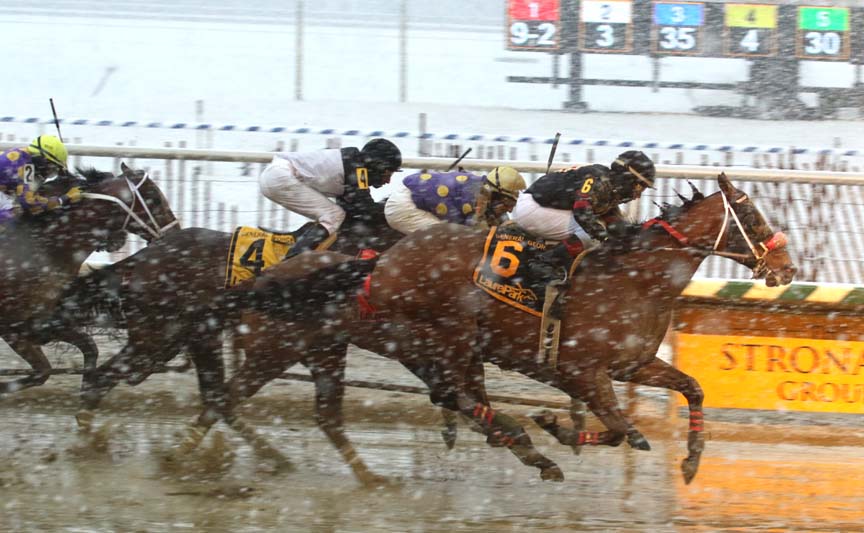 Something Awesome. Photo by Laurie Asseo.
The GQ Approach features full-card selections from Laurel Park, including a daily Best Bet, Longshot Play, and multi-race wagers — including the 20 cent Rainbow Pick-6, 50 cent Jackpot Pick-5, as well as Pick-4s and rolling Doubles, Pick-3s and the Super High-5.

[su_box title="
Today's Carryovers
" style="glass" box_color="#66ADCC"]
Rainbow Pick 6: $5,573.54
Super High 5: $230.72
Late Pick 5: none[/su_box]
[su_box title="GQ'S Tip of the Day" style="glass" box_color="#66ADCC"][stray-random][/su_box]
[su_box title="Best Bet of the Day" style="glass" box_color="#66ADCC"]Race 7 / #6 – Lewisfield (8-5)[/su_box]
[su_box title="Longshot Play of the Day" style="glass" box_color="#66ADCC"] Race 6 / #4 – Huntin'theholidays (10-1)[/su_box]
[su_box title="
Multi-race Wagers
" style="glass" box_color="#66ADCC"]
Race 1 – $2 Double 3, 4, 7 w/ 3, 8 ($12.00)
Race 3 – 50 cent Pick-3  2, 6, 9 w/ 3, 4, 7 w/ 1, 5, 6 ($13.50)
Race 6 – 50 cent Pick-4  4, 8, 10, 11 w/ 6 w/ 4, 6, 7, 10 w/ 4, 6, 9 ($24)
[/su_box]
[su_heading size="21″ align="left"]Analysis[/su_heading]
Weather: Partly Sunny, highs in the upper-30s
Projected condition of main track: FAST; Turf: None
Post time: 12:30 p.m. EST
Race 1
#3 – Thesweetesttaboo (5-2): Sade been singing this sweet tune for owners since transferring to trainer C. Gonzalez barn going for the natural Hat Trick at Lrl
#7 – Untaken (7-2): Runner-up behind top pick in latest under R. Montanez for the first time; was beaten favorite in two previous outings at this level
#4 – Bodega Bay (10-1): Bug rider W. Hamilton opts to ride this one v. staying on #1; surprisingly showed early speed in latest versus similar foes but succumbed late after long duel
Race 2
#3 – The Great Provider (5-2): A reclaim for trainer L. Gaudet who's been on a hot streak; confident move stepping up while no longer in Claiming Jail; likes Lrl (18:5-7-2)
#8 – Rockin Cowboy (6-1): Beaten favorite returns to same level looking for redemption after being shuffled back early, unable to get typical forwardly placed position; T. McCarthy stays aboard
#6 – Martywiththeparty (2-1): Another one with a slight excuse versus better as he was a bit tardy from the gate; a gate-to-wire threat with a more alert start
Race 3
#6 – Castle Ridge (6-1): Appears to be the speed of the speed coming off two huge efforts at Kee, claimed for $20k out of last for trainer L. Gaudet who gets to Winners' Circle 26% (3.12 ROI) in first off claim
#2 – Margie's Money (6-1): Candidate to take advantage of speed duelers ge3tting leg-weary late; cut back to 5 ½ would seem a negative but she's at this distance 3-times from 5 efforts
#9 – Musabaqa (8-1): Second start with blinkers, first after trainer A. Farrior $16k claim at CD when this filly won on a Fast track for 3rd time in as many Fast track starts 
Race 4
#4 – Scrap Cooper (2-1): Scored as a huge overlay (9-1) when making amends for terrible start in  MD Million Juvenile as favorite; naysayers will point to best races have been on turf and off track; this Capper says, "Not so!"
#7 – Sky Magician (5-1): Graduated in latest when equipped with blinkers after a quartet of runner-up finishes; should appreciate added distance
#3 – Alwaysmining (5-1): 10-length, gate-to-wire winner here in the slop when stretched out to one mile earning BRIS# equal to top picks latest effort; he's the only one in here to have lead in early stages of late
Race 5
#1 – Belial (2-1): Broke through to beat winners following two runner-up finishes behind a pair of nice fillies with bright futures; BRIS#s have been rising but will need some pace help to get the W
#5 – Nine Martinis (6-1): MD-bred filly could turn out to be a prudent $15k claim out of debut win at CD that saw runner-up break maiden in next outing; still calls CD home but connections willing to ship for this restricted $100k event
#6 – Questionoftheday (6-1): Considered the weaker of the two uncoupled entries for trainer M. Trombetta (#9 is 4-1) but if early speed is holding on this nearly frozen track, A. Cintron may make every pole a winning one
Race 6
#4 – Huntin'theholidays (10-1): $$$ LONGSHOT $$$ What a mixed bag of talent in this popular $5kn1y event that drew 16 entries and will surely eliminate plenty of Pick-6 tickets; taking a WAG with this gelding, first off G. Brooks $5k claim in Aug. at Del; owns a nice Lrl record (8:2-1-2) 
#10 – Correjon (9-2): Returned to trainer J. Corrales barn after three uninspiring tries against tough first-level allowance foes; drops to the bottom claimer where surely someone will take a shot as he's showed talent in the past for this outfit
#11 – Turbin (8-1): Toss last start as jock was unable to control him early and often; thankfully gets different jock and additional furlong to catch the early speed late; got SHOW purse in latest at this distance against tougher, open $5k claimers
Race 7
#6 – Lewisfield (8-5): *** BEST BET *** On a track the should be kind to early speed IMHO, this Lrl Lover (8:5-2-0) who exits third-place effort in $200k stakes at Pen when Post Time favorite; should have things all his own way as there's a lack of need-the-lead types in this restricted stakes
#5 – Laki (9-5): Been waiting in the wings since a strong runner-up effort in G3 DeFrancis Dash on Sept. 22nd; prior to that one got win via DQ over top pick in exciting stretch duel
#2 – Rockinn On Bye (7-2): Got the better of top pick in that $200k stakes when rallied late (as usual) to be second, paying immediate dividends in first start after trainer C. Gonzalez $50k claim
Race 8
#6 – Telecommunication (2-1): Call on potential graduation day got disconnected in final strides, when couldn't hold big lead in slop; a 1/16th shorter distance today can get her to Winners' Circle
#7 – Gotnoquit (5-2): Two-time short priced loser is certainly an oddity for Lrl leading trainer C. Gonzalez runners; had multiple excuses in latest but has no early speed on cut back in distance  
#10 – Totalitario (5-1): First start three failed attempts in MSW events at NYRA tracks (FL and Sar); been away for nearly 3-months, surfaced at Lrl last month showing decent worktab for new trainer J. Maldonado; first start with Lasix
Race 9
#6 – Di (5-2): Four career start, four third-place finishes all at Del; latest came 3-months ago and shows just two works since; only mount on the card for A. Suarez who has won at 22% clip with J. Ness runners; drops to bottom in search of diploma 
#4 – Flirtation Walk (9-2): Beaten favorite in third career start which followed a runner-up effort when 25-1; slight excuse breaking from 14-Post never found her way to a more reasonable path; jock switch and class drop could be the winning formula
#9 – Weekends for Work (2-1): Typical trainer J. Robb move… debut runners where they can be competitive, then step them up where they usually fail to live up to the hype then drops as a "Third time is a charm" to break maiden
Yesterday's News
On Friday, December 7th at Laurel had 6 winners from the 9-race card (2 Top Selections; payoff in BOLD below).
Top Selections are 446 for 1567 (28.46%). In 2017, Top Selections went 340 for 1,197 (28.40%). The payoffs of the day's winners…

R1: xxx
R2: xxx
R3: $5.80
R4: $10.40
R5: $9.80
R6: $4.20
R7: xxx
R8: $4.80
R9: $7.40

Of the suggested multi-race wagers, none were hit.
BEST BET of the Day (156:49-40-13; in 2017 119: 39-25-19) Candy Store (1st race: 8-5 M/L; 3-5 PT) stalked the pace, was three deep leaving the turn, drifted to the five-path turning for home and failed to be a threat to the winner and returned $2.20 to PLACE, and $2.10 to SHOW.
LONGSHOT PLAY of the Day (149:24-27-17; in 2017 107: 18-13-15) Cousin Jimmy (7th race: 15-1 M/L; 14-1 PT) bumped leaving the gate, settled in back of the pack early, began to rally on the turn but flattened out in the stretch to finish sixth.