The GQ Approach – Laurel December 7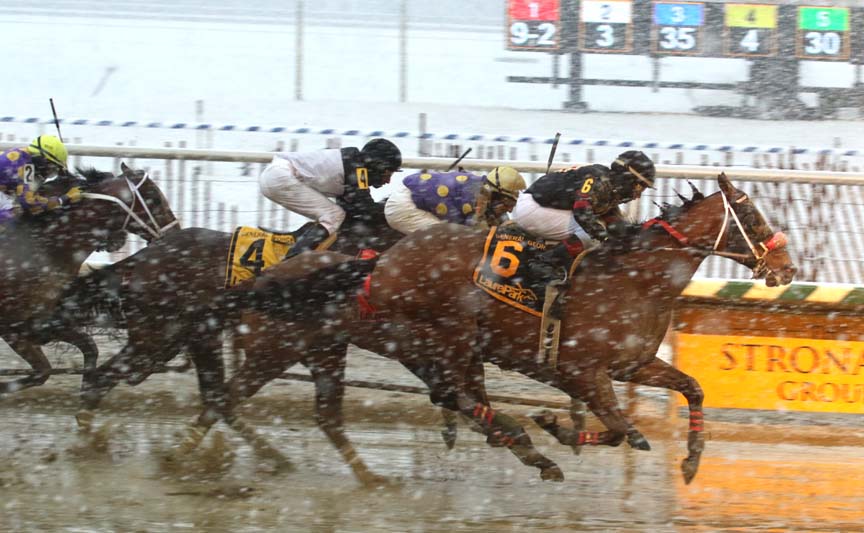 Something Awesome. Photo by Laurie Asseo.
The GQ Approach features full-card selections from Laurel Park, including a daily Best Bet, Longshot Play, and multi-race wagers — including the 20 cent Rainbow Pick-6, 50 cent Jackpot Pick-5, as well as Pick-4s and rolling Doubles, Pick-3s and the Super High-5.

[su_box title="
Today's Carryovers
" style="glass" box_color="#66ADCC"]
Rainbow Pick 6: $4,311
Super High 5: $1,692
Late Pick 5: $9,165[/su_box]
[su_box title="GQ'S Tip of the Day" style="glass" box_color="#66ADCC"][stray-random][/su_box]
[su_box title="Best Bet of the Day" style="glass" box_color="#66ADCC"]Race 1 / #5 – Candy Store (8-5)[/su_box]
[su_box title="Longshot Play of the Day" style="glass" box_color="#66ADCC"] Race 7 / #3 – Cousin Jimmy (15-1)[/su_box]
[su_box title="
Multi-race Wagers
" style="glass" box_color="#66ADCC"]
Race 1 – $2 Double 5 w/ 1, 2, 4 ($6.00)
Race 7 – 50 cent Pick-3  2, 5, 7 w/ 4, 5, 7 w/ 1, 2, 10 ($13.50)
[/su_box]
[su_heading size="21″ align="left"]Analysis[/su_heading]
Weather: Cloudy, high of 40
Projected condition of main track: FAST; Turf: None
Post time: 12:30 p.m. EST
Race 1
*** BEST BET #5 – Candy Store (8-5) ***: Solid effort on debut behind a winner who repeated; dam was a stakes winner at one mile, and trainer Motion strikes at 21% with maidens who were in the money last out
#1 – Awesome Rally (15-1):
#4 – Itgot Grandma (7-2):
Race 2
#2 – Boondoggle (3-1): Decent tries vs. similar; figures to be one who'll inherit the lead when fainthearted favorite decides to pack it in
#4 – Poplar Avenue (8-5):
#1 – Tale of the Blade (9-2):
Race 3
#2 – Orient Point (10-1): Drops from much better company in second start of '18; can improve here
#3 – Dr. Cerrato (3-1):
#1 – Mike the Tiger (5-2):
Race 4
#5 – Tiger Eyes (3-1): Midpack runner lands in easiest spot to date
#8 – Springtime Wind (7-2):
#4 – Gimme Kimmy (7-2):
Race 5
#1 – Samadi Blue (9-2): Drops off a solid try in last vs. better when third; fourth-place finisher return to graduate in follow-up
#5 – Nick Papagiorgio (6-1):
#6 – By the Bay (5-1):
Race 6
#4 – Liz's Smile (8-5): Four works since solid try when earning show dough in last at a higher level; first, second, and fourth finishers from that race all won their follow-ups; journeyman Cintron in the irons a positive
#3 – Sipping Champagne (8-1):
#5 – War Tweet (4-1):
Race 7
*** LONGSHOT PLAY #3 – Cousin Jimmy (15-1) ***: Makes third start off a little break and has run well in both; finished a couple behind the favorite here in last after a bit of trip trouble; showing two works since last
#5 – Forced (7-5):
#2 – Gnarly (6-1):
Race 8
#4 – Win Win Win (3-1): Good effort to win at first asking and shows three works, the last a bullet half, in the interim; note rider Pimentel chooses this one vs. other Trombetta runner (#3)
#5 – Successful Zip (5-2):
#7 – Sunman (5-1): 

Race 9
#10 – Mr. Fixit (5-1): Drawn outside other speed types in second try for trainer Magee; solid third in last despite bobbling start; sophomore has won five times and is four-for-four at the trip
#1 – Taco Supream (9-2):
#2 – Sonic Boom E Jet (5-1):