The GQ Approach – Laurel December 2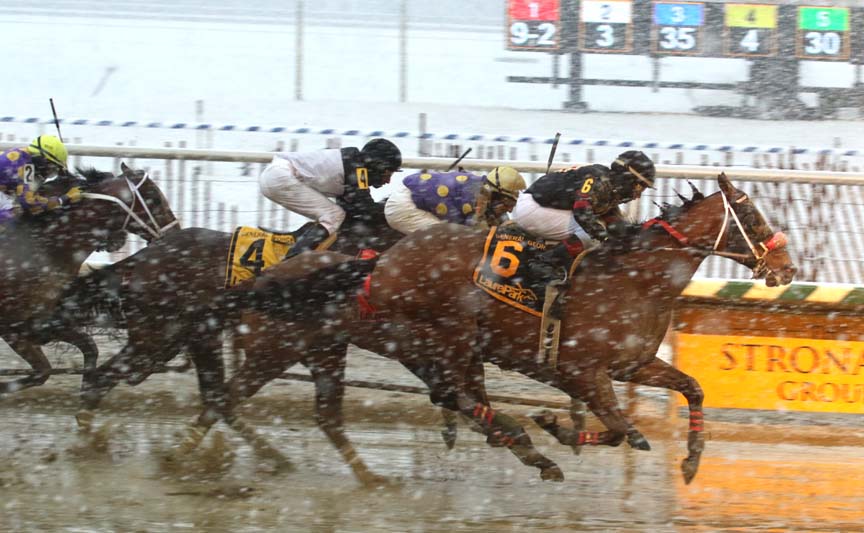 Something Awesome. Photo by Laurie Asseo.
The GQ Approach features full-card selections from Laurel Park, including a daily Best Bet, Longshot Play, and multi-race wagers — including the 20 cent Rainbow Pick-6, 50 cent Jackpot Pick-5, as well as Pick-4s and rolling Doubles, Pick-3s and the Super High-5.

[su_box title="
Today's Carryovers
" style="glass" box_color="#66ADCC"]
Rainbow Pick 6: $2,619
Super High 5: $1,056
Late Pick 5: none[/su_box]
[su_box title="GQ'S Tip of the Day" style="glass" box_color="#66ADCC"][stray-random][/su_box]
[su_box title="Best Bet of the Day" style="glass" box_color="#66ADCC"]Race 6 / #2 – Three Phase (8-5)[/su_box]
[su_box title="Longshot Play of the Day" style="glass" box_color="#66ADCC"] Race 2 / #7 – Rein Supreme (12-1)[/su_box]
[su_box title="
Multi-race Wagers
" style="glass" box_color="#66ADCC"]
Race 1 – $2 Double 4, 5, 7 w/ 5, 7 ($12.00)
Race 4 – 50 cent Pick-3  5, 6, 9 w/ 8, 9, 10 w/ 1, 3 ($9.00)
[/su_box]
[su_heading size="21″ align="left"]Analysis[/su_heading]
Weather: Cloudy, high of 60
Projected condition of main track: FAST; Turf: None
Post time: 12:30 p.m. EST
Race 1
#5 – Dorothy Vaughan (3-1): Drops to easiest spot yet and makes second start off a nearly-two-month break; distance a question mark, but mile try on the lawn was credible
#4 – Stillsexyatsixty (7-2): Figs have been moving in the right direction; concern here is that she may just be sucking up behind better horses, and she's made little impact on those races
#7 – Carolina Ice (10-1): Finds easiest spot yet, but winless ledger on the main track a caution flag
Race 2
*** LONGSHOT PLAY #7 – Rein Supreme (12-1) ***: Closing sort has won three of six tries at the trip; found company a little rough last out, but bested these sorts two back
#5 – Polarization (7-2): Outfooted a bit last out when going 4 1/2, should appreciate the added ground here and can step forward in easier spot
#3 – Dialin (4-1): Was up close early, dropped back, re-rallied in last when beaten a neck; Cedeno in the irons a good sign
Race 3
#5 – Vicar's Legend (6-1): Bizarre stat of the day: trainer Barrera has won just 18 of 419 starts in the last five years with horses on normal rest — but 8 of 37 wheeling 'em back in one to seven days
#3 – Stroll Smokin (4-1): Solid return to action last out when four wide run to third; can move forward here in second off a year break
#6 – Where You Was (2-1): Runner-up and fourth-place finisher from last both won their follow-ups, and winner was third in his
Race 4
#5 – Hey Mabel (4-1): Dismal in last but return to two-back form probably good enough here; blinks on, and new pilot Ruiz has been riding well
#6 – Spooky Truth (6-1): Closing sort hoping for a pace to materialize here; with only four starts to date, still can improve
#9 – Scip It All (7-2): The favorite in this wide open affair, he finished best of three that are here in last
Race 5
#9 – Zarski (6-1): Tough outing in last at PRX but return to LRL should suit
#8 – Bob's My Uncle (8-1): Closer never, ever wins (3 for 48) but at long last drops to the bottom, and figs are a snug fit with these
#10 – Mountain Cry (6-1): Solid try when hung out wide in last; shortening up a positive here in second time for leading trainer Gonzalez
Race 6
*** BEST BET #2 – Three Phase (8-5) ***: Improving sort made a couple of credible tries vs. allowance foes and should appreciate dropping in here; bit of a rough trip in last
#1 – Stormin Hongkong (3-1): Wheels back on short rest for trainer G. Capuano and stretches out to distance at which he broke his maiden
#3 – Vorian (7-2): Trainer Gaudet wisely passed on PA Nursery Stakes yesterday with this runner – that race was won by G2 winner Call Paul – and lands here in logical spot; got through inside to win last
Race 7
#6 – Big City Blues (8-5): Took an open allowance in last and makes second start off a six-week break here; one of three from last to run back won next out
#7 – Crouchelli (5-2): Doesn't win much – just once from 12 starts – but has been competitive against these sorts
#2 – Goodluckjonathan (6-1): Never worse than third in five tries at the trip; runners from Md. Million Classic have been 0-for-7 in follow-ups
Race 8
#1 – Time to Flirt (6-1): Decent try in last and winner Timeless Curls returned to win N3X in next; looks to be controlling speed here
#6 – Moon Virginia (4-1): Has won this race before and lands here after rallying to beat lesser; three of four 1 1/16 tries have been in stakes company
#5 – Nyx Warrior (9-5): Trainer Gonzalez is 31% first off the claim; runner never worse than third in 11 tries at the trip, though just two wins

Race 9
#3 – Whiskey Wu (12-1): Head case lands in right spot after even try in last after running off for a quarter-mile pre-race; has a win at the trip, and best efforts compete here
#1 – Brahms Romp (2-1): Just missed last two vs. similar — but this is a runner with a penchant for finishing second; could well win, but tough to take short odds on that happening
#2 – Throw the Deuce (6-1): Drop down to bottom in last netted comfortable score; will be running late
Yesterday's News
On Saturday, December 1 at Laurel had 7 winners from the 9-race card (3 Top Selections; payoff in BOLD below).
Top Selections are 443 for 1549 (28.60%). In 2017, Top Selections went 340 for 1,197 (28.40%). The payoffs of the day's winners…

R1: $2.80
R2: $7.40
R3: $2.80
R4: xxx
R5: $6.80
R6: $3.60
R7: $6.20
R8: xxx
R9: $9.80
R10: $6.00

Of the suggested multi-race wagers, hit the R1-R2 $2 Double for $10.40 (total wager cost: $8).
BEST BET of the Day (154:49-38-13; in 2017 119: 39-25-19) Blow the Whistle (3rd race: 9-5 M/L; 2-5 PT) was caught in tight early, rated inside on the backstretch, swung out entering the lane and wore down the leader to win by a neck, returning $2.80 to WIN, $2.10 to PLACE, and $2.10 to SHOW.
LONGSHOT PLAY of the Day (147:24-27-17; in 2017 107: 18-13-15) Rapidashcat (4th race: 8-1 M/L; 6.60-1 PT) hustled along off the pace, angled wide for the drive, but could rally only mildly to be fifth.