The GQ Approach – Laurel December 1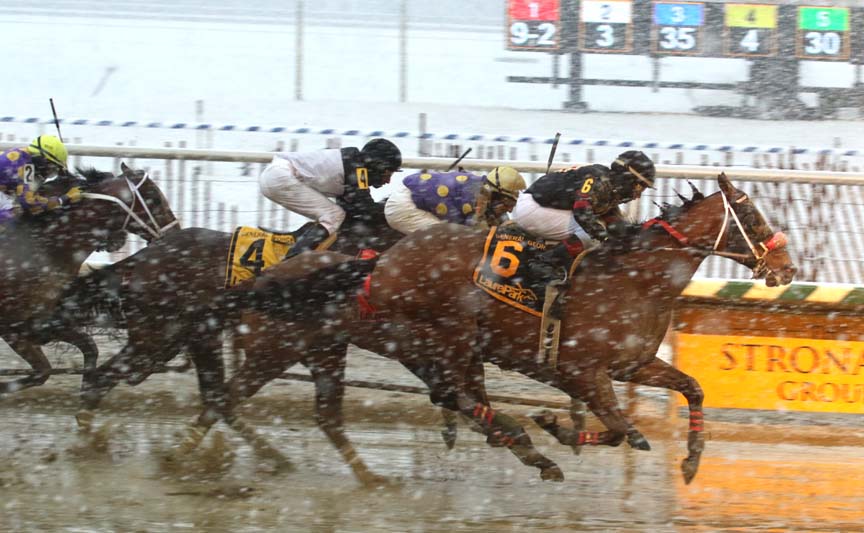 Something Awesome. Photo by Laurie Asseo.
The GQ Approach features full-card selections from Laurel Park, including a daily Best Bet, Longshot Play, and multi-race wagers — including the 20 cent Rainbow Pick-6, 50 cent Jackpot Pick-5, as well as Pick-4s and rolling Doubles, Pick-3s and the Super High-5.

[su_box title="
Today's Carryovers
" style="glass" box_color="#66ADCC"]
Rainbow Pick 6: $1,494.74
Super High 5: $1,515.96
Late Pick 5: none[/su_box]
[su_box title="GQ'S Tip of the Day" style="glass" box_color="#66ADCC"][stray-random][/su_box]
[su_box title="Best Bet of the Day" style="glass" box_color="#66ADCC"]Race 3 / #1 – Blow the Whistle (9-5)[/su_box]
[su_box title="Longshot Play of the Day" style="glass" box_color="#66ADCC"] Race 4 / #9 – Rapidashcat (8-1)[/su_box]
[su_box title="
Multi-race Wagers
" style="glass" box_color="#66ADCC"]
Race 1 – $2 Double 3, 4 w/ 2, 4 ($8.00)
Race 3 – 50 cent Pick-3  1, 3, 7 w/ 3, 9, 10 w/ 4, 8 ($9.00)
Race 6 – 50 cent Pick-4  1, 3 w/ 1, 2, 6 w/ 3, 4, 8 w/ 3, 4, 8 ($13.50)
Race 9 – $2 Double  4, 8 w/ 3, 4, 8 ($12.00)
[/su_box]
[su_heading size="21″ align="left"]Analysis[/su_heading]
Weather: Mostly Cloudy, high in the low-40s
Projected condition of main track: FAST; Turf: None
Post time: 12:15pm EST
Race 1
#3 – Daystrike (7-2): Third start after layoff as he's been mixing it up against open claimers and starter allowance foes; finds a nice spot to end 0 for 13 on Lrl main oval 
#4 – Young American (7-5): Issues which caused him to be off form seems to have been worked out and continues to be blessed with races fitting his condition; considering his back class he should be an attractive claim candidate
#6 – Pachi Cruze (3-1): Speedster will need to carry that speed an extra furlong than he has recently and will have to deal with early pressure from the #5; interesting trainer switch
Race 2
#4 – Cheese On (8-5): Second start with blinkers, third after layoff and cut back in distance following a tough late run when "blocked w/ run in final 1/16"
#2 – Vineyard (2-1): Started career last Summer full of promise but had a hiccup two back; came back in latest serving notice as is well
#5 – Apolodorodedamasco (7-2): 4-year-old gelding been claimed out of last three starts; gets protected today for trainer J. Ness (25% first off claim); second start with blinkers
Race 3
#1 – Blow the Whistle (9-5): *** BEST BET *** 15-time winner from 39 starts, 8 of last 10 and 2 of 3 on Lrl main oval; not much value but BRIS Prime Power # towers over today's foes
#7 – Prime Time Man (8-1): Tossing latest turf try with "no hind shoes" (what was that about?!); is a threat to go gte-to-wire as there are no lead-the-lead types in this contest
#3 – Try Flying (5-1): Been chasing top pick in last two at Pen; makes Lrl debut with capable jock in A. Cintron; though a good off track record, recent efforts on an off surface haven't been good
Race 4
#9 – Rapidashcat (8-1): $$$ LONGSHOT $$$ Drops to bottom after giving it a go against $25kMCL twice then $16kMCL when adding blinkers and showing more interest; gelded since last start
#3 – Ice Docket (7-2): KY-bred FTS by Ice Box out of a Mr. Greeley mare for trainer A. Farrior who has led 4 for 11 firsters in for a tag to Winners' Circle over the past couple years
#10 – Kitchen Soup (9-2): Didn't take long for owner (Repole Stable) to give up on this one as three back this 2-year-old raced at Bel in $100k maiden contest under T. Pletcher's care
Race 5
#8 – Guthries Collar (5-1): Exits distant runner-up effort going long on the turf over a month ago; tends to misbehave in the gate so hopefully trainer F. Stites worked that out
#4 – Colonnello (6-1): Trouble filled Lrl debut just 7 days ago sprinting when coming off 10-month layoff; majority of past effort have been two-turns, which is the case today
#6 – Vicar's Chalice (7-2): With scratch of 7-5 ML favorite (#10) this one may be PT favorite coming off runner-up effort on stretch out to one-mile at 57-1; 7 lb. jock A. Flores has been turning heads of late
Race 6
#3 – Irish Access (2-1): Distant runner-up to next out winner and SHOW finisher came back yesterday to destroy her foes; been knocking on the door in this state bred/sired condition, today appears to be best shot at winning it
#1 – Beyond Forever (4-1): Suddenly has jumped up in class as it seems that turf tries (8:0-2-2) have been a waste of time, taking to Lrl main track (12:3-5-0) primarily due to off the turf events
#4 – Hashtag Selfie (4-1): Personally wasn't impressed with winning effort two back as she beat a soft group of gals and that viewpoint was justified when she came back with a dull fourth at this level; difference today could be lack of speed from foes   
Race 7
#6 – Tricked Up (9-2): NY-shipper makes dirt debut in 17th career start; bloodlines indicate this 5-year-old gelding should handle it just fine; has won last 2 of 3 since adding blinkers
#1 – Birdies Honor (20-1): With the potential for rain in the afternoon, need to give this one a shot as he's 3 for 3 on an off track
#2 – Bronx Sandman (7-2): Honest runner has transitioned well when asked to stretch out steps up a level after conquering AlwN1x here 30 days ago; likes Lrl (6:2-3-0)
Race 8
#8 – Hot Mic (7-2): Runner-up in 3 for 4 tries at this sprint distance, one would think this gelding has Seconditis, but latest came against a next out winner
#4 – Do Yahwanna Salsa (4-1): Jock/trainer combo know how to get to Winners' Circle (35% over the past year; 19 of 55); third start after layoff could be the charm but no fan of an off track (4:0-0-1)
#3 – Stomp Dance (5-2): Willing to forgive this Speedsters latest debacle as he had a rough start, was rushed but never got close to leader early; drops back to a level more manageable v. elders

Race 9
#3 – America's Prince (7-2): Traffic trouble in the stretch when finishing less than three-lengths behind winner a level higher and at this distance but that was just 8 days ago
#8 – Admiral's Row (15-1): Late Pace numbers from latest rivals top pick; needs a more alert start but no guarantee of that with jock making just fourth career start
#4 – Ricardito (10-1): Stopped in debut at Pen when sent off 3-1 second choice; have to respect Prx-based trainer who has done well at Lrl over the past year (15:5-1-0)
Yesterday's News
On Friday, November 30 at Laurel had 5 winners from the 10-race card (2 Top Selections; payoff in BOLD below).
Top Selections are 440 for 1540 (28.57%). In 2017, Top Selections went 340 for 1,197 (28.40%). The payoffs of the day's winners…

R1: xxx
R2: xxx
R3: xxx
R4: $4.00
R5: xxx
R6: xxx
R7: $4.80
R8: $6.20
R9: $3.40
R10: $6.00

Of the suggested multi-race wagers, hit the R9-R10 $2 Double for $12.00 (total wager cost: $18).
BEST BET of the Day (153:48-38-13; in 2017 119: 39-25-19) Tiz Jill (3rd race: 8-5 M/L; 1.20-1 PT) a forward factor two wide around the turn, willingly chased the winner throughout to be second best and returned  $2.60 to PLACE, and $2.10 to SHOW.
LONGSHOT PLAY of the Day (146:24-27-17; in 2017 107: 18-13-15) Rockin Ruth (7th race: 5-1 M/L; 7-2 PT) along the inner rail entering the turn, swung to the four-path leaving the bend, rallied mildly to finish third and returned $2.40 to SHOW.