The GQ Approach – Laurel November 30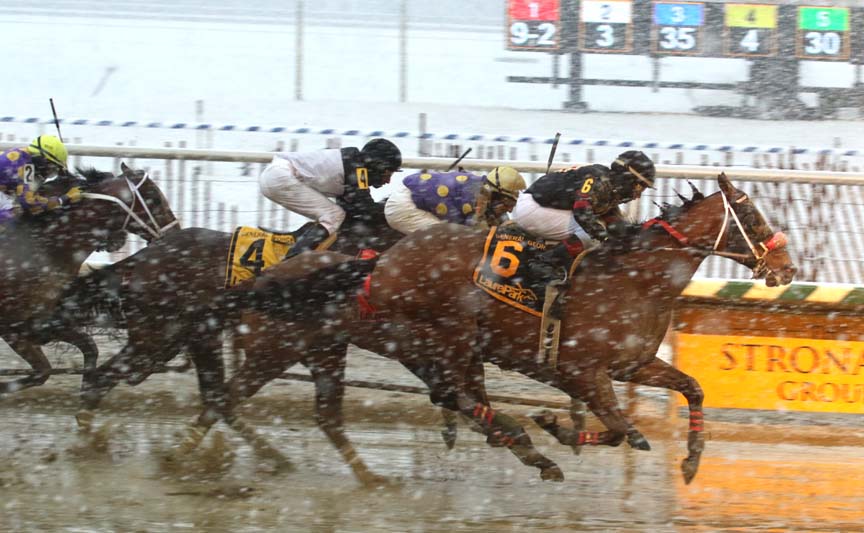 Something Awesome. Photo by Laurie Asseo.
The GQ Approach features full-card selections from Laurel Park, including a daily Best Bet, Longshot Play, and multi-race wagers — including the 20 cent Rainbow Pick-6, 50 cent Jackpot Pick-5, as well as Pick-4s and rolling Doubles, Pick-3s and the Super High-5.

[su_box title="
Today's Carryovers
" style="glass" box_color="#66ADCC"]
Rainbow Pick 6: none
Super High 5: none
Late Pick 5: none[/su_box]
[su_box title="GQ'S Tip of the Day" style="glass" box_color="#66ADCC"][stray-random][/su_box]
[su_box title="Best Bet of the Day" style="glass" box_color="#66ADCC"]Race 3 / #2 – Tiz Emily and Jill (8-5)[/su_box]
[su_box title="Longshot Play of the Day" style="glass" box_color="#66ADCC"] Race 7 / #1 – Rockin Ruth (8-1)[/su_box]
[su_box title="
Multi-race Wagers
" style="glass" box_color="#66ADCC"]
Race 6 – 50 cent Pick-3  6, 7 w/ 1, 2, 8 w/ 3, 5, 7 ($9.00)
Race 9 – $2 Double 2, 3, 5 w/ 3, 8, 9 ($18.00)
[/su_box]
[su_heading size="21″ align="left"]Analysis[/su_heading]
Weather: Partly cloudy, high in the 40s
Projected condition of main track: FAST; Turf: None
Post time: 12:00 noon
Race 1
#6 – Vee's Super Star (4-1): Ambitiously named runner showed a spark of life when rallying late in debut; half-bro to onetime 2yo champion Declan's Moon can improve here with added half-furlong, and Trombetta's go-to rider Pimentel lands here
#8 – Quality Step (5-2): Leatherbury trainee gave decent accounting of himself when runner-up in latest, finishing ahead of #6, but has lost twice to maiden claiming rivals already
#4 – Higher Purpose (8-1): BEL shipper showed speed before tiring in debut; can improve here
Race 2
#1 – Baravelli (5-2): Abbott trainee drops a step in class off an acceptable try vs. MC 40k rivals; blinks go on and second time with Lasix
#6 – My Lord (10-1): Bit of a shot in the dark here, but most rivals have holes in 'em; trainer Hall 1-for-4 in last five years with debut MCL runners
#5 – Cool Man Cletus (2-1): Makes second start off a seven-week break and ran well to be second vs. similar last out; trainer T. Salzman earned first win of '18 yesterday 
Race 3
*** BEST BET #2 – Tiz Emily and Jill (8-5) ***: Outstanding effort last out, in first in three months, when re-bidding after seemingly done and getting up late; expect this runner to be forwardly placed throughout
#7 – Lightnin Fast Girl (9-2): Veteran campaigner gunning for 14th career win; drops ever-so-slightly in class, and pickup of rider V. Carrasco a positive
#1 – Stormy Mama (5-1): Closing sort doesn't win much — but she did win last time she faced similar rivals, and here she's dropping from open company
Race 4
#2 – Mae Sai Princess (9-2): Obliterated maiden rivals at first asking, winning off by seven, and runner-up returned to be second again; trainer Dilodovico is 3-for-12 with last-out maiden winners in recent years
#6 – Knock Out Kid (9-5): Midpack runner is the deserving fave here but has lost seven straight, last time failing as the 7-5 choice
#4 – Heningham (3-1): Makes drop to appropriate spot after two middling tries vs. allowance foes
Race 5
#1A – Miss Gray (7-2): Wide-open race — and we mean wiiiiiddddeee open; this miss has already won four times, just missed vs. similar last out
#7 – Greasedlightning (4-1): Rallied to lead two back at similar trip before settling for second; winner that day scratches out of this spot; closing sort will hope for a pace to materialize
#8 – Marlee's Magic (6-1): Gonzalez trainee galloped two back in most recent try vs. claiming foes, lands in right spot here
Race 6
#6 – Hayne's Fever (3-1): Good effort last out vs. better on the double raise following two-back win; return to easier spot should set this one up for a big effort; lone caution flag: winless ledger at the trip (0-for-6)
#7 – A True Gentleman (5-1): Grinding sort makes first start off the Gonzalez claim (31% first off the claim); ran second vs. similar in last
#1 – Menacing (7-2): First time off the claim for trainer Gaudet (27% first claim), and she legs up go-to jock Rosado; will need to step forward here
Race 7
*** LONGSHOT PLAY #1 – Rockin Ruth (8-1) ***: Toss the mile try last out, and this runner cuts the exact same profile as the favorite in here, #2; cutback to 6f should be fine, and trainer Cox is 3-for-21 bringing runners back within 10 days
#8 – Splendor Gal (6-1): Second start off a two-month break for this Sillaman trainee; has been a front-runner going long, but cutback to 6f figures to complicate that plan
#2 – Sarah's Treasure (2-1): Finished just ahead of and just behind #1 in last two outings; winless at the trip

Race 8
#5 – Home Run Maker (9-5): Stalking sort gradually moving through conditions; runner-up from last-out ALW win returned to be second vs. similar
#7 – Eastern Bay (5-1): Runner has done best work when pressing the pace; makes second start off a six-month break here and drops in for the tag
#3 – Shane's Jewel (3-1): Notable that trainer Ness opts, after City of LRL S. try, to drop this guy in for the tag rather than try N3X company; owns two wins at the trip
Race 9
#3 – Elevated Vision (4-1): Schoenthal trainee flashed talent in winning first two starts but has been off six months after running third on the lawn; will be tough if ready to roll
#5 – Ghoul's Night Out (9-5): Obviously this horse can win here, but from where we're sitting, there's just no way you can take 9-5 on a runner who's lost this race seven times on the page
#2 – Three Hawk (5-1): Like #3, flashed early talent but returns here from a lengthy vacation — in this case, seven months
Race 10
#3 – Tri Poker (3-1): Keefe trainee gave improved effort in last when hung out wide on the course; drawn much better today — in the three hole, 10 spots closer to the rail than last
#9 – Variance (4-1): Closer drops off a couple of middling tries to level at which he competed on debut; repeat of debut effort might get the money here
#8 – Broadway Trouper (6-1): Even effort with some trip trouble in last vs. better
Yesterday's News
On Thursday, November 29 at Laurel had 7 winners from the 9-race card (1 Top Selections; payoff in BOLD below).
Top Selections are 438 for 1530 (28.63%). In 2017, Top Selections went 340 for 1,197 (28.40%). The payoffs of the day's winners…

R1: xxx
R2: $6.60
R3: xxx
R4: $22.00
R5: $11.20
R6: $7.20
R7: $9.60
R8: $4.60
R9: $5.00

Of the suggested multi-race wagers, hit the race 4 double, returning $200.60 on a two-dollar wager (total wagered: $12.00). Also hit the race 8 double, returning $13.80 on a two-dollar wager (total wagered: $18).
BEST BET of the Day (152:48-37-13; in 2017 119: 39-25-19) No Drinking Rules (8th race: 9-2 M/L; 3.20-1 PT) lagged well off the pace and rallied mildly along the inside, finishing fourth while beaten by 13 lengths.
LONGSHOT PLAY of the Day (146:24-27-17; in 2017 107: 18-13-15) Timeless Curls (4th race: 5-1 M/L; 10-1 PT) stalked the pace and surged between horses in the stretch to win by a head, returning $22.00 to WIN, $6.20 to PLACE, and $5.60 to SHOW.