The GQ Approach – Laurel November 25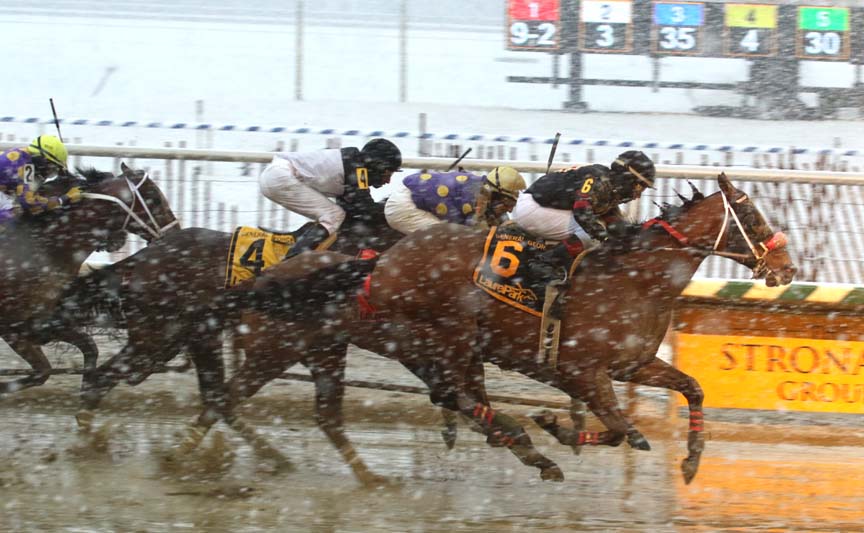 Something Awesome. Photo by Laurie Asseo.
The GQ Approach features full-card selections from Laurel Park, including a daily Best Bet, Longshot Play, and multi-race wagers — including the 20 cent Rainbow Pick-6, 50 cent Jackpot Pick-5, as well as Pick-4s and rolling Doubles, Pick-3s and the Super High-5.

[su_box title="
Today's Carryovers
" style="glass" box_color="#66ADCC"]
Rainbow Pick 6: $4,363
Super High 5: $525
Late Pick 5: none[/su_box]
[su_box title="GQ'S Tip of the Day" style="glass" box_color="#66ADCC"][stray-random][/su_box]
[su_box title="Best Bet of the Day" style="glass" box_color="#66ADCC"]Race 9 / #7 – Star Seed Child (8-5)[/su_box]
[su_box title="Longshot Play of the Day" style="glass" box_color="#66ADCC"] Race 2 / #1 – Crazed (6-1)[/su_box]
[su_box title="
Multi-race Wagers
" style="glass" box_color="#66ADCC"]
Race 1 – $2 Double  5, 8, 9 w/ 1, 2, 4 ($18)
Race 7 – 50 cent Pick-3  6, 7, 8 w/ 3, 4, 8 w/ 1, 7 ($9.00)
[/su_box]
[su_heading size="21″ align="left"]Analysis[/su_heading]
Weather: Clearing, high in the 50s
Projected condition of main track: GOOD; Turf: None
Post time: 12:30 p.m. EST
Race 1
#9 – Candy Asset (7-2): Mid-pack runner has found success at one-turn mile and on off tracks; enters off a win vs. lifetime and beaten rivals
#5 – Forty Acres (5-2): Decent effort last out when closing for show dough in first start in four months
#8 – Blarp (8-1): Makes first start in Maldonado barn after even effort vs. better last out
Race 2
#1 – Crazed (6-1): Disastrous trip in last when steadying three times in the lane behind erratic front-runner; makes second start off six weeks and shows a couple of interim works
#2 – Readytotapit (9-5): Good tries in last couple without finding the winner's circle question is whether the cutback in distance moves him up, or…
#4 – Lippi Lorenzo (2-1): Has done best work when put in the action from the very first jump; makes first start for a tag for trainer Robb (5-for-40 first-time claiming)
Race 3
#5 – Final Fear (5-2): Ran on willingly in last to earn the place; added half-furlong should be to her benefit
#3 – Andthentheresthat (7-2): Caiazzo trainee dusted CT maiden special weight rivals last out to graduate; lands in right spot here and fitness should be no issue after two-turn win
#4 – Towson (15-1): After backing up badly in two prior, closed some ground in last
Race 4
#13 – Justanarch (4-1): No match for the winner last out in MSW at CT but held the place; runner has won previously, though was DQed after easy score at the Big T
#1 – Astrea (6-1): Tepid group opens up all sorts of possibilities
#11 – Oddseverinurfavor (6-1): Makes a two-level drop after credible try in first in blinks; adds Cintron in the irons 
Race 5
#14 – Queen to Checkmate (4-1): Six-time winner galloped at this level two back, did not disgrace herself last out vs. better
#2 – Slewzer (7-2): Front-runner easily bested similar last out
#10 – Holiday Magician (8-1): Would be a nice trick if Thanksgiving hunch play closes to win for what would be just third W in 26 career starts
Race 6
#4 – Disco Express (7-2): Trombetta trainee had an eventful trip last out when on the engine early, steadied back and then re-rallying; cleaner journey could make all the difference
#3 – Andrew's Game (9-2): Last out against allowance foes at CT wasn't terrible; big drop in second try in Brooks barn
#11 – Port Louis (10-1): Makes third start off five-month break after runner-up try vs. similar last out; note rider Toledo jumps ship
Race 7
#6 – Salinger (9-2): Stuck with it last out when outfooted a bit in 5 1/2-furlong dash; one-turn mile ought to hit this one right between the eyes; rider McCarthy stays aboard
#8 – Sandy Lane (5-1): Closter makes first start in Sillaman barn after claim (15% first claim); rider Russell has had good success with trainer's horses
#7 – The Walk (8-1): If runner could manage to get out of the gate cleanly, that sure would aid his cause; best efforts not out of range with these

Race 8
#4 – Wild Rider (7-2): Decent effort last out when third against better; drops to spot where he's competed before, and he owns three off-track wins
#3 – Cobh (8-1): Makes third start of sequence and last might have been better than it looks; winner Oldies But Goodies returned to be third in the City of Laurel Stk.
#8 – Blue Y Gold (5-1): Just a length behind top choice in here last out; has competed with better
Race 9
#7 – Star Seed Child (8-5): Figures to be a handful after respectable try last out against better in first in Gonzalez barn and first with Lasix
#1 – Nevisian Sunset (5-2): Didn't show much last out — but that turns out to be a super-productive heat, having produced four next-out victors, including winner Thesweetesttaboo, who took an ALW contest in follow-up; first time in McMahon barn
#5 – Oxhilirating (6-1): Blinks on for a runner who gave a good accounting of herself when second in debut vs. MSW rivals at MNR; trainer Gorham 3-for-13 making maiden special-to-maiden claiming move
Yesterday's News
On Saturday, November 24th at Laurel had 6 winners from the 9-race card (3 Top Selections; payoff in BOLD below).
Top Selections are 436 for 1512 (28.84%). In 2017, Top Selections went 340 for 1,197 (28.40%). The payoffs of the day's winners…

R1: $9.00
R2: xxx
R3: xxx
R4: $4.00
R5: $15.00
R6: $4.20
R7: $9.60
R8: xxx
R9: $14.00

Of the suggested multi-race wagers, did not hit any.
BEST BET of the Day (150:48-36-13; in 2017 119: 39-25-19) Shimmering Aspen (1st race: 4-1 M/L; 8-5 PT) lacked speed, raced in the three path on the turn, was inside horses in the stretch and failed to rally while finishing fourth.
LONGSHOT PLAY of the Day (144:23-27-17; in 2017 107: 18-13-15) Hero's Hope (3rd race: 10-1 M/L; 23-1 PT) rated back after an alert break, hugged the inner rail around the turn, had a mild advance to mid stretch then weakened in the final furlong to finish fourth.