The GQ Approach – Laurel November 24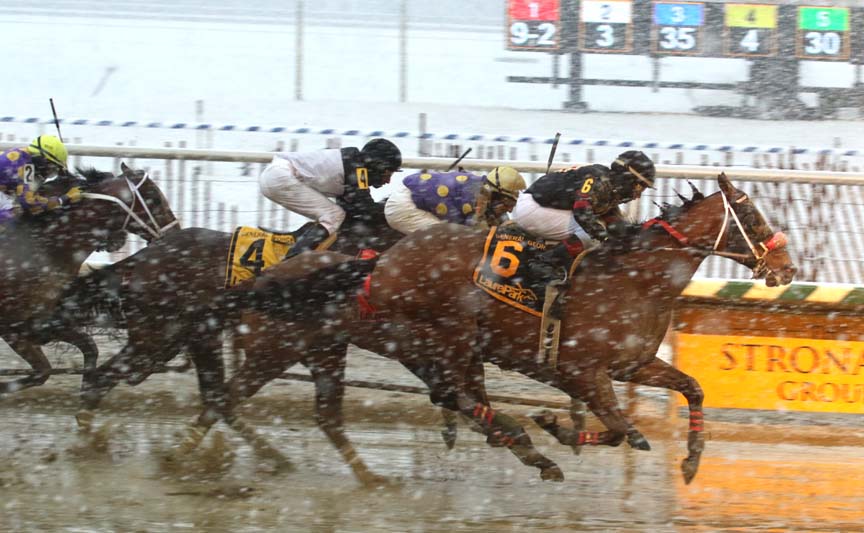 Something Awesome. Photo by Laurie Asseo.
The GQ Approach features full-card selections from Laurel Park, including a daily Best Bet, Longshot Play, and multi-race wagers — including the 20 cent Rainbow Pick-6, 50 cent Jackpot Pick-5, as well as Pick-4s and rolling Doubles, Pick-3s and the Super High-5.

[su_box title="
Today's Carryovers
" style="glass" box_color="#66ADCC"]
Rainbow Pick 6: $3,428
Super High 5: $2,902
Late Pick 5: none[/su_box]
[su_box title="GQ'S Tip of the Day" style="glass" box_color="#66ADCC"][stray-random][/su_box]
[su_box title="Best Bet of the Day" style="glass" box_color="#66ADCC"]Race 7 / #9 – Shimmering Aspen (4-1)[/su_box]
[su_box title="Longshot Play of the Day" style="glass" box_color="#66ADCC"] Race 3 / #5 – Hero's Hope (10-1)[/su_box]
[su_box title="
Multi-race Wagers
" style="glass" box_color="#66ADCC"]
Race 1 – $2 Double  4, 9 w/ 2, 3, 6 ($12)
Race 3 – 50 cent Pick-3  5, 6, 8 w/ 2, 8, 11 w/ 8, 10, 13 ($13.50)
Race 6 – 50 cent Pick-4  4, 6, 8 w/ 5, 9 w/ 6, 8, 9 w/ 5, 6, 14 ($27)
[/su_box]
[su_heading size="21″ align="left"]Analysis[/su_heading]
Weather: Overcast with rain likely, high in the mid-40s
Projected condition of main track: GOOD to SLOPPY; Turf: None
Post time: 12:30 p.m. EST
Race 1
#9 – Crush It (4-1): Followed rough debut on turf with an encouraging run on Lrl fast, main oval; looking for third start to be a charm
#4 – Arrive in Style (7-2): Led til deep stretch in latest of a one-mile contest at this level; cut back to 7 furlongs should be more to his liking
#5 – Maynooth (3-1): Returns after a four-month layoff during which trainer C. Lynch hopefully rid him of his nasty habit of hanging
Race 2
#6 – Trusty Roll (5-1): Though 2 for 2 since trainer H. McMahon claim while doing it in gate-to-wire fashion, this mare does have the ability to sit off what should be a sizzling pace
#2 – Polite Pearl (9-5): Knows only one way to win… which is leading at every pole; that might be a challenge today or could get cooked early with plenty others having same running style
#3 – Enterprise Value (8-1): First start after trainer "Snake" Frock claim off a hot barn; attracts top rider T. McCarthy for just second time in the past year; likes Lrl (9:4-0-2) and off going (3:1-0-2) but just 1 for 13 at distance 
Race 3
#5 – Hero's Hope (10-1): $$$ LONGSHOT $$$ Four foes to his inside should set a suicidal pace allowing F. Boyce to get a ground saving trip with a shot to catch leg-weary leaders late; the hope here is that the rain holds off til later as he's not a fan of an off track (3:0-0-1)
#6 – Vincent Van Gogo (7-2): Despite poor showing in latest and chilly on the board after decent SHOW effort behind next out winner, jock opts to ride for hot trainer v. outfit he's had success (26%) with over the past year, hmmm
#8 – Smokin Hot Factor (6-1): Only four-year-old among youngsters might have a maturity edge after holding his own on multi-level climb in first start off trainer D. Worton claim; a sloppy track could help on cut back to one mile
Race 4
#11 – Rightupyouralley (7-2): Foes lack early speed to match strides with her early; if the Lrl main oval follows its typical Saturday track speed bias, this filly could have enough left in the tank to get the 6 furlongs 
#8 – Corvid (5-1): Proved once again in latest that she wants no parts of going further than 6 furlongs, so the cut back to a sprint here puts her in a spot to succeed 
#2 – Sharon's Thunder (9-2): Connections will be doing a rain dance (3:1-2-0 off track v. 21:1-5-8 overall record); hard to endorse otherwise; if track is still fast give #7 – Margorie Mugs a look  
Race 5
#13 – Uncle Billy (5-1): Would be a Wonderful Life if this ol' fool could improve off his runner-up effort in latest when dropped to this lowest level of career
#10 – Midnight Cry (6-1): Speed from outside post will have company early but jock upgrade for first start after trainer B. Russell claim should help this lone 3-time winner among elder N2L
#8 – Watch Your Words (12-1): Strictly an Off Track play (4:0-3-1) as best BRIS# (91) came on track condition less than "fast"; sprints for first time in 22nd career outing
Race 6
#8 – Olympic Village (6-5): Late Pace numbers from his two starts tower over foes but first shot at two-turns is an unknown not worthy of such a short ML price
#4 – He's Not Curly (15-1): Ran to his 41-1 odds in MD Million Nursery, never being involved when a step slow from the gate; graduated here two back going one-mile in slop when equipped with blinkers
 #6 – Confessor (10-1): Lone win came on an off track in latest going one mile, easily in gate to wire fashion, which was a change in tactics; figure J.D. Acosta will try the same as no other foe has "need the lead" speed
Race 7 is the Willa On the Move Stakes
#9 – Shimmering Aspen (4-1): *** BEST BET *** Appropriately seeks a "turkey" (bowling term for 3-in-a-row) as this gray handled minor stakes fillies & mares in last two; only gal in here who can boast a triple-digit BRIS# (101) on an off track; has tactical speed to get first run on a host of fast fillies
#5 – Ms Locust Point (5-2): G2 winning filly here last Feb. over a muddy track; been on the shelf nearly 5-months but working well in A.M. at Prx for trainer J. Servis
#4 – Late Night Pow Wow (8-1): Steps out of her comfort zone as she's feasted on CT talent her entire 9-race career, with only blemish being a half-length 7-races back; prevailed in G3 CT Oaks two back to pay $21.40; Closing style fits perfectly for a chance to upset this speed-heavy field

Race 8 is the Geisha Stakes
#6 – Enchanted Ghost (6-1): Third start after layoff and against elders; stretches out from those two sprints to one-mile which she handled 11-months ago here on her home track; this filly dances every dance (9:3-1-5)
#9 – Riley's Choice (9-2): Away for three-months shows a trio of works keeping her fit; versatile running style gives her jock advantage to try gate-to-wire score as the early pace should be a moderate one
#8 – Another Broad (10-1): Riding a three-race win streak, all on an off track but the waters get much deeper today; time to see just how good this 3-year-old can be
Race 9
#14 – Telecommunication (2-1): Second start with blinkers and cuts back a furlong as this NY shipper appears to be just another runner destined for Winners' Circle as trainer J. Englehart is an insane 12 for 23 at Lrl over the past year
#6 – Dr. Cerrato (12-1): First start in over 11-months and gelded; shows a six-pack of decent works for trainer H. McMahon who saddles him for first time and calls on K. Davis (28% past year w/ trainer) to pilot
#5 – Pro Riot (6-1): Continues to drop in the maiden ranks to MD bottom; latest wasn't awful as he was shuffled at the half pole then five-wide at quarter; the talent appears to be there, a change of scenery might do him good
Yesterday's News
On Friday, November 23rd at Laurel had 6 winners from the 9-race card (2 Top Selections; payoff in BOLD below).
Top Selections are 433 for 1503 (28.81%). In 2017, Top Selections went 340 for 1,197 (28.40%). The payoffs of the day's winners…

R1: $17.00
R2: xxx
R3: $8.40
R4: xxx
R5: xxx
R6: $9.20
R7: $6.00
R8: $25.80
R9: $6.40

Of the suggested multi-race wagers, did not hit any.
BEST BET of the Day (149:48-36-13; in 2017 119: 39-25-19) Dazzling Okie (1st race: 8-5 M/L; 3-5 PT) checked when rank mid-way on the first turn, was kept behind horses, lacked room along the rail leaving the far turn, swung to the four-path near the eighth pole and closed belatedly to be  runner-up by one-and-three-quarter-lengths and returned $2.40 to PLACE and $2.10 to SHOW.
LONGSHOT PLAY of the Day (143:23-27-17; in 2017 107: 18-13-15) Papacho (3rd race: 20-1 M/L; 11-1 PT) saved ground and well off of a hotly contested pace, came off the rail to begin a run mid-turn, swung out to be about five-wide in upper stretch, level off under strong hand encouragement, forged to command nearing the sixteenth pole, eagerly went clear to prevail by two-and-one-half-lengths and returned $25.80 to WIN, $9.60 to PLACE and $4.40 to SHOW.