The GQ Approach – Laurel November 23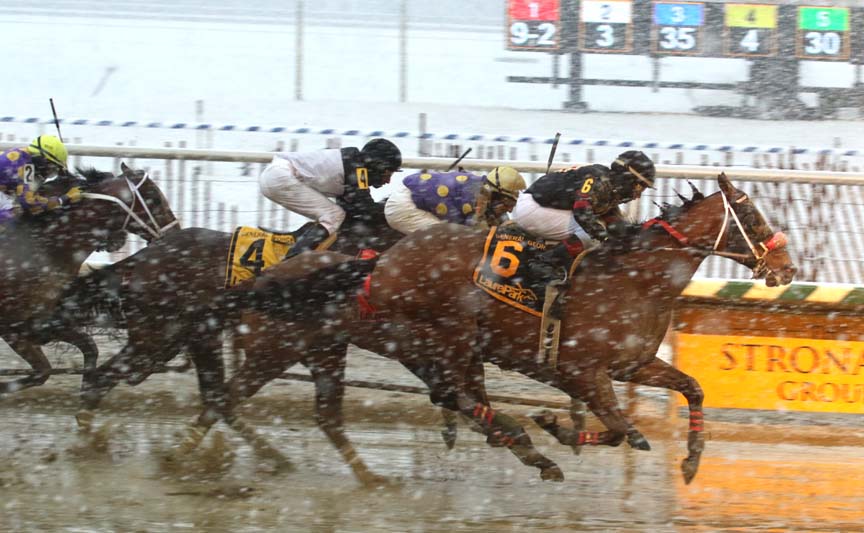 Something Awesome. Photo by Laurie Asseo.
The GQ Approach features full-card selections from Laurel Park, including a daily Best Bet, Longshot Play, and multi-race wagers — including the 20 cent Rainbow Pick-6, 50 cent Jackpot Pick-5, as well as Pick-4s and rolling Doubles, Pick-3s and the Super High-5.

[su_box title="
Today's Carryovers
" style="glass" box_color="#66ADCC"]
Rainbow Pick 6: $2,589
Super High 5: no carryover
Late Pick 5: $15,180[/su_box]
[su_box title="GQ'S Tip of the Day" style="glass" box_color="#66ADCC"][stray-random][/su_box]
[su_box title="Best Bet of the Day" style="glass" box_color="#66ADCC"]Race 1 / #1 – Dazzling Okie (8-5)[/su_box]
[su_box title="Longshot Play of the Day" style="glass" box_color="#66ADCC"] Race 8 / #4 – Papacho (20-1)[/su_box]
[su_box title="
Multi-race Wagers
" style="glass" box_color="#66ADCC"]
Race 5: $0.50 Pick-5 1, 5, 6 w/ 1, 3, 4 w/ 1, 5 w/ 1, 4, 6 w/ 1, 14 ($54.00)
[/su_box]
[su_heading size="21″ align="left"]Analysis[/su_heading]
Weather: Overcast, high in the mid-30s
Projected condition of main track: FAST; Turf: None
Post time: 12:30 p.m. EST
Race 1
#1 – Dazzling Okie (8-5): Dropped down to bottom for an easy win and some confidence-building; makes the date cutoff by just 11 days
#4 – Rare Candy (9-2): Second off a layoff for Gonzalez trainee (27% strike rate)
#6 – Rare Eagle (7-2): Defeated lesser last out; has four wins at the trip
Race 2
#5 – Smart Step (9-5): Significant equipment adjustments — blinks added, runner gelded — since back-to-back show efforts vs. similar
#6 – Tom Hagen (15-1): Fitness not likely to be a problem for a runner who made his debut last month going 12 furlongs on soft turf; breeding suggests this trip more likely to fit him
#2 – Home It Tiz (2-1): Nothing wrong with debut effort when second at this level — but that was over a year ago, and on turf
Race 3
#3 – Stakes On a Plane (3-1): Ran evenly in decent return to action last out following two-month break; blinks come off for a runner who has three previous graded stakes tries under her belt
#2 – Setubal (9-5): Led late but couldn't hold in last and figures to get a similar pressing trip here vs. mostly the same rivals; cutback a plus for a runner whose two wins both came at this trip
#1 – Queen Nekia (2-1): Game effort in last when beaten a head for all the money, but note she got away with sluggish early fractions and still couldn't seal the deal

Race 4
#5 – Aiden's Rag Doll (9-2): A bit of time off and a drop to an easier group ought to do this miss some good
#3 – Neyami (6-1): Speedster has been beating up on lesser with four straight wins
#1 – Doinwhatshelikes (6-1): Closing sort has five wins at the trip and finds easier company today
Race 5
#1 – Samadi Blue (7-2): Decent try in last when rallying to be third and has had trip troubles in both prior tries; drops down a notch here
#6 – Liar (6-1): Hasn't been terrible in prior tries; not sure the added ground is a plus, but this is a middling group       
#5 – By the Bay (6-1): First time in the Gonzalez barn for a runner who ran evenly in debut vs. maiden special rivals at CT last out
Race 6
#3 – Publishanditerate (7-2): Form has been inching forward; winner from two-back runner-up effort repeated at $5k level
#4 – Runabout (5-2): Has lost at this level three times; good try in last when leading at the furlong grounds but failing to hold on
#1 – Conquest Falcon (2-1): Drops to the bottom here but is winless in four tries on the main track

Race 7
#5 – Taking Aim (9-2): Eppler trainee gave a credible accounting of herself going seven-eighths and should appreciate the added ground here; Eppler has good record with second-start maidens, and this one's a half-sib to BC Dirt Mile winner Tapizar
#1 – War of the States (10-1): Like #5, this one gave a decent effort in debut and should appreciate added ground; Trombetta-Pimentel combo has been lethal at the meet
#3 – Turing Machine (5-2): Perhaps change of scenery will get this 12-race maiden to the winner's circle after repeated failures in SoCal
Race 8
*** #4 – Papacho (20-1) LONGSHOT PLAY ***: Presence of plenty of early speed might give this closer the trip he needs
#1 – Stone Bandit (5-2): PRX-based runner has done well at LRL and brings jock with him; speedster has won at this level
#6 – Saratoga Wildcat (2-1): Another likely to be involved in the early running, this one has seen better company in last couple
Race 9
#14 – Miss Philly Dilly (3-1): Keeps running into tough customers but running well; runner-up from Md. Million won her follow-up, and the winners of this one's first two races returned to be second in an allowance at KEE and second in the Sorority at MTH
#1 – Fashion Faux Pas (6-1): Delacour trainee disappointed when fourth at 2-1 in debut, but trainer has a stellar record with second-time starters and adds Lasix today
#2 – Orbiting the Moon (15-1): Orb filly has been training forwardly towards her debut here for trainer Maldonado
Yesterday's News
On Thursday, November 22 at Laurel had 3 winners from the 10-race card (2 Top Selections; payoff in BOLD below).
Top Selections are 431 for 1494 (28.85%). In 2017, Top Selections went 340 for 1,197 (28.40%). The payoffs of the day's winners…

R1: xxx
R2: xxx
R3: $5.40
R4: $13.20
R5: xxx
R6: xxx
R7: xxx
R8: xxx
R9: $6.80
R10: xxx

Of the suggested multi-race wagers, did not hit any.
BEST BET of the Day (148:48-35-13; in 2017 119: 39-25-19) Cordmaker (9th race: 4-1 M/L; 4.90-1 PT) broke through the starting gate before the race, relaxed towards the rear of the field, and rallied inside to earn the place, paying $5.40 to PLACE, and $3.80 to SHOW.
LONGSHOT PLAY of the Day (142:22-25-17; in 2017 107: 18-13-15) Im Charming (6th race: 20-1 M/L; 25-1 PT) lagged well off the pace and rallied to be sixth, beaten by 4 3/4 lengths.