In Focus: Wagering MATCH Series weekend races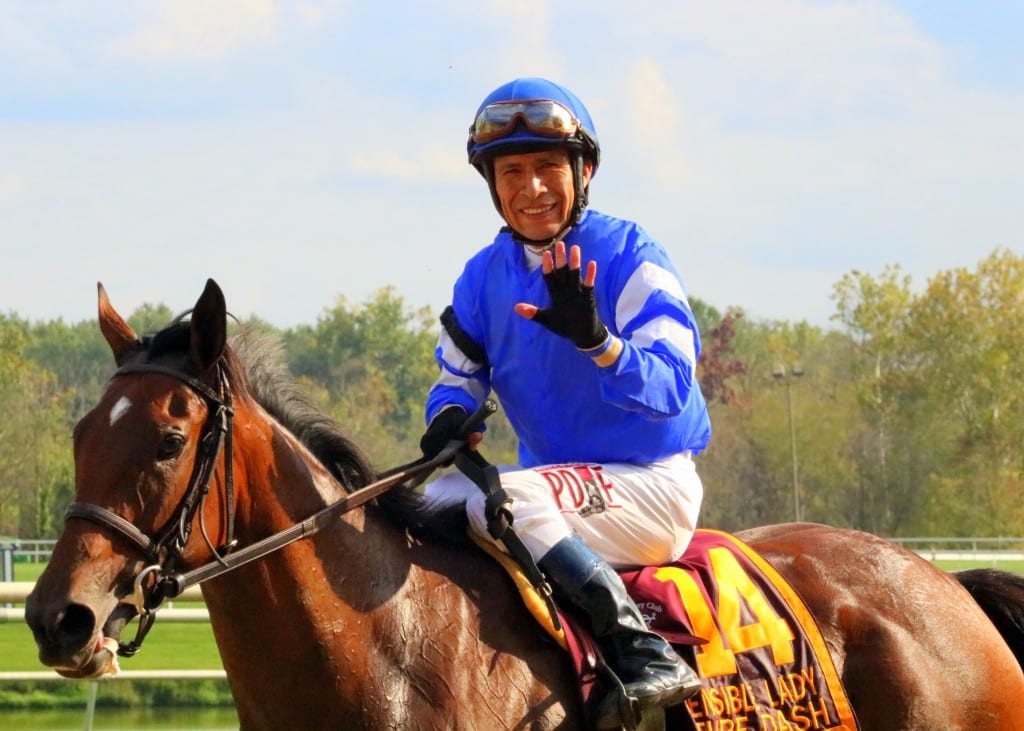 Edgar Prado smiles after Always Thinking won the 2017 Sensible Lady Turf Dash. Photo by Dottie Miller.
Our In Focus Guide offers the most in-depth analysis and commentary to the two MATCH Series races this weekend!
SATURDAY – MONMOUTH PARK
RACE 10 – INCREDIBLE REVENGE STAKES
RACE PARTICULARS: Race 10 (5:09pm EDT), $75,000 guaranteed purse for fillies and mares 3yo and up, 5 1/2 furlongs (turf)
THE FIELD
Well Acquainted (6-1): Clyde Martin-trained runner made grass bow a winning one last out when scoring in N1X company at DEL… Water gets a lot deeper here, and veteran Mario Pino, who'd ridden this guy three straight, passes on the mount… Lightly raced sort will need to take a big step forward  but with just five starts to date, owns the right to improve… Wilmer Garcia will ride…
Unaquoi (8-1): WV-bred has won five of eight at the trip and beat second-level allowance foes last out at LRL… Runner-up from last returned to score easily vs. similar in follow-up… Was thrashed in 2017 Crank It Up over the strip… Another who'll need a big one… Trainer Ollie Figgins gives the nod to Jairo Rendon to ride…
Royalaspen (10-1): Speedster figures to be in the early vanguard; whether she's good enough to stay till the end remains to be seen… Has a first and a second in two prior short turf sprints… Makes just second start of '18 after being off a year and showed little in first — but note that PID-based trainer Frances McNeely has attracted top local rider Jose Ferrer…
Amapola (4-1): Took an N1X over the track in last outing and hasn't been worse than second in three tries sprinting on the lawn… Top local pilot Paco Lopez remains aboard for win machine trainer Arnaud Delacour… Has two wins and three runner-up efforts from five starts this year after missing all of '17… Seems to be rounding towards returning to promise she showed when winning (albeit being DQed) career debut by almost 10… Legit contender here, though value may be a concern… 
Always Thinking (3-1): Rallied from out of it to win the '17 Sensible Lady going six furlongs on the turf at LRL — her only win from a dozen turf starts… Has not run since a better-than-it-looks effort when fifth, beaten a length, in the G3 Intercontinental at BEL June 7… Winner La Sardane followed with another score, is also a Group 2 winner in France… Shows a series of modest works since that effort… Another legit contender whose odds will be the question mark… Trainer Tom Albertrani has named Angel Arroyo to ride…
Honor Way (20-1): First time on the green stuff for a filly who's a pretty hard hitter on the main track… Shows a couple of good breezes, including a bullet half-mile August 5, since last out N2X score at IND… Breeding doesn't exactly scream "turf," though — sire Caleb's Posse and damsire Yes It's True both were solid main-track sorts… If she can transfer form from the main track, she contends here, but that's a big if… Trainer Matt Shirer will have jock Carlos Hernandez do the honors…
Miss Deplorable (5-1): Apparently Trump-supporting Big Drama filly has won two straight sprinting on turf… Spanked 'em in the Blue Sparkler over the strip last out at 12-1 odds… Shows a bullet work since last out victory… Three-year-old will be tackling her elders here for the second time, though only other such event was maiden score… Trainer Baltazar Galvan will leg up Keiber Coa, who rode her in maiden victory… Has shown ability to run good races while pressing or closing, and well-drawn outside here…
Malibu Stacy (2-1): Has been caught late in two of last three starts, so shorter distance here could be an asset… Set fast fractions before tiring in last and will need that kind of foot here… George Weaver-trained Tizway mare doesn't win much — just three times in 23 starts — and has always competed at longer distances, which is a perhaps roundabout way of saying that 2-1 feels short on a runner with some questions to answer… Antonio Gallardo will ride…
THE PICKS
#7 Miss Deplorable (5-1): In a race shaping up to have some speed, the sophomore will likely look to sit in the second flight before making a run…
#4 Amapola (4-1): Hard to ignore Paco-Delacour combo, and this miss has done enough right to warrant inclusion here. Main concern is getting caught up in a pace battle…
#8 Malibu Stacy (2-1): Can't swallow the short odds, but she's a major player here…
#6 Honor Way (6-1): Closer will try to transfer form to grass for first time…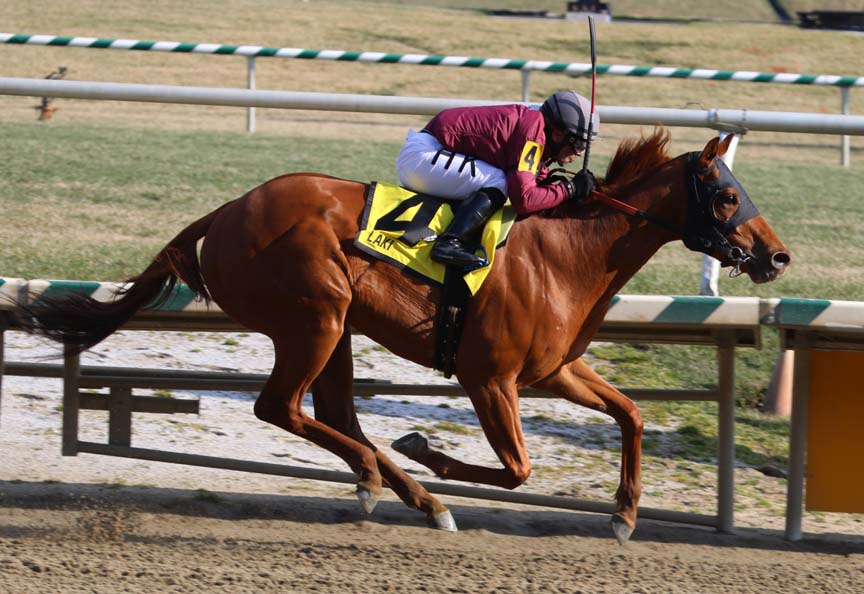 Laki won the first Not for Love Stakes in 2017. Photo by Laurie Asseo.

SUNDAY – LAUREL PARK
RACE 8 — POLYNESIAN STAKES
RACE PARTICULARS: Race 8 (4:40pm EDT), $100,000 guaranteed purse for three-year-olds and up, 7 furlongs
THE FIELD
Rockinn on Bye (10-1): 7yo snapped a lengthy losing streak two back when rallying late to get the money while in for $40k tag – first win since November 2015… Will be running late and has been in the money 12 of 16 at this trip… Seems like his very best days may be behind him, and he would need one of those to get the money here… Minor award seems likely to be best case scenario… Stephen Casey will leg up regular pilot Taylor Hole…
Laki (9-2): Where'd this guy's natural early speed go? After showing early zip in most of his starts, you'd have needed binocs to find him in the early going in his last three when he was fifth, eighth, and sixth after the opening quarter… Two back he rallied smartly despite the sluggish start to earn show dough… After a pair of starts with Hall of Famer Edgar Prado up, trainer Damon Dilodovico turns back to local stalwart Horacio Karamanos, who's ridden this guy in nine of 12 starts and usually had him forwardly placed…. Look for him to be more involved in the early running here on the stretch out…
It's the Journey (5-2): Third start off a couple months' worth of freshening for a runner who's run plenty of good recent races without getting rewarded of late… Rallying sort hasn't been worse than third in four tries at the trip… Though fourth, was just a half-length shy of second last out in solid renewal of the Hockessin… Shows a couple of decent works in the interim and gets regular pilot Pimentel back in the irons… Improved showing a distinct possibility here…
Fellowship (8-1): Kenny Decker trainee has racked up over $740k in earnings despite inconsistency that's plagued his career… Stellar late rally nearly earned him the money on a sloppy strip in the G3 General George at today's distance… Despite up-and-down form overall, the son of Awesome of Course has run well here at his home track, earning two wins and recording top two Beyer speed figs of his career — 97 and 95, both at this trip… Decker will leg up Rosario Montanez…. 
Lewisfield (7-5): Deserving fave has five wins from 10 starts and has been in the money nine of 10… Decent accounting of himself last out when finishing fourth behind graded winners Limousine Liberal and Whitmore and has been second and third in two prior legs of the MATCH Series… Lone career stakes win remains the Not for Love vs. Md-breds but has finished ahead of Laki and It's the Journey in recent tries… Showing a couple sharp works since his last and trainer Jeff Runco will leg up regular jock Arnaldo Bocachica…
Cool Arrow (6-1): Career accomplishments to date aren't bad — five wins and over $360k in earnings from 13 starts — but don't give much hope he can score here… First and second from two tries at the trip… Trainer Joe Sharp has a stellar record taking the blinks off, including strong flat-bet profit… Broke his maiden over the Laurel strip for trainer Joe Sharp… Feargal Lynch will ride a runner who'll need the race of his life here…
THE PICKS
#4 Fellowship (8-1): Has fired fresh before and seems to save best for his home track…
#5 Lewisfield (7-5): Never worse than second in five local tries…
#3 It's the Journey (5-2): Likes this 7f journey and continues to grind out good races…
#6 Cool Arrow (6-1): Trainer Sharp doesn't visit LRL often…