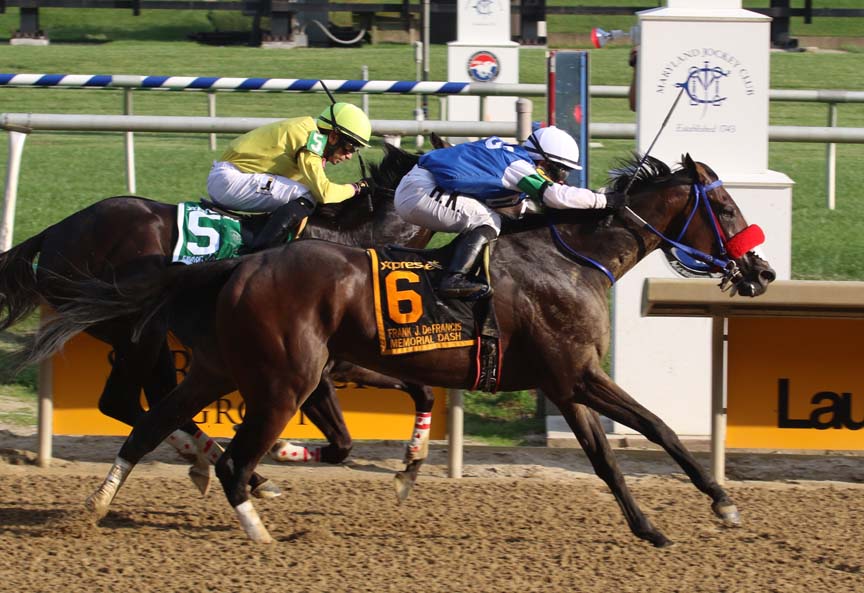 Chublicious. Photo by Laurie Asseo.

Race 7 — HOCKESSIN STAKES
RACE PARTICULARS: Race 7 (4:15pm EDT), $75,000 guaranteed purse for three-year-olds and up, 6 furlongs
THE FIELD (post position order)
1. Blue Y Gold (5-1): 8yo is as good now as he's ever been, enters with two straight wins and gets Johnny V in the irons; show horse from two-back returned to win at DEL; closing sort will need a top effort
2. Colonel Sharp (10-1): Closed for third last out on synthetic at PID in minor stake, but winner could manage only a show effort in follow up vs. allowance foes; will need very best; trainer McMahon and jockey Lynch thrive together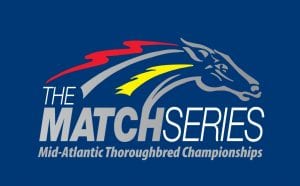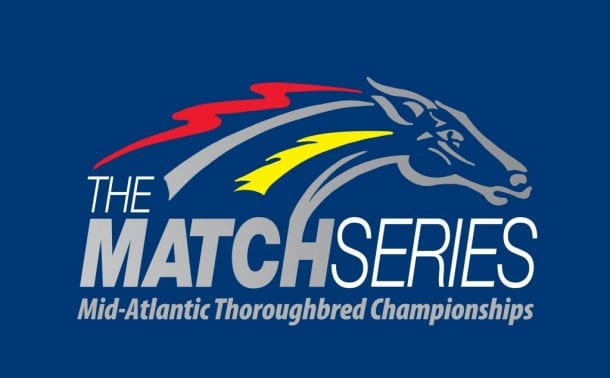 3. The Man (8-1): Has won seven of eight since coming East to kick off '17 season; none of four from last-out win to run back has won; two prior stakes tries, including one win, were both vs. PA-breds and the water's deeper here
4. Recruiting Ready (6-1): Speedster thrives doing one thing – going to the front; blinks come off in effort to settle him a bit; last out he was cooked while setting torrid fractions in G2 company; one of three rivals from two-back win to run back scored next out; like to see Jose Ortiz back aboard and a couple of fast works in the interim
5. Laki (8-1): Lightly-raced 5yo had pretty much always shown speed up to last two but closed nicely from the rear for the show while between horses last out; runner-up from that event returned fourth in G2 company; little bit hard to know what to expect here today, but Prado stays aboard in a good sign
6. Midtowncharlybrown (12-1): Owns four wins at the trip but will need a career-best effort here
7. Stallwalkin' Dude (7-2): 8yo has earned over a million bucks in six-furlong races in his stellar career; useful season debut last out when third after a wide journey should set him up to take a step forward here; multiple G3 winner took the Fall Highweight two back and will need a pace to materialize to aid late kick; meet leader Cedeno to ride
8. It's the Journey (12-1): Winless in six since smashing score in the Challedon last September at LRL despite several good tries; another who'll try to close, he was outkicked in last by Laki; notable that trainer Trombetta's go-to rider Pimentel passes on this contest, though pickup of McCarthy a plus
9. Chublicious (9-2): Perfect trip to get the money last out in the Mr. Prospector; runner-up returned to be fourth in G2 event; Jersey-bred usually runs his race, uncorking a solid run in the lane; pilot Gallardo has return engagement
10. Rockinn On Bye (15-1): Earned first win in almost three years last out when dropped in for the tag; return to stakes company seems likely to relegate him to more accustomed results
11. Always Sunshine (15-1): Last year's runner-up in this event has plenty of excuses from last, when fourth in G2 True North, as he had to stop behind rival in distress; expected return to better form would put him in the mix here; Pennington has won on him before
THE PICKS
#4 Recruiting Ready (6-1): Looks to be major speed player in here and could be tough to reel in
#11 Always Sunshine (15-1): Toss that last when impeded by injured foe and this G3 winner fits nicely here
#9 Chublicious (9-2): Repeat of last would put veteran NJ-bred in the picture; owns G3 win and might get good setup here
#7 Stallwalkin' Dude (7-2): Eight-year-old millionaire made useful return to the races when third in last; can step forward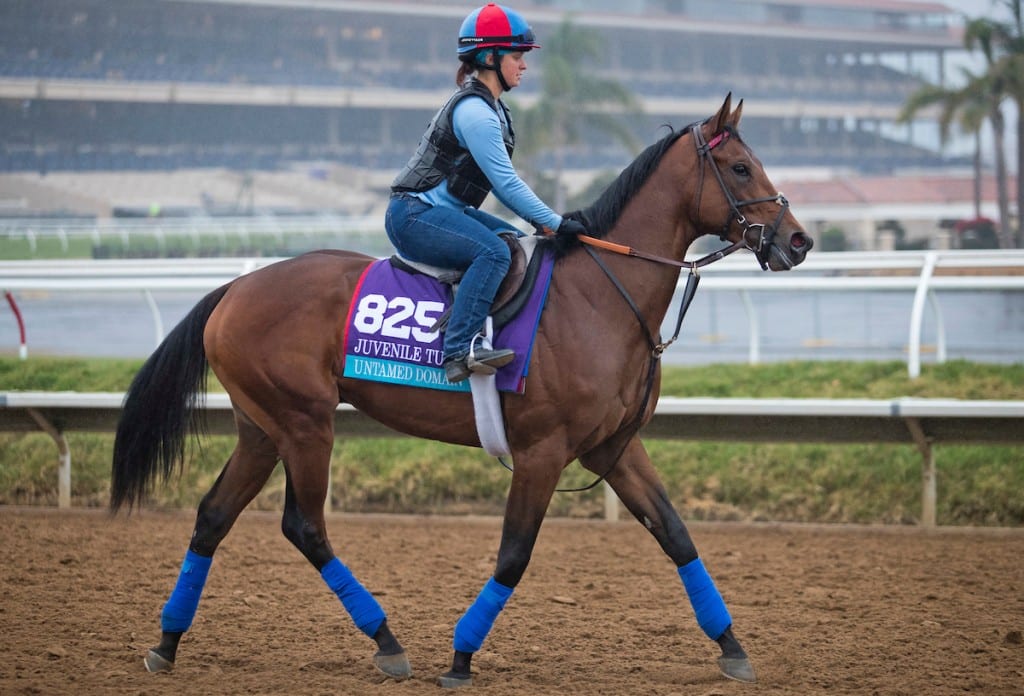 Untamed Domain. Photo by Jesse Caris/Eclipse Sportswire/Breeders Cup.

Race 8 — GRADE 3 KENT STAKES
RACE PARTICULARS: Race 8 (4:45pm EDT), $200,000 purse for three-year-olds, 1 1/8 miles (turf)
1. Carrick (9-2): Ambitious spot for a horse still eligible for N1X company but you can't fault his two efforts to date; Velazquez in the irons a plus, but serious class test looms
2. Hot Springs (6-1): Two-for-two in 2018 and Asmussen not likely to ship without good reason; couple of his beaten rivals in maiden score graduated next out
3. Duc de Calas (8-1): First-time Lasix for this French import, joining the Clement barn and also adding blinkers; trainer and rider McCarthy have lost 14 straight, but Clement 32 percent at DEL last five years
4. Gunnison (10-1): Half-bro to millionaire Divisidero has won two straight and three of four, most recently the $60k Tale of the Cat at MTH in well spread field that has produced one next-out winner from three to run back; runner-up was fourth in Queen's Plate at WO; Toledo remain aboard for Rubley
5. Untamed Domain (5-2): Runner-up in '18 BC Juvenile Turf hasn't found the range yet in '18 while keeping good company; top pair from last ran one-two again in $1.2 million BEL Derby; Jose Ortiz an asset here for trainer Motion
6. Golden Brown (15-1): Turf debut was absolutely stellar; sure, it was NJ-bred company, but the winner, Irish Strait, is a real racehorse, a G3 winner of over $330k, and this one was getting to him late; McBurney trainee a threat to outrun his odds
7. Archaggelos (10-1): Dickinson trainee never worse that third on the green stuff; place horse from last took $100k stk at BEL in follow-up; connections have handled this one like a good horse throughout, trying him three times in G3 company
8. Blame the Rider (7-2): Trainer O'Neill hasn't sent a horse to DEL in at least last five years, so this one's appearance would be something of a surprise — and perhaps a sign that this runner is ready to roll; he Is cross-entered, though, and could end up at IND; four of six to run back from stake win two back ran one-two in follow-ups; rider Gutierrez comes along for the race
9. Way Early (8-1): First time Lasix last out, and this Tizway gelding responded with a solid late run to earn the place after lagging early; gets blinks on today to get his mind on business; improved effort a distinct possibility
THE PICKS 
#6 Golden Brown (15-1): Love that effort in turf bow vs. older G3 winner
#5 Untamed Domain (5-2): Has run credibly while keeping plus company; has to be happy not to see Catholic Boy, Analyze It in here
#2 Hot Springs (6-1): If trainer Asmussen's coming, he must mean business
#9 Way Early (8-1): Solid effort in last, looks to be more engaged early today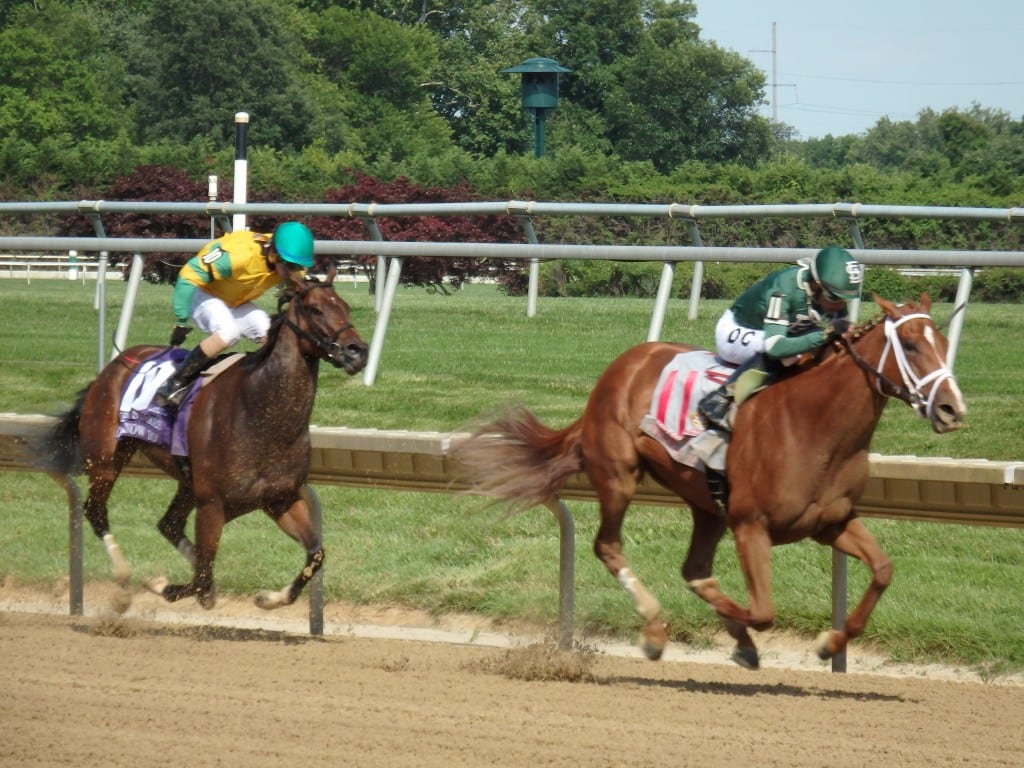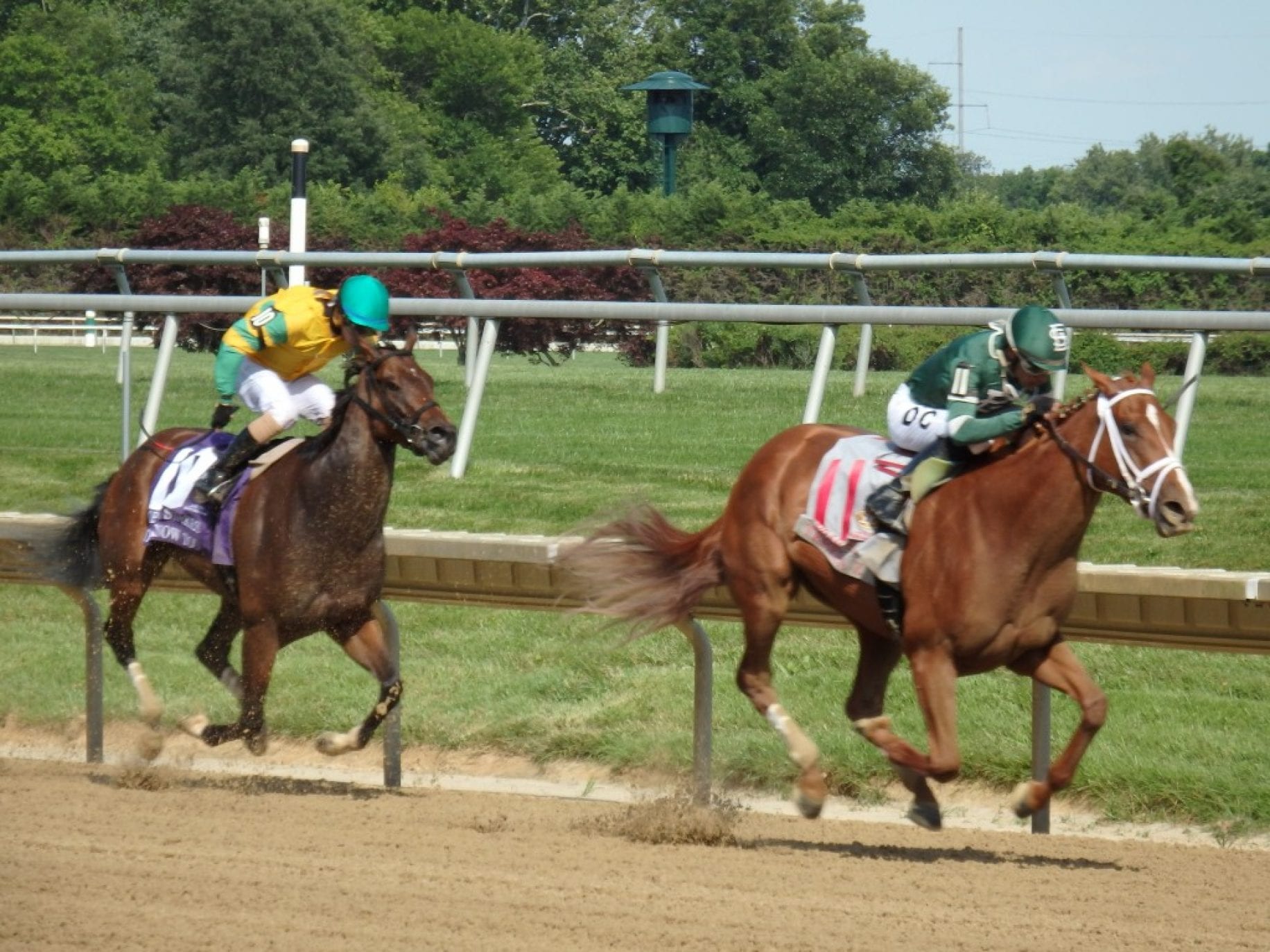 Teresa Z. Photo by The Racing Biz.

Race 9– GRADE 2 DELAWARE HANDICAP
RACE PARTICULARS: Race 9 (5:15 pm EDT), Grade 2, $750,000 guaranteed purse for fillies and mares three-years-old and up
THE FIELD
1. Teresa Z (10-1): G3 winner was well beaten locally last year by favored #6 Elate but is a better horse now than she was then; clearly best in winning the Obeah last out in third off a layoff after a wide journey; distance should work for her, but she'll need to fire big in here
2. Sneaky Betty (20-1): Was third after making a bold move, flattening out in the Obeah and probably will have longer odds in here; she'd be a major surprise
3. Mopotism (9-2): G2 winner was crushed by the favorite in here at this distance last summer in the G1 Alabama; makes third start off layoff and brings jock with her
4. Proper Discretion (20-1): Suspicion here is that Looch-owned Anthony Quartarolo trainee isn't in it to win it – she's here to guarantee a zippy pace and give his better runner, #9 Fuhriously Kissed, the kind of pace she needs
5. Unbridled Mo (5-2): Huge effort two back to win the G1 Apple Blossom impressively over Unique Bella; distance a bit of a question here as she backed our readily at only try beyond 1 1/16 miles; no answers for Abel Tasman in last, but no shame in that; shows two fast works in the interim
6. Elate (2-1): Two-time G1 winner set to make season debut here; was a five-length winner at the distance in the G1 Alabama; it's plenty to ask of her to debut at 10 furlongs in G2 company; does own a win over the strip in last year's Light Hearted; ran decently when fourth in the G1 Breeders' Cup Distaff; no question a deserving favorite, but if you want to take a shot against her, this'd be a good spot to do it
7. Farrell (9-2): Front-runner is expected to scratch
8. Nikki My Darling (20-1): Everything we said about #4 in here holds true for this one, as well
9. Fuhriously Kissed (15-1): Deep closer — the presumed beneficiary of the expected early exertions of other Looch runners in here — ran into third in the G1 Apple Blossom and G3 Allaire DuPont over a wet surface she relished (5-2-1-2 on off tracks); didn't catch much pace in last and was up the track; will be rolling late but looks a cut below the top runners here
THE PICKS

#5 Unbridled Mo (5-2): G1 winner ran down Unique Bella two back in the Apple Blossom, benefits from recency vs. favorite here returning from eight-month layoff
#1 Teresa Z (10-1): Nice tuneup over the strip and should be ready to deliver top effort
#6 Elate (2-1): Best credentials in here and likely winner on best — but lengthy break and long distance make this a chance to take a shot against
#3 Mopotism (9-2): G2 winner makes third start off two-month break