Preakness: Winning Derby favorites at Old Hilltop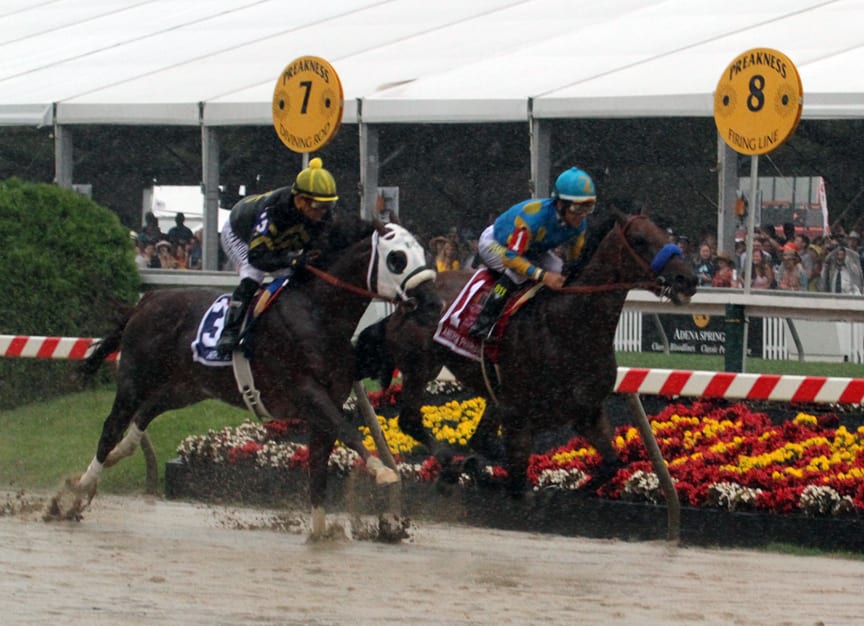 American Pharoah and Mr. Z. Photo by Laurie Asseo.
by Frank Vespe
While Justify's victory in the Kentucky Derby May 5 snapped one lengthy streak — he was the first horse since Apollo in 1882 to win the Run for the Roses without having run as a juvenile — it prolonged another.
Justify, who went off at odds of 2.90-1, was the sixth consecutive favorite to win the Derby. Indeed, in the years since Grindstone won the '96 Derby and never raced again, only four Derby winners have had gone off at shorter odds than Justify.
With all eyes now turned towards Baltimore and the Triple Crown's middle jewel, the 143rd Preaknes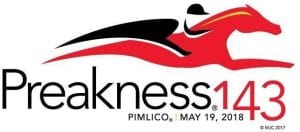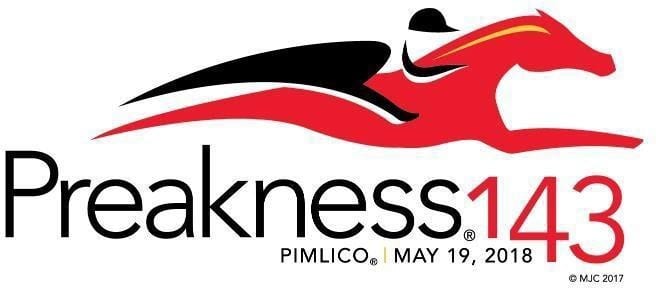 s Stakes coming up May 19, we wondered: what, if anything, does history teach us about what sort of odds to expect on Justify and how many rivals he'll face.
The answer to the first of those questions is, "Plenty." The answer to the second, however, is not much.
Since Grindstone, every Derby winner has made the pilgrimage to Old Hilltop for the Preakness, 21 in all prior to this year. The average odds for all Derby winners in the Preakness in those years just shy of 7-2, at 3.46-1. But that, of course, includes outliers like Mine That Bird (50-1 in the Derby, 6.60-1 in the Preakness), Giacomo (50-1, 6-1), and Charismatic (31.30-1, 8.40-1).
Drilling down farther, nine of those Derby winners went off as the Derby favorite (including, of course, the last five in a row). Those horses have gone off considerably shorter; their average Preakness odds have been just about 7-10 (0.72-1).
Of course, in the 20-horse era, the Derby favorite has often been a tepid one, including Always Dreaming, who was 4.70-1 when the winning favorite in the 2017 Derby. He was off at 6-5 in the Preakness.
Only five of those favorites have had odds, like Justify, of less than 3-1. That group of horses had Preakness post-time odds of just about 1-2 (0.52-1). All five of them went off in the Preakness at less than even money, with their off odds as low as 1-5 (Big Brown, 2008).
So it's safe to assume Justify will be odds-on come post time on May 19.
As for how many runners he'll face, that's its own question. You'd think that a short-priced winning Derby favorite would generally scare away the competition, and to a limited extent you'd be right — but only to a limited extent.
The average Preakness field in those years has included about 10.8 starters. When a horse other than the favorite wins the Derby, the average field size is almost 11.7 runners.
When short-priced Derby favorites win, that field size declines, but only to 9.8. And while that number includes a couple of eight-horse fields (2000, when Fusaichi Pegasus won the Derby, and 2015 when it was American Pharoah), the other three Preaknesses with a winning Derby favorite whose odds in victory had been less than 3-1 all saw fields of at least 10. That number includes a dozen who faced the starter even in the face of 1-5 Big Brown in 2008.
Oh, and how do those runners fare in Baltimore?
Of the nine winning Derby favorites, just four of them repeated in the Preakness. And of the five shortest-priced Derby winners? Three of them repeated in the Preakness.
But we don't have to look far back to find one of them who lost. That would be Nyquist in 2016, who won the Derby at odds of 2.30-1 but fell to third in the Preakness, in which he was 7-10 at post time.