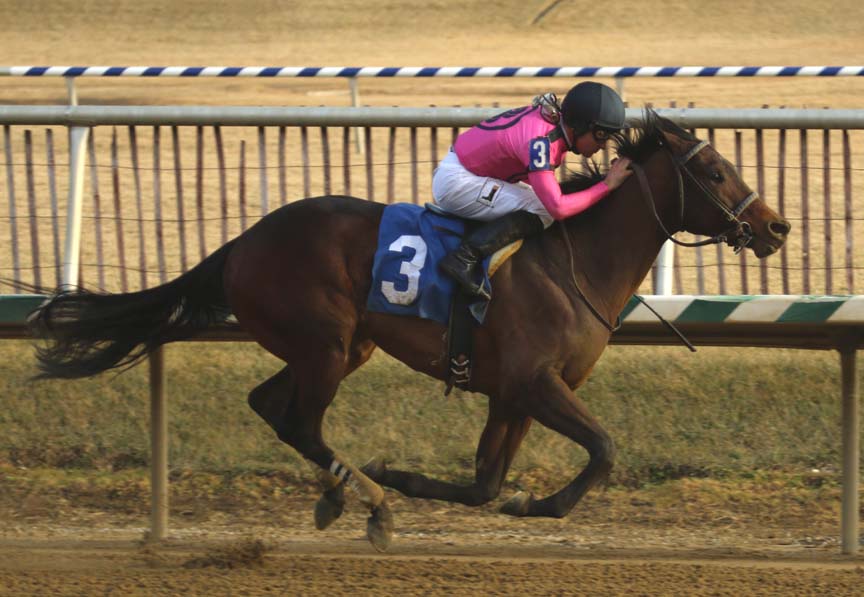 Still Having Fun. Photo by Laurie Asseo.

Race 6 — MIRACLE WOOD STAKES
RACE PARTICULARS: Race 6 (3:00pm EST), $100,000 guaranteed purse for 3-year-olds, 1 Mile (Dirt)
THE PICKS
#1 – Still Having Fun (8-5): The MJC Racing Office did this Old Fashioned colt no favors drawing the rail in his distance progression from 7 to 8 furlongs; can boast the best BRIS# (95) to date among this group; appeared to have plenty left in the tank in cruising to a 4+ length victory in the Frank B. Whiteley stakes last month; looks to be a wise investment as Gary Barber and Wachtel Stables bought a piece of him after his career debut win               
#3 – V. I. P. Code (6-1): Bounced back nicely to earn the SHOW purse in the Whiteley behind the top pick and Wentz in first start since throwing out the anchor in the G2 Remsen; should take another step forward and could get a break if track is "off" as best effort came in lone try going one mile 
#5 – Wentz (5-2): Only one of the seven entered who is not Triple Crown nominated in spite of having the pedigree to get the classic distance; trainer John Servis (27% with shippers into Lrl) adds blinkers to this Super Saver colt who was second best to Still Having Fun in latest     
#7 – He Hate Me (7-2): Sagamore star was a well beaten runner-up in the $125k Pasco Stakes at Tam last month when coming off a 7-month layoff which followed two impressive victories to start career which included the $150k Tremont Stakes at Bel; Lrl will be fourth venue in as many starts, gets an 8 lb. break from previous outing and gets NY-based jock M. Franco back in the irons
FIELD IN FULL

#2 – Dynamic Asset (15-1): This Astrology colt was a $6,500 Kee weanling purchase and has earned over $42k in just two starts; goes for the natural Hat Trick while coming off a 5-month layoff; just 3 published works since last start which the first of them was 3 weeks ago; might be playing catch-up in being ready for a top effort…   #4 – Oldfashioned Club (10-1): Entered on Friday's card in an OC$50kN1x so if he goes here the connections must not be afraid of anyone and/or feel strongly that his fifth-place effort against the top 3 who are in here was filled with excuses as he stumbled at the start and was behind horse at 5/16th…   #6 – Old Time Revival (12-1): Got caught up in a speed duel with Wentz in latest was unable to go on as "Cowboy" Hamilton saved him for another day; bullet work since proves he's quick for 4 furlongs but needs stamina to go twice as far here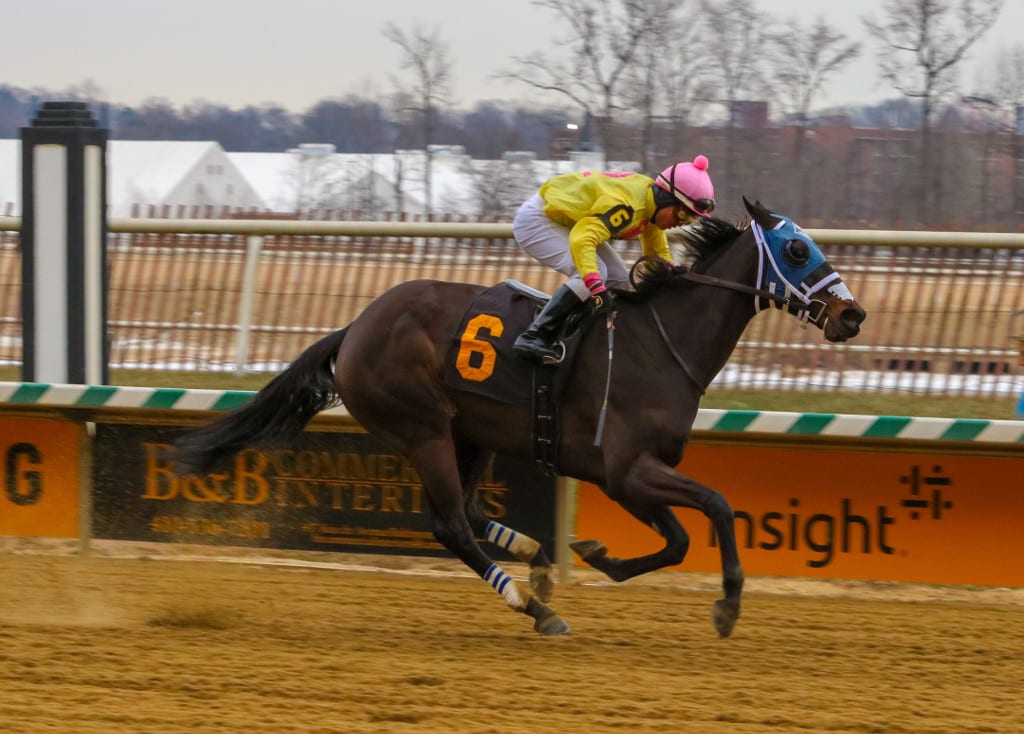 Bishop's Pond. Photo by Laurie Asseo.

Race 7 — MARYLAND RACING MEDIA STAKES
RACE PARTICULARS: Race 7 (3:30pm EST), $100,000 purse for fillies and mares 4yo and up, about 1 1/16 miles (dirt)
THE PICKS
#1 – Bishop's Pond (5-2): Speed of the speed laid waste to her rivals in the Thirty Eight Go Go and prior form suggests two turns not an issue… Lone off-track try was a fifth in the G1 Beldame, but Elate, who won that race, romped by eight lengths and returned to be a good fourth in Breeders' Cup Distaff. She'll be the one to catch.
#6 – In the Navy Now (10-1): Has been in the exacta in seven straight and closed to take the Nellie Morse last out despite sluggish early pace. Has been third or better in 15 consecutive races, only missing the money in her first three starts. If it's an off track – no problem, as the Midshipman mare has been second in two off tries.
#4 – Line of Best Fit (9-2): Claudio Gonzalez trainee just missed in the Nellie Morse after some minor trip troubles, drawn a bit more inside today at a distance where post position matters. Has stakes win at 7f but career-best effort was at two turns when third behind the great Songbird in G1 Delaware Handicap.
#7 – Sherini (8-1): Couldn't get by last out when loose-on-the-lead Just Got Out held on to win modest version of the Ladies at AQU, but lightly raced kid half-sis to Shackleford still has some upside and makes just third start since September 2016 here. Feargal Lynch won on this Motion trainee two back over the strip, and the trainer-jock combo has a positive ROI.
REST OF THE FIELD

#2 — Just Got Out (6-1): Veteran finally won first allowance two back, then held on to win the Ladies after having it her own way up front — but seems unlikely she'll control the pace so easily here… #3 Frisky Whiskey (30-1): Would be a major surprise in this spot off a third-place finish in a Parx starter allowance… #5 Sky Flower (8-1): Has been second or third in two recent local stakes but will need to find a way to better three rivals here who have finished ahead of her. Good news: never worse that third at the trip… #8 Not Taken (15-1): Feels a bit more like preparation for turf season than a spot where this grassy mare will win. She was second last out, in November, in a turf stake at AQU… #9 Felini (5-1): Has lost four straight at the second allowance level after winning first allowance by 18 (!) lengths at PRX. Figures a forward factor early here but will need a big one to win… #10 Miss Inclusive (15-1): Outer post won't help, and this Servis trainee has done a bit better at slightly shorter distances. Credible effort in last when rallying, but look for jockey Vargas, Jr. to try to put this one in the mix early today.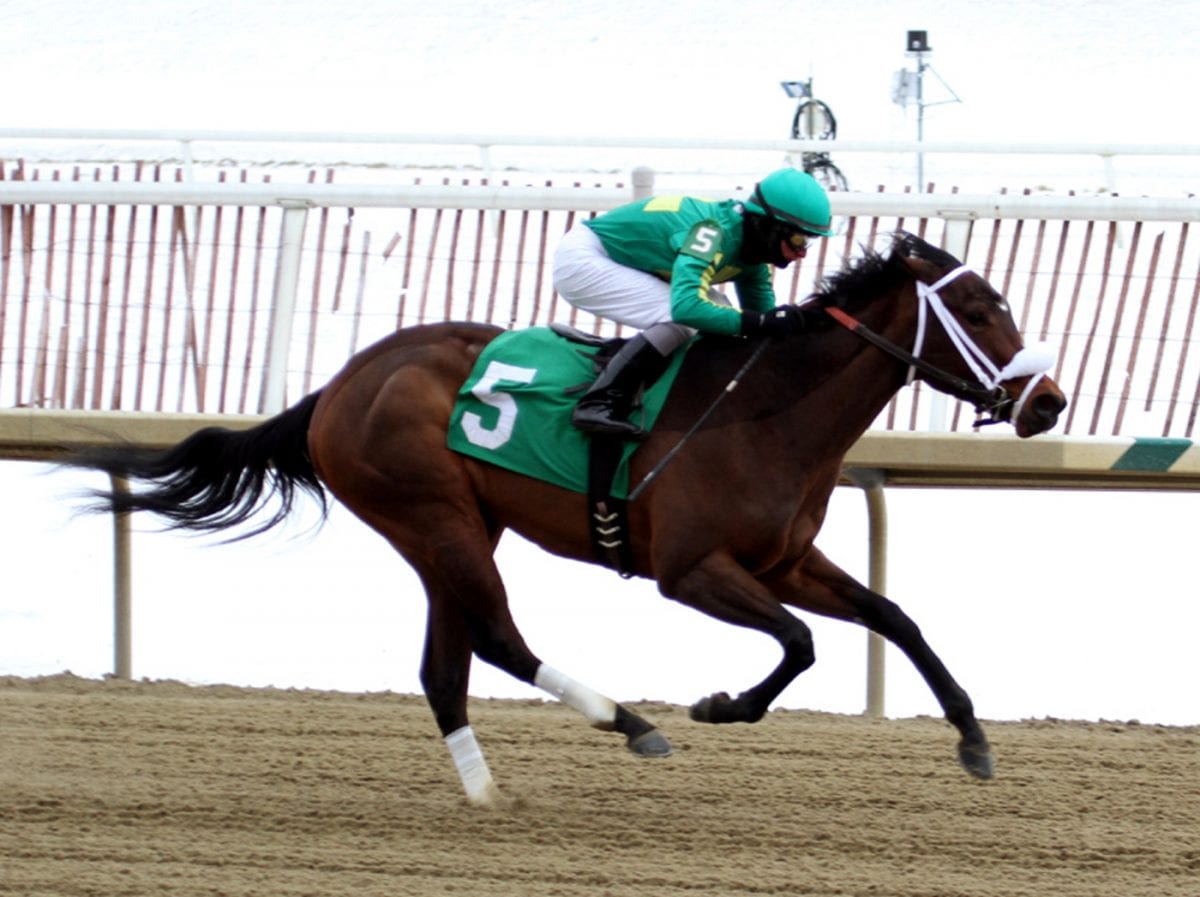 2014 Wide Country winner Taris.  Photo by Laurie Asseo.

Race 8 — WIDE COUNTRY STAKES
RACE PARTICULARS: Race 8 (4:00pm EST), $100,000 guaranteed purse for 3-year-old fillies, 7 Furlongs (Dirt)
THE PICKS
#1 – Frigid Sister (10-1): Price play due to the pace setup she'll get as most of her six foes are quick from the gate and she'll be content to break last, enjoy the scenery for the first half mile then kick it into gear for the stretch run as her leg weary rivals struggle to hold her off; considered to be the lesser of the uncoupled Flint Stites entry but jock J. Hernandez may have chosen the wrong mount in this rodeo              
#4 – Fools Gold (5-2): Nicely bred and fetched $425k as a 2-year-old in training has developed nicely under the conditioning of C. Brown (7:2-4-0 at Lrl) while piloted by M. Franco to graduate in latest; cut back to shortest distance versus four career races going one mile plus sets up for a frantic late surge if issues exiting the gate persist    
#3 – Enchanted Ghost (3-1): Game effort in stakes debut when third behind local multiple stakes winner and (#7) Last True Love #7; that followed a pair of wins as the lightbulb came on in fourth career outing; should be forwardly placed coming off sprint yet has stamina to continue to compete at this level
#2 – Deep Red (6-1): Most experienced filly in this event has learned how to relax which will benefit her greatly versus these six rivals; beat a nice group of sprinters in 3-year-old debut following her runner-up finish to local monster (Limited View) in MD Juv. Fillies Championship while the third-place finisher (Vente to Go) easily defeated an OC$50kN1x group here a few weeks ago
REST OF THE FIELD

#5 – Shemakesmehappy (12-1): Prx-based daughter of Majestic Warrior was an easy winner in in latest (Alw30000s) on her home dirt oval when equipped with blinkers first-time; question competition as two back when fourth, the winner and runner-up came back in same $25k race at Lrl and ran last and next to last…
#6 – Aggregator (8-1): Ridden hard in stakes debut just 3 weeks ago but chased rivals in vain; faces a few of those foes again in here; speed figures come up short though they have been climbing; if she continues the "win one, lose one" pattern she'll win this one…
#7 – Last True Love (3-1): Ran huge in second stakes try when a 10-1 bridesmaid in Marshua Stakes on Jan. 27 over the Lrl dirt going 6 furlongs; the more promising of the two F. Stites uncoupled runners per Morning Line but will get early pressure while having to carry speed an extra furlong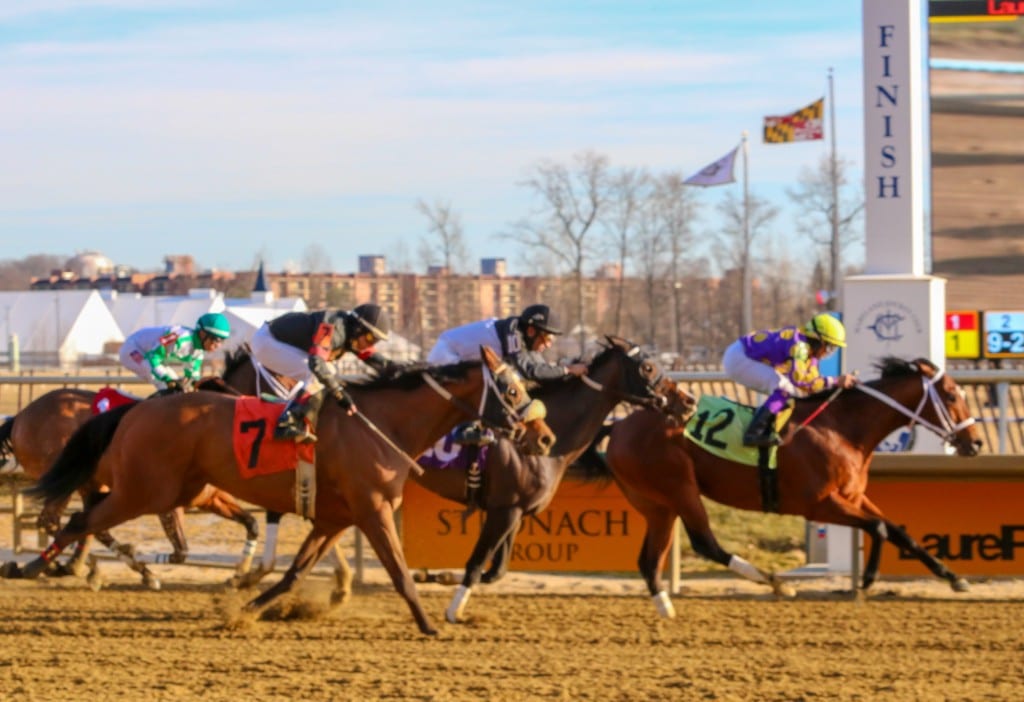 Awesome Banner.  Photo by Dottie Miller.

Race 9 — GRADE 3 GENERAL GEORGE STAKES
RACE PARTICULARS: Race 9 (4:30pm EST), $250,000 guaranteed purse for 4-year-olds and upward, 7 Furlongs (Dirt)
THE PICKS
#9 – Great Stuff (7-2): Fresh off graded stakes win at Aqu in G3 Toboggan at this same distance which fits his running style like a glove; returns to Lrl where he rallied to be third in $100 Dave's Friend going 6 furlongs two back; late blooming 6-year-old in best form of career        
#4 – It's the Journey (6-1): Looks to turn the tables on Awesome Banner as his rally came up a half-length short in the $100k Fire Plug which was at 6 furlongs; traveling an extra furlong here could prove to be the difference; makes third start after layoff
#10 – Do Share (3-1): Finished 2017 with a pair of wins earning triple-digit BRIS#s in both; missed Fire Plug in Jan. due to quarantine of trainer L. Rice's barn at Bel; blossomed after being claimed for $50k a year ago (10:7-2-1); will be prominent in the early stages
#7 – Fellowship (12-1): Two years ago was on the Derby Trail earning black type in FOY and FL Derby; has become a versatile runner winning sprints and routes but not in graded stakes; earned personal best 100 BRIS# in 6 furlong sprint here 3 weeks ago in OC$32kn3x
REST OF THE FIELD

#1 – Cowboy Mz (12-1): Speedy sprinter came back from 3-month vacation in fine fashion,  winning twice in as many starts by a combined 11+ lengths, earning 103 and 96 BRIS#s; still a tough spot for (graded) stakes debut and stretching out to 7f… #2 – Awesome Banner (7-2): Five-year-old finally flashed speed and winning form in first start of 2018 with a victory in the $100k Fire Plug, reminiscent of the way his career began three years ago winning two graded stakes; question is can he build on that win or bounce… #3 – Sonny Inspired (30-1): 7-year-old has eight career wins but none in a graded stakes; earned SHOW purse in this event in 2016 but that followed a victory; hasn't hit the board in last six starts… #5 – Ballivor (30-1): Makes huge jump into graded stakes after two carbon copy wins at this distance v. restricted and open AlwN1x; needs to improve even further just to sniff a minor share… #6 – Something Awesome (6-1): House Horse switched North America home offices from WO to Lrl 4-months ago and loves the new digs (3:2-0-1) with first stakes ITM finish (SHOW) in latest behind the top two picks… #8 – Grasshoppin (15-1): PA-bred will be saddled by Lrl leading trainer C. Gonzalez; was 8th in this event last year when sent off 51-1; expecting same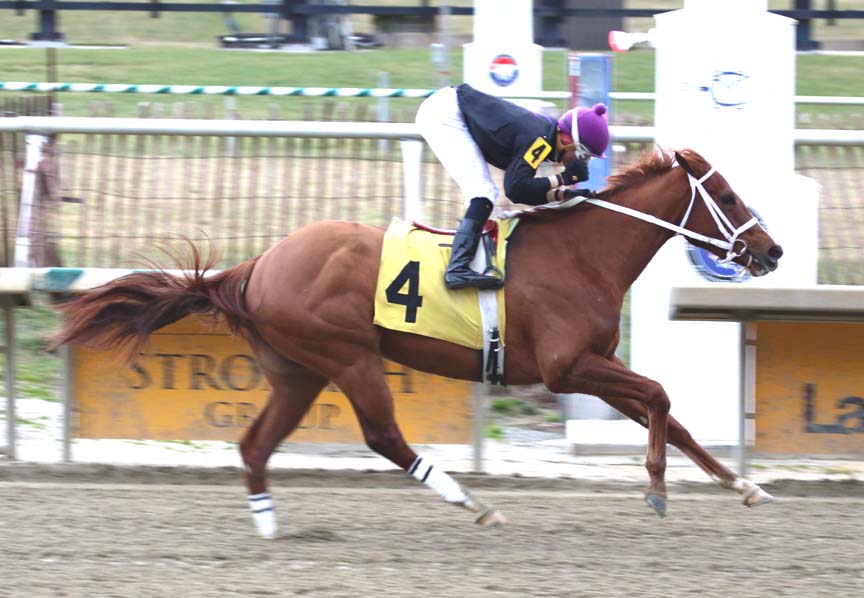 Ms. Locust Point.  Photo by Laurie Asseo.

Race 10 — G2 BARBARA FRITCHIE STAKES
RACE PARTICULARS: Race 10 (5:00pm EST), $300,000 guaranteed purse for fillies & mares 4-year-olds and upward, 7 Furlongs (Dirt)
THE PICKS
#6 – Berned (6-1): Huge effort as upset (8-1) winner of $100k Safely Kept on local oval in Nov. to post career best BRIS# 100; appears trainer G. Motion discovered she's at her best in middle distances after knocking heads with the best 3-year-old fillies last year; a six-pack of perfectly placed drills has her primed for a top effort
#11 – Highway Star (7-2): Has competed in graded stakes events in past 7 starts hitting the board in all except G1 BC F&M Sprint; has a win and near miss (by a head) in past two races coming off similar layoff
#9 – Ms Locust Point (4-1): Has toyed with competition in all three outings since returning to races from a nine- month layoff; only off the board finish came in lone graded stakes try but that ended her 3-year-old campaign in which something went amiss; hasn't fully reached her potential but missed a work due to weather
#10 – Quezon (9-2): Destroyed NY-breds in LaVerdad after win in open minor stakes, both at Aqu; 3 for 4 at 7f as lone loss came when lost footing at the start; there's plenty of early speed in here for her to catch late in third race after layoff
REST OF THE FIELD

#1– Miss Divine Grey (9-2): A $16k Claimer less than a year ago, trainer D. Gargan has made her a stakes winner, earning triple-digit BRIS#s in latest two efforts but rail assignment will force jocks hand early… #2 – Boule (12-1): No worse than second in five career main track starts loaded with next out winners; speed figures keep ascending for this W. Mott trainee; biggest test to date… #3 – Sky Flower (20-1): Runner-up behind Bishop's Pond has held her own in minor stakes at long odds but will need a Herculean effort to be ITM in first graded stakes try and at this distance… #4 – Frisky Whiskey (30-1): Beaten favorite v. A10000s at Prx is hardly a positive prep for a run in a G2 event; not in a million years v. this assembled group…   #5 – Tazkeya (20-1): Needs to greatly improve off her recent efforts speed figure-wise; added distance will help… #7 – Moiety (15-1): Overcame a terrible start in minor stakes at Mvr in last outing which was 3-months ago; draw a line through G2 Chilukki going one mile and you have one capable of an upset…   #8 – Bishop's Pond (10-1): 1 fo1 at Lrl as she went gate-to-wire in $100k Thirty Eight Go Go in most recent effort making it 2 for 2 on a fast track for this turf runner; will be first start going 7 furlongs