In Focus: Wagering the Maryland Million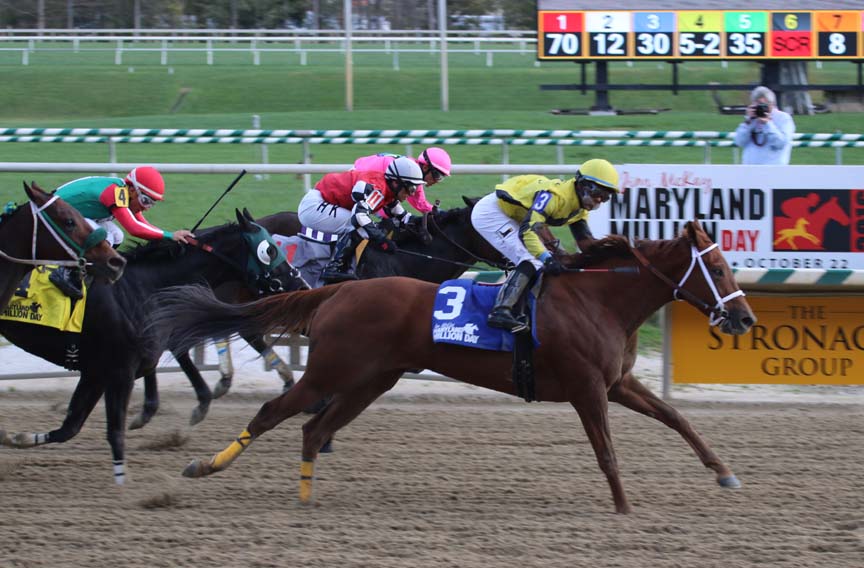 Rockin Jojo. Photo by Laurie Asseo.
Our In Focus Guide offers the most in-depth analysis and commentary on the key stakes on Saturday's Maryland Million card at Laurel Park. Look for full-card picks and analysis on Saturday in The GQ Approach!

Also, check out some other Maryland Million analysis:
RACE 7 – MARYLAND MILLION DISTAFF H.
RACE PARTICULARS: Race 7 (3:33 pm EDT), $100,000 purse for MD-sired fillies and mares 3yo and up, 7 furlongs
THE PICKS
#9 – Crabcakes (3-5): The class of this field who loves the Lrl main oval (6:4-2-0); third race after layoff while the last two were the best, speed figure-wise of her young career; 7 furlongs not her favorite but no shame in being runner-up to Shimmering Aspen, arguably the best local three-year-old filly
#2 – Hell of Afire (12-1): In best form of her career which could be attributed to giving this mid-distance a shot (3:1-2-0) and/or addition of blinkers (4:2-2-0); will need to take another step forward to compete against these gals
#6 – She Rolls (20-1): Suddenly has embraced being on the lead from the get go since '17 debut four races back following a 6+ month layoff; could find herself lone on the lead being able to get a breather in mid-race to have enough left in the tank to shock or be part of the exotics 
#4 – Rocky Policy (8-1): Cross-entered in MD Million Ladies, her preferred surface of late but not distance; ironically 3 of 4 career victories have come on the dirt; trainer D. Capuano may have tipped his hand sending her 6 furlongs in three works since last start 
FIELD IN FULL
#1 – Scip's Sonata (30-1): On the sidelines since June 10th when finishing seventh in an open $15k claimer; form started to go south after fourth-place effort in this event last year as 5-2 second choice… #3 – My Magician (7-2): Winner of her last two of three each by a nose, the latest outlasting a G1 SHOW horse who was a next out winner in minor stakes here;  does best running in sprints, not so much at 7 furlongs (6:0-0-2)… #5 – Item (20-1): Failed to build on 2 for 2 start of career that saw second win come here in last years' MD Million Lassie; well beaten Also Ran in four similar stakes since…  #7 – Faze the Nation (15-1): A shell of her former self of late after starting '17 with 4 wins and 2 runner-up finishes; earned a minor share in last two when well beaten by Crabcakes in both… #8 – Up Hill Battle (2-1): Spent last two Summers racing on turf in spite of being 0 for 7 on it; prefers an off track and shorter distance as this will be first time stretching out to 7 furlongs… #10 – Daylight Ahead (12-1), #11 – If I Was a Boy (20-1) and #12 – Moon Virginia (15-1) are MD-breds who can draw in only if race scratches below 6 horses
MULTI-RACE WAGERS

Race 7 – 50 cent Pick-5  2, 9  w/ 4, 5, 6  w/  2, 3, 9  w/ 11 w/ 1, 4  ($18)
Race 8 – 50 cent Pick-4 4, 5, 6  w/ 2, 3, 9  w/ 5, 11 w/ 1, 4 ($18)
Race 9 – 50 cent Pick-3 2, 3, 9  w/ 2, 5, 11 w/ 1, 4, 7 ($13.50)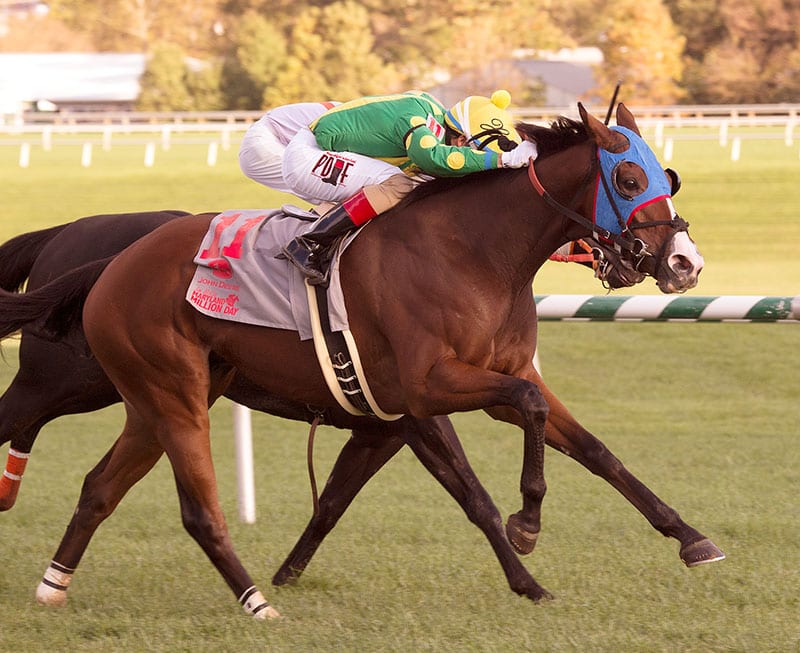 Talk Show Man. Photo by Laurie Asseo.

Race 8 — MARYLAND MILLION TURF
RACE PARTICULARS: Race 8 (4:06 pm EDT), $125,000 purse for MD-sired three-year-olds and upward, 1 mile (turf)
THE PICKS
#4 – Spartianos (5-1): Turf sprinter with need the lead speed is a threat to steal it on the front end for trainer Michael Pino w/ Rueben Silvera aboard, this duos sole reason for shipping in from Prx; only previous one mile turf race came in this event last year when runner-up at 12-1 to local turf monster Phlash Phelps 
#5 – Talk Show Man (2-1): Veteran of three MD Million races, won this event in '14; loves the distance (6:4-0-1) but has had a bumpy road in '17 coming back from a 17-month layoff; not concerned about latest dud as he just needed a race and trainer "Ham" Smith seems quietly confident
#6 – Somekindofmagician (5-2): Whatever the issue was this past winter, trainer Mike Trombetta resolved it as this three-year-old Street Magician gelding graduated in first race after a 6-month layoff, then in two eventful turf trips was runner-up at Sar and won over the Bel turf and now stretches out from those sprints which should be more to his liking 
#3 – Grandiflora (6-1): Earned the SHOW purse in this event last year and comes in after a brief layoff; been working well and always gives a good account of himself but the reality is one mile is about a furlong too far; trainer Ann Merryman looking to end long stakes race drought  
FIELD IN FULL

#1 – No More Talk (15-1): This Not for Love three-year-old has been an Also Ran while picking up minor purses in restricted first-level allowance company since maiden win in second start ten races back; tough to endorse on top… #2 – Dothat Dance (8-1): Beaten favorite in past two outings against first-level allowance foes seems to prefer a little give in the grass; 0 for 7 on Lrl lawn while being reunited with Jevian Toledo whose has guided this gelding to three straight runner-up finishes when in the irons… #7 – All Alone (20-1): Last trip to the Winners' Circle came 17 races ago (July '15), his Deep Closer running style requires more real estate than one mile and recent speed figures are a cut well below what it will take to win here… #8 – Jerandson (15-1): Cross-entered in MD Million Classic which is where he'll likely run due to the fact he's only run on turf once, though a game fifth-place effort in a restricted stakes here in July; if trainer Todd Pletcher decides to run him here, then he'll throw a wrench into (#5) Spartianos' chance to set pedestrian fractions early…   #9 – Tricky Lion (20-1): A year ago was competing in $5kN2L on dirt; turf is where he earns his keep but will need to take a huge step forward to earn even a minor share… #10 – Just Howard (8-5), #11 – Tizzarunner (6-1), #14 – Enough Is Enough (15-1) and #16 – Team Tim (12-1) are MD-breds who can draw in only if race scratches below 6 horses;  MD-bred #12 – Ghost Bay (8-1), #13 – John Jones (5-1) and #15 – Bonus Points (7-2) are in the same situation but are cross-entered and likely run in the MD Million Classic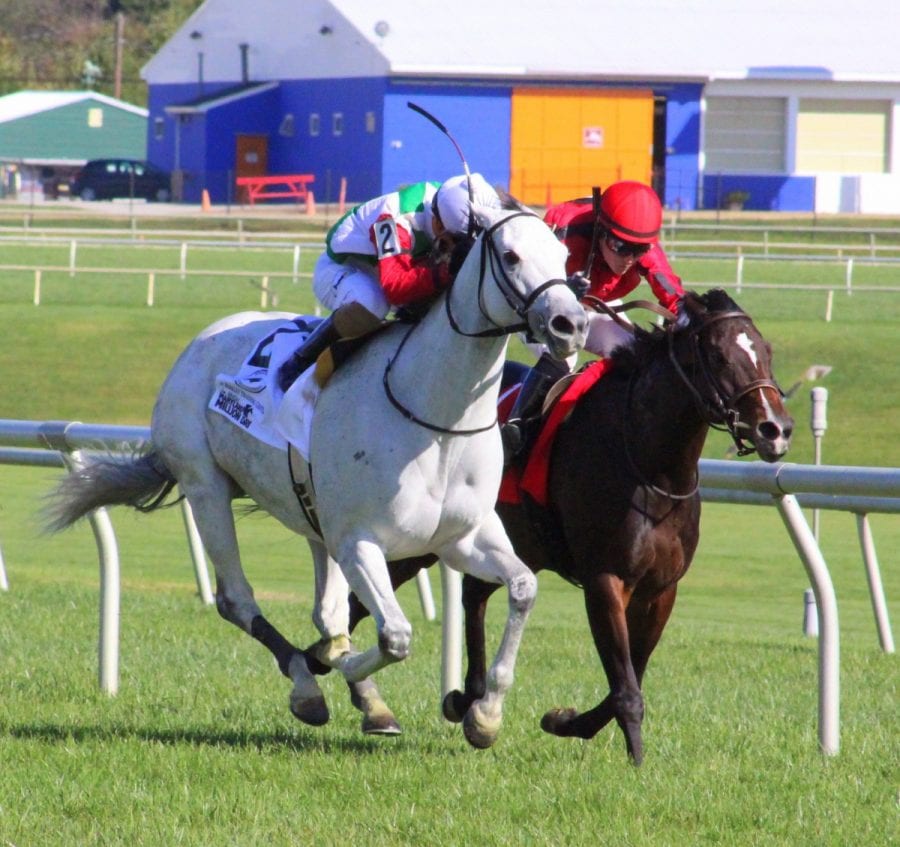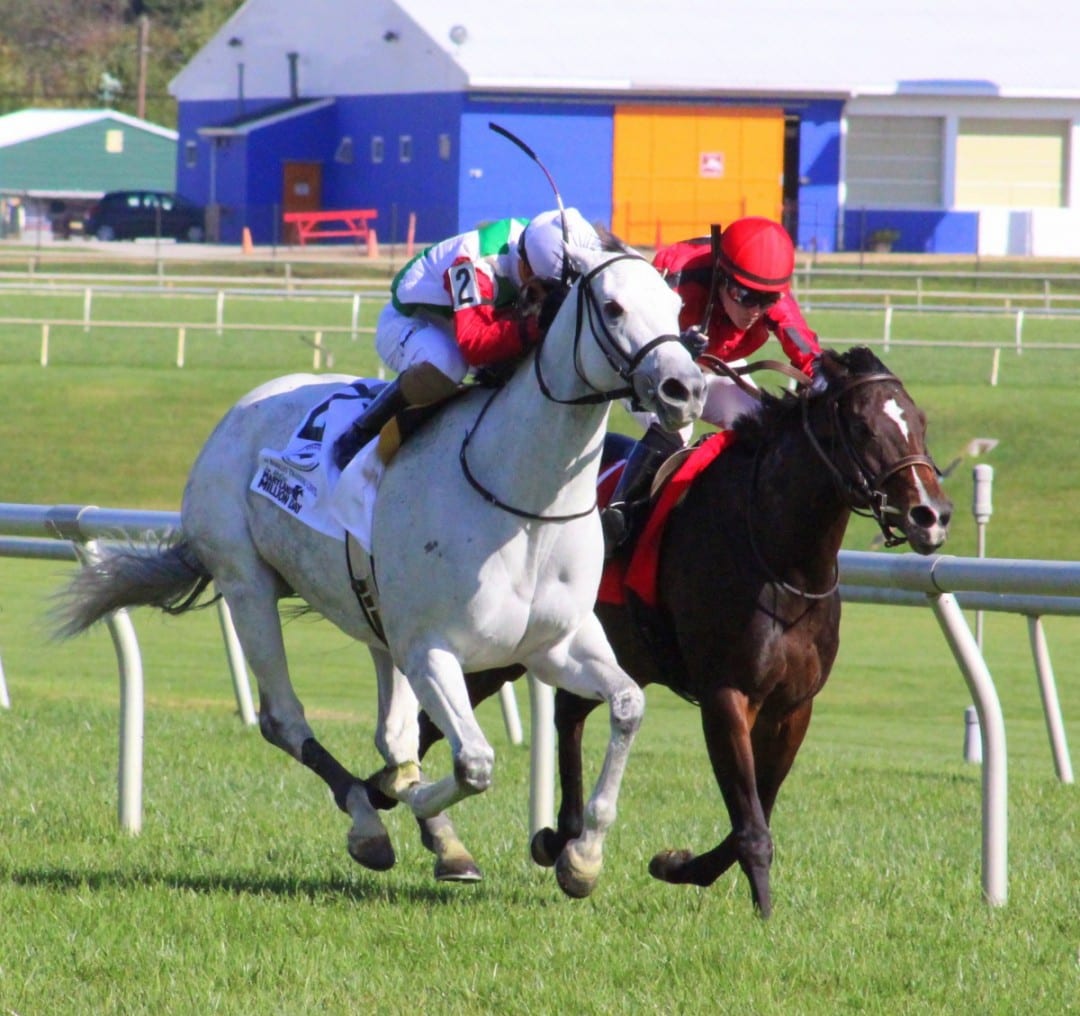 Devilish Love. Photo by Laurie Asseo.

Race 9 — MARYLAND MILLION LADIES
RACE PARTICULARS: Race 9 (4:40pm EDT), $125,000 purse for MD-sired fillies and mares 3yo and up, 1 1/8 miles (turf)
THE PICKS
#2 – Barrel of Dreams (7-2): Exits best two races of career based on BRIS#s, a gate-to-wire win going 1 3/16 miles at Sar then fourth in a 1 1/8 mile state-bred stakes at Bel; duplication of either race will be good enough to win here; not many candidates in here to put pressure on her early
#6 – Rocky Policy (9-2): Cross-entered in MD Million Distaff; ran fifth in this event last year and vanned off afterwards, which happened to be her only race at this distance on turf; it's hard to figure which race trainer Dale Capuano (leads MD Million in wins) will run her; best chance for a win might be here
#8 – Great Soul (3-1): Has changed running style to early speed since being transferred to trainer Tom Proctor's barn; might bode well in here with just one other (#2) wanting early lead; need to draw a line through latest, her only off-the-board finish when stopped on the dirt; 1 for 1 on turf recording BRIS# worth of winning this event 
#7 – My Sistersledge (10-1): Three-year-old daughter of Etched is still eligible for non-winners of two races but has held her own against this level of competition; need to view sprint last month as a paid workout when considering her chances
FIELD IN FULL

#1 – Forgiving (30-1): Lightly raced filly has improved in each of her four starts, all routes with just one on turf when runner-up in a $30k maiden claimer at Prx followed by a pair of victories over a sloppy Pen oval; defies distance challenged pedigree with a running style that has seen him making up ground late bodes well for 9 furlongs… #3 – Nickyrocksforpops (15-1): Disappointing efforts in last two doesn't make a top effort here probable; best showings have come on turf courses less than firm as was the case in the All Brandy stakes when much the second best over a soft Lrl lawn… #4 – Magician's Vanity (15-1): Owner/Breeder R. Larry Johnson lost this 2 for 40 mare for $35k two back, tried to reclaim her in latest at Bel for $35k but NYRA voided it… so he bought her privately, just to run in this event… #5 – Wowwhatabrat (20-1): Never been this far but running style and pedigree indicate she'll like it but has lacked the will to win of late and latest eighth-place finish v. similar isn't encouraging… #9 – Devilish Love (6-1): Returning champ won by a whisker one year after begin bridesmaid in this event; off the board in her only two races this year but trainer Tony Dutrow is 25% in non-graded stakes… #10 – Northern Smile (5-1): Came up one length short of winning this event in '17; has just one win in five starts at the distance, last visited Winners' Circle nine starts ago but has been exclusively racing in stakes company; can boast best BRIS# (100) in this field which she earned in last outing despite seventh place finish… #11 – Moon Virginia (12-1): Also Eligible is cross-entered in MD Million Distaff Hcp. but can only draw in there if race scratches result in less than 6 starters; if she gets in here it will be her third race after a layoff but fist on turf since Sept. '16 when she earned the SHOW purse in a $32k non-winners of two other then here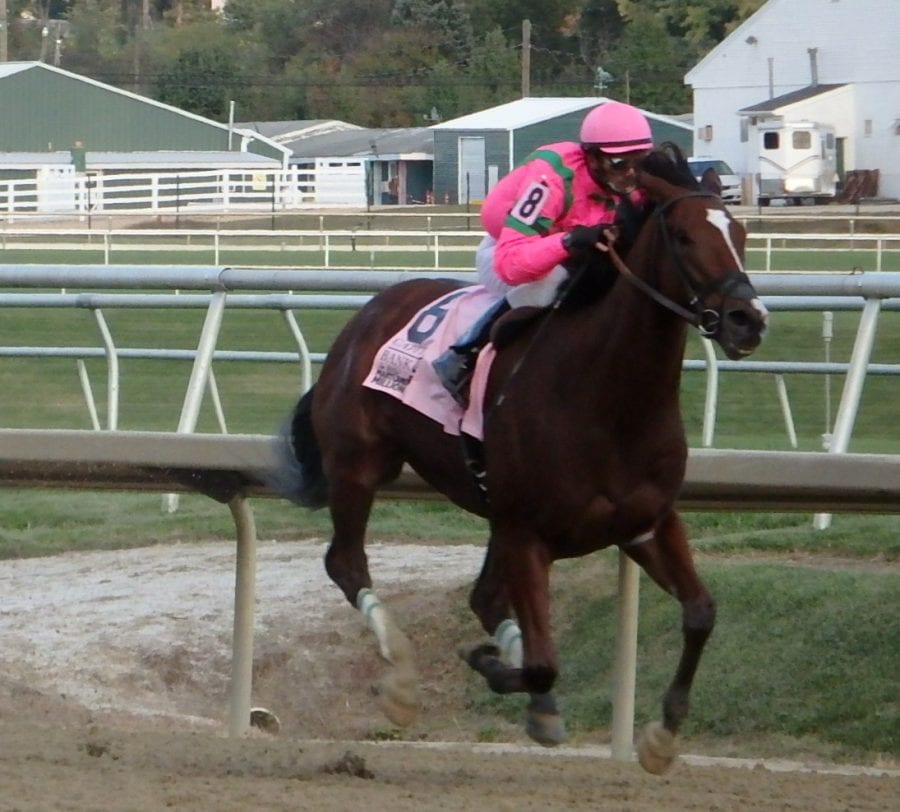 Admirals War Chest. Photo by The Racing Biz.

Race 10 — MARYLAND MILLION CLASSIC
RACE PARTICULARS: Race 10 (5:13pm EDT), $150,000 purse for MD-sired/MD-bred three-year-olds and up, 1 1/8 miles
THE PICKS
#11 – Ghost Bay (8-1): L-O-V-E this gelding! Never gets the respect (nor gets bet) because he's taken his time getting through each condition; recently took to turf racing like a duck to water when rally came up a neck short to next out G3 winner; as this race shapes up on paper, he should get a perfect setup providing there are no defections which could gift wrap this event for one of the early speed types, otherwise look for his patented late rally to catch the leg weary rivals in deep stretch
#5 – Bonus Points (3-1): The better of the two Todd Pletcher uncoupled entries (#3 is the other) assuming both run because both are cross-entered in the MD Million Turf; only runner entered who has raced and placed in graded  stakes; one look at his past performance lines show that when properly placed in minor stakes he can succeed; last victory was in the Parx Derby in May
#3 – John Jones (2-1): Local star who blossomed last Summer, reeling off four straight wins, all on the lead immediately after trainer Lacey Gaudet claimed him for $25k; made '17 debut just 16 days ago… in a turf sprint; shockingly was tardy away from the gate but showed late interest; is that enough to prep him for a top effort?
#9 – Clubman (10-1): Among the best of the local three-year-old males is on a three-race win streak since Sheldon Russell has become his pilot; makes stakes debut and stretches out to furthest distance in his career but is bred to go this far
FIELD IN FULL

#1 – Admirals War Chest (10-1): Returning, two-time champ seeks MD Million Classic hat trick but first start of '17 did not go well just 13 days ago; needs to break alertly from the rail or his race will be over just 20 yards out of the gate; should guarantee a quick early pace… #3 – Jerandson (15-1): Blinkers off for this Todd Pletcher trainee who is typically quick from the gate; Nik Juarez draws the riding assignment while other Pletcher runner has no rider listed, hmmm… #4 – Ballivor (30-1): Been a hot commodity in the racing office being claimed three times in his last eight races might indicate just how slim chances are; a four-length winner v. $16kN3L in latest around the bull ring at Tim… #6 – Nicaradalic Rocks (15-1): Cross-entered in MD Million Sprint for which he is better suited; he's never been 9 furlongs and would be asking a lot for first start in five months… #7 – Legend's Hope (30-1): Definition of a "rank outsider" as last win came 9 races back v. $10kN2L; lost to the #9 (Clubman) by eleven-lengths in August… #8 – Takethattothebank (20-1): Has the running style if not pedigree to stretch out to this distance; just 1 of 5 career wins have come on a fast track; claimed for $15k one month ago and ran a huge 100 BRIS# in latest on dirt in $16k starter allowance… #10 – Flash McCaul (15-1): Entered not based on ability but because he's eligible; fifth by 1nineteen-lengths in this event last year when sent off 5-2 second choice; has always run as if he'd like this distance but didn't hit the board in both tries; third race after layoff could yield a better finish this year… #12 – Southside Warrior (12-1): Sold as a yearling in '14 at Kee for $80k by breeder who in partnership claimed him in August at Sar out of a $40k open claimer, surely with sights set on this day but two uninspiring efforts recently quells that enthusiasm a bit