The GQ Approach – Laurel September 22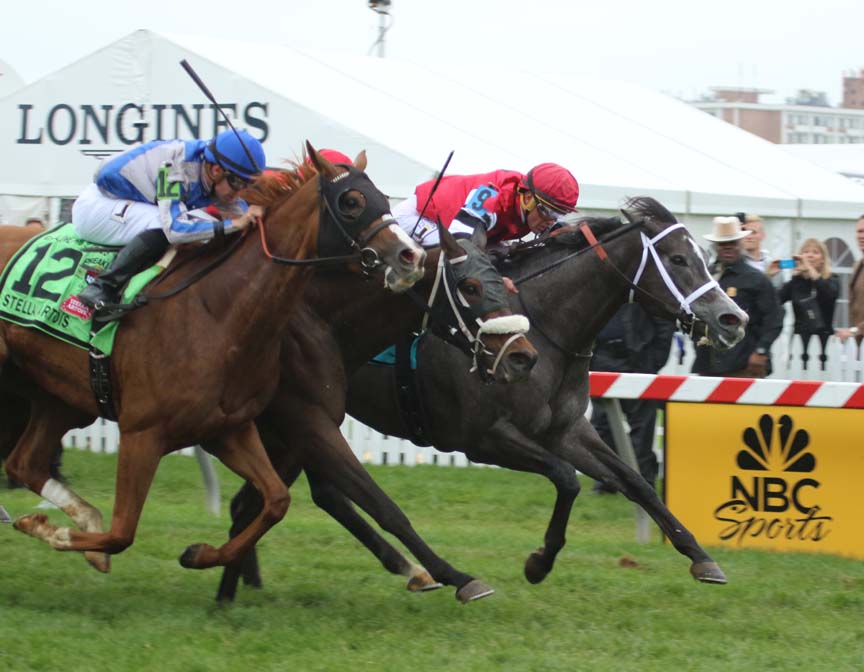 Mizz Money (#9) held off Vielsalm (in between) and Heath (#12) to win the Grade 3 Gallorette. Photo by Laurie Asseo.
The GQ Approach features full-card selections from Laurel Park for the live Fall racing meet, Post Time 1:10pm EDT including a daily Best Bet, Longshot Play, and multi-race wagers — including the 20 cent Rainbow Pick-6, 50 cent Early and Late Pick-5s, as well as Pick-4s and rolling Doubles, Pick-3s and the Super High-5.

[su_box title="
Today's Carryovers
" style="glass" box_color="#66ADCC"]
Rainbow Pick 6: no carryover
Super High 5: $2,098
Late Pick 5: $4,915[/su_box]
[su_box title="GQ's Handicapping Tip of the Day" style="glass" box_color="#66ADCC"][stray-random][/su_box]
[su_box title="Best Bet of the Day" style="glass" box_color="#66ADCC"]Race 1 / #5 – Ring Collector (3-1)[/su_box]
[su_box title="Longshot Play of the Day" style="glass" box_color="#66ADCC"] Race 4 / #3 – Blame Me (8-1)[/su_box]
[su_box title="
Multi-race Wagers
" style="glass" box_color="#66ADCC"]
Race 1: $2 Double  5, 7  w/ 2, 3, 8  ($12)
Race 3: .50 cent Pick-3   4, 7, 10  w/ 1, 3, 7  w/ 2, 3, 5  ($13.50)
Race 8: .50 cent Pick-4  2, 6, 7  w/ 1, 2, 3 w/ 1, 7  w/ 3, 10, 11  ($27)
Race 10: $2 Double  1, 7  w/ 3, 10, 11  ($12)
[/su_box]
[su_heading size="21″ align="left"]Analysis[/su_heading]
Weather: Mostly Sunny; highs in the low-80's
Scheduled turf races: 1st, 3rd, 5th, 7th, 8th, 10th and 11th
Projected track conditions… Main: FAST; Turf: FIRM
Post Time for Race 1 is 1:10pm EDT
Race 1
#5 – Ring Collector (3-1): *** BEST BET *** Got a reality check in latest when stepping way up in class yet not embarrassed following three straight victories to restart career on east coast; drops back to a level he can handle 
#7 – Mr. Spaceman (9-2): Touted at The Big T and took early money but didn't run a lick in Alw5000s; should bounce back in this conditional claimer
#8 – Sam Sparkle (7-2): Been picking up minor awards versus better at Del in past three outings BUT winless in last 21 starts
Race 2
#2 – One Proud Wildcat (7-5): Transferred from Ness to Gonzalez barn two woeful tries at Del on turf and slop, which gelding is now a combined 5:0-0-0 on those surfaces; drops and loves Lrl (3:1-0-2)
#8 – Lights On (15-1): Gave turf a try in first start after 10-month layoff but didn't care for it; with class relief and back on dirt, may revert to early speed and take this field gate-to-wire
#3 – Hail the General (12-1): Interesting angle as trainer J. O'Dwyer also has second-choice #5 in here yet F. Lynch (21% past year w/ trainer) takes mount on this one after riding #5 last start; sheds blinkers
Race 3 is ON THE TURF
#10 – Hallie Belle (5-1): Add Lasix in second career start which comes nearly 11 months after fourth-place debut on CD grass; love the work tab and it's time for M. Stidham to get win #1 at meet in 17th try
#7 – Stated (10-1): Earned a 81 BRIS# and SHOW purse in debut sprinting on Lrl lawn last month when sent off at 91-1; encountered some traffic prior to late run so why not on the stretch out to one mile
#4 – Karma (8-1): Rare runner at Lrl for trainer R. Moquett who must have brought this one along with Whitmore who SHOWed in DeFranics Dash last week; has been improving since put on grass at Ind and Elp, 4th and 3rd respectively 
Race 4
#3 – Blame Me (8-1): $$$ LONGSHOT $$$ There's enough early speed in here for this gelding to chase down in deep stretch; was runner-up here three back at same distance and condition; barn has been cold and is due to get to Winners' Circle 
#7 – Put It Forward (7-2): Been a while since he ran on a fast track but record and past speed figures indicate he'll improve; loves this distance (7:4-1-1) and is 1 for 1 at Lrl
#1 – Banner Bill (9-2): Best last race BRIS# which has been climbing for his past 3 races; gets D. Centeno back in the irons who guided gelding to runner-up spot in conditional $10k two back
Race 5 is ON THE TURF
#3 – Cross Roads (5-2): Beaten favorite when going two turns on Lrl turf in latest v. the boys; best finish of four career races came on turf in only outing restricted to her gender; first time in for a tag
#5 – Chobee Girl (8-1): Been trying to test the turf in last two but were washed off; takes second straight class drop seeking to reverse form that saw her be bridesmaid in first two efforts
#2 – Out of Juice (15-1): Wiley ol' KTL has had turf in mind for this Street Magician filly; debut effort on Tim dirt was forgettable but local skilled turf rider H. Karamanos gets rare mount for the HOF trainer
Race 6
#2 – Sommer Something (3-5): First start off $10k K. Magee claim for this 3-year-old taking advantage of her age to go in this condition which elders must be N3L as she goes for 6th career win in 12th outing; there's either an issue or she's a Be-atch to deal with being offered for $5k
#4 – Fleur de Force (10-1): Only other runner in here with more than two wins… she has 4, winning at CT in latest; was 4thf here two back but top two finishers came back to win
#5 – Postino's Secret (15-1): Zero early speed and depends on an honest pace to come onto the scene late; easily disposed on N2L at Tim and has every right to continue to improve
Race 7 is ON THE TURF
#9 – Versed (5-2): Ships in from Mth for trainer J. Cibelli making second start after claim for same price tag; early speed going long but will be interesting to see if he can or needs to pass rivals in first turf sprint of career
#6 – Tightly Bridled (7-2): A Cash Cow has earned a check in all 9 races for the past two years but only visited Winners' Circle once during this stretch; an underneath play for sure
#10 – Sunrise Sunset (7-2): Can boast best career turf BRIS# of this bunch yet seeks first win on the green in sixth start on this surface; once potent trainer/jock combo has gone 0 for 15 this past year
Race 8
#7 – Purring Valentine (4-1): Third when beaten favorite here in early August going one mile; adds Lasix, drops a level and cuts back to sprint seems like a winning formula
#2 – Return to Vegas (5-2): Runner-up in debut at Tim for same tag when off as Post Time favorite as trainer T. Morley runners attract attention in MD; shows up here for fellow NY trainer while facing a handful of class droppers
#6 – Caladonia (3-1): May not have liked the Tim bull ring as she didn't show same speed from her debut for same $25k tag; S. Russell rode that day and is back on for trainer H. McMahon who has been winning on a regular basis w/ K. Davis in the irons… Hmmm
Race 9 is ON THE TURF
#2 – Wantagh Queen (9-2): Jockey A. Cintron has been on such a roll at Lrl lately he becomes a must use, especially when first time on a runner who was tardy at the start v. NY-bred AlwN1x on Bel grass; just 2 for 28 but last win came last time she was in for a tag
#1 – Misty On Pointe (2-1): Sagamore runners have been doing very well of late; off-the-board at Sar when made lukewarm favorite; back home where she won v. similar; both career wins were only two starts with today's jock aboard
#3 – Unaquoi (3-1): CT shipper won in only previous start on Lrl lawn; been competing against fellow WV-breds in minor stakes events; last two outings proved she doesn't want to go beyond today's distance 
Race 10
#1 – She Rolls (5-1): Early speed but was being asked too much to go 7 panels against a pretty salty group of allowance runners; should get less pressure early on which should help in gate-to-wire effort on cut back to 6
#7 – Anna's Bandit (6-5): Was a very promising 2-year-old last year winning debut then placing in stakes races at Bel and CD before needing an entire year off from training; trainer J. Robb has brought her back slowly and found perfect spot for comeback
#4 – She Be Fierce (6-1): Similar scenario as top pick having early speed but a furlong too far in first start after C. Gonzalez claim out of maiden score for $25k; 7 lb. bug F. Ceballos only 6% but looking like trainers lately 1st Call rider
Race 11 is ON THE TURF
#11 – Conquest Falcon (9-2): Consistent turf runner seeks to earn diploma in sixth career start at sixth different grass venue; is the most likely graduate as he has top BRIS Prime Power ranking
#3 – Godlovesasinner (15-1): Nice third in turf debut two back when compromised by traffic in the stretch when sprinting; taking a leap of faith that 1 1/16 mile is not too far; runner-up at one mile in mud in latest
#10 – Larrikin (8-1): Need to draw a line through last start, first and probably only one on a fast track this gelding will ever try as his bloodlines were all about turf; typical second off the claim K. Magee move to drop at or below purchase price
YESTERDAY'S NEWS  
On Sunday September 17th at Laurel had just 6 winners from the 11-race card (3 Top Selections; payoff in BOLD) having $2 WIN pay-offs of $3.60 (1st race), $4.20 (2nd), $3.20 (4th), $4.00 (6th), $9.20 (9th) and $6.00 (10th). Top Selections in 2017 are 288 for 1,044 (27.59%). In 2016, Top Selections were 304 for 1,213 (25.02%).
BEST BET of the Day (108: 33-24-19; in 2016 127: 31-29-19) Greasedlightning (9th race: 5-1 M/L; 12-1 PT) four deep on the turn angled out to the six path in upper stretch and had a slight rally outside of rivals to finish less than two-lengths behind the winner but only good enough for fourth.
LONGSHOT PLAY of the Day (93: 15-11-13; in 2016 124: 13-13-16) Bioterp (7th race: 10-1 M/L; 12-1 PT) stumbled leaving the gate but was quickly gathered by her jock, was in tight quarters at the three-eighths pole when having toe steady then clipped heels with a rival and nearly went down. Thereafter the jock just left her run on her own into the stretch, gave her a little encouragement and she responded gamely to finish sixth, just four-and-quarter lengths behind the winner.