The GQ Approach – Laurel September 17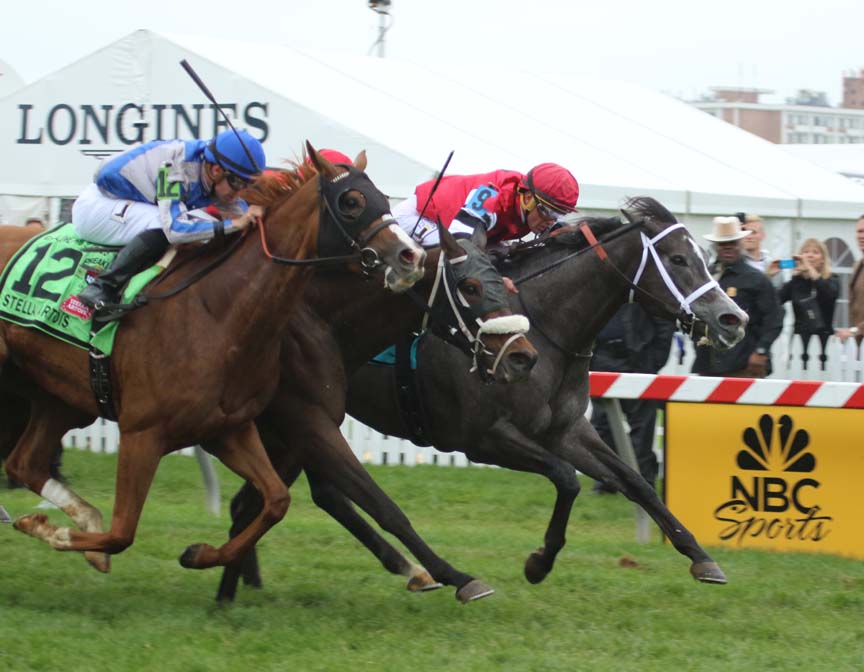 Mizz Money (#9) held off Vielsalm (in between) and Heath (#12) to win the Grade 3 Gallorette. Photo by Laurie Asseo.
The GQ Approach features full-card selections from Laurel Park for the live Fall racing meet, Post Time 1:10pm EDT including a daily Best Bet, Longshot Play, and multi-race wagers — including the 20 cent Rainbow Pick-6, 50 cent Early and Late Pick-5s, as well as Pick-4s and rolling Doubles, Pick-3s and the Super High-5.

[su_box title="
Today's Carryovers
" style="glass" box_color="#66ADCC"]
Rainbow Pick 6: $5,092.41
Super High 5: $2,453.47
Late Pick 5: no carryover[/su_box]
[su_box title="GQ's Handicapping Tip of the Day" style="glass" box_color="#66ADCC"][stray-random][/su_box]
[su_box title="Best Bet of the Day" style="glass" box_color="#66ADCC"]Race 9 / #7 – Greasedlightning (5-1)[/su_box]
[su_box title="Longshot Play of the Day" style="glass" box_color="#66ADCC"] Race 7 / #7 – Bioterp (10-1)[/su_box]
[su_box title="
Multi-race Wagers
" style="glass" box_color="#66ADCC"]
Race 1: $2 Double  3, 4, 5  w/ 1, 10  ($12)
Race 3: .50 cent Pick-3   2, 5, 6  w/ 2, 4,  10  w/ 2, 7, 12  ($13.50)
Race 8: .50 cent Pick-4  4, 6, 12  w/ 7, 9  w/ 3, 6  w/ 2, 3, 7, 10  ($24)
Race 10: $2 Double  3, 6  w/ 2, 3,7  ($12)
[/su_box]
[su_heading size="21″ align="left"]Analysis[/su_heading]
Weather: Mostly Sunny; highs in the low-80's
Scheduled turf races: 2nd, 4th, 5th, 7th, 8th, 10th and 11th
Projected track conditions… Main: FAST; Turf: FIRM
Post Time for Race 1 is 1:10pm EDT
Race 1
#5 – Negrito (8-5): Hard-knocking 6-yr-old gelding as the back class to dispose of those gathered to contest this $11k open claimer
#4 – Grande Shores (8-1): Didn't care for the bull ring at Tim on multiple class level jump after being claimed for $7,500; nice record at this 7f distance (19:6-6-3)
#3 – North Ocean (4-1): Back in for a tag for first time since Feb. as he's been holding his on in Starter Alw events; been part of Exacta in all 7 starts on Lrl dirt (7:3-4-0)
Race 2 is ON THE TURF
#10 – Bourbon Commander (9-2): Dull effort when trying for a natural Hat Trick when put in against toughest foes of career; additional 1/16th will be helpful as it takes him 5f to get out of first gear
#1 – He's One Wild Dude (5-2): Unable to get lead in latest at Mth first time v. N3L; returns home w/ S. Russell back in the irons for a go at a ground saving, gate-to-wire try
#2 – Mr. Magician (3-1): Always gaining ground late but can't seem to pass all foes as he's 2 for 25; runner-up in only previous start at this distance
Race 3
#2 – Party Spot (7-2): Led for 5½f in debut at Del but event was contested at 6f; A. Pecoraro (2 for 3 at meet) trainee adds Lasix and B. Pedroza makes trip down I-95 to ride
#6 – Conjecture (8-1): Runner-up when beaten favorite in off the turf event last outing at this level and distance; has the tactical speed to be a threat late
#5 – Crude (3-1): Made career debut a year ago when not given much of a chance (35-1) yet managed 4th after a troubled start; trainer/jock combo has done well w/ limited runners (3 of 8)
Race 4 is ON THE TURF
#2 – Goldwood (8-5): Two-time bridesmaid, at Mth as Post Time favorite after recording a nice 84 turf BRIS# on Lrl lawn; been putting in nice turf works on the farm since last start 
#10 – Suburb (8-1): Must respect "Shug" turf runners but typically his trainees are successful going long on the turf but cut back to sprint fits this City Zip filly
#4 – More to Adore (12-1): Something must have gone amiss in last start nearly 4-months ago at Pim as connections backed off on her training until August; latest one just 5 days ago was a bullet
Race 5 is ON THE TURF
#12 – Andrasta (5-1): Was in over her head taking on stakes level foes in latest two; is a better fit in these optional claimers being on the short end of two head-bobs
#7 – Believe in Angels (6-1): Can boast best career turf BRIS#, makes third start after a brief layoff while coming off win against #1 in here
#2 – Untaken (8-1): Lone turf try came at Mth in a minor stakes event, made a nice middle move then flattened out; proved that she has talent on turf and can compete v. these
Race 6
#1 – Fenton's Four (5-2): Game competitor has he went toe-to-toe, er uh, hoof-to-hoof with foe in the stretch only to come up a nose short; gelded in spite of that effort and now deals w/ rail post
#5 – Pro Riot (10-1): Not cut out for 4f sprints which he ran in debut at Tim; showed interest late; that education should be of value here while getting an extra furlong of real estate to run
#4 – Silver Mining (8-1): MD-bred gelded gray son of Dunkirk out of an Elusive Quality mare has a nice, evenly spaced work tab with latest from gate; may need one but worth a shot as trainer R. Jenkins is 24% w/ 2-year-olds 
Race 7 is ON THE TURF
#7 – Bioterp (10-1): $$$ LONGSHOT $$$ Unprepared at the start of 5f turf race at Del in last outing; prior to that showed willingness to run on late on Lrl lawn which today a pace meltdown is likely to occur; H. Karamanos takes over for the injured V. Carrasco 
#2 – She's Stunning (6-1): One of many fillies and mares who has early speed; might have the stamina edge as she's used to going 6f on the NY turf courses as trainer B. Brown ships in for first time this meet
#9 – Do What I Say (5-1): Beaten favorite in VA-bred stakes on a yielding turf here last month; can rebound here as she's 3 for 6 at this turf distance and never off the board at Lrl (3:2-0-1)
Race 8 is ON THE TURF
#12 – Top Hat City (9-2): Monster maiden win here on yielding grass when improving BRIS# 20 points (73 to 93) over previous on Bel turf v. fellow NY-breds; can repeat with same effort
#6 – Norco (12-1): Been on the sidelines since Dec. when getting SHOW purse at GP in OC$75kN1x that followed maiden score on Lrl lawn… but both were going tow turns so sprinting here might be a setup for next start
#4 – Dundalk (8-1): Hey Hon, that was an ugly try at da State Fair meet on dirt; glad to see ya back on grass at lovely Lrl and with H. Karamanos back in the irons; doubt we'll get 8-1
Race 9
#7 – Greasedlightning (5-1): *** BEST BET *** Third in debut in a race that produced multiple next out winners then repeated as SHOW runner in next start as runner-up in that one came back to break maiden yesterday; should handle stretch out to one mile
#9 – Theodosia (5-2): Jock J. Toledo bails on top pick to take the reins here for outfit he's gone 0 for 7… hmmm; second time blinkers angle
#2 – Ultimate Challenge (5-1): The better of trainer J. Servis' uncoupled entries? (other is #6)? Didn't run a lick in debut at Prx when sent off 3-1 but does add Lasix and gets hot rider      
Race 10 is ON THE TURF
#6 – Wannabeaplayer (9-2): Could be lone speed in spite of blinkers coming off; cut back to one mile will help but hard to imagine that Rem jock R. Eramia will fly into town just to ride this one
#3 – Eucalyptus (5-1): Wasn't ready to take on $40kN2L on the Sar lawn when making first start in 13 months; if he can run any of the 3 BRIS#s he did prior to layoff, he wins
#8 – Tennessee Wildcat (5-2): Certainly the one to beat based on huge effort in AlwN1x in latest when 23-1; only concern is can this late runner pass all rivals on cut back to one mile
Race 11 is ON THE TURF
#3 – No Knock Raid (10-1): All of a sudden HOF E. Prado is no longer over-the-hill after a pair of wins on Fall Festival of Racing day; loves Lrl turf based on turf BRIS#s earned in the past
#2 – Starship Thor (3-1): Handled optional claimers sprinting on GP grass this winter for trainer J. Cibelli buut at 5f; the extra 1/16th could be his Achilles Heel but still like chances here
#7 – Final Forum (8-1): Poor colt has been handled by half dozen barns this year like a hot potato; makes first on turf and might handle it just fine as he was runner-up in only start on an off track
YESTERDAY'S NEWS  
On Saturday September 16th at Laurel had just 6 winners from the 12-race card (4 Top Selections; payoff in BOLD) having $2 WIN pay-offs of $2.80 (2nd race), $6.40 (3rd), $2.80 (4th), $5.00 (5th), $3.40 (6th) and $7.40 (10th). Of the suggested wagers hit the R3-R5 50 cent Pick-3 paid $7.80 (cost: $9),Top Selections in 2017 are 285 for 1,033 (27.59%). In 2016, Top Selections were 304 for 1,213 (25.02%).
BEST BET of the Day (107: 33-24-19; in 2016 127: 31-29-19) Favorite Tale (9th race: 5-1 M/L) was SCRATCHED.
LONGSHOT PLAY of the Day (92: 15-11-13; in 2016 124: 13-13-16) Ghost Bay (8th race: 20-1 M/L) was SCRATCHED.