The GQ Approach – Laurel September 16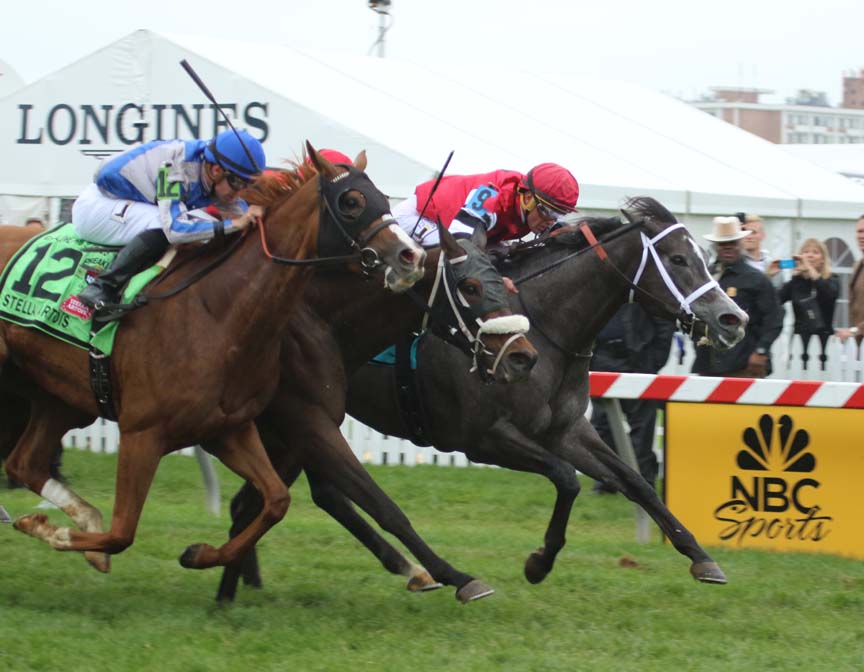 Mizz Money (#9) held off Vielsalm (in between) and Heath (#12) to win the Grade 3 Gallorette. Photo by Laurie Asseo.
The GQ Approach features full-card selections from Laurel Park for the live Fall racing meet, Post Time 1:10pm EDT including a daily Best Bet, Longshot Play, and multi-race wagers — including the 20 cent Rainbow Pick-6, 50 cent Early and Late Pick-5s, as well as Pick-4s and rolling Doubles, Pick-3s and the Super High-5.

[su_box title="
Today's Carryovers
" style="glass" box_color="#66ADCC"]
Rainbow Pick 6: $3,097.09
Super High 5: $718.64
Late Pick 5: no carryover[/su_box]
[su_box title="GQ's Handicapping Tip of the Day" style="glass" box_color="#66ADCC"][stray-random][/su_box]
[su_box title="Best Bet of the Day" style="glass" box_color="#66ADCC"]Race 9 / #7 – Favorite Tale (5-1)[/su_box]
[su_box title="Longshot Play of the Day" style="glass" box_color="#66ADCC"] Race 8 / #2 – Ghost Bay (20-1)[/su_box]
[su_box title="
Multi-race Wagers
" style="glass" box_color="#66ADCC"]
Race 1: $2 Double  1, 7, 8  w/ 1, 4  ($12)
Race 3: .50 cent Pick-3   1, 2, 8  w/ 1, 7, 8  w/ 5, 6, 8  ($13.50)
Race 5: .50 cent Pick-4  5, 6, 8  w/ 3, 5, 7  w/ 5, 10  w/ 2, 6, 8  ($27)
Race 8: .50 cent Pick-5  2, 6, 8  w/ 7  w/ 1, 5, 8, 11  w/ 1, 7  w/ 3, 5, 9  ($36)
Race 11: $2 Double  1, 7  w/ 3, 5, 9  ($12)
[/su_box]
[su_heading size="21″ align="left"]Analysis[/su_heading]
Weather: Partly Sunny; highs in the low-80's
Scheduled turf races: 3rd, 5th, 6th, 7th, 8th, 10th and 12th
Projected track conditions… Main: FAST; Turf: FIRM
Post Time for Race 1 is 1:10pm EDT
Race 1
#8 – Miss Swisher (5-2): Takes big class drop from N1x where she's earned minor awards since being claimed for $10k; returns to Lrl where she's won 2 for 4 starts; second start w/ blinkers  
#1 – Metteemarlamelva (7-2): Still qualifies for this condition due to win at The Big T being for $4k; has beaten better and makes third start after 7-month layoff 
#7 – Northern Prancer (8-1): That last race at Tim was v. tougher (N5L) as she is a N4L; 5-yr-old mare needs pace help to hit the board at distance for 6th time in 8 outings (7:2-1-2)
Race 2
#4 – North Eight Street (3-1): NY based trainer R. Handal did well shipping to Lrl last year but is 0 for 4 here in '17; failed twice at Sar v. $16kN2L when unable to hold the lead late; having to go another furlong here will be a challenge but should set reasonable early fractions w/o pressure
#1 – Faire Mi (6-1): Bridesmaid in last two while going further, the latest as Post Time favorite v. $15kN2L at Pen; gets JD back in the irons at a distance that should fit her like a glove
#6 – My Golden Rose (9-5): 3-yr-old filly couldn't handle her peers at Bel for $25k so trainer M. Nevin brings her back to Lrl where she's been no worse than second (3:1-2-0) in her young career
Race 3 is the Selima Stakes ON THE TURF
#8 – Wise Gal (5-2): Einstein filly rallied to win debut; this race shapes up to make a repeat a distinct possibility as she'll sit off several early types; jockey S. Hamilton had a big opening weekend here winning on 4 of 10 mounts
#1 – Light Up the Town (7-2): Hard to come up with a more productive barn than this one with two-year-olds and this miss didn't disappoint in debut, setting a fast pace and going on to win fairly easily at Mth; shows two sharp works since
#2 – Artattack (20-1): Had to drop into claiming ranks to graduate, which she did three back; tries grass for the first time and breeding says she'll like it – by top turfer Artie Schiller and out of a dam who won twice on the green
Race 4
#7 – Enchanted Star (2-1): Much the second best in debut w/o Lasix, gets it today but w/o V. Carrasco aboard as he's on the mend after fracturing the fibula and tibia bones in his lower right leg in bad spill at Del; trainer G. Capuano is over 30% w/ runners second start and first Lasix
#8 – Pettit Cousins (12-1): MD-bred FTS by top MD sire Great Notion out of a Fusaichi Pegasus mare hails from veteran 2-year-old conditioner J. Robb (19%); like the two 5f works leading up to debut
#1 – Bay of Cats (12-1): MD-bred FTS by Hunters Bay has been scratched multiple times, possibly connections looking for an easier spot? Rail assignment makes it tough for this M. Eppler (21% w/ debut maiden claimers) trainee
Race 5 is the Laurel Dash ON THE TURF
#8 – Snowday (7-2): Though just a five-time winner in 33 career starts, this Willard Thompson trainee enters here with three wins in six tries, including the two-back My Frenchman at Mth – but even more impressive is his last out third, beaten less than a length, against a salty crew in the G3 Turf Monster at Prx. His tactical speed is an asset, and outer post will give him a shot to pick his spot
#5 – Spring to the Sky (8-1): This Bruce Brown trainee won the '15 edition of this event and though he's inconsistent, rates consideration on best; two back he ran a big one after throwing his head at the start and finding himself a mile behind the pace, rallying to just miss; though he's done his best work in front, that showed a new tenacity 
#6 – Dream Mover (6-1): Jimmy Jerkens trainee made his North American debut a winner despite losing his footing and finding himself in the rear of the field early, rallying to wear down his foes; shows three sharp works since then and in his second start of '17 owns the right to move forward here
Race 6 is the All Along Stakes ON THE TURF
#3 – Light Up Our World (7-2): Hails from A. Delacour barn whose 26% in non-graded stakes; filly is winless in three starts in the U.S. while being the bridesmaid twice including when Post Time favorite in latest effort, the G3 Violet at Mth in what was a less than ideal trip
#5 – On Leave (2-1): No shame in finishing 3¼-lengths (5th) behind Lady Eli in G2 Bailston Spa at Sar; only other off-the-board finish came in G1 QEII at Kee last Oct. when 4th; makes 12th career start, 1st w/o JL Ortiz in the irons; "Shug" turns to local 1st call rider F. Boyce to get the job done
#7 – Juno (4-1): Veteran of six straight graded stakes races on the West Coast should find these gals a tad easier to try to take gate-to-wire as trainer N. Drysdale seeks to get this BRZ-bred her first win in U.S. in 8th such start after going 5 for 5 in her homeland 
Race 7 is the Sensible Lady Turf Dash
#10 – Exaggerated (12-1): Intriguing price play has raced just once this year – in April – and has been thrashed in her last two but… she is a stakes winner sprinting on the lawn and has kept the right sort of company, finishing third by a couple to the terrific Lady Shipman and though well beaten last out, the top three all won their follow-ups, including Lady Aurelia, who won a G1 in England; trainer A. Delacour knows how to get a horse ready to win off the bench and you have to believe they think she'll fire if they show up – and if she fires, she's offering great value
#5 – Ginger N Rye (8-5): Solid Sagamore runner won twice at Sar, the two best races of her career; last out enjoying a dream inside trip to earn the win in the Smart N Fancy; she's a little more tactical than #2 Miss Ella, giving her an edge on that rival and rates a solid chance to score a natural Hat Trick
#8 – Paquita Coqueta (20-1): The likely speed of the speed in here gets blinks on after clearing and stopping in her last two – but note the wicked early fractions in both; the pace may not be quite so contentious in this event which might give her a shot to carry her speed farther – but it's hard to see the added ground as a positive
Race 8 is the Laurel Turf Cup
#2 – Ghost Bay (20-1): $$$ LONGSHOT $$$ Seems to have been wanting more than the 8-9 furlongs as bloodlines suggest since leaning towards turf races at age 5; gets 12 furlongs here with top local turf rider aboard and can continue to improve on BRIS#s for fifth consecutive race; will need pace help
#6 – Infinite Wisdom (3-1): Can boast the best career turf BRIS# (106) of this bunch which he earned in gate-to-wire score going an eighth longer than today's contest; should have it all his own way on the front end as foes lack the need for the lead unless the French export (#3) has that style which is unknown via PPs
#8 – Manitoulin (5-2): Continues to get better with every start this year even though he could only muster the PLACE purse when Post Time favorite at Sar in latest start; had all kind of trouble in G3 Arlington Hcp two back; will continue to relish more distance based on pedigree; trainer J. Toner 23% in non-graded stakes
Race 9 is the G3 Frank J. DeFrancis Dash
#7 – Favorite Tale (5-1): *** BEST BET *** Earned SHOW purse in the '15 Breeders' Cup Sprint returned with an absolutely useful try last out after an 18-month vacation, running a game second to The Man, who's won seven straight – and they were well clear of the others; making his second start off the break, he certainly has the right to move forward and don't mind seeing Paco Lopez in to ride just for this race; with his early zip, he figures to be right up in the first flight from the word go
#4 – Whitmore (7-5): Trainer Ron Moquett ships in this multiple G3 winner at the distance and has won six of seven at the trip; he has tactical speed and a strong closing kick while being away since a third-place finish in the G2 True North which Moquett said it was the result of a minor mishap and nothing of concern; shows a solid work tab readying for this and is the one to beat
#3 – Awesome Banner (7-2): This Ken Decker trainee sure has been keeping tough company – Whitmore (#4) three back, Imperial Hint (riding a five-race win streak) two back, and El Deal (three straight wins w/ gaudy speed figs) last out; liked seeing his tenacity last out, as he dropped almost to last but kept on grinding to make his way through the field to be runner-up; never worse than third in seven tries at the trip and gets Tyler Gaffalione in the irons 
Race 10 is Laurel Futurity ON THE TURF
#5 – Therapist (10-1): Home/NY-bred easily beat state-breds in debut over Bel turf with a strong late move in the stretch w/o feeling the whip; that was 2 months ago and yet never raced on his home track (Sar); trainer C. Clement 19-20% w/ shippers, turf starters and those having similar layoff; plenty of foes w/ speed to mow down in deep stretch
#8 – Blue Ridge Scout (20-1): After getting trounced in debut on dirt which turned out to be a key race, local runner came back to win over muddy track as contest was taken off the turf that saw SHOW runner win next start in turf debut; this gelded son of New Year's Day should give a good account of himself in 1st shot on turf
#1 – Nauti Boy (15-1): Was quite nice in winning debut at 29-1 on the Lrl turf; connections set sights a bit too high shipping to Saratoga to run in G3 Sanford(8th/last) on dirt then back on turf in the G3 With Anticipation (9th of 11); this field will seem like a bunch of Claimers by comparison
Race 11
#7 – Victory Chimes (5-2): Exits a key race where he was second best as the winner and SHOW runner came back to win their next outing; barn has been a bit cold lately but this gelding could get them back in the Winners Circle
#1 – Martywiththeparty (2-1): Plenty of speed in this contest that he would run away from this field early… then again that's how he did it in only other time he broke from the rail
#4 – Tricky Lion (20-1): On paper is outclassed and out of his element (0 for 10 on fast track) but with the plethora of speed in here, he could arrive on the scene late to get a minor share     
Race 12 is ON THE TURF
#9 – Saturday's Rein (5-2): Been burning bettors money in all 3 starters this year twice as beaten favorite; toss the main track try in latest and fact she faced better on turf when bridesmaid, she had plenty of excuses 3 back at this level; start #13 might be the lucky one
#5 – Love My Sisters (12-1): This gal gave a good account of herself in debut when 4th at 35-1 as runner-up came back to break maiden at Prx for $20k and SHOW finisher lost by a neck yesterday on Lrl lawn for $16k; might to take to the grass
#3 – Grand Lassie (12-1): Away since last Nov. when she had a rough go of it in first start after trainer D. Capuano claim; connections take advantage of Waiver Claiming Rule to protect her; like the work tab leading up to return
YESTERDAY'S NEWS  
On Friday September 15th at Laurel had 7 winners from the 11-race card (3 Top Selections; payoff in BOLD) having $2 WIN pay-offs of $5.40 (1st race), $6.00 (2nd), $6.00 (4th), $6.20 (8th), $3.80 (9th), $2.80 (10th) and $6.20 (11th). Of the suggested wagers hit the R1-R2 $2 DOUBLE paid $22.20 (cost: $12), the R10-R11 $2 DOUBLE paid $8.60 (cost: $12) and the R8-R11 50 cent Pick-4 paid $24.85 (cost: $18). Top Selections in 2017 are 281 for 1,021 (27.52%). In 2016, Top Selections were 304 for 1,213 (25.02%).
BEST BET of the Day (107: 33-24-19; in 2016 127: 31-29-19) V.I.P. Code (7th race: 3-1 M/L; 6-5 PT) bobbled at the break, raced in the three path on the turn while gaining on his own accord, angled to the four path in upper stretch and rallied outside but could not catch the top two, missing the PLACE purse by a neck and returned $2.40 to SHOW.
LONGSHOT PLAY of the Day (92: 15-11-13; in 2016 124: 13-13-16) Cordmaker (8th race: 8-1 M/L; 2-1 PT) stalked the pace while saving ground under rating, awaited room leaving the five sixteenths, angled out and bumped a rival nearing the lane, shifted out leaving the eighth pole, closed sharply under right handed encouragement, forged to command with about fifty yards remaining then eagerly drew clear return $6.20 to WIN, $4.00 to PLACE and $2.80 to SHOW.