The GQ Approach – Laurel September 15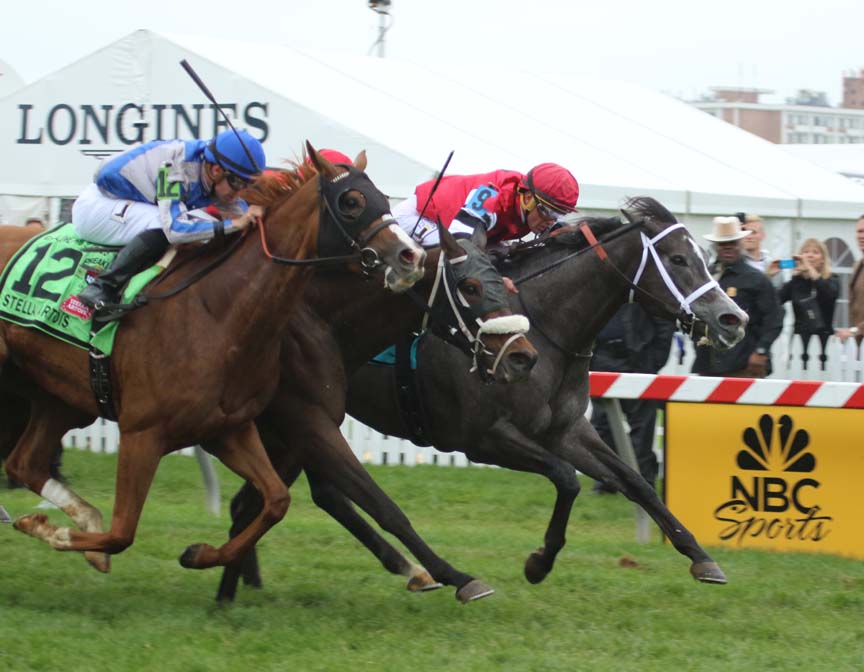 Mizz Money (#9) held off Vielsalm (in between) and Heath (#12) to win the Grade 3 Gallorette. Photo by Laurie Asseo.
The GQ Approach features full-card selections from Laurel Park for the live Fall racing meet, Post Time 1:10pm EDT including a daily Best Bet, Longshot Play, and multi-race wagers — including the 20 cent Rainbow Pick-6, 50 cent Early and Late Pick-5s, as well as Pick-4s and rolling Doubles, Pick-3s and the Super High-5.

[su_box title="
Today's Carryovers
" style="glass" box_color="#66ADCC"]
Rainbow Pick 6: $2,474
Super High 5: $609
Late Pick 5: no carryover[/su_box]
[su_box title="GQ's Handicapping Tip of the Day" style="glass" box_color="#66ADCC"][stray-random][/su_box]
[su_box title="Best Bet of the Day" style="glass" box_color="#66ADCC"]Race 7 / #9 – V.I.P. Code (5-2)[/su_box]
[su_box title="Longshot Play of the Day" style="glass" box_color="#66ADCC"] Race 8 / #3 – Cordmaker (8-1)[/su_box]
[su_box title="
Multi-race Wagers
" style="glass" box_color="#66ADCC"]
Race 1: $2 Double  6, 7, 12  w/ 4, 5  ($12)
Race 3: 50 cent Pick-3   8, 11, 12  w/ 1, 5, 7  w/ 3, 6, 9  ($13.50)
Race 8: 50 cent Pick-4  3, 8, 10  w/ 7, 12  w/ 3, 4, 8  w/ 3, 4, 6  ($27)
Race 10: $2 Double  3, 4, 8  w/ 4, 6  ($12)
[/su_box]
[su_heading size="21″ align="left"]Analysis[/su_heading]
Weather: Partly Sunny; highs in the low-80's
Scheduled turf races: 1st, 3rd, 6th and 9th
Projected track conditions… Main: FAST; Turf: FIRM
Post Time for Race 1 is 1:10pm EDT
Race 1 is ON THE TURF
#7 – Charm City (2-1): Reclaimed by trainer J. Ness out of latest for $7,500 when off the turf; beat Alw7500s on turf in June
#6 – Doukas (8-1): Will need some pace help and should get it; draw a line through last outing in mud especially since J. Pimentel returns to ride
#12 – Crystal Pier (5-2): Typical second race off the claim for trainer K. Magee dropping back to level he claimed this filly after getting SHOW purse on dirt v. $11k open claimers
Race 2
#4 – Enduring Warrior (4-1): One of just two in here for a nickel who's dropping in class; potential case of "Second-itis" (16:1-6-3) but lone win came over the Lrl dirt
#5 – Wondering Ways (9-5): Beaten favorite by just a head at this level when coming off gate-to-wire maiden score at bottom of The Big T maiden level ($5k); faced better on the west coast
#3 – Radar Gun (5-1): Ran behind #5 two back then easily broke maiden in next outing; looks to be a play underneath in exotics 
Race 3 is ON THE TURF
#11 – Lucy in the Sky (5-2): Trainer/jock in town just for this contest should be on early lead as she was on last two over the synthetic surface at Pid; first time in for tag while trying to hit the board in 6th start
#12 – Dorothyfromdublin (6-1): Claimed by trainer J. Maldonado for $16k when Post Time favorite but did not deliver as she bled just one race after this gray filly was runner-up as favorite for $40k; talent is there IF she doesn't bleed in spite of getting max dosage of Lasix for sure
#8 – Avianka (10-1): Nabbed for $5k at F-T Mid-Atlantic Mixed sale in Jan. as part of estate sale; showed some late interest in first start in 13-months; have to believe she improves off that
Race 4
#7 – Le Weekend (7-2): Barn has been cold with runners this year on home track (Lrl) but this filly draws a group of 6 gals who can't match her strides early when sprinting
#5 – Lucky in Malibu (3-1): Scratched by trainer G. Capuano last weekend out of $75k stakes races here for this softer spot; still not a cake-walk as she'll need pace help from unlikely sources
#1 – Phantom Shot (4-1): Upset winner in restricted AlwN1x in last outing that saw runner-up come back to win versus similar; cut back to 6f might make things tougher on this Closer
Race 5
#9 – Playwright (2-1): The red flags should be waving as this NY-bred gelding got transferred from Bill Mott barn to race in MD after being runner-up in 2 of 4 starts? Away since Nov. as trainer L. Gaudet just got him during Sar trip and adds blinkers, a winning move in 3 of 10 runners 
#6 – Zephyr Train (12-1): Banking on that stumble cost him early position as jock tried to rush up into contention but it didn't work out so he packed it in; back in for $40k, scene of best finish
#3 – Valyrian (6-1): Young trainer based in NY seeking following in Dad's footsteps ships in FTS by Lemon Drop Kid out of a Lion Hearted mare who has a nice worktab at The Big Sandy w/ final prep work from the gate; worth using here as we know the struggles of all the others
Race 6 is ON THE TURF
#10 – Twelve Tricks (5-1): Beaten favorite in off the turf event in spite of lone win coming on grass… at Lrl… at this distance; enough early speed in here for this one to catch late
#12 – Tizadoozi (12-1): Big mistake racing over the The Big T bull ring as she never showed interest; back on turf should wak her up enough to be a threat versus these gals
#1A – Rill in the Hills (10-1): Entrymate was MTO; has Post 12 which should allow F. Boyce to allow the speed to go on, saved ground then be heard from late
Race 7
#9 – V.I.P. Code (5-2): *** BEST BET *** Visually impressive runs in both career starts; running style makes stretch out from 5 to 6 furlongs even that more inviting
#4 – Onemoregreattime (8-1): A distant 4th to top pick when than one was runner-up in debut yet came back to graduate in next outing over sloppy Lrl surface indicating how tough that race was
#7 – Mr. Fixit (5-2): Gate-to-wire winner in debut on GP dirt in late July was nominated for Futurity on the turf here on Saturday but opted for this contest as NY-based trainer J. Terranova looks to win with first starter Lrl this year
Race 8
#3 – Cordmaker (8-1): $$$ LONGSHOT $$$ Off as lukewarm favorite in debut going 5f looked pretty green when off slow then goofy around in stretch while this long-striding gelded son of Curlin nearly got up for the win while galloping out after getting an education
#8 – Tricks to Doo (7-2): Connections typically love grass runners which this FTS by Into Mischief could be but after spending $600k this Spring on him at Ocala, Triple Crown dreams may be on their minds
#10 – Start With Yes (10-1): Sagamore has been loaded with nice runners who have won at first asking but this one didn't as he was slow early, wide and steadied at 3/8 pole yet still made up ground on winner getting final furlong in 12 flat
Race 9 is ON THE TURF
#12 – Novelle Vague (5-2): First of two on the card for trainer L. Rice who has been only 16% at Lrl after being 50+% here last year; claimed this mare from turf-master C. Brown who couldn't get her to Winners Circle in 4 tries after she arrived from France; only runnere in here to have travelled 9 furlongs or more; she broke her maiden going 1 3/16
#7 – Cap's Vow (12-1): Back home after a couple tries at Sar that resulted in minor awards; always gains ground in deep stretch going 1 1/16 mile, gets additional 1/16th for first time in career so it might make the difference
#9 – In the Lee (2-1): Gets Lasix in third career start after being debut winner here on turf then not showing same energy in off the turf AlwN1x last month; Shug and F. Boyce after teamed up for 4 wins from 12 starts the past year
Race 10
#8 – Crabcakes (9-5): Earned first triple-digit BRIS# of career on her left lead in latest after getting 2-month breather when bridesmaid to best local 3-year-old filly, Shimmering Aspen         
#4 – Everlasting Secret (5-2): Last seen in the afternoon on BES Day just missing as Post Time favorite; transferred to L. Rice barn and joined small group of trainers' local runners at Lrl; no worse than second in 3 starts at Lrl
#3 – Faze the Nation (12-1): Game 3-year-old filly has blossomed into a solid runner who has hit the board in 9 straight main track outings; gets a chance to catch plenty of speedy foes in here
Race 11
#4 – Star Too (7-2): Twice a bridesmaid since being transferred from KY to trainer E. Geralis barn; well beaten in both but also had a bit of an excuse; clean trip should mean diploma time
#6 – Miss Pearl (5-2): Very leery of this ML favorite as NY-based trainer G. Contessa usually ships to unload v. steal a purse; addition of front wraps and stopping v. $20kMCL after being runner-up in previous start v. $40kMCL; using strictly as a Saver
#3 – Arch d'Oro (12-1): Stats say no as trainer S. Cooney is just 2 for 49 w/ FTS and 0 for 20 when debut for a tag; NY-bred cost $20k as a yearling yet offered for $8k today; not too many positive signs other than last two works on the farm and others in here have struggled
YESTERDAY'S NEWS  
On Sunday September 10th at Laurel had just 4 winners from the 11-race card (1 Top Selection; payoff in BOLD) having $2 WIN pay-offs of $4.20 (2nd race), $9.00 (4th), $4.80 (9th) and $10.40 (11th). Top Selections in 2017 are 278 for 1,010 (27.52%). In 2016, Top Selections were 304 for 1,213 (25.02%).
BEST BET of the Day (106: 33-24-18; in 2016 127: 31-29-19) Lemon Lover (7th race: 5-2 M/L; 5-2 PT) angled out early, took up stalking position 3-wide, bid outside of foes while under a ride past the five-sixteenths pole, gained a short lead 4-wide in upper stretch but could not shake the eventual winner leaving the eighth pole and gave way grudgingly in the last 50 yards to lose by a neck and returned $3.60 to PLACE and $2.80 to SHOW.
LONGSHOT PLAY of the Day (91: 14-11-13; in 2016 124: 13-13-16) Griff's Ghost (7th race: 15-1 M/L; 10-1 PT) sped to the early lead, set the pace near the rail and tired in mid-stretch to finish 7th.