The GQ Approach – Laurel September 10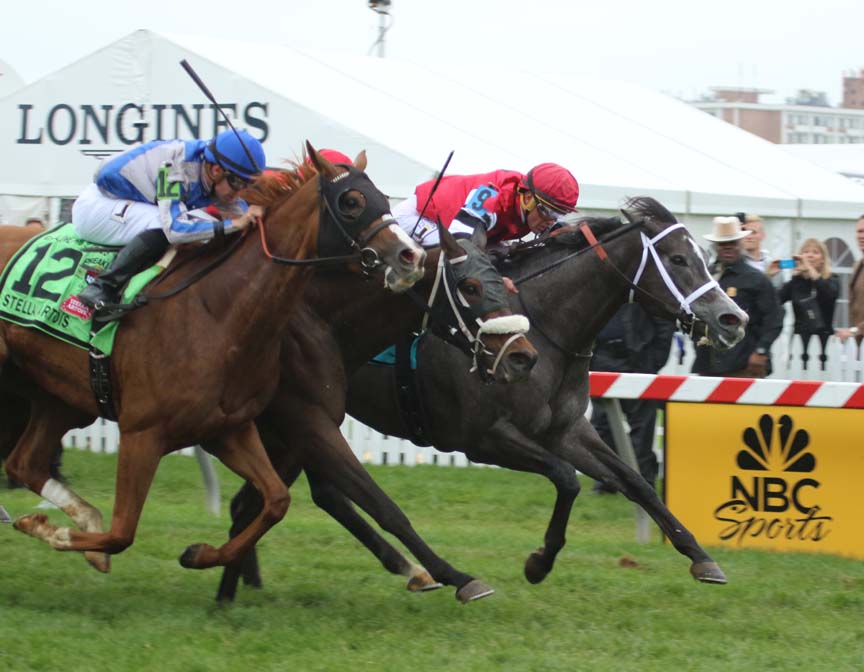 Mizz Money (#9) held off Vielsalm (in between) and Heath (#12) to win the Grade 3 Gallorette. Photo by Laurie Asseo.
The GQ Approach features full-card selections from Laurel Park for the live Fall racing meet, Post Time 1:10pm EDT including a daily Best Bet, Longshot Play, and multi-race wagers — including the 20 cent Rainbow Pick-6, 50 cent Early and Late Pick-5s, as well as Pick-4s and rolling Doubles, Pick-3s and the Super High-5.

[su_box title="
Today's Carryovers
" style="glass" box_color="#66ADCC"]
Rainbow Pick 6: $1,512. 48
Super High 5: no carryover
Late Pick 5: no carryover[/su_box]
[su_box title="GQ's Handicapping Tip of the Day" style="glass" box_color="#66ADCC"][stray-random][/su_box]
[su_box title="Best Bet of the Day" style="glass" box_color="#66ADCC"]Race 4 / #1 – Lemon Lover (5-2)[/su_box]
[su_box title="Longshot Play of the Day" style="glass" box_color="#66ADCC"] Race 7 / #8 – Griff's Ghost (15-1)[/su_box]
[su_box title="
Multi-race Wagers
" style="glass" box_color="#66ADCC"]
Race 1: $2 Double  1, 5, 8  w/ 2, 5  ($12)
Race 3: 50 cent Pick-3   1, 10, 11  w/ 1, 3, 6  w/ 2, 4, 9  ($13.50)
Race 8: 50 cent Pick-4  3, 4, 10  w/ 1, 2, 8  w/ 6, 9, 10  w/ 6, 11  ($27)
Race 10: $2 Double  9, 10  w/ 3, 6, 11  ($12)
[/su_box]
[su_heading size="21″ align="left"]Analysis[/su_heading]
Weather: Mostly Sunny; highs in the low-70's
Scheduled turf races: 1st, 3rd, 5th, 7th, 8th, 10th and 11th
Projected track conditions… Main: FAST; Turf: GOOD
Post Time for Race 1 is 1:10pm EDT
Race 1 is ON THE TURF
#8 – Stillsexyatsixty (3-1): Ran evenly in both career starts which were sprints; usually these running lines are tell-tale signs the horse will prosper at going two-turns
#5 – Lisa Limon (8-1): It's about time this daughter of Scat Daddy was entered to run on the turf; has shown slight improvement in each of are three outings, with the distances getting longer; being out of a Lemon Drop Kid mare, the further the better
#1/1A – Rose Colored/Lady of the Empire (6-1): Both parts of this M. Trombetta entry makes first two-turn event start and are bred to run well on going long and on turf; consider #1A stronger
Race 2
#5 – Baltimore Street (7-5): With a horse named "Fanniebellefleming" (aka Blaze Starr) winning here on Friday, it's only appropriate this one completes "The Block" Double (If you're under age 50 and not for Bawlamer Hon, you have no idea what all of this means… just Google them)
#2 – Arlie's Diamond (5-2): Drops to bottom level claimers seeking elusive second career win in 29thd career start; lone win came on turf but she's only 0 for 8 on the main track
#7 – Reward the Gypsy (20-1): Took the scenic route in latest at The Big T traveling 7 furlongs in a 6½ furlong contest; got the SHOW purse two back at this track, level and distance
Race 3 is ON THE TURF
#1 – Delinquent (4-1): FTS who fetched $290k at Kee Sept. yearling sale is by freshmen sire Violence who has 11 winners from 36 runners; nice work tab for trainer who wins w/ 2-year-olds at a 22% clip
#11 – Street Cooper (5-2): Exits turf try at Sar which was a wasted trip due to stuck behind foes, never being able to get going; returns to home base in hopes of showing more speed; adds blinkers
#10 – Loud (20-1): Bred to like the turf; showed improvement in second start, closing ground on next out winner with strong gallop out
Race 4
#1 – Lemon Lover (5-2): *** BEST BET *** Horrific start in latest at The Big T gives this one an excuse; can make amends versus these 5 gals, two of which she's beaten in the past
#6 – No More Excuses (2-1): On a three race win streak but takes mandatory step up in class coming off being claimed; speedster is 9 for 20 lifetime but has never raced further than 5½ furlongs; goes 6f today
#3 – Dance N Denae (9-2): Trainer C. Gonzalez (32% at meet) appears to have a new "Go to" rider… a 7 lb. bug; mount has never been OTB going 6f (3:1-1-1)
Race 5 is ON THE TURF
#9 – Capucine (2-1): It's been awhile since she recorded her 87 BRIS# in maiden win on turf, which is tops in this field, but has been bridesmaid in 3 of 6 turf tries since at this level    
#2 – Via Frattina (10-1): Best turf efforts have come over grass courses with some "give" to it which Lrl's is right now; comes off gate-to-wire maiden score as son-in-law (T. Morley) hands this one over to trainer H. Wolfendale 
#4 – Majestic Trick (5-1): Can make excuses for her in last two outings v. better but will need pace help; lone win came over this course
Race 6
#3 – Drive At Nite (7-2): Earned best last BRIS# when in v. a class level higher; drops back against similar pack he beat in N3L
#1/1A – Gavin Streetsense/Mr. Spaceman (2-1): Dual-threat for trainer L. Gaudet as they rank 1-2 as far as BRISNET Prime Power rankings in this field
#10 – C V Eis (10-1): 7-time winner still eligible for this condition due to win in most recent outing being for $4k tag which are not considered when meeting race conditions; can take advantage of probable pace meltdown
Race 7 is ON THE TURF
#8 – Griff's Ghost (15-1): $$$ LONGSHOT $$$ Wasn't prepared, physically and mentally for debut at WO last Oct.; took time off to regroup and began to train in earnest for Take Two in June which based on work tab is now ready, firing a pair of bullets in final tune-ups w/ blinkers added
#3 – Finglas (9-5): Underachiever in last two when runner-up as he ran big in debut behind three next out winners; trainer A. Delacour (46% at meet) does very well with turf runners
#7 – Crime Lab (9-2): Anytime a Shug McGaughey runner is entered at Lrl w/ F. Boyce aboard (3 for 8 as a team) on the turf for Phipps Stable, it's a must use; refreshened-up after two forgettable Bel turf tries
Race 8 is ON THE TURF
#4 – Cracking Good Pins (7-2): Scratched yesterday from Alw7500s when coupled w/ stablemate who ran second; this is an easier spot as she always makes presence known late v. similar  
#10 – Mo Mon's Copycat (12-1): Game effort when 18-1 and encountered traffic at the eighth pole, finishing just 2-lengths winner and two others in here today; positive jock switch can make the difference
#3 – Weatherurnot (10-1): Taking a WAG here in first start off T. Iannotti claim while "in jail" gets another crack at the turf (5:0-0-0) but those were v. MSW; banking on F. Boyce to get early lead and see how long she can hold off the rest of the gals
Race 9
#2 – No Picnic (3-1): Beaten favorite as late rally came up short; gets an additional furlong today in an effort to turn the tables on PT favorite (#1)
#1 – Hell of Afire (8-5): Has been a different filly since trainer T. Wooley decided to add blinkers, being a romping winner then missing by a neck in latest
#8 – My Sistersledge (12-1): No match against runaway winner in first dirt due to taken off the turf start after all 8 previous races were on turf; could surprise
Race 10 is ON THE TURF
#10 – Analyze (9-2): A head-scratcher as to why it took trainer M. Matz nearly a year and 10 starts later to put this Candy Ride filly out of an A.P. Indy mare on the turf; just missed at this OC$25kN2x level on fast, sealed Del surface in latest           
#9 – Freudie Anne (2-1): Gets favorite turf distance (6:4-0-1) but will have plenty of company challenging her for the early lead; has the class edge over all others so she just might be able to hold off the Closers
#6 – Regal Roma (10-1): First start after KTL claim (30%) for $25k in a winning effort; field is filled with early speed as she likes to rally from off the pace; J. Pimentel who was original, long-time rider of Ben's Cat for KTL gets first mount for the HOF trainer in over a year
Race 11 is ON THE TURF
#11 – Bigbolbok (5-2): Earn a nice 81 BRIS# in latest turf effort when third as runner-up graduated in next outing; toss latest which came off the turf; second start w/ blinkers
#3 – Major Anthem (8-1): MD's most lovable loser (0 for 34) has earned over $60k and always seems to arrive on the scene in time to finish behind 1-2 runners; gets favorable pace scenario but prefers a "firm" turf
#6 – Censure (9-2): Hillwood Stables shelled out $335k for this son of Blame at Kee yearling sale in '15; he's earned just over $8k in 7 career starts; in for $12,500 tag on steep drop indicates how badly they want to cut their losses
YESTERDAY'S NEWS  
On Saturday September 9th at Laurel had 8 winners from the 12-race card (2 Top Selections; payoff in BOLD) having $2 WIN pay-offs of $4.80 (1st race), $8.60 (4th), $5.80 (5th), $9.40 (7th), $6.40 (8th), $5.40 (9th), $9.40 (11th) and $5.00 (12th). Of the suggested multi-race wagers hit the R11-R12 $2 DOUBLE paid $27.40 (cost: $12). Top Selections in 2017 are 277 for 999 (27.73%). In 2016, Top Selections were 304 for 1,213 (25.02%).
BEST BET of the Day (105: 33-23-18; in 2016 127: 31-29-19) Cobh (7th race: 5-2 M/L; 6-5 PT) a forward factor two-wide on the turn, eased out to the four-path entering the stretch then came up empty, having to settle of 3rd and returned $2.20 to SHOW.
LONGSHOT PLAY of the Day (90: 14-11-13; in 2016 124: 13-13-16) Mr. Stream (3rd race: 12-1 M/L; 8-1 PT) four deep around the turn, chased the pace and failed to rally while settling for 4th, just 2-lengths behind the winner.