The GQ Approach – Laurel September 9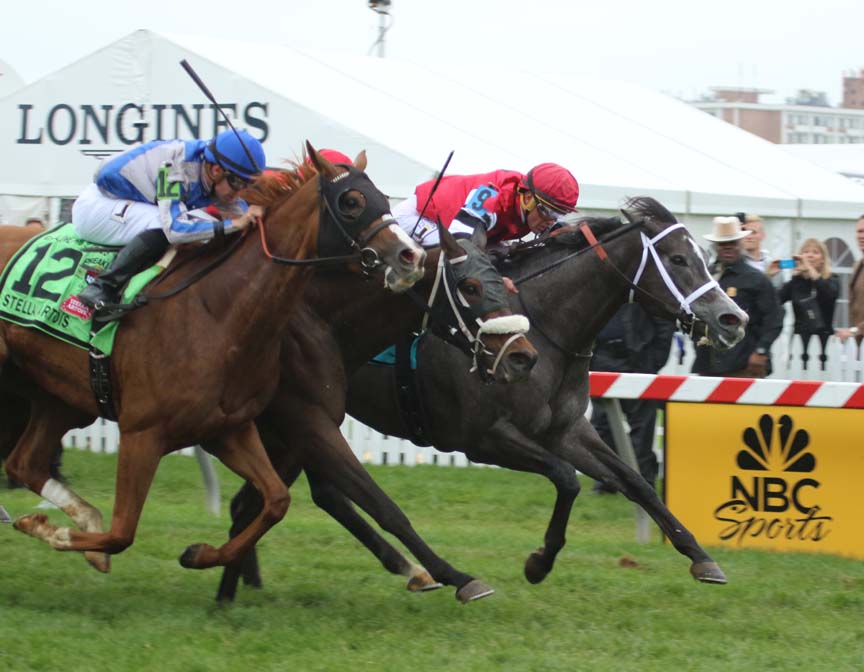 Mizz Money (#9) held off Vielsalm (in between) and Heath (#12) to win the Grade 3 Gallorette. Photo by Laurie Asseo.
The GQ Approach features full-card selections from Laurel Park for the live Fall racing meet, Post Time 1:10pm EDT including a daily Best Bet, Longshot Play, and multi-race wagers — including the 20 cent Rainbow Pick-6, 50 cent Early and Late Pick-5s, as well as Pick-4s and rolling Doubles, Pick-3s and the Super High-5.

[su_box title="
Today's Carryovers
" style="glass" box_color="#66ADCC"]
Rainbow Pick 6: $673.34
Super High 5: no carryover
Late Pick 5: no carryover[/su_box]
[su_box title="GQ's Handicapping Tip of the Day" style="glass" box_color="#66ADCC"][stray-random][/su_box]
[su_box title="Best Bet of the Day" style="glass" box_color="#66ADCC"]Race 7 / #2 – Cobh (3-1)[/su_box]
[su_box title="Longshot Play of the Day" style="glass" box_color="#66ADCC"] Race 3 / #13 – Mr. Stream (12-1)[/su_box]
[su_box title="
Multi-race Wagers
" style="glass" box_color="#66ADCC"]
Race 1: $2 Double  4, 5  w/ 4, 5, 6  ($12)
Race 3: 50 cent Pick-3   4, 7,  13  w/ 2, 3, 5  w/ 4, 5, 8  ($13.50)
Race 9: 50 cent Pick-4  1, 7  w/ 7, 11, 13  w/ 5, 6, 10  w/ 2, 8, 9  ($27)
Race 11: $2 Double  6, 10  w/ 2, 8, 9  ($12)
[/su_box]
[su_heading size="21″ align="left"]Analysis[/su_heading]
Weather: Mostly Sunny; highs in the low-70's
Scheduled turf races: 1st, 3rd, 4th, 6th, 8th, 10th and 12th
Projected track conditions… Main: FAST; Turf: YIELDING
Post Time for Race 1 is 1:10pm EDT
Race 1 is ON THE TURF
#4 – Crimson Secret (6-1): First day back at Lrl yesterday saw a yielding turf course quite kind to early speed, so until races on the grass prove otherwise, today's selections turf will favor the runners who should be on or close to the lead in the early stages of each contest. Hence, this speedy gelding gets the nod in the opener
#5 – Robey's Boy (5-2): Boasts the top turf BRIS# of this bunch but doesn't get going until entering the stretch; so if there is a speed bias, it will become evident immediately if this gray cannot win
#7 – Lil Love Machine (5-1): Tried to run on turf in 5 of 6 career starts but 4 of them were washed off; regardless of surface this Lil colt will be gunning for the lead right out of the gate
Race 2
#4 – Slim (3-1): Hasn't been off-the-board since being dropped to this bottom maiden level 5 races back; there's three class droppers in hear which could deny him a diploma
#5 – Hurricane Harold (5-2): Makes third consecutive class drop after failing as 8-5 PT favorite in latest; cut back from one mile to 6 furlongs should help as well
#6 – Spot on Fark (9-5): Idle since late June when stopping against $40kMCL as PT favorite returns after a trio of workouts, being gelded and will ditch the blinkers
Race 3 is ON THE TURF
#13 –  Mr. Stream (12-1): $$$ LONGSHOT $$$ Led for 5 furlongs over yielding Lrl lawn then tossed anchor; not a "need the lead" type but hopefully jock S. Hamilton paid attention on Friday and will have this gent on or near the early lead and let the potential speed bias take care of the rest 
#7 – Here's Johnny (4-1): First start after trainer B. Tessore claim for same tag when beaten favorite due to traffic and wide trip 
#4 – Flyingtobechilders (10-1): Been mixing it up against tougher foes in Alw7500s events; last win came 7 races back when claimed
Race 4 is ON THE TURF
#5 – Mr Small (6-1): Earned a gaudy 86 turf BRIS# in debut when he led for 5 of the 5½ furlongs test; if he duplicates that effort today he'll graduate
#2 – Gowith Theterrain (2-1): FTS by the dearly-departed Scat Daddy whose offspring killed it on the Ascot turf earlier this Summer; Sagamore Farm Home/MD-bred will be primed for debut even though just one published work since mid-June
#3 – Boot Hill (10-1): FL-bred FTS by Stratford Hill was a $50k purchase by Olympic Gold medalist Bode Miller at OBS when a 2 y.o. in training; solid work pattern with latest a bullet           
Race 5
#4 – Sir Mischief (4-1): Brief speed then quickly tired in both career starts against tough bunch of MSW; took a 2-month respite, got gelded and will be equipped with blinkers but 
#8 – Brahms Romp (7-2): Nice improvement in first start after being transferred to the J. Ness barn on drop from MSW; another step forward makes it Graduation Day
#5 – Midnight Cry (5-2): SHOWed in debut thanks to a rally in deep stretch after a sluggish start; trainer R. Jenkins gets 26% of his second career starters to Winners Circle
Race 6 is ON THE TURF
#5 – He's a Pussy Cat (6-1): Lone turf try was visually impressive albeit versus $16k MCL but did receive an 82 BRIS#; new rider A. Cruz needs to gets this one alertly away from the gate
#12 – Piercinator (9-2): Speed figures on turf continue to climb as the 87 BRIS# in latest is best among starters in this event; trainer/jock combo have been on fire of late
#8 – Barcraft (10-1): Broke maiden at bottom level on dirt but displayed talent sprinting on grass early in career
Race 7
#2 – Cobh (3-1): *** BEST BET *** Third start should be the charm after a pair of 80+ BRIS# efforts in spite of a tardy start in both; a pair of bullet works since most previous start gives reason for optimism
#7 – Bestkindoftrouble (3-1): Third in career debut, nosed out for runner-up position as that one came back to break maiden in next outing
#1 – Birdsnest Party (6-1): Weaker of trainer M. Stidham's uncoupled entry (the other is #5)? That's debatable as this guy makes first start since last Oct., gelded and sheds blinkers
Race 8 is ON THE TURF
#7 – Break the Mold (6-1): Amateur riders face-off here; going with the runner who has shown early interest while recording high speed figs
#2 – On the Wings Of (7-2): Questionable drop from MSW to $16k MCL after both starts resulted in a late rally when sent off as favorite with a stablemate
#6 – Lovely Games (12-1): Has yet to hit the board in 10 career outings but only 3 have been on turf and versus tougher foes than these fellas
Race 9 is the Challedon Stakes
#7 – It's the Journey (5-2): Trombetta-trained Mineshaft gelding has won four of seven and never finished worse than third since returning from a brief freshening March 21… Owns three straight allowance wins, last out eagerly dusting his rivals… Two-back beaten rival Hickory Hill has won two straight allowances since… Has a win and a third in two tries at the trip and on the stretch-out is likely to be on or just off the pace… Alex Cintron, riding really well, will be up
#1 – Rockinn On Bye (6-1): Bit of a trouble line last out when third in the Coalition Stakes at the Big T but the larger issue with this Stephen Casey trainee is his apparent disinterest in, you know, winning races — he's working on a 19-race losing streak, hasn't won since 2015, and has only won six of 47 career starts… He does own two wins at the trip and has been worse than third only twice in 13 7f tries… Look for him to be running late — too late to win but worth using underneath
#6 – Afleet Willy (9-5): Five months away was no problem for trainer Claudio Gonzalez or Afleet Willy; he ran a monster race last out setting wicked fractions early and holding on late to win going a mile at DEL… That was his second straight big one, as he ran a head-bobbing second to Matt King Coal in the Harrison Johnson, and that rival returned to be second in the G2 Charles Town Classic… Owns a win from two tries at the trip… Can lead or stalk and with other early runners in here, jock Victor Carrasco likely to look to sit third or so and pick up wearying leaders late 
Race 10 is ON THE TURF
#13 – Dothat Dance (3-1): Appropriately named runner dances every dance (5:0-3-2 on Lrl lawn) and earned best turf speed figure of career going this distance in latest, a restricted stakes  
#7 – Maryland Pride (20-1): Lightly raced 3-year-old makes third start after 6-month layoff; continues to improve and should relish 9 furlongs coming off maiden score
#11 – How's Your Sugar (6-1): Late running gelding gets first crack at going an additional 1/16th mile on a turf course he's been the victor in 3 of 6 starts
Race 11 is the Shine Again Stakes
 #6 – Line of Best Fit (7-2): Around two turns this one would look like a clear winner here, having run third behind the great Songbird in the G1 Delaware Handicap, but last out, going 6 1/2 furlongs at the Big T, her late rally was a nose too late, and a similar outcome wouldn't shock here… She does own three wins as part of a strong overall record at seven furlongs… She shows up on short rest, but Magee runners have finished in the money in 76 percent of short-rest starts with eight wins
 #10 – Lake Ponchatrain (15-1): Ran well three back to be third in the Sugar Maple at CT, her home track, but has been away since rough outing in June at DEL… She owns a win at seven furlongs, though around two turns at CT; she'll have plenty of leg-weary speedsters to catch in the final strides
#5 – Elusive Joni (20-1): Colonel John filly has run some bang-up races, including a third in The Very One back in May — but that was a short sprint on the turf as opposed to a long sprint on the main track… Recent form doesn't give much cause for optimism, but note that last out was against the boys and has a pair of bullet works on Lrl dirt
Race 12
 #8 – Desert Princess (8-1): A chance to turn the tables on a trio of runners in here who have gotten the best of her in the past; turf sprint in latest served as a good tune-up
#9 – Saint Mamie (3-1): Speed, speed and more speed; makes Lrl debut in 32nd career start as she raced on the west coast until shipped to Pen in May; 3 for 5 at this distance
#2 – Cara's Nay Nay (4-1): A perfect 4 for 4 on the Lrl lawn, had 5-race win streak snapped in most recent effort at Suf when 4th just 2-lenths behind winner as beaten favorite
YESTERDAY'S NEWS  
On Friday September 8th at Laurel had 5 winners from the 9-race card (1 Top Selection; payoff in BOLD) having $2 WIN pay-offs of $4.80 (1st race), $3.80 (3rd), $5.00 (4th), $2.40 (6th) and $5.40 (8th). Top Selections in 2017 are 275 for 987 (27.86%). In 2016, Top Selections were 304 for 1,213 (25.02%).
BEST BET of the Day (104: 33-23-17; in 2016 127: 31-29-19) Intrepid Citizen (5th race: 5-2 M/L; 4-1 PT) two wide the first turn, advanced three deep leaving the far turn then gave way in the drive and returned $2.80 to SHOW.
LONGSHOT PLAY of the Day (90: 14-11-13; in 2016 124: 13-13-16) King of the Jungle (2nd race: 12-1 M/L; 8-1 PT) set an easy pace along the rail and faltered in the stretch to finish 8th.