The GQ Approach – Laurel September 8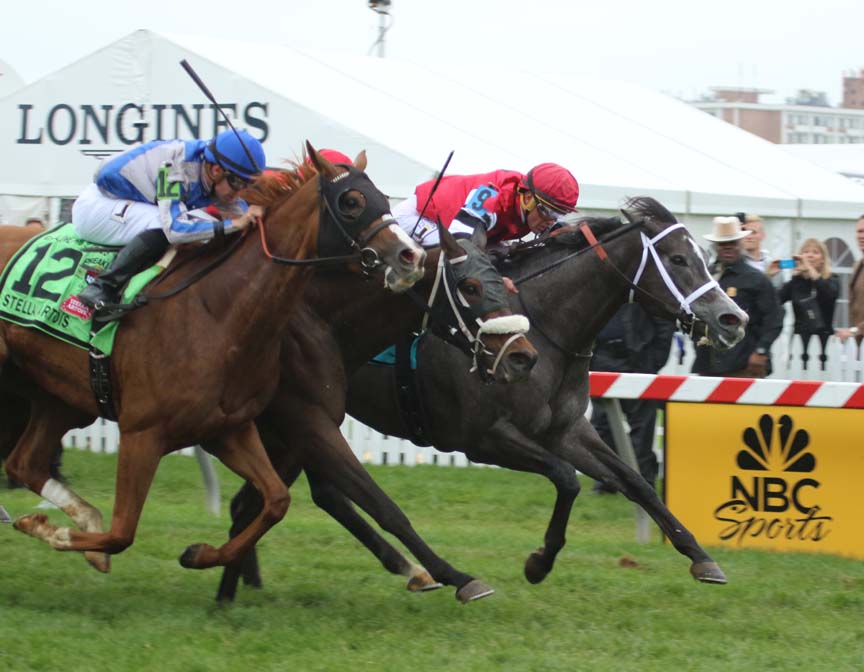 Mizz Money (#9) held off Vielsalm (in between) and Heath (#12) to win the Grade 3 Gallorette. Photo by Laurie Asseo.
The GQ Approach features full-card selections from Laurel Park for the live Fall racing meet, Post Time 1:10pm EDT including a daily Best Bet, Longshot Play, and multi-race wagers — including the 20 cent Rainbow Pick-6, 50 cent Early and Late Pick-5s, as well as Pick-4s and rolling Doubles, Pick-3s and the Super High-5.

[su_box title="
Today's Carryovers
" style="glass" box_color="#66ADCC"]
Rainbow Pick 6: no carryover
Super High 5: no carryover
Late Pick 5: no carryover[/su_box]
[su_box title="GQ's Handicapping Tip of the Day" style="glass" box_color="#66ADCC"][stray-random][/su_box]
[su_box title="Best Bet of the Day" style="glass" box_color="#66ADCC"]Race 5 / #5 – Intrepid Citizen (5-2)[/su_box]
[su_box title="Longshot Play of the Day" style="glass" box_color="#66ADCC"] Race 3 / #2 – King of the Jungle (12-1)[/su_box]
[su_box title="
Multi-race Wagers
" style="glass" box_color="#66ADCC"]
Race 1: $2 Double  3, 7  w/ 3, 4, 5  ($18)
Race 3: 50 cent Pick-3   2, 5, 12  w/ 1, 2, 6  w/ 1, 5, 9  ($13.50)
Race 6: 50 cent Pick-4  1, 3, 5  w/ 7, 9, 11  w/ 1, 7  w/ 1, 4, 6  ($27)
Race 8: $2 Double  1, 7  w/ 1, 4, 6  ($12)
[/su_box]
[su_heading size="21″ align="left"]Analysis[/su_heading]
Weather: Mostly Sunny; highs in the low-70's
Scheduled turf races: 1st, 3rd, 5th, 7th and 9th
Projected track conditions… Main: FAST; Turf: GOOD
Post Time for Race 1 is 1:10pm EDT
Race 1 is ON THE TURF
#3 – Top Prospect (4-1): 9-yr-old has hit the board (3:1-1-1) when in for this tag this year at Lrl and speed figures been on the improve; a stalking trip gets the job done
#7 – Soup d'Coupe (7-2): Been a Cash Cow but 0 for last 14 all on turf; closest finish during that stretch was missing by a neck at this level and distance two races back
#6 – Wicked Heat (3-1): Pen figures are usually inflated but must respect trainer (29% in '17) and jock (26% w/ trainer) who comes down just for this mount
Race 2
#3 – A Star At Last (3-1): Home/MD-bred from successful outfit who can win w/ FTS in MCL (13%); love this daughter of Spring At Last's work pattern at Fai… nothing flashy just consistent    
#5 – Rockin Ruth (9-2): FTS by Majestic Warrior out of an unraced Deputy Commander mare has an extensive worktab; trainer G. Capuano 0 for 20 w/ MCL Debuters BUT this one only cost $5k as a yearling, being offered for $25k
#4 – Menorah Lora (15-1): Giving her a pass for the dreadful showing on The Big T bull-ring; appeared not to be happy after checked into first turn, then 5-wide as jock gave up near the Ferris Wheel; hope she reverts to previous 2 starts at Lrl when she SHOWed in both v. $25kMCL
Race 3 is ON THE TURF
#2 – King of the Jungle (12-1): $$$ LONGSHOT $$$ Has displayed early speed on the grass in the past to put this field loaded with Closers to sleep and have enough left in the tank to hold'em off to the wire
#12 – All I Karabout (3-1): Best runner in here on paper but the race isn't run on paper; visualize a strong run in the stretch but might come up a bit short w/ 5 lb. bug A. Castrenze in the irons
#5 – Papa Pablo (7-2): Has been competitive in every two-turn turf event he's raced and appears to prefer a little give in the ground, as should be the case on the Lrl lawn today
Race 4
#2 – Degrom (9-5): Earned career best 92 BRIS# in latest effort when 3rd; nearly won 3 back when skipping a level v. $30kN3L
#1 – Galaxy Express (8-1): Been facing better on the turf since trainer S. Lake claim; returns to dirt, scene on lone win 
#6 – Brighton Lane (7-2): Runner-up in slop behind next out winner and ahead of ML favorite (#7) in here; 1 for 19 record makes one wonder if he has the heart to win
Race 5 is ON THE TURF
#5 – Intrepid Citizen (5-2): *** BEST BET *** Solid veteran seeks natural Hat Trick against the same cast of characters he disposed of in recent races; should be able to catch leg-weary pace setters
#1 – Odlum (5-1): Speed from the rail will try to make every pole a winning one as he steps up in class after being part of Exacta in last four outings
#9 – Barney Rebel (3-1): 9-year-old may be on the downturn, failing as Post Time favorite in last two starts; seems to perform best when grass course is less than firm
Race 6
#1 – Hercatwillfoolu (6-1): Broke maiden in gusty 4 furlong event at The Big T after stumbling at the start; prior to that was runner-up in debut which a few Also-Rans came back to run big
#5 – Limited View (1-2): Connections had big dreams for this gal, shipping to Sar for G3 Schuylerville but had meltdown in paddock and was scratched; sticking around for G2 Adirondack was a mistake (6th by 20); is she as good as that 86 BRIS# in debut?
#3 – Friction Fire (12-1): Maturing with each effort and proved she can pass rivals after slow start in latest was good enough to be the bridesmaid; has lost to three in here but she's improving
Race 7 is ON THE TURF
#7 – Chauncey (8-1): Sneaky, impressive fifth at The Big T going 4 furlongs when she found an extra gear too late but galloped out very strong; breeding indicates she'll love the lawn
#9 – Shakin' That Sugar (15-1): Adds Lasix and switches to turf after nice debut at CT behind the #3 in R6 here who showed herself well first time v. winners; trainer has impressive stats
#11 – Ruby's Fire (15-1): Third career start trying to break maiden; debut was washed off turf but showed speed in slop; got roughed-up in latest early but was game to run on; big shot to upset
Race 8
#7 – Jump Jive an Wail (3-1): Convincing win in first start sin nearly 4-months in an off the turf events v. just 4 foes; very consistent runner will need pace help from others
#1 – Legal Precedent (7-2): An Alarming number of runner-up finishes suggests "Second-itis" but took on a better crop at Sar when 3rd in latest effort; needs a smart trip from the rail
#8 – Grecian Prince (5-2): Will be the one to catch but may get early pressure from #3, #4 & #6 which would softer her up for the top two
Race 9 is ON THE TURF
#4 – Sweet Liam (6-1): Like the stretch out to two turns as top two career BRIS#s on turf came going long; run huge when 50-1 v. $35k Beaten Claimers but encountered traffic late
#6 – Niigon Express (7-2): Trainer T. Kreiser (29% also shipped for R1, the #6); drops a few levels after beating open $15k Claimers here two back; should get favorable pace scenario
#1 – Prime Time Man (9-5): Steep class drop in second race after claim at one level higher but this is a typical move for connections who like getting picture taken in Winners Circle; has beaten better prior to failing as PT favorite v. #6
YESTERDAY'S NEWS  
On Monday September 4th at Timonium had 7 winners from the 9-race card (3 Top Selections; payoff in BOLD) having $2 WIN pay-offs of $13.60 (2nd race), $8.40 (3rd), $13.40 (4th), $5.80 (5th), $3.80 (6th), $11.40 (8th) and $5.20 (9th). Of the suggested multi-race wagers hit the R3-R5 50 cent Pick-3 paid $45.45 (cost: $9) and the R8-R9 $2 DOUBLE paid $51.00 (cost: $12). Top Selections in 2017 are 274 for 978 (28.02%). In 2016, Top Selections were 304 for 1,213 (25.02%).
BEST BET of the Day (103: 33-23-16; in 2016 127: 31-29-19) Bring Me Answers (4th race: 5-2 M/L; 7-5 PT) settled off the early pace, raced between foes into the far turn, shifted out four wide and closed to be runner-up and returned $3.20 to PLACE and $2.60 to SHOW.
LONGSHOT PLAY of the Day (89: 14-11-13; in 2016 124: 13-13-16) Northern Prancer (5th race: 8-1 M/L) was SCRATCHED.