The GQ Approach – Timonium September 3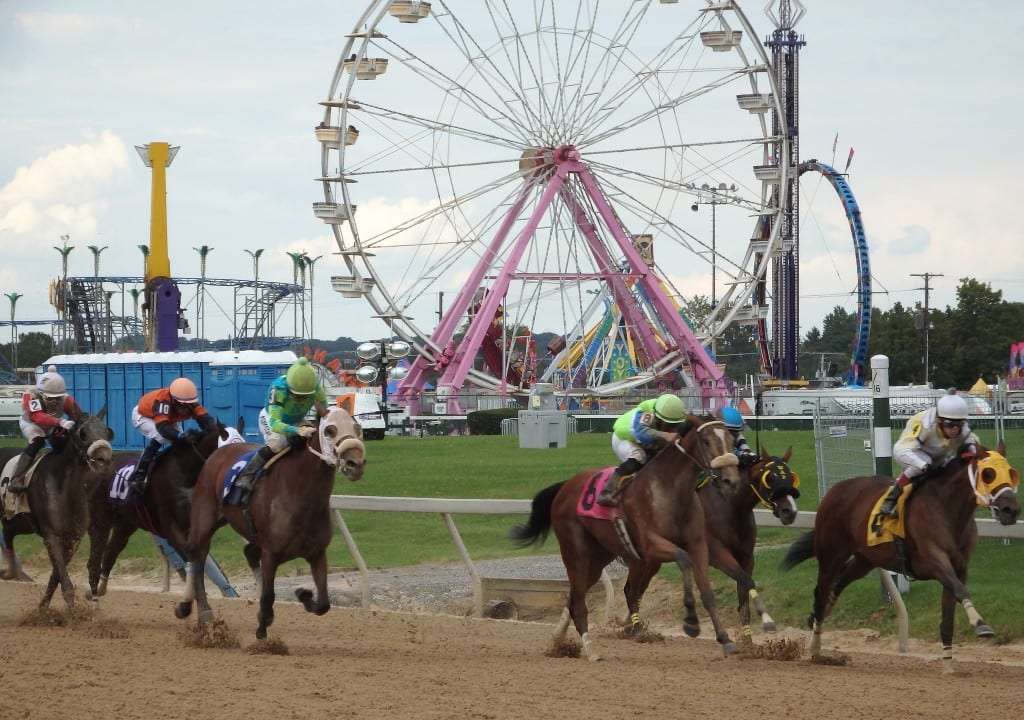 Racing at Timonium. Photo by The Racing Biz.
The GQ Approach features full-card selections from Timonium Fair Grounds for the 7 days of live racing during the Maryland State Fair (Aug. 25-27; Sept. 1-4), Post Time 1:05pm EDT including a daily Best Bet, Longshot Play, and multi-race wagers — including Pick-4s and rolling Doubles and Pick-3s.
 
[su_box title="
Today's Carryovers
" style="glass" box_color="#66ADCC"]
Rainbow Pick 6: not offered at The Big T
Super High 5: not offered at The Big T
Late Pick 5: not offered at The Big T[/su_box]
[su_box title="GQ's Handicapping Tip of the Day" style="glass" box_color="#66ADCC"][stray-random][/su_box]
[su_box title="Best Bet of the Day" style="glass" box_color="#66ADCC"]Race 8 / #6 – Double Whammy (3-1)[/su_box]
[su_box title="Longshot Play of the Day" style="glass" box_color="#66ADCC"] Race 4 / #2 – Red Hot Poker (5-1)[/su_box]
[su_box title="
Multi-race Wagers
" style="glass" box_color="#66ADCC"]
Race 1: $2 Double  1, 2, 6  w/ 4, 6  ($12)
Race 3: $0.50 Pick-3   3, 6, 8  w/ 1, 2, 5  w/ 1, 3, 5  ($13.50)
Race 6: $0.50 cent Pick-4  2, 3, 7  w/ 2, 6, 8  w/ 3, 7  w/ 2, 4, 5  ($27)
Race 8: $2 Double  3, 7  w/ 2, 4, 5  ($12)
[/su_box]
[su_heading size="21″ align="left"]Analysis[/su_heading]
Weather: Partly Cloudy; highs in the low-70's
Projected track conditions… Main: GOOD to FAST; Turf: Non-existent
Post Time for Race 1 is 1:05pm EDT
Race 1
#2 – Citi's Barometer (9-5): One thing for certain, he'll be in front the first time they pass the grandstand and likely the second time 
#6 – Tempietto (3-1): Rough start here on opening day card yet closed ground to third in first start at Tim, shipping in from GP 
#1 – Seventy Niner (3-1): Needs some pace help but should improve on latest effort, his first of '17; last win came here at same distance
Race 2
#4 – Poco Loco (2-1): Was in against a couple gals faster than her, which is hard to imagine and did well to SHOW; faces weaker today
#6 – Wildcat Gaze (7-2): Has the most wins on dirt in this group; jock should rely on others to soften up top pick on front hoping to catch
#1/1A – Just Funnin' Ya/Pop of Color (5-2): Like one, you get both; #1A will be heard from early in hopes that entrymate comes on late
Race 3
#6 – Pompano (5-2): Reversal of tactics from closing ground in debut to trying to outrun fellow NJ-breds early; 3rd time is the charm?
#8 – Noble Nation (6-1): Flashed triple-digit early pace number in second start then faded when travelling 5 furlongs; goes 4f today
#3 – Krantiguru (6-1): Might be the quickest in this group going 4 furlongs; jock/trainer combo have won 2 of 3 outings 
Race 4
#2 – Red Hot Poker (5-1): $$ LONGSHOT $$ First-time starter work tab is nothing special but trainer is due; bloodlines relished 2-turns
#5 – Caldonia (3-1): Well-backed at the windows (5-2) in debut coming up a head short of "W"; any improvement earns her a diploma 
#1 – Flying Phillip's (9-5): Adds Lasix for third career start; bridesmaid in latest was a vast improvement over debut 
Race 5
#3 – Dirty Laundry (5-2): Looked very sharp last Sunday disposing of N2L runners; faces next level but none of these gals will catch her 
#5 – Called in Sick (3-1): Might be able to match strides with top pick early as she exits synthetic and turfs; third race after layoff angle
#1 – Sweethearted (5-1): Cut back in distance after troubled trip against similar foes last week; runner-up last year at this distance
Race 6
#3 – Wondering Ways (3-1): West coast shipper made local debut a winning one against bottom-level maidens; can make it 2-in-a-row
#2 – Delta Force (8-1): Cuts back from three-turn outing when showing early speed then tiring; looks for first in-the-money finish on dirt
#7 – Enduring Warrior (6-1): Takes appropriate class drop seeking second career win in 17th start; always in the mix 9 times 2nd and 3rd 
Race 7
#8 – Hashtag Selfie (5-2): Exits game try on turf which followed gate-to-wire maiden win on dirt; not much other speed in here
#2 – Holiday Magician (6-1): Trailed throughout in 4-furlong sprint which is not her cup of tea; added distance will be welcomed 
#6 – Keep Your Distance (8-5): Morning Line favorite been flashing early speed on turf but hasn't been that quick on dirt; vulnerable
Race 8
#6 – Double Whammy (3-1): *** BEST BET *** Pim resident was shipped to Sar to run 6th? Returns to race in Str Alw where he feasted
#7 – Transparent (9-5): Prx shipper has earned lofty speed figures of late, winning 2 of past 3 while losing ground on turns 
#4 – Ten Hut (7-2): Goes for natural Hat Trick but w/o same jock who bails for top pick; in best form of his career, sky's the limit 
Race 9
#2 – Sweet Steppin (4-1): Surprisingly one of a few who have early speed; draw a line thru the turf try and see bullet work since last race
#4 – Kendall Ridge (12-1): 4-yr-old has just 3 career starts, one per year until today; had a trio of excuses in latest; banking on quick start 
#5 – Jameson Spice (6-1): Showed brief early speed in first start since Feb. '15 a few weeks ago; nice workouts indicate improvement
YESTERDAY'S NEWS  
On Saturday September 2nd at Timonium had 8 winners from the 10-race card (5 Top Selections; payoff in BOLD) having $2 WIN pay-offs of $7.20 (1st race), $8.20 (2nd), $3.80 (3rd), $7.00 (4th), $2.80 (5th), $5.40 (6th), $3.00 (7th), $5.40 (8th) and $5.60 (9th). Top Selections in 2017 are 268 for 960 (27.92%). In 2016, Top Selections were 304 for 1,213 (25.02%).
BEST BET of the Day (101: 33-22-16; in 2016 127: 31-29-19) Our Turn (3rd race: 7-2 M/L; 2-1 PT) was off slow and appeared to never be comfortable on the sloppy surface, was wide in the stretch and never threated, finishing 7th.
LONGSHOT PLAY of the Day (88: 14-10-13; in 2016 124: 13-13-16) Leroy Brown (10th race: 8-1 M/L) was SCRATCHED.