The GQ Approach – Timonium September 2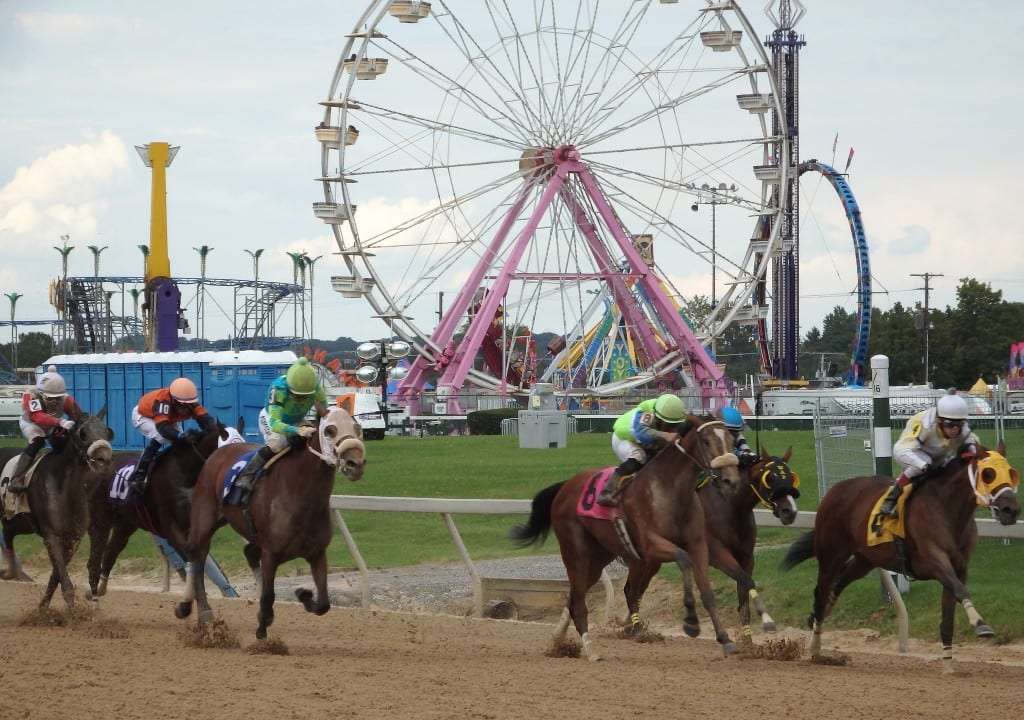 Racing at Timonium. Photo by The Racing Biz.
The GQ Approach features full-card selections from Timonium Fair Grounds for the 7 days of live racing during the Maryland State Fair (Aug. 25-27; Sept. 1-4), Post Time 1:05pm EDT including a daily Best Bet, Longshot Play, and multi-race wagers — including Pick-4s and rolling Doubles and Pick-3s.
 
[su_box title="
Today's Carryovers
" style="glass" box_color="#66ADCC"]
Rainbow Pick 6: not offered at The Big T
Super High 5: not offered at The Big T
Late Pick 5: not offered at The Big T[/su_box]
[su_box title="GQ's Handicapping Tip of the Day" style="glass" box_color="#66ADCC"][stray-random][/su_box]
[su_box title="Best Bet of the Day" style="glass" box_color="#66ADCC"]Race 3 / #1 – Our Turn (7-2)[/su_box]
[su_box title="Longshot Play of the Day" style="glass" box_color="#66ADCC"] Race 10 / #5 – Leroy Brown (8-1)[/su_box]
[su_box title="
Multi-race Wagers
" style="glass" box_color="#66ADCC"]
Race 1: $2 Double  1, 4, 5  w/ 2, 6  ($12)
Race 3: $0.50 Pick-3   1, 6, 7  w/ 1, 2, 5  w/ 1, 5,  8  ($13.50)
Race 7: $0.50 cent Pick-4  1, 4, 7  w/ 2, 7  w/ 3, 4, 6  w/ 1, 5, 7  ($27)
Race 9: $2 Double  4, 6  w/ 1, 5, 7  ($12)
[/su_box]
[su_heading size="21″ align="left"]Analysis[/su_heading]
Weather: Mostly Cloudy w/ 50% chance of showers; highs in the low-60's
Projected track conditions… Main: SLOPPY; Turf: Non-existent
Post Time for Race 1 is 1:05pm EDT
Race 1
#1/1A – Witchy's Laststand/It's My Way (6-5): If you like one you get both parts of this entry; multi-level class droppers ship from DE 
#5 – Alive After Five (3-1): Showed a bit of late interest when 5-1 in debut; for 2nd start blinkers on, testicles off (aka gelded) 
#4 – Gorsuch (8-1): Best of 3 career outings came on turf; early speed in latest then faded w/ addition of blinkers; adds Lasix 
Race 2
#2 – Williamsburg (3-1): Rarely gets beat headed into the first turn but problem has been holding off rivals late; 3rd start after layoff
#6 – Waiscott (8-5): May not be as quick as #2 but that bullet work (34 3/5) is rare seen over Lrl dirt; steep drop puts caution flag up
#5 – Tradfest (2-1): First try after claim out of a dominant win was ugly; another speedball who is 1 for 1 on a sloppy track
Race 3
#1 – Our Turn (7-2): ** BEST BET ** Debut for F-T Tim Oct.'16 bargain ($2,500) shows quick works in A.M.; jock/trainer combo 1 for 1
#6 – Shivoo (9-5): Trainer is the best in the business with "babies" ships in from Kee; filly takes on boys as she did when 2nd at AP
#7 – Kingdom Minded (2-1): Chased front-running winner in vain here last weekend when second best by far v. a weaker group
Race 4
#1 – Put It Forward (2-1): Loves a sloppy track (5:1-2-1) when not racing on turf or synthetic of late; beat $5k open claimers 2 back 
#2 – Dazzling Okie (5-2): Another class drop in second start for trainer since $7,500 claim; was upset by top pick in latest
#5 – Seventy Niner (15-1): Not a bad late run last week here in first start since Christmas Eve; extra distance will help
Race 5
#1 – My Pal Jerry (7-2): After 3 turf races at start of career, didn't care for one mile distance and/or dirt; faces much easy foes today
#8 – Radar Gun (7-5): Surprise runner-up behind prohibitive favorite here last Sat. when 19-1 and hitting the board first time in 10 races
#5 – Appease (5-2): Connections have had low-expectations from the start offering gelding for $5k now in all 3 starts; adds blinkers
Race 6
#2 – Great Smoke (3-1): 1 for 1 at The Big T; part of Exacta in more than half his starts; just 1 of 2 in here dropping in class; likes it wet
#1 – Normal Practice (15-1): Troubled trip in latest when racing w/o Lasix; fits race (for non-winners in '17) perfectly, last won Dec. 29 
#6 – Sugimoto (9-2): Last start was 4+ months ago when jock immediately pulled him out of race; work pattern indicates he's ready 
Race 7
#1/1A – Broad Expanse/Include It (5-2): Nicely bred duo from Fitzhugh Farm just up J'ville Pike appear primed for first of career 
#4 – Bat (6-1): Trainer must have corrected something while bringing this one along in the A.M. as she's clocked 3 bullets after 3-mo gap 
#7 – Swingstage (7-2): Rallied to be runner-up in debut after exiting the gate a bit slow; moves up in class; trainer 24% in runners 2nd try
Race 8
#7 – Victor Newman (7-2): Maiden is the very quick from the gate but gets gassed just as fast; held his own v. winners here last year
#2 – Miss My People (3-1): Doesn't have the early speed like others but can be close enough early to pass leg-weary foes late
#4 – Coral Ridge (8-5): Can boast best speed figure which came in latest, when 3rd at Mth but that was 2+ months ago; no works since 
Race 9
#6 – Ice Tea (6-5): Only runner in here with 3 wins as all others have 2; rough start in last race compromised chances but ran on late
#4 – Rarified Air (6-1): Goes for the natural Hat Trick as this gray has never run a bad race on dirt… fast, muddy or sloppy
#3 – Pachi Cruze (8-1): Stablemate of the #4 takes a big drop in class; last year competed in stakes races at WO; 3rd race after layoff
Race 10
#5 – Leroy Brown (8-1): $$ LONGSHOT $$ Been racing on the grass; best finishes on dirt a pair of 4ths in 4 tries at this $5k level
#1 – Stillburnin (5-2): Burned by a much better here last Sat.; comes right back and might get lucky as only 2 wins came on wet track
#7 – Three Beans (4-1): Speed figures have been ascending since exiting a turf try 4 races back; likes the distance but first start at Tim 
YESTERDAY'S NEWS  
On Friday September 1st at Timonium had 5 winners from the 9-race card (2 Top Selections; payoff in BOLD) having $2 WIN pay-offs of $11.40 (1st race), $4.20 (2nd), $3.40 (3rd), $4.00 (7th) and $5.80 (9th). Of the suggested multi-race wagers hit the R1-R2 $2 DOUBLE paid $32.20 (cost: $12). Top Selections in 2017 are 263 for 950 (27.68%). In 2016, Top Selections were 304 for 1,213 (25.02%).
BEST BET of the Day (100: 33-22-16; in 2016 127: 31-29-19) Warleigh (6th race: 5-2 M/L; 1-1 PT) rated two wide, bid outside CLASSIC SALSA near the three eighths, dueled to late and gave way grudgingly missing the victory by a half-length to return $2.60 to SHOW.
LONGSHOT PLAY of the Day (88: 14-10-13; in 2016 124: 13-13-16) Boss Lady Platinum (1st race: 12-1 M/L; 6-1 PT) cleared early, set the pace two wide, was hooked in upper stretch and weakened late to return $3.00 to SHOW.