The GQ Approach – Timonium September 1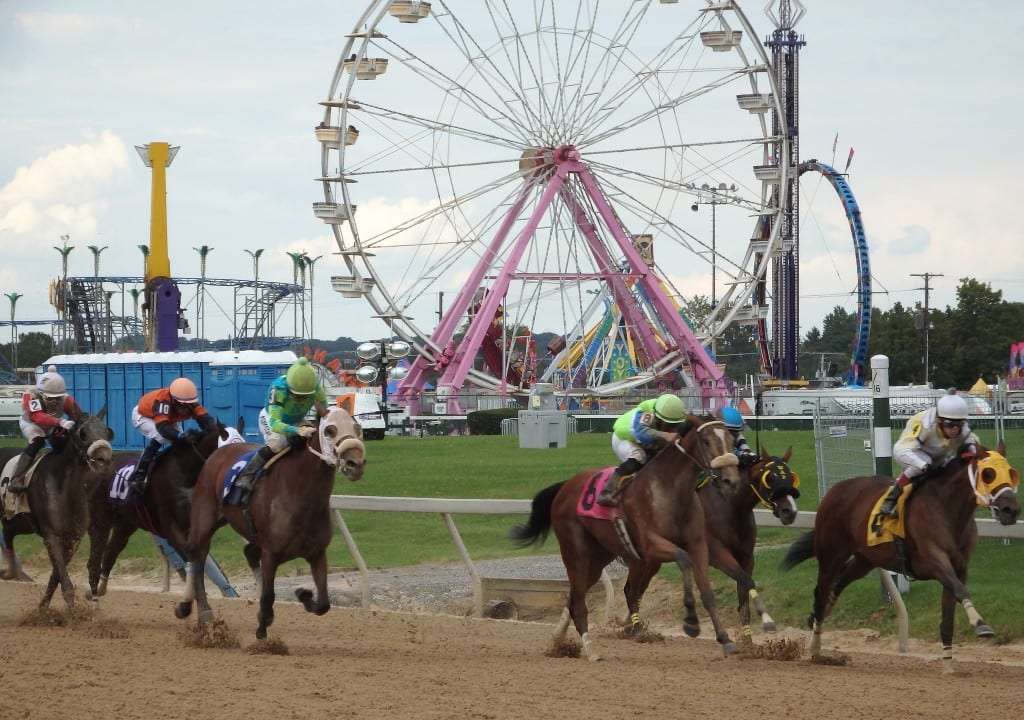 Racing at Timonium. Photo by The Racing Biz.
The GQ Approach features full-card selections from Timonium Fair Grounds for the 7 days of live racing during the Maryland State Fair (Aug. 25-27; Sept. 1-4), Post Time 1:05pm EDT including a daily Best Bet, Longshot Play, and multi-race wagers — including Pick-4s and rolling Doubles and Pick-3s.
 
[su_box title="
Today's Carryovers
" style="glass" box_color="#66ADCC"]
Rainbow Pick 6: not offered at The Big T
Super High 5: not offered at The Big T
Late Pick 5: not offered at The Big T[/su_box]
[su_box title="GQ's Handicapping Tip of the Day" style="glass" box_color="#66ADCC"][stray-random][/su_box]
[su_box title="Best Bet of the Day" style="glass" box_color="#66ADCC"]Race 6 / #5 – Warleigh (5-2)[/su_box]
[su_box title="Longshot Play of the Day" style="glass" box_color="#66ADCC"] Race 1 / #6 – Boss Lady Platinium (12-1)[/su_box]
[su_box title="
Multi-race Wagers
" style="glass" box_color="#66ADCC"]
Race 1: $2 Double  5, 6  w/ 1, 2, 7  ($12)
Race 3: $0.50 Pick-3   1, 3, 5  w/ 1, 3, 4  w/ 2, 4, 5  ($13.50)
Race 6: $0.50 cent Pick-4  2, 5  w/ 4, 5, 7  w/ 2, 4, 6  w/ 1, 3, 8  ($27)
Race 8: $2 Double  4, 6  w/ 1, 3, 8  ($12)
[/su_box]
[su_heading size="21″ align="left"]Analysis[/su_heading]
Weather: Mostly Cloudy; highs in the low-70's
Projected track conditions… Main: FAST; Turf: Non-existent
Post Time for Race 1 is 1:05pm EDT
Race 1
#6 – Boss Lady Platinium (12-1): $$$ LONGSHOT $$$ Gets back to route,scene of lone career win; won't face pressure like in latest     
#5 – Postino's Secret (7-2): Zenyatta-like late run at Mnr after being stopped at 5/16th pole; needs pace help from unlikely sources
#4 – Sweet Curls (8-5): Best runner on paper but race is not run on paper; unimpressive dirt record (4:0-0-3), doesn't want to pass foes
Race 2
#7 – Mettemarlamelva (5-2): Beaten favorite over muddy Lrl surface in 1st start since late Jan. which she won; perfect for this condition
#1 – Read All About It (6-1): Stuck on a dead, muddy rail yet kept trying against #4 & #7 in here; consistent (4th) in all 3 starts w/ trainer
#2 – Flatter's Secret (7-2): Speed figures has been on steady improve while facing the boys in 3 of past 4 at this level; gets aggressive jock
Race 3
#3 – Ruby's Fire (8-1): Bridesmaid in debut in slop at Lrl when taken off the turf; connections won on Sunday w/ another maiden sprinter
#1 – Marvelous Martha (9-2): 1st-time starter was modest $7k F-T Tim yearling purchase; unraced Dam's siblings were very good & fast
#5 – Shape of You (1-1): Game v. boys when failed as lukewarm favorite here last Saturday; no worse than 3rd in 4 career starts 
Race 4
#1 – War and Thunder (9-5): Only runner in the field who is willing to pass others yet got caught at the wire here 4 years ago on the lead
#3 – Noble Prince (6-5): Jock/trainer been on fire thru first 3 days at The Big T; speed of the speed never off-the-board in 8 starts at 4f
#4 – Eight Da Hardway (6-1): Disappointing run at CT just last week; must out sprint #3 to the lead for a chance to win; has faced better 
Race 5
#4 – Soft Landing (7-2): Courageous Cat NY-bred makes debut; Jan. foal has jump on the other 2-year-old gals maturity-wise
#2 – Bionda (4-1): Quick from the gate in first career start at Pen but lacked stamina beyond 3 furlongs; takes hasty drop in class
#5 – Toquette (3-1): Jock had choice of which A. Farrior trainee to ride and landed here; ships in from NY after brief speed on Sar turf
Race 6
#5 – Warleigh (5-2): *** BEST BET *** Runner-up to in past two efforts as winner from latest came back to win again here on Sunday
#2 – Mr. Benz (10-1): 13 of 16 career starts have been on turf but last outing was on dirt resulting in win and best speed figure ever 
#1 – Final Forum (7-2): Claimed out of last start takes obligatory step up to in class but has faced this level of quality in the past 
Race 7
#4 – Noble House (5-2): Got lead rather easily when equipped with first time with blinkers in first start for new connections; bullet works
#7 – Utter Magic (2-1): Cold on the board (31-1) in both outings but much improved in second start when hustled to lead, salvaged 3rd 
#5 – Tymochtee Creek (7-2): Led early in career debut in quick fractions for a 7-furlong event then not surprisingly surrendered 
Race 8
#4 – Dundalk (9-2): Troubled trip on the grass when beaten favorite can make amends returning to dirt and getting more distance Hon 
#6 – Willie B Mine (3-1): Didn't handle turns in only start at Tim in '15 when a rank outsider; needs early lead to win, no guarantee here 
#2 – Bo Vuk (5-1): On the shelf since Dec.; shows 4 A.M. drills to get fit for today as he's won following a similar layoff; needs pace help 
Race 9
#3 – Union Blues (7-2): Purchased as a weanling in '14 for $100k is offered here for $10k as connections look to cut their losses
#8 – Wild Wigglin Jack (6-1): Draw a line thru turf races and you see a solid runner on dirt who earns a check every time
#1 – Cherokee Spirit (3-1): Suspect huge drop in class and jock bailing to ride #3 doesn't help ease suspicion but is classiest of this field
YESTERDAY'S NEWS  
On Sunday August 27th at Timonium had 7 winners from the 10-race card (5 Top Selections; payoff in BOLD) having $2 WIN pay-offs of $12.60 (3rd race), $8.60 (4th), $5.80 (5th), $7.20 (7th), $4.20 (8th), $20.80 (9th) and $7.80 (10th). Of the suggested multi-race wagers hit the R7-R10 $0.50 Pick-4 paid $146.70 (cost: $40.50) and the R9-R10 $2 DOUBLE paid $141.60 (cost: $12). Top Selections in 2017 are 261 for 941 (27.74%). In 2016, Top Selections were 304 for 1,213 (25.02%).
BEST BET of the Day (99: 33-22-15; in 2016 127: 31-29-19) Homespun Hero (9th race: 9-2 M/L; 4-1 PT) saved ground but lacked a solid bid to finish 5th, just over 4-lengths behind the winner.
LONGSHOT PLAY of the Day (87: 14-10-12; in 2016 124: 13-13-16) Dirty Laundry (4th race: 6-1 M/L; 3-1 PT) sprinted clear early, dictated the issue in the two path, moved away to a lengthy lead into the lane and held sway under a drive to win by three-and-three-quarter-lengths to return $8.60 to WIN, $3.40 to PLACE and $3.00 to SHOW.