The GQ Approach – Timonium August 27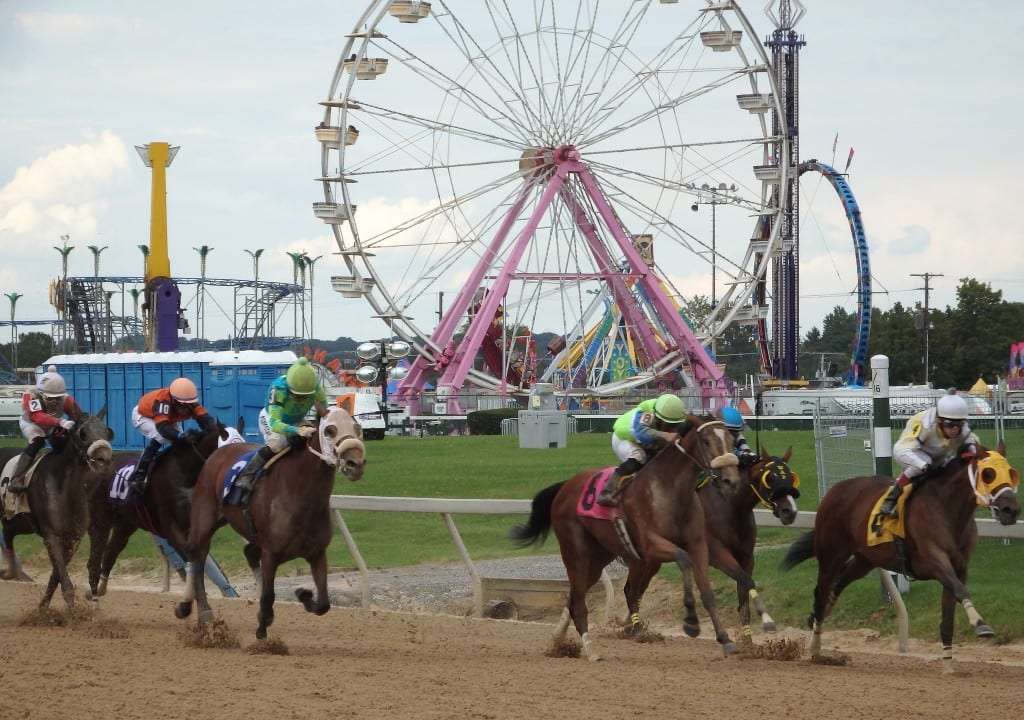 Racing at Timonium. Photo by The Racing Biz.
The GQ Approach features full-card selections from Timonium Fair Grounds for the 7 days of live racing during the Maryland State Fair (Aug. 25-27; Sept. 1-4), Post Time 1:05pm EDT including a daily Best Bet, Longshot Play, and multi-race wagers — including Pick-4s and rolling Doubles and Pick-3s.
 
[su_box title="
Today's Carryovers
" style="glass" box_color="#66ADCC"]
Rainbow Pick 6: not offered at The Big T
Super High 5: not offered at The Big T
Late Pick 5: not offered at The Big T[/su_box]
[su_box title="GQ's Handicapping Tip of the Day" style="glass" box_color="#66ADCC"][stray-random][/su_box]
[su_box title="Best Bet of the Day" style="glass" box_color="#66ADCC"]Race 9 / #2 – Homespun Hero (7-2)[/su_box]
[su_box title="Longshot Play of the Day" style="glass" box_color="#66ADCC"] Race 4 / #4 – Dirty Laundry (6-1)[/su_box]
[su_box title="
Multi-race Wagers
" style="glass" box_color="#66ADCC"]
Race 1: $2 Double  2, 6  w/ 3, 4, 5  ($12)
Race 3: $0.50 Pick-3   1, 3, 6  w/ 2, 4, 7  w/ 1, 5, 6  ($13.50)
Race 7: $0.50 cent Pick-4  5, 9, 10  w/ 1, 4, 6  w/ 2, 5, 7  w/ 2, 3, 4  ($40.50)
Race 9: $2 Double  2, 5  w/ 2, 3, 4  ($12)
[/su_box]
[su_heading size="21″ align="left"]Analysis[/su_heading]
Weather: Mostly Sunny; highs in the low-80's
Projected track conditions… Main: FAST; Turf: Non-existent
Post Time for Race 1 is 1:05pm EDT
Race 1
#6 – Feel Proud: Runner-up in last effort after being pace-setter; has improved speed figures in each of last three starts
#2 – Story Spinner: 3-year-old gray takes steep class drop after three consecutive double-digit, most recent two on turf
#3 – Invisible Crown: Finished a couple lengths behind top pick in latest over a sloppy Lrl surface; lone win came on turf
Race 2
#3 – Beverly Mine: Has won and been runner-up in only two starts at this distance; trainer/jock combo have won w/ 4 of 8 starters
#4 – Nastylittlething: Early speed rules at The Big T and this gal ran awfully quick, ships in from Prm, adds Blinkers, jocks only mount
#5 – Unbridled Escape: If any runner can win from off the pace, this filly can which would give trainer first win in '17 (0 for 52)
Race 3
#3 – Moonshine Lullaby: Claimed out of sharp debut on turf but faded in next start v tougher on dirt; drops a few levels, adds Lasix
#6 – Sentimental Memory: Has never been off-the-board (4:0-3-1), hasn't raced since last Sept. but shows a nice string of 6 works
#1 – Magnificentmindset: Offered for $16k after picking up minor awards against MSW company in first four starts of career
Race 4
#4 – Dirty Laundry (6-1): $$$ LONGSHOT $$$ Filly tested the turf in last two but doesn't have stamina to go more than 4½; goes 4 today
#2 – Fireheart (15-1): Ran just 8 days ago, flashing early speed before weakening in the final furlong, could pull upset w/ same effort here
#7 – Joel's Senorita (7-5): Prohibitive favorite makes first start since Apr at Tam when beaten favorite; protected in this Optional Claimer 
Race 5
#5 – Bay of Cats (9-2): First-time starter hails from barn whose runners can win at first asking; scratched on Friday for easier spot here?
#6 – Menorah Lora (15-1): A pair of third place finishes from two career starts; ran big in latest to rally after rearing at the break
#1 – Arbutus (7-2): Exits tough debut race when fifth as runner-up came back to win here on Friday; adds Blinkers 
Race 6
#7 – Brooksie Robinson (8-5): Nice tribute to O's HOF 3B who is a huge horse racing fan; unlike namesake she is fast; gate-to-wire threat
#8 – Magic Cookie (10-1): She does well when she can get the early lead, which could be tough in here but worth using at a price
#4 – Wild Cheers (6-1): Trainer shipped a number from his barn in FL to run here; this filly broke her maiden here last year; big class drop
Race 7
#10 – Legend Keeper (3-1): Nearly lit-up toteboard when 34-1 in latest, sprinting to an easy lead but caught at the wire; 1 for last 24 
#5 – Full Quest (8-1): A suspect class drop to bottom level as this 3-year-old makes first start in 7-months though work tab looks good
#9 – Humbolt Street (7-2): Has been improving with every start this year; lightbulb may have turned on winning for second-time in latest
Race 8
#6 – Next Best Thing (7-5): Looks like a good thing as connections take advantage of generous timeline to qualify for Alw5000s
#4 – Lemon Lover (5-2): Seeks natural Hat Trick after winning similar event in first race after claim for $5k; 1 for 1 at The Big T
#1 – Janealee (30-1): Rank outsider but field is filled with early speed types which sets up for a pace breakdown giving this Closer hope
Race 9
#2 – Homespun Hero (7-2): *** BEST BET *** Nice spot after restricted stakes turf try; has faced better in KY and FL prior to claim
#5 – Hickory Hill (3-1): Just passed AlwN1x condition but continues to improve with age; hasn't been off-the-board all year (7:4-1-2) 
#7 – Negrito (5-2): Game competitor makes third start for high win percentage barn; no shame in being runner-up to a local monster
Race 10
#4 – Dr. Bolt (9-2): Last five outings have been eventful in one way or another; can boast best last race speed figure facing open claimers
#2 – Dukin' With Dale (9-2): Connections place their horses in races where they can be successful; improving speed figures since claim
#3 – D N A Approved (12-1): Jekyll & Hyde type of runner who seems to run big after a bad loss; losing by 18-lengths would qualify as that 
YESTERDAY'S NEWS  
On Saturday August 26th at Timonium had just 4 winners from the 10-race card (2 Top Selections; payoff in BOLD) having $2 WIN pay-offs of $4.20 (1st race), $3.60 (2nd), $2.40 (3rd), $3.00 (4th) and $4.80 (9th). Of the suggested multi-race wagers hit the R1-R2 $2 DOUBLE paid $8.40 (cost: $12). Top Selections in 2017 are 256 for 931 (27.50%). In 2016, Top Selections were 304 for 1,213 (25.02%).
BEST BET of the Day (98: 33-22-15; in 2016 127: 31-29-19) Seventy Niner (5th race: 9-2 M/L; 7-1 PT) no factor early, drifted into the five-path turning for home making little impact while finishing 6th just two-lengths behind the winner.
LONGSHOT PLAY of the Day (86: 13-10-12; in 2016 124: 13-13-16) Crazy Bernice (2nd race: 15-1 M/L; 10-1 PT) dueled between rivals for the lead in a pressured pace then faltered after five furlongs to finish 9th.