The GQ Approach – Timonium August 25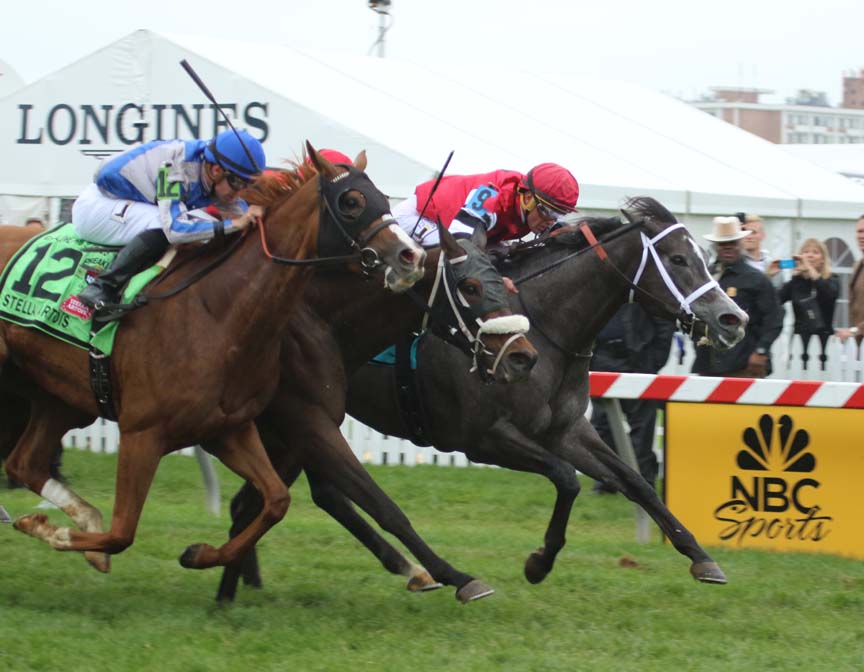 Mizz Money (#9) held off Vielsalm (in between) and Heath (#12) to win the Grade 3 Gallorette. Photo by Laurie Asseo.
The GQ Approach features full-card selections from Timonium Fair Grounds for the 7 days of live racing during the Maryland State Fair (Aug. 25-27; Sept. 1-4), Post Time 1:05pm EDT including a daily Best Bet, Longshot Play, and multi-race wagers — including Pick-4s and rolling Doubles and Pick-3s.
 
[su_box title="
Today's Carryovers
" style="glass" box_color="#66ADCC"]
Rainbow Pick 6: not offered at The Big T
Super High 5: not offered at The Big T
Late Pick 5: not offered at The Big T[/su_box]
[su_box title="GQ's Handicapping Tip of the Day" style="glass" box_color="#66ADCC"][stray-random][/su_box]
[su_box title="Best Bet of the Day" style="glass" box_color="#66ADCC"]Race 6 / #9 – Hercatwillfoolu (5-2)[/su_box]
[su_box title="Longshot Play of the Day" style="glass" box_color="#66ADCC"] Race 4 / #10 – Dear Charlotte (12-1)[/su_box]
[su_box title="
Multi-race Wagers
" style="glass" box_color="#66ADCC"]
Race 1: $2 Double  1, 6  w/ 3, 6, 7  ($12)
Race 3: $0.50 Pick-3   1, 4, 8  w/ 2, 4, 10  w/ 3, 4, 6  ($13.50)
Race 6: $0.50 cent Pick-4  5, 9  w/ 5, 8, 9  w/ 3, 8, 9  w/ 4, 10  ($18)
Race 8: $2 Double  3, 8, 9  w/ 4, 10  ($12)
[/su_box]
[su_heading size="21″ align="left"]Analysis[/su_heading]
Weather: Mostly Sunny; highs in the low-80's
Projected track conditions… Main: FAST; Turf: Non-existent
Post Time for Race 1 is 1:05pm EDT
Race 1
#1 – Cherokee Jam (7-2): Rough start in debut at Del; switches trainers, adds Lasix and blinkers; nice A.M. drill from the gate
#6 – Princess A'go Go (8-1): Couldn't hang with higher class of fillies in first two career starts; trainer has done well with similar class droppers in the past 
#8 – Miss Good Girl (12-1): Has the right rider to be quicker from the gate against weaker foes here
Race 2
#7 – Northern Prancer (7-2): Skipping a condition but has late foot to chase down all the early speedsters 
#6 – Sippy Cup (3-1): Buried the #2 and #7 in gate-to-wire score for different barn two back; will have company on the front end today 
#3 – My Adeline (5-1): Beaten favorite at CT in last outing; has a win and 3rd from two starts at this distance 
Race 3
#4 – Smile for Eternity (7-2): Quickest from the gate in both career starts against tough customers in the Spring but on the bench since; will need to carry speed further 
#1 – Counseling (5-1): First start since debut in Feb. when he displayed early speed; a trio of workouts indicates it might be Graduation Day 
#8 – Larrikin (10-1): 0 for 7 but none have been on natural dirt; works at Pim since being claimed shows he can handle it
Race 4
#10 – Dear Charlotte (12-1): $$$ LONGSHOT $$$ Draw a line through turf races and she has best last dirt race speed figure of this bunch 
#2 – Leola Lily (3-1): Might be able to outlast only other front-runner (#8) in here while holding off all late-comers
#4 – Baltimore Beauty (6-1): Returns to dirt and drops to level where she's earned SHOW purse in all four tries
Race 5
#6 – Puget Sound (5-2): 12-time winner away since Apr. fits condition perfectly; romped versus similar earlier this year
#3 – Tempietto (5-1): Invader from FL can get it done with a clean trip dropping from open claimers
#4 – Supah Czech (10-1): Jocks only mount on the card while winning at 28% w/ trainer over the past year
Race 6
#9 – Hercatwillfoolu (5-2): *** BEST BET *** Bridesmaid in debut while 3rd & 4th place finishers came back to duplicate their efforts last week stepping up to MSW 
#5 – Bay of Cats (6-1): First time starter from solid barn has great work pattern w/ a bullet from the gate 5 days ago
#3 – Sun Dress (10-1): Speedy gal was runner-up at Kee in debut at 34-1; ran-off prior to last start at Pim in May
Race 7
#5– Socially Driven (5-1): Exits visually impressive win against N2L as runner-up that day came back to win at Lrl last weekend
#8 – Truly Hot (8-1): Drops in class after beating N2L; previously faced tougher gals while picking up minor awards
#9 – Next Street (10-1): 3-year-old is a 5-time winner who exits an easy score when dropped to $5k; could catch leg-weary rivals late
Race 8
#9 – Carolina Gold (3-1): Pen-based trainer K. Patterson is 6 for 6 in the last two years at The Big T… enough said! 
#3 – Krista's Persona (9-5): Cut back from 6 furlongs gives best shot to win for first time since trainer J. Ness claim 5 races back
#8 – Bohemian Bliss (9-2): Steps up a few class levels after claim last month but is the speed of the speed and could outlast the others 
Race 9
#10 – Sam's Will (8-5): Competitive at Prx versus much better; jock/trainer combo have gotten to Winners' Circle at 41% clip in the past year 
#4 – Just Been Jammin (2-1): American Pharoah owners paid $200k for this guy 3 years ago; he can be yours for $5k today; last start on dirt was Feb. '16 
#5 – Chief Tarhe (15-1): Huge class drop but it's appropriate after losing last two by combined 70 lengths
YESTERDAY'S NEWS  
On Sunday August 20th at Laurel, Closing Day of the Summer Meet had 8 winners from the 11-race card (3 Top Selections; payoff in BOLD) having $2 WIN pay-offs of $6.00 (1st race), $4.00 (2nd), $9.40 (4th), $4.40 (6th), $9.60 (7th), $14.60 (8th), $5.60 (10th) and $10.40 (11th). Of the suggested multi-race wagers hit the R1-R2 $2 DOUBLE paid $13.80 (cost: $18) and the R10-R11 $2 DOUBLE paid $32.80 (cost: $12). Top Selections in 2017 are 251 for 912 (27.52%). In 2016, Top Selections were 304 for 1,213 (25.02%).
BEST BET of the Day (96: 32-22-15; in 2016 127: 31-29-19) Can'ttakeitwithyou (6th race: 3-1 M/L; 6-5 PT) stumbled leaving the gate nearly losing the rider who collected himself, allowed mount to settle in behind the dueling leaders, swung 3-wide on the turn while patiently ridden and took command when asked at the eighth pole to win by three-lengths in hand and returned $4.40 to WIN, $3.40 to PLACE and $2.60 to SHOW.
LONGSHOT PLAY of the Day (84: 13-10-12; in 2016 124: 13-13-16) Radial Flyer (4th race: 8-1 M/L; 7-1 PT) away alertly, gave hard pursuit three wide, was put to the whip past the three eighths, stayed on to about mid-stretch then weakened to finish 5th.