The GQ Approach – Laurel August 20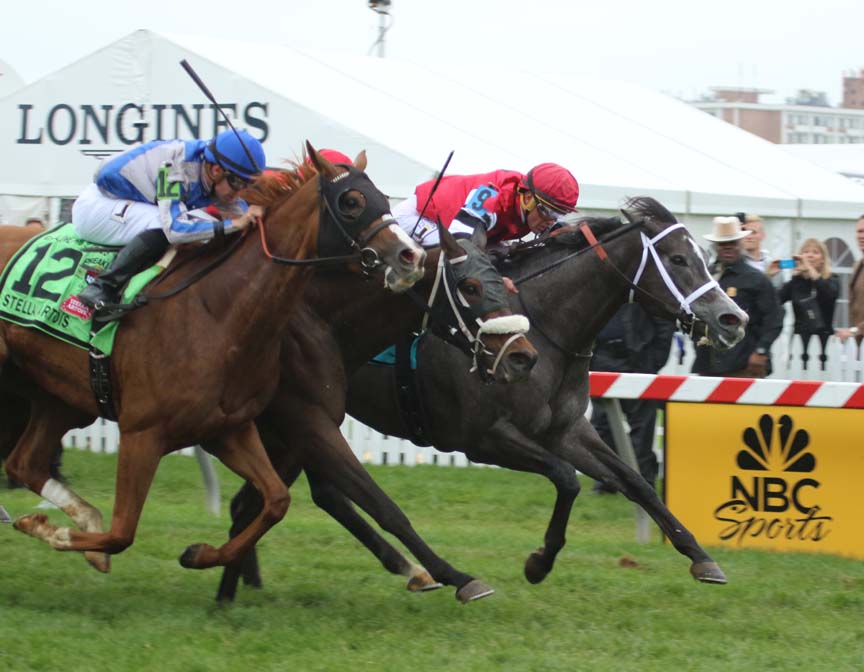 Mizz Money (#9) held off Vielsalm (in between) and Heath (#12) to win the Grade 3 Gallorette. Photo by Laurie Asseo.
The GQ Approach features full-card selections from Laurel Park for the live summer racing meet, Post Time 1:10pm EDT including a daily Best Bet, Longshot Play, and multi-race wagers — including the 20 cent Rainbow Pick-6, 50 cent Early and Late Pick-5s, as well as Pick-4s and rolling Doubles, Pick-3s and the Super High-5.

[su_box title="
Today's Carryovers
" style="glass" box_color="#66ADCC"]
Rainbow Pick 6: $5,017.48
Super High 5: no carryover
Late Pick 5: no carryover[/su_box]
[su_box title="GQ's Handicapping Tip of the Day" style="glass" box_color="#66ADCC"][stray-random][/su_box]
[su_box title="Best Bet of the Day" style="glass" box_color="#66ADCC"]Race 6 / #5 – Can'ttakeitwithyou (3-1)[/su_box]
[su_box title="Longshot Play of the Day" style="glass" box_color="#66ADCC"] Race 4 / #7 – Radial Flyer (8-1)[/su_box]
[su_box title="
Multi-race Wagers
" style="glass" box_color="#66ADCC"]
Race 1: $2 Double  2, 6, 7  w/ 1, 2, 8  ($18)
Race 3: 50 cent Pick-3   4, 9, 14  w/ 2, 7, 8  w/ 1, 2, 9  ($13.50)
Race 7: 50 cent Pick-5  2, 8  w/ 1, 7, 9  w/ 1, 2, 9  w/ 9, 12  w/ 1, 2, 10  ($54)
Race 10: $2 Double  7, 9, 12  w/ 2, 10  ($12)
[/su_box]
[su_heading size="21″ align="left"]Analysis[/su_heading]
Weather: Mostly Sunny; highs in the upper-80's
Scheduled turf races: 1st, 3rd, 5th, 7th, 8th, 10th and 11th
Projected track conditions… Main: FAST; Turf: YIELDING but 3rd, 5th, 7th & 10th are OFF
Post Time for Race 1 is 1:10pm EDT
Race 1 is ON THE TURF
#7 – Emelina (5-2): One to catch as any Capper can see by the PPs she's lone speed
#2 – Conscription (6-1): In latest closed well on a Lrl course that was very speed favoring 
#6 – Broken Bridle (2-1): Shows up for every race getting at least a minor share
Race 2
#1 – Slim (2-1): Second start with Lasix; has hit the board in all four starts at this level
#6 – Barcraft (9-5): Cuts back to sprint after showing early speed then fading going long versus better
#8 – Swamp Chili (8-1): Gets 7 lb. "Bug" who may hustle this colt to the lead hoping to discourage rivals
Race 3 is OFF THE TURF
#9 – Conjecture (9-2): Wanted to revisit level and surface where she was runner-up in first start after claim, but settles for another dirt try to get diploma
#4 – Chobee Girl (5-1): After being bridesmaid in first two starts didn't care for slop when off the turf in latest
#14 – Saturday's Rein (3-1): Draws in from Also-Eligible; was runner-up in last dirt try at this distance… 27 months ago!
Race 4
#7 – Radial Flyer (8-1): $$$ LONGSHOT $$$ Beaten favorite at Pen going long when weakened in the stretch; cuts back to sprint as trainer/jock combo are 4 for 11 at meet
#2 – Irish Handcuffs (5-1): Plenty of foes with early speed steps it up for his late run
#8 – The Iron Bank (6-1): 1 for 20 lifetime; next win on dirt will be his first but 6f might be best distance (6:0-1-4)
Race 5 is OFF THE TURF
#2 – Gold Braid (4-1): Found a home on turf as he won and SHOWed at Mth going two turns in only turf tries of career; cut back to sprint and handles dirt (9:2-3-0)
 #1 – Run From the Nun (6-1): As Post Time favorite had such a horrible break from the gate jock eased him; can make amends today 
#9 – Howboutthemcowboys (12-1): Zeke-less and denied debut on turf but has done well against better on dirt  
Race 6
#5 – Can'ttakeitwithyou (3-1): *** BEST BET *** Gelded since last start and shows quicker works since in the A.M. with a bullet in latest; gets to the front early and never looks back
#8 – Xtra Wisemann (6-1): Drops another level seeking first top three finish of career in 5th start
#7 – Brahms Romp (10-1): Stats indicate trainer switch may put some life into this AR-bred
Race 7 is OFF THE TURF
#8 – Circle of Light (8-1): Decent tries on dirt when a maiden in Tam; trainer/jock combo have gotten to Winners' Circle at a 23% clip over the past year  
#2 – Mr. Benz (6-1): Hopped at the start spotting field about 5-lengths yet still made a nice run down the stretch on a surface that favored early speed
#4 – Zapata (3-1): Gate-to-wire winner at Pen in state-bred AlwN1x; trainer in dogfight for meet training title       
Race 8 is ON THE TURF
#7 – Intrepid Citizen (9-2): Third race after 7-month layoff for this 7-year-old who won in last start and retains hottest riding turf jock at Lrl these days
#9 – Artic North (10-1): Encountered traffic in first start of '17 last month versus other two picks in here yet only lost by less than three-lengths
#1 – Barney Rebel (3-1): Three-race win streak broken in latest on "firm" turf which should be softer today which is to his liking 
Race 9
#9 – Year Book (6-1): Draw a line through turf try; is the speed of the speed and can hold off rivals at this distance
#2 – Enduring Warrior (9-2): Turf-to-dirt angle here; runner-up at this level two back    
#1 – Papacho (6-1): Makes Lrl debut taking a big class drop, blinkers off and back on dirt (5:0-0-2) for first time since last Dec. which was 10 races ago 
Race 10 is OFF THE TURF
#12 – Into Bluegrass (6-1): Wanted to make turf debut in third career start but connections OK with running on dirt after debut win and a third in latest outing 
#9 – If I Was a Boy (8-1): … you wouldn't be in this race restricted to fillies and mares! Should be PT favorite with main track record (14:2-7-2) versus much better
#7 – Bayshore Drive (15-1): Third straight start taken off the turf but last two resulted in a win and runner-up finish
Race 11 is ON THE TURF
#10 – Odlum (3-1): Del-shipper owns a pair of runner-up efforts earning best turf BRIS# of career and tops among rivals last turf race
#2 – Top Prospect (2-1): Winner in this $7,500 open claimer three races back
#1 – Svindahl (5-2): Entrymate (#1A) is a likely scratch; goes for natural Hat Trick on the turf
YESTERDAY'S NEWS  
On Saturday August 19th at Laurel had 6 winners from the 12-race card (4 Top Selections; payoff in BOLD) having $2 WIN pay-offs of $3.00 (1st race), $5.60 (2nd), $2.40 (4th), $6.60 (7th), $6.00 (10th) and $5.60 (12th). Of the suggested multi-race wagers hit the R1-R2 $2 DOUBLE paid $11.20 (cost: $12). Top Selections in 2017 are 248 for 901 (27.52%). In 2016, Top Selections were 304 for 1,213 (25.02%).
BEST BET of the Day (95: 31-22-15; in 2016 127: 31-29-19) Crabcakes (6th race: 5-2 M/L; 2-1 PT) three deep around the turn, chased the pace, bid for the lead entering the stretch, remained on her left lead dueling with HAILEY'S FLIP, drove clear late to win by one-and-one-quarter-lengths and returned $6.60 to WIN, $4.00 to PLACE and $3.00 to SHOW.
LONGSHOT PLAY of the Day (83: 13-10-12; in 2016 124: 13-13-16) Fireheart (11th race: 8-1 M/L; 4-1 PT) sprinted to the lead, got pressure on the turn, ran on gamely entering the stretch but faded in the final 1/16th and finished 5th.