The GQ Approach – Laurel August 19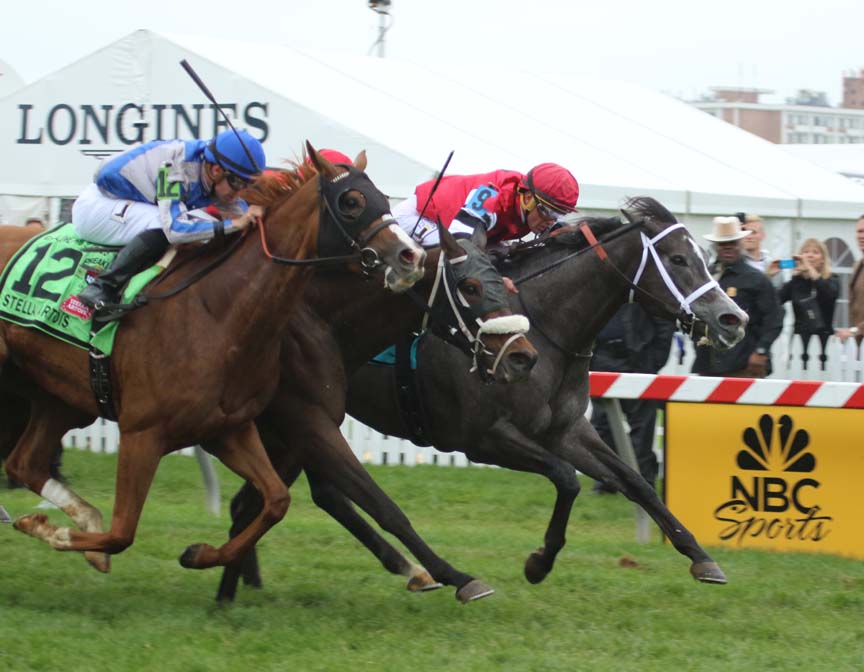 Mizz Money (#9) held off Vielsalm (in between) and Heath (#12) to win the Grade 3 Gallorette. Photo by Laurie Asseo.
The GQ Approach features full-card selections from Laurel Park for the live summer racing meet, Post Time 1:10pm EDT including a daily Best Bet, Longshot Play, and multi-race wagers — including the 20 cent Rainbow Pick-6, 50 cent Early and Late Pick-5s, as well as Pick-4s and rolling Doubles, Pick-3s and the Super High-5.

[su_box title="
Today's Carryovers
" style="glass" box_color="#66ADCC"]
Rainbow Pick 6: $5,017.48
Super High 5: no carryover
Late Pick 5: no carryover[/su_box]
[su_box title="GQ's Handicapping Tip of the Day" style="glass" box_color="#66ADCC"][stray-random][/su_box]
[su_box title="Best Bet of the Day" style="glass" box_color="#66ADCC"]Race 7 / #7 – Crabcakes (5-2)[/su_box]
[su_box title="Longshot Play of the Day" style="glass" box_color="#66ADCC"] Race 11 / #10 – Fireheart (8-1)[/su_box]
[su_box title="
Multi-race Wagers
" style="glass" box_color="#66ADCC"]
Race 1: $2 Double  1, 3  w/ 3, 6, 13  ($12)
Race 3: 50 cent Pick-3   1, 4, 8, 9  w/ 5, 8  w/ 3, 4, 6  ($12)
Race 8: 50 cent Pick-5  1, 6  w/ 7, 8, 10, 12  w/ 2, 6, 8  w/ 7, 10  w/ 5, 6  ($48)
Race 11: $2 Double  7, 10  w/ 4, 5, 6  ($12)
[/su_box]
[su_heading size="21″ align="left"]Analysis[/su_heading]
Weather: Mostly Sunny; highs in the upper-80's
Scheduled turf races: 1st, 2nd, 4th, 6th, 8th and 11th
Projected track conditions… Main: FAST; Turf: GOOD (note: only race 6 and 8 are ON TURF)
Post Time for Race 1 is 1:10pm EDT
Race 1 is OFF THE TURF
#1 – Maryland Pride (7-5): Hunch Play of the Day as Laurel celebrates "Maryland Pride Day"; one of six Sagamore Farm runners on the 12-race card; don't be surprised to see 3-5 on the toteboard as they break from the gate; runner-up in latest which was on the turf
#3 – Love's Legend (6-1): Displayed early speed when sprinting in lone turf start as well as going long on main track; has been wanting to race on it since but Mother Nature hasn't cooperated; steps up into MSW for first time in eighth career start; filly willing to take on the boys 
#2 – Sarah's Treasure (6-1): 0 for 12 with 4 runner-up efforts but first time competing against the boys; has had her share of excuses and will need some pace help
Race 2 is OFF THE TURF
#3 – All Alone (6-1): Always makes presence known in deep stretch while being stuck at this AlwN1x level for over a year exclusively on turf but is 1 for 2 on a fast dirt track; compromised by a speed favoring turf course in latest and will have plenty of pace to run at late; third race after 7-month layoff
#13 – Good Reasoning (9-2): Had same excuse as top pick racing trying to catch foes on a course that favored early speed; ML odds aren't too inviting for a 3-year-old filly facing elders and who has only beaten maidens, though it was in her only start not on the turf, on a sloppy track; G. Motion/E. Prado duo are 26% over the past year
#5 – Kelly Tough (5-1): Another N2L whose maiden win came on fast track going 9 furlongs; should get a nice stalking trip to pad those fast track stats (8:1-3-2)
Race 3
#4 – She Be Fierce (5-1): Take a HUUUUGE step up after trainer C. Gonzalez claimed this filly out of her second start, a maiden win for $25k; adds Lasix and gets 7lb. bug L. Rodriguez who can get mounts to the front while there are no "need the lead" types in this contest; gate-to-wire run should be the plan
#8 – No Picnic (7-2): Interesting that V. Carrasco stays here while he's been Gonzalez's go to rider; had rough start in mud last outing following maiden score; third start after 8-month layoff; note who she ran behind last Fall… Shimmering Aspen and Compelled
#9 – Hell of Afire (8-1): Big reversal in form when easily beating $25kN2L at Prx; was it turf-to-dirt, cut back to one turn or addition of blinkers? Figuring lightning can strike twice
Race 4 is OFF THE TURF
 #8 – Riley's Choice (2-1): Turf… dirt… it won't matter; should be controlling speed or just off the flank of whoever may think they can outlast this filly; get used to seeing folks wearing Under Armour in the Winner's Circle, it might happen a couple more times today 
 #5 – Participate (12-1): IMHO this filly is the only one who could threaten crash the Sagamore (#8) party; makes first start after trainer A. Merryman claim; with hot-riding A. Cintron in the irons it guarantees a gate-to-wire try
#3 – Capucine (9-2): Makes third start of '17 but first on main oval since a non-descript fourth 13-months ago, her worse defeat of her eleven race career; someone has to run third
Race 5
#4 – Miss Jackie G (7-2): MD-bred FTS by Pioneerof the Nile out of a Dixie Union mare certainly has the breeding to be successful and in the right hands to win at first asking as Sagamore Fam trainer H. DePaz wins at 29% clip with debut runners; would be nice to see one of these fillies at CD for KY Oaks
 #6 – Greasedlightning (9-2): Got an education in debut when off slowly but staged a rally in the slop to salvage the SHOW purse; bet to 7-2 that day so you know the connections felt she had talent 
#3 – Jumping Michelle (5-1): Makes third career start but steps back up into MSW after failing as Post Time favorite for $40k tag, fourth by just over three-lengths; second start with blinkers
Race 6 is the Find Stakes ON THE TURF
#10 – Tizzarunner (8-1): Interesting entrant here as this M. Maker trainee hasn't raced since a 10th-place finish in the G3 Commonwealth Turf in Nov. at CD in a race in which he raced up close before tiring late; two back he bested an allowance filed at Kee, a race which produced two next out winners, including Ballagh Rocks, a subsequent G3 winner; trainer is 18% off similar layoffs and will give F. Lynch a leg up
#2 – English Minister (7-2): Ran a big one to just miss last out in the six-furlong Mister Diz; this M. Trombetta trainee just missed in this event a year ago when his rider's objection against the winner was not upheld; he hasn't raced since June but has been working well since and last out proves he can fire off a break but he's tough to endorse on top with just three wins in 35 tries
#9 – Ghost Bay (15-1): Solid sort owns a stake win ('14 MD Juvenile Futurity), as well as two wins on the turf, and took a second allowance two back against a somewhat mediocre group; regular pilot J. Toledo jumps ship for Talk Show Man, but trainer R. Bailes will leg up turf ace H. Karamanos here; he'll need a big one, but he's been running about as well as he ever has of late
Race 7 is the Miss Disco Stakes
#7 – Crabcakes (5-2): *** BEST BET *** There's no shame in being second best to local superstar Shimmering Aspen and the fact a few others and done well in stakes races in next outing; outside of quixotic eighth-place effort in G3 Miss Preakness, this one hasn't been worse than second in six other tries, including a win in MD Juvenile Filly Championship last Dec. and three subsequent stakes runner-up efforts
#3 – Hailey's Flip (8-1): Trainer G. Capuano's filly took a second level allowance decisively at Del on Aug. 7th and has never been worse than third in three tries at the distance; jockey J. Torres will ride a runner with a legit shot with a stalking trip
#6 – Ascertain (7-2): NY-based MD-bred for trainer W. Mott was denied victory in Lrl bow over a muddy track when 1-2 Post Time favorite but she was dead game after doing all the work early, fending off multiple challenges and battling with the eventual winner to the wire; she doesn't need the lead, though as she won two-back by running into the pace
Race 8 is the All Brandy Stakes ON THE TURF
#6 – De Marquee (4-1): When last seen, this H. DePaz trainee was thrashing state-bred allowance horses – but that was over a year ago; the lightly raced Tiz Wonderful mare has some talent, and three wins in six starts, and DePaz can get 'em ready to run off the break, but your guess is as good as anyone else's whether she'll handle a year break and first try against stakes rivals, and short odds exacerbate the uncertainty but due to defections she is looking better
#1 – Northern Smile (9-2): Failed as Post Time versus many in here on MD Million Day when third beaten just a length by #5 and #10 which was one of three stakes in which she's placed to date; thrashed in her last two but not sure how relevant they are given both were at least a quarter-mile longer than this one and most recent was a G3; on best she competes with these but must figure out a way to defeat rivals
#4 – Nickyrocksforpops (10-1): Has run some decent races on the lawn but her best grass race is a win against $16k claimers; returns on fairly short rest after a messy try on the main track just 8 days ago; would be a surprise here but should relish added distance
Race 9
#8 – Cordmaker (9-2): MD-bred FTS by Curlin out of a Polish Numbers mare looked like a million bucks when I laid my eyes on him last Oct. at the Fasig-Tipton Timonium Yearling Sale; was the third highest purchase price at $150k; bank of works simply confirm my faith in him being a runner
#12 – Blame the Kids (10-1): CT based MD-bred FTS by Blame out of a Pulpit mare fetched $40k at F-T Keeneland Sale last Fall; doubt that trainer J. Runco and go to jock A. Bocachica (32% as a team in the past year) would leave the friendly confines of CT to run out at Lrl
#10 – Start With Yes (7-2): Sagamore Farm home/MD-bred FTS by Bernardini out of a Mr. Greeley mare; workouts for this outfit never tip their hand so having blind faith since 29% of their FTS make it to Winners' Circle 
Race 10
#8 – To Blave (5-1): His 1 for 18 record isn't that attractive but has been facing the best of this class while having less than ideal starts going 6 furlongs; with the number of early speed types in here, he'll have a chance to catch them with the addition furlong
#6 – Clubman (3-1): Ran his eyeballs out in latest earning a 96 BRIS#; fear is he could bounce off that effort or he really likes an off track; should get a nice stalking trip with S. Russell back in the irons
#2 – Willie B Mine (5-2): Always a threat to go gate-to-wire but may have some company pushing him early; exits a 5 furlong turf event which went too quick too early for his liking
Race 11 is OFF THE TURF
#10 – Fireheart (8-1): $$$ LONGSHOT $$$ Don't be fooled by her ugly run on the main track in a similar off the turf event; to say "Stumbled at the start" would be a gross understatement; if she breaks clean today J. Miller will have this speedy filly on top and hope to keep her together the entire trip
#7 – Twelve Tricks (9-2): Adding blinkers two back resulted in maiden win on turf followed by being a "much the second best" finish in similar "off the turf" scenario as today; based on comment lines she must be quite a handful while not being a "morning horse' (re: slow works)
#6 – Isabella Rocks (12-1): Something obviously went amiss in third career outing after getting bumped at the start because she didn't run a lick as part of a 9-5 entry; trainer S. Cooney has a positive ROI with runners coming off similar layoffs
Race 12
#6 – Trulywicked (5-2): Showed early speed in debut but got caught right at the wire then never got on track racing with other NJ-bred fillies; if J. Miller gets her to the early lead today it could be Graduation Day
#5 – Ridgemont High (9-2): Hoping this Super Saver FTS out of a Grand Reward mare can record some "Fast Times" and not be a Spicoli-like slacker; like the workout progression that ends with two 5 furlong drills 
#4 – Rose Colored (6-1): Never ran a lick in debut when bet to 5-2 second choice over a sloppy Lrl surface when offered for $40k; drops to $25k looking for a race like she ran in debut    
YESTERDAY'S NEWS  
On Friday August 18th at Laurel had 7 winners from the 11-race card (5 Top Selections; payoff in BOLD) having $2 WIN pay-offs of $4.00 (1st race), $2.80 (3rd), $14.40 (5th), $6.80 (6th), $4.00 (7th), $5.40 (8th) and $4.00 (9th). Top Selections in 2017 are 244 for 889 (27.45%). In 2016, Top Selections were 304 for 1,213 (25.02%).
BEST BET of the Day (94: 30-22-15; in 2016 127: 31-29-19) Intractable (6th race originally scheduled on the turf: 9-2 M/L; 2-1 PT) rated back early and angled out, cruised up four wide to engage the dueling leaders nearing the lane, struck the top with a quarter to go, kicked clear under right handed rousing and was under steady hand encouragement the final sixteenth to win by four-lengths and returned $6.80 to WIN, $3.80 to PLACE and $2.40 to SHOW.
LONGSHOT PLAY of the Day (82: 13-10-12; in 2016 124: 13-13-16) Sweet Liam (4th race: 6-1 M/L) was SCRATCHED when races were taken off the turf.