The GQ Approach – Laurel August 18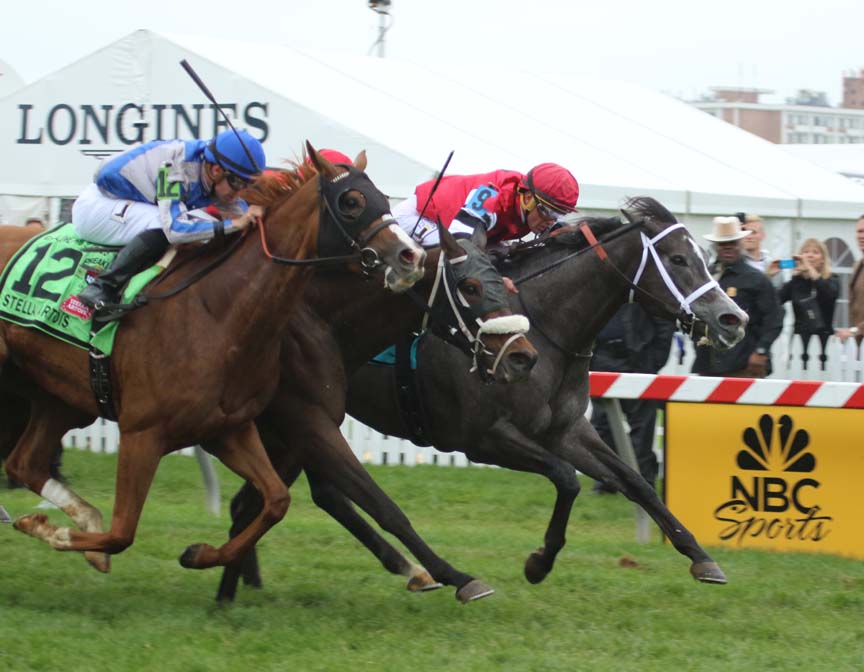 Mizz Money (#9) held off Vielsalm (in between) and Heath (#12) to win the Grade 3 Gallorette. Photo by Laurie Asseo.
The GQ Approach features full-card selections from Laurel Park for the live summer racing meet, Post Time 1:10pm EDT including a daily Best Bet, Longshot Play, and multi-race wagers — including the 20 cent Rainbow Pick-6, 50 cent Early and Late Pick-5s, as well as Pick-4s and rolling Doubles, Pick-3s and the Super High-5.

[su_box title="
Today's Carryovers
" style="glass" box_color="#66ADCC"]
Rainbow Pick 6: $3,809.01
Super High 5: no carryover
Late Pick 5: no carryover[/su_box]
[su_box title="GQ's Handicapping Tip of the Day" style="glass" box_color="#66ADCC"][stray-random][/su_box]
[su_box title="Best Bet of the Day" style="glass" box_color="#66ADCC"]Race 6 / #4 – Intractable (9-2)[/su_box]
[su_box title="Longshot Play of the Day" style="glass" box_color="#66ADCC"] Race 4 / #7 – Sweet Liam (6-1)[/su_box]
[su_box title="
Multi-race Wagers
" style="glass" box_color="#66ADCC"]
Race 1: $2 Double  1, 5  w/ 2, 4, 8  ($12)
Race 3: 50 cent Pick-3   1, 6, 7  w/ 1, 7, 8  w/ 2, 4, 5  ($13.50)
Race 7: 50 cent Pick-5  2, 7  w/ 4, 13  w/ 2, 6, 7  w/ 5, 6, 8  w/ 1, 7  ($36)
Race 10: $2 Double  5, 6, 8  w/ 1, 7  ($12)
[/su_box]
[su_heading size="21″ align="left"]Analysis[/su_heading]
Weather: Mostly Cloudy w/ late afternoon T'storms; highs in the upper-80's
Scheduled turf races: 2nd, 4th, 6th, 8th, 10th and 11th
Projected track conditions… Main: FAST to SLOPPY; Turf: FIRM to GOOD
Post Time for Race 1 is 1:10pm EDT
Race 1
#5 – Gavin Streetsense (6-5): Unusual scenario in that this 5½ furlong event lacks early speed; hence this L. Gaudet trainee is likely to get the lead and go gate-to-wire
#1 – Determined Nation (5-1): This 3-year-olds initial try versus his elders was not pretty (9th by 11 lengths) but was in over his head as odds suggested (51-1); something could have gone amiss as he's been away since that race in mid-April; shows 5 nicely spaced works for comeback 
#7 – Legend Keeper (20-1): Finished three-and-a-half-lengths behind top pick two back in an even effort then just missed by a neck at CT at this level but weaker than today's foes 
Race 2 is ON THE TURF
#4 – Citizen by Day (3-1): Transferred from NY-based trainer to T. Abbott at Fai and drops a level after picking up minor shares on NY turf 
#8 – So Innocent (2-1): Beaten 4-5 favorite at this level in local turf bow when second best; combo of M. Matz/A. Cintron is lethal (29% in past year); best turf BRIS# of this bunch at distance
#2 – Jumpstartmyheart (8-1): On a day that favored early speed on the turf, she made up a ton of ground in the stretch to earn the SHOW purse in her first two-turn, grass try after a pair of turf uninspiring turf sprints; steps up a level but another effort like that one on a turf course that plays fair could light up toteboard 
Race 3
#7 – Mongolian King (4-1): Better than what he showed in latest when cut back to 7f; returns to one mile as does jock A. Castrenze who guided him to runner-up finish two back
#4 – Turbin (12-1): Jock K. Davis retains mount on this on this late runner who chased early speed in vain in latest outing; this distance suits 7-year-old gelding well and is attractive at double-digit odds
#1 – Goodbyeseeulater (6-5): Gate-to-wire candidate failed to get lead in most recent start (Alw5000s) when in with a number of rivals who wanted early lead at any cost; meets a group who are a bit softer
Race 4 is ON THE TURF
#7 – Sweet Liam (6-1): $$$ LONGSHOT $$$ Solid run on a yielding Lrl turf versus open $7,500 claimers in third outing of '17, all in sprints; stretches out to two turns for just third time in career; liked it and missed hitting board versus much better when having traffic troubles
#1 – Matador (5-2): Claimed for $15k by trainer L. Gaudet out of most recent third place effort at lowest level in 26 race career; has back class from days competing in NY to increase trainers 25% first race off claim stat w/ +4.40 ROI
#6 – Teflon Tony (6-1): Prx shipper makes Lrl grass debut; has been unlucky with races being washed off the turf but those on it have been decent against allowance company; a winner in latest turf try when 25-1
Race 5
#1 – Honor and Blessing (3-1): Fresh off maiden win when blinkers were added in $20kMCL sprint, her second straight class drop after the #6 in here beat her out for SHOW purse by a nose
#8 – Cotton Princess (8-1): Had an absolutely horrible start in first outing since arriving in the Mid-Alantic region from GP; used up most energy catching up to rivals, continued to move forward entering the stretch until she had nothing left to give in the drive
#7 – Gimme Kimmy (5-1): Jock switch to J. Toledo should help as she was given too much to do late when trying to catch "Arlie" (#5) going 6f; cut back to 5½f may look like a taller task but have faith
Race 6 is ON THE TURF
#4 – Intractable (9-2): *** BEST BET *** In this field of nine, this gal appears to be controlling speed and with A. Cintron in the irons, he'll avoid a three-peat of getting "Boxed (in at the) far turn"; has continued to show a steady stream of works since last race on June 28
#2 – Janine Melnitz (2-1): Scratched from SOC$30k event when washed off the turf last weekend here; she must be knocking down the barn for connections to risk losing this 5-year-old mare for $16k or they are tired of nursing her through turf only starts
#5 – Beaches N Bourbon (7-2): Only two-time winner in here at this distance along with ML favorite #2; disappointed backers when failed to hit the board as 2-1 choice in latest going 1/16th mile shorter; look for H. Karamanos to have her closer to leaders early on
Race 7
#7 – Mr. Smarty Pants (5-2): Adds blinkers for fifth career start; returns from a pair of races at Sar (one going long on turf) which proved one thing, he should have never made the trip; in both local starts crossed the wire third behind a couple nice 3-year-olds
#2 – Royal Hussar (9-5): Has never been the favorite in 11 previous starts and would be surprised if he is today; comes off nearly a 4-month layoff and cuts back to 7 furlongs; has been runner-up three times at this $40kMCL level
#4 – On a Positive Note (12-1): Got an education in debut last month when trying to keep an even pace a short field going 6f where he finished the final furlong in 12 4/5; added distance might help
Race 8 is ON THE TURF
#4 – Balfe's Corner (4-1): Exits a key race as the winner and runner-up came back to be victorious in their next outing; claimed for $16k out of that race by trainer C. Gonzalez who gets 32% to Winners' Circle in this scenario; look for V. Carrasco to change tactics and be closer to the leaders early
#13 – Bowspirit (10-1): Outran his "distance challenged" pedigree when earning diploma going 9 furlongs on the Lrl lawn for $25kMCL in latest; slight cut back and with a little pace help could be heard from in deep stretch
#3 – Thoristic (7-2): Runner-up in last two efforts after stretching his legs in first start in over a year three back; that career record (13:1-6-1) screaming "Second-itis" especially since maiden win was via DQ
Race 9
#7 – Stay Home (9-5): Catches an extremely soft field of six rivals in this N2L contest; maiden win came at this 7f distance four races back; only concern is not being able to run down potential lone speed (#2)
#2 – Kopper Wire (6-1): Finally broke maiden in 27th try albeit at CT; the talent has always been there just lacked will to win; now that he's tasted victory, maybe the lightbulb has come on; could steal it as only threat early appears to be #6
#6 – Wild Dynaformer (7-2): Beaten favorite in first start versus winners after breaking maiden in an off the turf $16kMCL event while looking impressive; claimed out of latest race by trainer H. McMahon who is having an nice Summer meet (42: 10-5-2)
Race 10 is ON THE TURF
#6 – Threeohtwocassie (4-1): With strong possibility of rain late in the card, this contest could be taken off the turf, so handicapping for either surface (turf or sloppy); this A. Pecoraro trainee fits the bill winning his last two (both on turf) while having a SHOW finish in only off track start
#8 – Vakeesh (12-1): Ships in from Del so will likely run no matter what surface; third in Del slop when off the turf in latest $20kN3L; third start after 3-month layoff
#5 – Greek Prince (12-1): Scheduled to make turf debut in tenth career start while being bred to take to the turf will likely run if it comes off; has been in over his head this year in Private Terms, Sir Barton and G3 Pegasus; needs to confidence builder to regain prior form
Race 11 is ON THE TURF
#7 – M C Squared (7-2): Last seen in the afternoon on Black-Eyed Susan Day getting buried in McKay Turf Sprint at 128-1; leery about plunge to $15k when previous to McKay was runner-up in OC$25kN2x; banking on trainer H. McMahon is simply placing this 6-year-old where he can win
#1/1A – Came Back/Puturseatbelton (6-1): #1 won in the slop on the lead for $11k yet has 9 turf wins from 29 starts; #1A can win on any surface; claimed out of latest when third in off the turf $11k open claimer
#6 – Merry's Honor (15-1): If it stays on the turf, give this one an extra look; last three turf tries have been hampered by traffic and/or wide trips; will need turf to be kind to late runners; if race comes off the turf, consider MTO entry #12 – Sing Praises who'd be looking to go gate-to-wire
YESTERDAY'S NEWS  
On Sunday August 13th at Laurel had 10 winners from the 11-race card (5 Top Selections; payoff in BOLD) having $2 WIN pay-offs of $5.20 (1st race), $4.60 (2nd), $4.20 (3rd), $3.60 (4th), $17.20 (5th), $4.80 (7th), $5.80 (8th), $12.00 (9th), $3.60 (10th) and $6.60 (11th). Of the suggested multi-race wagers hit the R1-R2 $2 DOUBLE paid $19.40 (cost: $12) and the R3-R5 50 cent Pick-3 paid $19.20 (cost: $13.50). Top Selections in 2017 are 239 for 878 (27.22%). In 2016, Top Selections were 304 for 1,213 (25.02%).
BEST BET of the Day (93: 29-22-15; in 2016 127: 31-29-19) My High Roller (3rd race: 5-1 M/L; 2-1 PT) clear mid-way down the backstretch, saved ground on the turn, drifted out turning for home, weakened the final furlong and was well clear of the rest to be runner-up step $2.80 to PLACE and $2.10 to SHOW.
LONGSHOT PLAY of the Day (82: 13-10-12; in 2016 124: 13-13-16) Gray Veil (2nd race: 10-1 M/L; 7-1 PT) chased the pace near the rail around the turn, swung to the four path at the head of the stretch, took the lead in upper stretch, remained on her left lead, held sway under urging to win by two-lengths and returned $17.20 to WIN, $6.80 to PLACE and $3.60 to SHOW.