The GQ Approach – Laurel August 13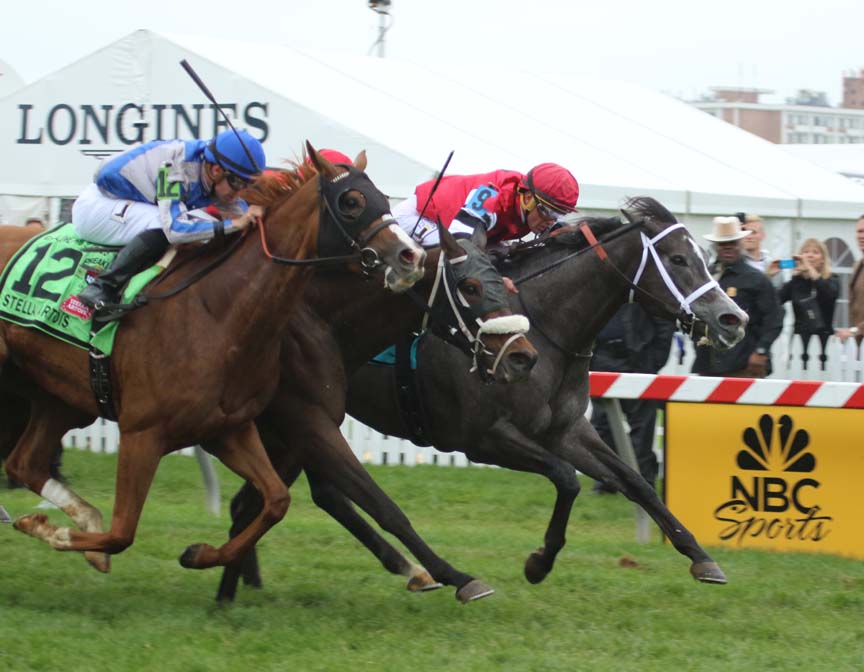 Mizz Money (#9) held off Vielsalm (in between) and Heath (#12) to win the Grade 3 Gallorette. Photo by Laurie Asseo.
The GQ Approach features full-card selections from Laurel Park for the live summer racing meet, Post Time 1:10pm EDT including a daily Best Bet, Longshot Play, and multi-race wagers — including the 20 cent Rainbow Pick-6, 50 cent Early and Late Pick-5s, as well as Pick-4s and rolling Doubles, Pick-3s and the Super High-5.

[su_box title="
Today's Carryovers
" style="glass" box_color="#66ADCC"]
Rainbow Pick 6: $2,419
Super High 5: no carryover
Late Pick 5: no carryover[/su_box]
[su_box title="GQ's Handicapping Tip of the Day" style="glass" box_color="#66ADCC"][stray-random][/su_box]
[su_box title="Best Bet of the Day" style="glass" box_color="#66ADCC"]Race 3 / #10 – My High Roller (5-1)[/su_box]
[su_box title="Longshot Play of the Day" style="glass" box_color="#66ADCC"] Race 5 / #2 – Gray Veil (10-1)[/su_box]
[su_box title="
Multi-race Wagers
" style="glass" box_color="#66ADCC"]
Race 1: $2 Double  2, 3, 5  w/ 5, 7  ($12)
Race 3: .50 cent Pick-3   8, 9, 10  w/ 1, 2, 6  w/ 2, 4, 8  ($13.50)
Race 10: $2 Double  4, 6  w/ 1  ($4)
[/su_box]
[su_heading size="21″ align="left"]Analysis[/su_heading]
Weather: Partly Cloudy; highs in the upper-70's
Scheduled turf races: 1st, 3rd, 5th, 7th, 9th and 11th
Projected track conditions… Main: GOOD to FAST; Turf: OFF
Post Time for Race 1 is 1:10pm EDT
Race 1 is OFF THE TURF
#3 – Behzad's Pride (5-1): MTO entry should be able to get early lead; if track holds speed as it did yesterday early in the card, look for a gate-to-wire score
#5 – Flyingtobechilders (6-1): Versatile 8-year-old can win on dirt as well as turf; with a nice stalking trip here might be able to run down leaders if top pick isn't alone early
#2 – Yeah Rocky (6-1): Prx-based runner been facing better on that circuit prior to being runner-up at Pen in $5k Starter Alw; regular rider comes down to ride
Race 2
#7 – My Golden Rose (2-1): Away 3-months simply to mature and teach her to become a racehorse as she seemed not to want to pass all rivals; twice a bridesmaid in both Lrl (sprint) starts
#5 – Victory Rally (9-2): Beaten 1-2 favorite here in second start when away awkwardly; that one was first in 5-months when she ran into a couple next out winners who competed in major 3-year-old stake
#8 – Super Stacy (7-2): Leary of this $265k Super Saver filly purchase in Spring '16 being sent out by trainer L. Rice in that it was 9-months between first and second start, from long on turf at Sar to sprinting on dirt at Del; now being offered for $40k tag going 7f; caution flag should be waving as she shows no works since that second start on June 24; give #1 a look at 8-1 as she's run behind a number of next out winners on turf and mud
Race 3 is OFF THE TURF
#10 – My High Roller (5-1): *** BEST BET *** Comes off two runner-up finishes on dirt at $10kMCL level; with anticipate exodus of "Off the Turf" scratches here, look for him to make amends from being beaten favorite in latest to a steep class dropper
#8 – Cent Comm (x-1): Lone fast track start from 7 career outings came in latest when a distant runner-up in $20kMCL at Del; blinkers come off
#9 – My Pal Jerry (20-1): Connections may run him even though all 3 previous starts have been on (sprinting) turf; stretch out whether turf or dirt could be the key to winning
Race 4
#2 – Crookit (4-1): Takes another class drop and makes third start after brief layoff, a move that trainer L. Alberts wins at 23% clip which is impressive as she's just 6 for 62 overall in '17
#6 – Sommer Something (9-5): Claimed in latest victory out of this same condition as she's the only 3-year-old in here, which N2L race condition only applies to 4-year-olds and up, this gal has 4 wins; trainer P. Schoenthal patiently waited for this race to roll around age
#7 – Y'er Wan (7-2): Exits two turf races versus better after trainer H. Walters claimed her for $5k; she's game and has done well on a fast track (4:1-1-1); got SHOW purse in only start at this one mile distance v. $10kN2L last Nov. at Pen
Race 5 is OFF THE TURF
#2 – Gray Veil (10-1): $$$ LONGSHOT $$$ Whoever gets the first call from Dave Rodman will likely be the one breaking their maiden; with that said landed here as both main track efforts she was on the lead at first and second call
#4 – Simplylucky (4-1): As her name suggests after nine career races on dirt she was going to try turf… but it won't be today; Prx shipper is only entry for trainer M. Pino who is 0 for 3 at current Lrl meet
#8 – Miss Mischievous (6-1): MTO entry just missed (3rd by a neck) versus similar in most recent start
Race 6
#2 – Vouch for Kitten (6-1): This 5-year-old mare is very quick from the gate and catches a field short on early speed; didn't get lead in latest at Suf but note she was in against the boys
#3 – Catch (8-1): Her name describes her mission today, having the catch the top pick in deep stretch as she drops down from a $10kN2L two turn event
#12 – Beautiful Sky (5-1): Typical trainer K. Magee move off a claim where he sent her out against better while in "jail", now drops her back below claiming price just to get win; only difference is this gal failed miserably (last by 16-lengths) as favorite in first race after claim
Race 7 is OFF THE TURF
#11 – Claravoyant (7-2): Trainer M. Eppler must have attended church this morning as races were taken off the turf so her MTO filly could draw in and catch a weak field
#1 – Fergie's Lady (6-1): Will try to make every pole a winning one breaking from the rail; failed as beaten 5-2 favorite in latest which was a sprint after romping by 9½-lengths for maiden score at bottom of barrel
#4 – Value Added (12-1): Lone win came on a fast track and appeared not to care for slop in latest outing; not in for tag so connections still believe in her
Race 8
#1 – Final Forum (5-2): Continues to drop in class seeking Winners' Circle; comfortable on the rail as that's where his late move was made
#8 – Great Smoke (10-1): Tries to break string of two runner-up finishes in this same condition; has back class to final get the job done and at a nice price to boot
#3 – Grande Shores (8-5): Not a positive move to say the least as this 9-year-old was claimed out of latest for $20k and now being offered for $7,500; shows one token work since claim; has 15 wins from 65 career starts but hasn't gotten to the wire first in quite some time
Race 9 is OFF THE TURF
#3 – Tiz a Diamond (7-2): MTO entry was part of a Bridgejumper Special when she stumbled badly at the start and her entrymate failed to fire in a 5-horse contest; with a clean start look for her to rebound
#5 – Saida (6-1): Could be the controlling speed if connections elect to give it a go on the main track which she's tried three times in the past, twice when "fast", once going long and showed speed then faded to fourth
#11 – Shirleys Curls (10-1): Of those who have raced on a fast track, she's tried it the most (13 starts), has a win and second best career BRIS#
Race 10
#6 – It's the Journey (2-1): First time in this 2nx condition but is as game as they come; riding two race win streak has beaten a couple next out winners
#4 – Yellow Chips (3-1): One of a few FL-based runners that owner has transferred north to trainer L. Gaudet barn; one was touted Friday but didn't deliver; this one has faced better; first start since March and being reported as a gelding
#5 – Negrito (5-2): Prudent reclaim for trainer C. Gonzalez getting this 6-year-old gelding back for $14k cheaper than when he lost him 3-months prior; earned a career best 98 BRIS# in open $20k claimer first off that reclaim, which is tops in this field
Race 11 is OFF THE TURF
#1 – Bungalow (4-1): Speed in debut going 6 furlongs but faded quickly; stretching out today will allow him to relax a bit early as his pedigree (Shackleford out of a Smarty Jones mare) suggests this distance
#6 – Sunset Arch (7-2): Two SHOW efforts in last two starts when event came off the turf as well
#5 – Chocomount (3-1): Runner-up in this same condition in most recent start when off the turf got the better of the #6 that day
YESTERDAY'S NEWS  
On Saturday August 11th at Laurel had 7 winners from the 11-race card (3 Top Selections; payoff in BOLD) having $2 WIN pay-offs of $10.40 (1st race), $8.00 (3rd), $3.20 (7th), $3.00 (8th), $4.80 (9th), $3.20 (10th) and $7.20 (11th). Of the suggested multi-race wagers hit the R10-R11 $2 DOUBLE paid $14.80 (cost: $12). Top Selections in 2017 are 234 for 867 (26.99%). In 2016, Top Selections were 304 for 1,213 (25.02%).
BEST BET of the Day (92: 29-21-15; in 2016 127: 31-29-19) Mettemarlamelva (5th race: 7-2 M/L; 7-5 PT) off a step slow circled 5-wide joining all five rivals in a cavalry charge down the stretch but faltered late to finish 6thd just three-and-a-quarter lengths behind the winner.
LONGSHOT PLAY of the Day (81: 12-10-12; in 2016 124: 13-13-16) Red Clay Road (2nd race: 6-1 M/L) was SCRATCHED.