The GQ Approach – Laurel August 12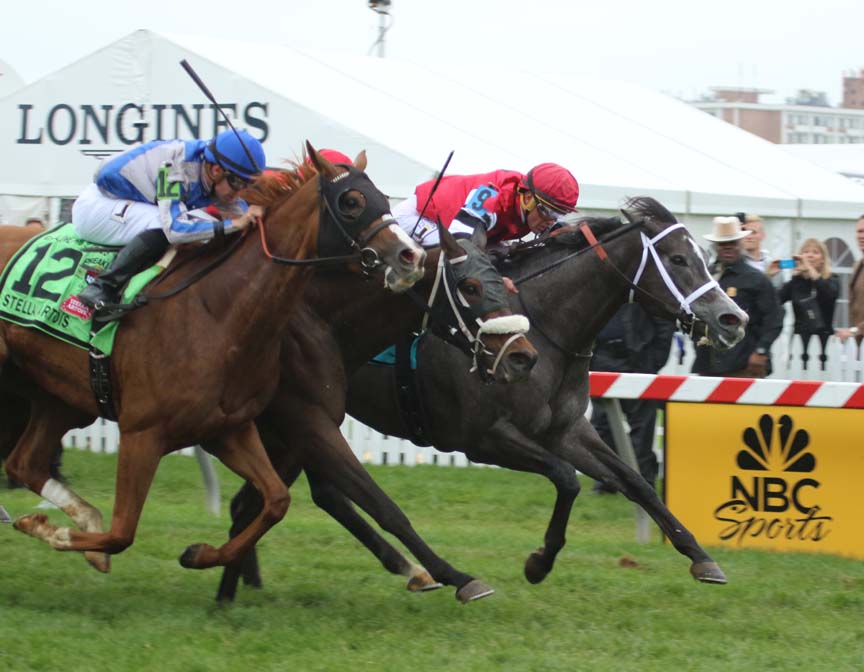 Mizz Money (#9) held off Vielsalm (in between) and Heath (#12) to win the Grade 3 Gallorette. Photo by Laurie Asseo.
The GQ Approach features full-card selections from Laurel Park for the live summer racing meet, Post Time 1:10pm EDT including a daily Best Bet, Longshot Play, and multi-race wagers — including the 20 cent Rainbow Pick-6, 50 cent Early and Late Pick-5s, as well as Pick-4s and rolling Doubles, Pick-3s and the Super High-5.

[su_box title="
Today's Carryovers
" style="glass" box_color="#66ADCC"]
Rainbow Pick 6: $1,457.89
Super High 5: $466.68
Late Pick 5: $4,457.35[/su_box]
[su_box title="GQ's Handicapping Tip of the Day" style="glass" box_color="#66ADCC"][stray-random][/su_box]
[su_box title="Best Bet of the Day" style="glass" box_color="#66ADCC"]Race 5 / #5 – Mettemarlamelva (7-2)[/su_box]
[su_box title="Longshot Play of the Day" style="glass" box_color="#66ADCC"] Race 2 / #6 – Red Clay Road (6-1)[/su_box]
[su_box title="
Multi-race Wagers
" style="glass" box_color="#66ADCC"]
Race 1: $2 Double  3, 5  w/ 6, 7, 9  ($12)
Race 3: .50 cent Pick-3   1, 2, 7  w/ 1, 2, 3  w/ 3, 5, 6  ($13.50)
Race 7: .50 cent Pick-5   1, 3  w/ 7  w/ 2, 5, 8 w/ 4, 9  w/ 3, 6, 7, 9 ($24)
Race 10: $2 Double  4, 9  w/ 3, 6, 7  ($12)
[/su_box]
[su_heading size="21″ align="left"]Analysis[/su_heading]
Weather: Mostly Cloudy; highs in the upper-70's
Scheduled turf races: 1st, 3rd, 5th, 6th, 8th and 9th
Projected track conditions… Main: GOOD to FAST; Turf: OFF
Post Time for Race 1 is 1:10pm EDT
Race 1
#5 – Nancy R (9-5): Bottom of the maiden claiming barrel in the Saturday opener finds this gal having the best career BRIS# of this bunch; gets K. Davis back in the irons who gave this filly her two best rides of her seven-race career, losing by a neck in both; turf to dirt angle fits here  
#3 – Perfect Deal (9-2): Trainer T. Keefe (0 for 37 at meet) has two out of 6 in here (the other is #2); Unfortunately both of his are the only ones who possess early speed; it would be astonishing to see both fighting for the early lead, so using this one for a possible gate-to-wire maiden score  
#4 – Glory Unbound (5-1): Beaten a combined 44 lengths in last two outings, both going long and latest on turf; cuts back to sprint and somebody will run third, why not the runner of a trainer who has seen the Lrl Winners' Circle this meet… 5 times to boot, unlike all others with one exception  
Race 2 is OFF THE TURF
#6 – Red Clay Road (6-1): $$$ LONGSHOT $$$ Appears to be lone speed; in spite of his lack of stamina in the past, with a clear lead and jock switch he might hold on to graduate today
#9 – Larrikin (2-1): Will test natural dirt for first time in career; second start for trainer C. Gonzalez may put early pressure on top pick
#7 – Godlovesasinner (12-1): Hoping that tenth time is the charm as this MD-bred gelding by Redeemed has picked up minor shares in past four starts but needs to change "follow along" attitude and become a racehorse
Race 3
#2 – She Is Special (2-1): KTL appeared to have stolen this one from J.L. Jones back in March out of her maiden win for $25k when she came right back to win in OC$25k but has been downhill in past four; the line has been cast for a bottom-feeder "shake"
#1 – Weatherurnot (5-2): Definitely the weather caused havoc for this Saturday card but this main track event stays intact; tough rail assignment but should be challenging for the early lead and sticks around late 
#7 – My City (9-2): 1 for 1 on the Lrl main surface; draw a line through turf tries and the race where her saddle slipped, she's been in the mix; beaten favorite when clear runner-up at CT in latest
Race 4 is OFF THE TURF
#3 – Holiday Ink (5-1): Second best in debut on dirt when sent off 5-2 second choice and carried out by a rival; drops a level, gets leading rider
#1 – Rosetta Red (10-1): Another class dropper trying to find Winners' Circle in fourth career outing; improved when put on turf in second start; if track is "fast" it will be her first shot on such a surface
#2 – D. K.'s Valentine (9-2): Been a while since she's run on dirt… and it wasn't pretty but that was in her first two starts followed by 15-month layoff; dirt works look like she handles it now
Race 5
#5– Mettemarlamelva (7-2): *** BEST BET *** Been away since end of January when seen winning a $5kN2Y contest at Tam; has a quartet of nicely spaced works leading up today as connections take advantage of Waiver Claiming rule to protect her; 2 for 2 on an off track
#6 – Ermine and Purrs (20-1): If there's any moisture in the track this gal should be able to carry her speed further than usual
#3 – Read All About (10-1): Third race following a brief layoff; K. Davis takes over for K. Gomez who to no surprise opts to stay aboard not shockingly opts for #1 (3-1) whose late kick will find her coming up short
Race 6 is OFF THE TURF
#11 – Riteamontofmschief (5-1): Jock A. Suarez first and only trip to Lrl this meet resulted in a runner-up finish; mount add Lasix after twice being second best in as many starts
#3– Chinquapin (6-1): MD-bred FTS by Orientate out of a Mojave Moon mare been working regularly in the A.M. and could be ready at first asking for Trainer H. Smith   
#6– Super Vision (8-1): Got SHOW purse and an education in debut on a sloppy Lrl surface; trainer C. Lynch has positive ROI with second start runners 
Race 7 is OFF THE TURF
#3 – Charm City (9-2): This will be third time in past 5 outings she's been Mother Nature's victim as race has come off the turf but has done well competing versus a bit better; rail post shouldn't be an issue as latest victory came from there
#1A – No More Excuses (9-2): Gets in off Also-Eligible and is in top form seeking third consecutive victory; likely the speed of the speed and will try to make every pole a winning one 
#5 – Doukas (8-1): Surprisingly was not among early scratches when taken off the turf; does have a main track win from ten starts; look for her late if a speed duel ensues  
Race 8 is the Polynesian Stakes
#7 – Divining Rod (3-5): Doesn't take an Einstein to put this one on top but as the '15 Preakness SHOW makes his '17 debut, this 7f contest will be the shortest of his career; been working at Fai since mid-May for return to races with a trio of 5f bullets; this might be a prep for $300k G2 Kelso at Bel on Sept. 23?
#4 – Rockinn On Bye (10-1): Poster boy for "Second-itis" (16 times v. 6 wins) gets distance that suits him the best but chances may be hampered by lack of early pace; a mid-day T-storm would be welcomed (off track record 8:0-4-3)
#1 – Vorticity (6-1): Tough assignment from the rail but in this field that lacks a "need the lead" runner count on S. Russell to gun for the lead if there are no takers
Race 9 is OFF THE TURF
#2 – Regal Roma (9-5): Has a pair of runner-up efforts in as many starts on an off track but will it be "off" come Post Time? I'm no meteorologist but I have stayed at a Holiday Inn Express; will need pace help
#8 – Chef Karen (15-1): Trainer J. Runco (28%) ships this three-year-old in from CT after two consecutive wins since arriving at his barn from OP; like the fact regular rider A. Bocachica (32% w/ Runco over the past year) makes the trip just for this mount
#5 – La La Bamba (15-1): Was a sprinter in first 1 starts then in last two tries stretching out and was successful in latest which was also an off the turf event; looking to repeating that performance   
Race 10 is the Twixt Stakes
#9 – Mayla (4-1): Multiple graded stakes placed MD-bred 5-year-old mare ships in from CD; loves this middle distance (8:3-1-2) and if there's moisture in the track then all the better (4:2-1-1)   
#4 – Shimmering Aspen (3-1): Local superstar filly exits a dominating victory in Alma North here at this distance restricted to 3-year-olds; is 2 for 2 v. elders but those were not stakes caliber 
#3 – Sweet On Smokey (10-1): Missed by a nose as 2-1 favorite in minor stakes event at Del last month; seems to run well when she's not the one to beat, which is the case today
Race 11 is OFF THE TURF
#3 – Patti's Pirate (9-2): Was willing to give turf a try in third career start, first for trainer H. McMahon coming off $10k claim but willing to still go on main surface; confident move stepping up in class while just out of jail; if turf holds speed it could be graduation day
#7 – Wilko's Goldeneye (10-1): Most experienced main track who performs much better on an off track (4:0-2-1) as was the case in most recent defeat by just a half-length, his narrowest loss when first time blinkers
#6 – Collateral Damage (10-1): Has paid nice dividends since connections grabbed him for $5k at F-T Tim Winter Sale but still looking to put it all together and get to Winners' Circle; transferred to new barn who remove blinkers and return him to sprint
YESTERDAY'S NEWS  
On Friday August 11th at Laurel had just 5 winners from the 11-race card (3 Top Selections; payoff in BOLD) having $2 WIN pay-offs of $5.20 (2nd race), $3.40 (4th), $11.00 (5th), $21.00 (7th) and $5.60 (10th). Top Selections in 2017 are 231 for 856 (26.99%). In 2016, Top Selections were 304 for 1,213 (25.02%).
BEST BET of the Day (91: 29-21-15; in 2016 127: 31-29-19) In the Navy Now (10th race: 4-1 M/L; 4-1 PT) stalked the two top the entire way, was put to the drive entering the stretch but could make no headway as the top three never changed positions from the first call to the wire, settling for third purse money to return $2.10 to SHOW.
LONGSHOT PLAY of the Day (81: 12-10-12; in 2016 124: 13-13-16) No Knock Raid (6th race: 10-1 M/L; 9-1 PT) saved ground off the pace, shifted out late and failed to menace to finish 7th.