The GQ Approach – Laurel August 11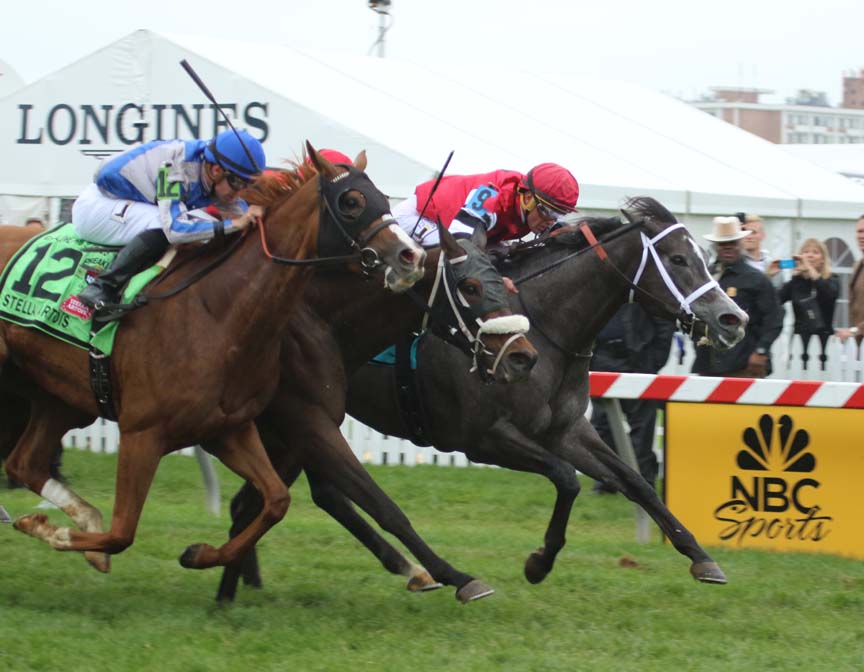 Mizz Money (#9) held off Vielsalm (in between) and Heath (#12) to win the Grade 3 Gallorette. Photo by Laurie Asseo.
The GQ Approach features full-card selections from Laurel Park for the live summer racing meet, Post Time 1:10pm EDT including a daily Best Bet, Longshot Play, and multi-race wagers — including the 20 cent Rainbow Pick-6, 50 cent Early and Late Pick-5s, as well as Pick-4s and rolling Doubles, Pick-3s and the Super High-5.

[su_box title="
Today's Carryovers
" style="glass" box_color="#66ADCC"]
Rainbow Pick 6: $948.78
Super High 5: no carryover
Late Pick 5: no carryover[/su_box]
[su_box title="GQ's Handicapping Tip of the Day" style="glass" box_color="#66ADCC"][stray-random][/su_box]
[su_box title="Best Bet of the Day" style="glass" box_color="#66ADCC"]Race 10 / #2 – In the Navy Now (4-1)[/su_box]
[su_box title="Longshot Play of the Day" style="glass" box_color="#66ADCC"] Race 6 / #1 – No Knock Raid (10-1)[/su_box]
[su_box title="
Multi-race Wagers
" style="glass" box_color="#66ADCC"]
Race 1: $2 Double  3, 9, 10  w/ 5, 7  ($12)
Race 3: .50 cent Pick-3   6, 8, 10  w/ 2, 3, 6  w/ 4, 5, 6  ($13.50)
Race 7: .50 cent Pick-5   6, 12  w/ 1, 4, 6  w/ 8, 10  w/ 1, 2  w/ 2, 8, 10 ($36)
Race 10: $2 Double  1, 2  w/ 2, 8, 10  ($12)
[/su_box]
[su_heading size="21″ align="left"]Analysis[/su_heading]
Weather: Mostly Cloudy w/ chance of late afternoon T-storms; highs in the upper-70's
Scheduled turf races: 1st, 3rd, 5th, 6th, 8th and 9th
Projected track conditions… Main: FAST; Turf: FIRM
Post Time for Race 1 is 1:10pm EDT
Race 1 is ON THE TURF
#9 – Texas Zip (6-1): Lone entry for trainer J. Sheppard as well as first one of the Lrl Summer meet; ran career best 89 turf BRIS# in latest at Pen for $16k, which Pen #'s seem a bit inflated IMHO but nonetheless has increased figs in past 4 outings
#10 – Niigon Express (7-2): Sitting on a three-race win streak after being 3 for 32 prior; the latest victory came here at same level when 5-2 but BRIS# (77) wasn't impressive; chalk it up a weak field
#3 – Diana's Vendetta (12-1): May not have cared to travel 10-furlong on the Del turf as she was evenly throughout at this level; cut back to a more manageable distance should help chances
Race 2
#5 – Miss Nosy (9-5): Huge drop from AlwN1x to $5k tag should raise the caution flag especially after stopping in the mud and being cold on the board (10-1) after being runner-up versus similar when 6-5 as well as A. Cintron passing; uncoupled stablemate (#7) is only candidate to challenge "Nosy" early; beware of the one having higher Post Time odds; if this one gets scratched, go with the #7
#7 – Love You Back (8-5): The aforementioned stablemate who romped in latest for a $5k against N3L just two races after a similar score for $10kN2L 15 days after being claimed out of a third place effort for $5kN2L by the "Magic" Magee (23% at meet) 
#6 – Flatter's Secret (12-1): On the surface looks to be struggling since being claimed five back BUT 3 of those have been against the boys and the other was versus much better ($12,500); add the fact she's won twice as many as 5 of her 6 rivals in here and loves Lrl (10:5-1-1) makes her a live longshot
Race 3 is ON THE TURF
#6 – Stillsexyatsixty (6-1): Makes second career start after debut got washed off the turf yet still was sent off as 6-5 PT favorite, was off slow but got an education passing a few rivals late
#10 – Graceful Request (8-1): FTS is a VA-bred daughter of Scat Daddy whose progeny took the Ascot turf by storm this year; nice work pattern shows bullet from the gate; trainer S. Cooney has a nice ROI with 2 of 15 debut runners winning on turf
#8 – Drops and Buckets (5-2): This home/MD-bred daughter of Lemon Drop Kid out of a Giant's Causeway mare will be wanting more distance but she's a must use as outfit has been winning at 30% clip with first timers
Race 4
#6 – Easy River (9-5): Makes first start off trainer C. Gonzalez $25k claim after missing by a neck on while one of the few who closed ground on Lrl turf that day; returns to main surface and likely will get "fast" track for first time in past six races
#2 – King of Night (2-1): Could be early speed by default as this gelding seeks third straight victory; seems to have figured out his profession since exiting two turn turf try; will regress off huge last race which still could be good enough to win
#3 – Playthatfunnymusic (10-1): NY-bred makes first start outside of the Empire state after being on the shelf since mid-May and showing just one (bullet) work… 7 weeks ago! Thinking jock J. Miller will try to steal it on the front end
Race 5 is ON THE TURF
#5 – Believe in Angels (6-1): Ugly lone start versus winners when asked to race 10-furlongs, didn't have so jock just wrapped her up; encouraging that A. Cintron is back aboard and should get perfect setup to run down a plethora of early speed
#6 – Patience Love (7-2): Eight career starts, all on turf for this Bel-based gray daughter of Paddy O'Prado, makes Lrl debut for trainer T. Morley; tactical speed should give her first run at early speed entering the stretch
#4 – Baltimore Street (12-1): Lone two turn outing was worse of seven race career but that was facing allowance company; distant Also-Ran against a couple next out winners, one in a stakes; drops in for tag for first time since breaking maiden sprinting here on dirt in Feb.
Race 6 is ON THE TURF
#1 – No Knock Raid (10-1): $$$ LONGSHOT $$$ Has a nice closing kick and has won breaking from the rail on the Lrl turf; reunited with E. Prado who guided this gelding to the Winners' Circle two back against $16kN3L; just a slight improvement makes him a threat
#5 – Tricky Lion (10-1): Got the better of top pick in their last meeting when 34-1 though was 7th when that one won; need honest early pace and turf course not as kind to early speed to be heard from late
#3 – Robey's Boy (5-1): Adding blinkers can only explain huge reversal in form when victorious at 44-1 even as rider eased up at first wire; luckily this gray gelding's momentum still carried him to a narrow win; no shock he'll be guided by a rider today
Race 7
#6 – Punch Nephew (5-1): The Waiver Claiming angle hasn't paid dividends of late but just when one gives up on it, that's when it will come through; away since mid-January after his second runner-up finish in as may career starts was turned out for five-months then began training for comeback, showing 7 nicely spaced works
#12 – Swing Step (12-1): MD-bred FTS by Not For Love out of a Kafwain mare for connections who breed and sell, unless they really like one; this late-bloomer is just 1 of 2 four-year-olds in this maiden contest; like the last two works going 5f especially latest from the gate
#9 – Put Em Up (9-2): Trainer L. Gaudet getting reputation of sending out live runners in second career race (22%); appears this Put It Back colt was not ready for debut (on the grass) at GP in late-Dec.; transferred from trainer E. Pleasa barn; hard to miss those two bullets from three works at Lrl
Race 8 is ON THE TURF
#4– Dakota Diva (4-1): Trainer T. Proctor having a typical year (20%) but struggling with shippers to MD tracks (2 for 37) will try to buck that trend with this KY-bred FTS by Cape Blanco out of a Cozzene mare; strangely slowest works have come on Fai turf course; early odds will indicate whether this gal is well meant for debut
#6 – Thirsty Madam (5-1): Welcome back J. Pimentel who fractured his T-12 vertebrae just 40 days ago during a training mishap; trainer M. Trombetta took over conditioning duties of this Stay Thirsty filly who got minor shares in both turf starts, the first two of her career at Sar (6th) going long then sprinting at Bel (4th)
#1 – Sympathetic (12-1): This filly is bred top and bottom for the turf but hasn't shown it in 4 of 7 starts on the grass; best turf effort came in first turf earning 85 BRIS# which is tops among these fillies; got Lasix for first time in latest but concerned about constant short layoffs after a couple races
Race 9 is ON THE TURF
#10 – Here's to Mike (4-1): Ran behind the #6 and #7 in latest but was boxed in along the rail on the far turn, losing momentum; it was this 8-year-old geldings first start since mid-January at GP for trainer J. Cibelli who ships from Mth once again; prevails today with a clean trip and D. Centeno in the irons for the first time
#8 – Prime Time Man (10-1): Claimed by trainer K. Magee for $15k out latest when going one mile on turf broke in air as PT favorite, then in stretch jerked from rail to 5-path losing momentum and got up for 4th despite troubled trip
#5 – Corvus (10-1): Third start after nearly an 9-month layoff; last outing, a turf sprint was a could have been a conditioner to stretch out as he did last Fall in turf debut; still needs to take another step forward but capable under J. Toledo
Race 10
#2 – In the Navy Now (4-1): *** BEST BET *** Whatever the reason for the 13-month layoff, trainer M. Trombetta brought her back versus easier gals at Pen and Prx instead of Lrl where she was last seen in MD winning the $100k Weber City Miss; just missed at Pen for this condition in third start since layoff in latest
#1 – BombShell (2-1): Cannot recall the last time NY-based trainer J. Jerkens shipped a runner into the Free State when not a huge stakes day but does with this gal; earned 90+ BRIS#s in past two efforts, something on other runner in here has ever accomplished on dirt
#6 – Analyze (7-2): This 3-year-old filly as done well (8:2-2-2) without Lasix but will race with it today; ironically her only two wins came in her only two outings against her elders; prevailed by a head in last start when 3-5 PT favorite; trainer M. Matz winning at 36% clip this meet (11:4-1-3)
Race 11 is ON THE TURF
#2 – Tarkia (9-2): Bit off more than she could chew in an ALwN1x in latest; drops back in for a tag in third start since 6-month layoff; will need pace help from unlikely sources to show off strong closing kick
#8 – Enigma (5-1): Could try to steal it on the front end or at least closely track the lone, cheap speed (#1) who has failed to hold easy leads late; change of plans for regular rider S. Russell as he'll stick around to try to boot this one home
#10 – Holy Scat (3-1): Draw a line through last outing as this mare despises any surface except turf; typical K. Magee move to drop runner back to tag or lower that he claimed them for; giving A. Cintron a leg up won't hurt either
YESTERDAY'S NEWS  
On Sunday August 6th at Laurel had 7 winners from the 10-race card (1 Top Selection; payoff in BOLD) having $2 WIN pay-offs of $21.40 (2nd race), $5.60 (3rd), $4.80 (4th), $10.00 (5th), $12.60 (6th), $24.60 (9th) and $6.00 (10th). Of the suggested multi-race wagers hit the R3-R5 50 cent Pick-3 paid $27.60 (cost: $13.50). Top Selections in 2017 are 228 for 845 (26.98%). In 2016, Top Selections were 304 for 1,213 (25.02%).
BEST BET of the Day (90: 29-21-14; in 2016 127: 31-29-19) Magic Cookie (4th race: 5-1 M/L; 4-1 PT) broke a step slow, was rushed up between rivals soon after then was taken to rate off the leader, dropped in to chase and weakened in the final furlong to finish 6th.
LONGSHOT PLAY of the Day (79: 12-10-12; in 2016 124: 13-13-16) Sarah's Whisper (6th race: 10-1 M/L; 7-1 PT) sped off to the early lead without much pressure, entered the stretch run on top, was put to task but could not hold off a trio off rivals to finish 4th.