The GQ Approach – Laurel August 6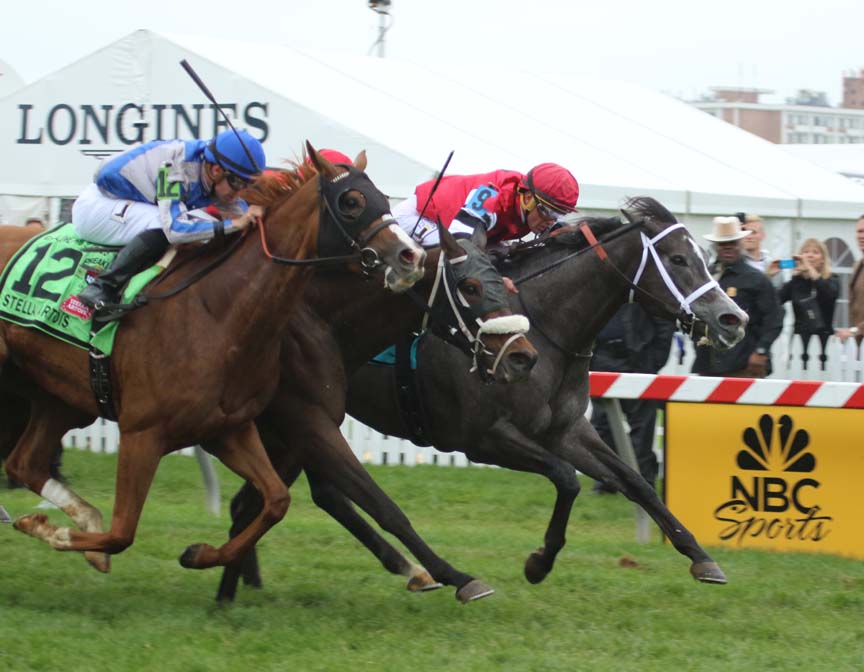 Mizz Money (#9) held off Vielsalm (in between) and Heath (#12) to win the Grade 3 Gallorette. Photo by Laurie Asseo.
The GQ Approach features full-card selections from Laurel Park for the live summer racing meet, Post Time 1:10pm EDT including a daily Best Bet, Longshot Play, and multi-race wagers — including the 20 cent Rainbow Pick-6, 50 cent Early and Late Pick-5s, as well as Pick-4s and rolling Doubles, Pick-3s and the Super High-5.

[su_box title="
Today's Carryovers
" style="glass" box_color="#66ADCC"]
Rainbow Pick 6: no carryover
Super High 5: $616.81
Late Pick 5: $3,509.88[/su_box]
[su_box title="GQ's Handicapping Tip of the Day" style="glass" box_color="#66ADCC"][stray-random][/su_box]
[su_box title="Best Bet of the Day" style="glass" box_color="#66ADCC"]Race 4 / #4 – Magic Cookie (5-1)[/su_box]
[su_box title="Longshot Play of the Day" style="glass" box_color="#66ADCC"] Race 6 / #1 – Sarah's Whisper (10-1)[/su_box]
[su_box title="
Multi-race Wagers
" style="glass" box_color="#66ADCC"]
Race 1: $2 Double  3, 4, 8  w/ 3, 7  ($12)
Race 3: .50 cent Pick-3  3, 6, 7  w/ 2, 4, 7  w/ 2, 4, 11  ($13.50)
Race 6:  .50 cent Pick-5   1, 9  w/ 3, 4, 5  w/ 6, 9, 12  w/ 4, 5 w/ 6, 7 ($36)
Race 9: $2 Double  4, 5  w/ 6, 7  ($8)
[/su_box]
[su_heading size="21″ align="left"]Analysis[/su_heading]
Weather: Partly Sunny; highs in the mid-80s
Scheduled turf races: 1st, 3rd, 5th, 6th, 8th and 9th
Projected track conditions… Main: FAST; Turf: GOOD
Post Time for Race 1 is 1:10pm EDT
Race 1 is ON THE TURF
#3 – Kadie'shorseplay (7-2): Has performed her best for this $16k tag sprinting on turf; missed by three-quarters of a length v. N3L three back
#4 – Porte Cochere (12–1): Will need pace help as she comes off two, two turn grass outings at Del; always comes on the scene a bit late; fits definition of a "Closing Sprinter"
#8 – Storm Temple Pilot (5-2): Adds blinkers after being beaten Post Time favorite earning the dubious comment "hung"; vulnerable favorite because 5½f may actually be too far for her
Race 2
#7 – Rodon (8-1): Something went amiss back in May when he stopped on the Pim grass; away since but shows a quartet of evenly spaced A.M. drills which indicates all is well; J. Toledo has won at 26% clip the past year with trainer G. Capuano
#3 – Segovia (9-5): Tried to close ground on lone speed in latest but fought a losing battle; still hard to endorse on top with 2 for 25 record, 0 for 15 at Lrl and 0 for 9 at distance
#6 – Mischievous Dan (5-1): Torres back in the irons who guided this gelding to 5-length win v. $10kN2L; could inherit the early lead with chance to go gate-to-wire
Race 3is ON THE TURF
#7 – Top Hat City (3-1): Locally owned NY-bred took to the Big Apple in search of state bred bonus money, but found 6 furlongs on grass too far; returns home to earn diploma in sixth career outing
#6 – Alive (6-1): Second start with blinkers often renders dividends even though last start came in April; a pair of bullet works at Fai makes this colt a threat off the bench
#3 – Zephyr Train (12-1): Adds blinkers after showing early speed in second career start which came 8-months after debut; makes first start on grass and might be the one to catch
Race 4
#4 – Magic Cookie (5-1): *** BEST BET *** She knows just one way of running and that's fast out of the gate; latest looks bad but when she's challenged early she throws in the towel; don't see that happening versus these gals; if she's clear at the far turn, she'll get to the wire first based on how this track favored early speed yesterday  
#7 – Next Street (7-2): Three-year-old filly, winner of 4 career races again finds herself in against elders who have just 2 career victories on their resume'; jock switch may pump some early foot into her today
#2 – Da'Blues Dancer (8-1): An ugly 2 for 32 lifetime record but worse, 0 for 16 on a fast track; winners are typically found when a change occurs, here it's the jock; 1 of 2 wins have come at this distance
Race 5 is ON THE TURF
#2 – Holiday Prayer (6-1): Takes another class drop in search of maiden win in fifth career outing; if F. Boyce gives her the same ride as last start which was also from the rail, she should be able to lead every step of the way
#4 – Via Frattina (5-1): Found level where she can compete which is right here but only could manage two runner-up finishes in both starts for $16k tag as Post Time favorite
#11 – Dorothyfromdublin (5-2): The yellow caution flag should be out on this gal dropping from $40kMCL after being bridesmaid on the Lrl slop in event taken off the turf; on a positive note trainer H. Smith is 3 for 11 with positive ROI when dropping multiple classes
Race 6 is ON THE TURF
#1 – Sarah's Whisper (10-1): $$$ LONGSHOT $$$ Handicapping theme for today's card has been SPEED; in spite of "soft" turf the early speed hung around in deep stretch to salvage at least a minor share; this gal has done that when the track wasn't kind to early speed; A. Cortez will have her on the lead and IMHO she won't get caught today
#9 – Summer Frock (3-1): PP's show this gal was beaten favorite in this same condition twice in first two starts of '17; should be a threat if top pick cannot carry her speed
#4 – Southern Peach (5-1): Horrible start in first outing after trainer D. Capuano $7,500 claim yet turned in a big rally to nab SHOW purse, beaten less than 3-lengths by runner who returned yesterday to win VA-bred/sired stakes turf sprint
Race 7
#4 – Hill Shadow (3-1): Toughest race on the card where for horizontal wagers the ALL button would be wise; landed on this gelding based on cut back to sprint after being dogged much of the way going two turns
#5 – Martywiththeparty (6-1): Honest runner who usually gives a good account of himself in every start; been facing tough bunch of 3-year-olds but back in with elders today
#3 – Concordia's Way (5-2): IF he gets a clean break he can win but that's been a big "if" over his last four starts, bumped, bobbled and checked in latest; has top BRIS Prime Power# in here
Race 8 is ON THE TURF
#6 – Here's Johnny (7-2): Drops from open $15k claimer when earned SHOW purse on cut back to today's distance; this $7,500 tag is lowest offered in quite some time; trainer J. Ness looking for a win and/or to unload
#12 – Tequesta Storm (12-1): Worth a look at this price; missed by a neck two back versus similar and showed late foot going 5f on Pim turf for this open tag; draw a line through all main track starts
#9 – Peppermint Zip (7-2): Trainer L. Rice has lost the golden touch she had during the winter meet but there are plenty of trainers who would still take 3 winners from 18 starters; this one takes steep drop from $50kN3L when fifth; a bad stumble in $50k Starter Alw prior to that start compromised him two back; bottom feeders will rush in to take this son of City Zip off her hands
Race 9 is ON THE TURF
#4 – Grandiflora (6-1): Has taken on the best of the local turf runners (Ben's Cat, Phlash Phelps) and beat them on his best days; quick turn-around from one mile contest is similar to race sequence last Oct. where rough start and traffic compromised a winning effort
#5 – Elusive Joni (12-1): Plenty of early speed signed up for this event gives her a chance against the boys who she nearly beat, coming up a nose short here in same condition four races back
#2 – Rapid Dan (8-1): Tough rail assignment but handled it well in first start of '17 after rearing at the break, somehow rallied to be fourth just one-three-quarters behind winner when 12-1 
Race 10
#6 – Tradfest (6-1): Trust that trainer J. Robb $5k claim 34 days ago from L. Rice landed him a sound runner and was willing to wait out "jail" time to bring this colt back at a level he can succeed
#7 – Iredell (5-2): Hard to ignore trainer K. Magee runners first off claim (23%) and even more so dropping off claim (31%); jock G. Almodovar not taking just this one mount on card if he doesn't have a shot at winning
#2 – Parseghian (20-1): Nothing but a hunch pick here as legendary Notre Dame football coach Ara Parseghian passed on Aug. 2nd; coincidence or not, this 7-year-old gray may be worth adding to your exotics as he's hit the board at this level in the past 
YESTERDAY'S NEWS  
On Saturday August 5th at Laurel had 6 winners from the 11-race card (3 Top Selections; payoff in BOLD) having $2 WIN pay-offs of $8.20 (1st race), $3.80 (3rd), $2.10 (4th), $3.00 (6th), $29.80 (10th) and $14.00 (11th). Of the suggested multi-race wagers hit the R10-R11 $2 DOUBLE paid $280.20 (cost: $12). Top Selections in 2017 are 227 for 835 (27.19%). In 2016, Top Selections were 304 for 1,213 (25.02%).
BEST BET of the Day (89: 29-21-14; in 2016 127: 31-29-19) Bealestreet Dancer (7th race: 7-2 M/L; 5-2 PT) angled in early, had a mild move along the rail leaving the backstretch, then came up empty the final three furlongs to finish 6th.
LONGSHOT PLAY of the Day (79: 12-10-12; in 2016 124: 13-13-16) Chilly Magician (11th race: 10-1 M/L; 6-1 PT) to return $14.00 to WIN, $7.00 to PLACE and $3.80 to SHOW.