The GQ Approach – Laurel August 5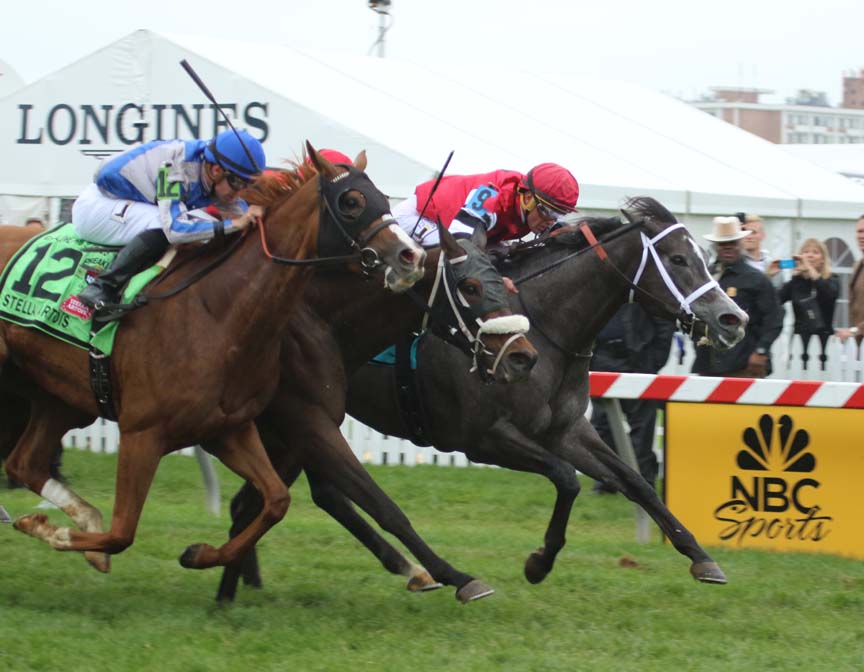 Mizz Money (#9) held off Vielsalm (in between) and Heath (#12) to win the Grade 3 Gallorette. Photo by Laurie Asseo.
The GQ Approach features full-card selections from Laurel Park for the live summer racing meet, Post Time 1:10pm EDT including a daily Best Bet, Longshot Play, and multi-race wagers — including the 20 cent Rainbow Pick-6, 50 cent Early and Late Pick-5s, as well as Pick-4s and rolling Doubles, Pick-3s and the Super High-5.

[su_box title="
Today's Carryovers
" style="glass" box_color="#66ADCC"]
Rainbow Pick 6: $10,985.80
Super High 5: no carryover
Late Pick 5: no carryover[/su_box]
[su_box title="GQ's Handicapping Tip of the Day" style="glass" box_color="#66ADCC"][stray-random][/su_box]
[su_box title="Best Bet of the Day" style="glass" box_color="#66ADCC"]Race 7 / #7 – Bealestreet Dancer (7-2)[/su_box]
[su_box title="Longshot Play of the Day" style="glass" box_color="#66ADCC"] Race 11 / #10 – Chilly Magician (10-1)[/su_box]
[su_box title="
Multi-race Wagers
" style="glass" box_color="#66ADCC"]
Race 1: $2 Double  1, 4, 7  w/ 2, 5  ($12)
Race 3: .50 cent Pick-3  1, 6, 8  w/ 1, 7  w/ 1, 3, 7  ($9)
Race 7:  .50 cent Pick-5   5, 7  w/ 4, 9  w/ 3, 4, 5  w/ 5, 6, 8 w/ 7, 10, 11 ($54)
Race 10: $2 Double  5, 6  w/ 7, 10, 11  ($12)
[/su_box]
[su_heading size="21″ align="left"]Analysis[/su_heading]
Weather: Partly Sunny; highs in the mid-80s
Scheduled turf races: 2nd, 4th, 5th, 7th, 8th, 10th and 11th
Projected track conditions… Main: FAST; Turf: FIRM
Post Time for Race 1 is 1:10pm EDT
Race 1
#1 – Miss Impazible (3-1): NY-bred FTS by Mission Impazible out of a Maria's Mon mare ships in from Prx for trainer John Servis who wins w/ 18% of his 2-year-old starters and won yesterday's feature w/ A. Cintron aboard
#7 – Ticticboomdynamite (5-1): Troubled trip in debut on turf, came back to show some late interest sprinting on dirt; daughter of Tizway should relish stretch out to one mile
#4 – Miss Good Girl (4-1): Adds blinkers after very dull debut in spite of going off 2-1 second choice; trainer J. Robb wins with 25% of starters in second career race; positive jock switch too
Race 2 is ON THE TURF
#2/2x – Cross Roads/On the Wings Of (5-2): Strong M. Trombetta entry could run 1-2; "Roads" should be leading the way early and could wire this field while "Wings" closed a ton of ground in the stretch in debut sprinting and is bred for two turns
#5 – Black Prong (6-1): All but ignored in debut (18-1) made a nice late run v. $16kMCL; takes big step up into MSW but extra distance can help chances
#4 – Holiday Hopes (8-1): Latest (7th by 10) when Post Time favorite was a head-scratcher but trainer D. Barr is 2 for 3 with runners second start after switching barns; don't ignore 
Race 3
#6 – French Nouget (2-1): Del-based trainer L. Jones typically ships into MD to win but is 0 for 9 when dropping multiple levels; running style this one has shown in first three outings indicates she wants more distance and gets it today
#8 – Sheet Lightning (4-1): Ironically her best two races have come in her only two starts on a fast main track; lone runner-up finish was at this level just a neck behind a next out winner
#1 – Important (8-5): This maiden Cash Cow has been the bridesmaid in 5 of 12 career efforts and trainer M. Eppler seems short on patience dropping her back to level where she claimed her three back; BRIS# jumped 18 points in latest effort just 14 days ago, could bounce
Race 4 is Hansel Stakes ON THE TURF
#1 – Special Envoy (2-5): Third race after layoff and latest was similar VA-bred/sired stakes here nosing out Rose Brier who no longer races; should be a handsomely paid workout as he's the poster boy for "Standout" today
#7 – Titan Alexander (6-1): Winning open $10k claimers at Mnr isn't exactly what minor stakes winners use as stepping stones but with 4 wins from 8 turf tries, she could be the best of the rest
#6 – Speed Gracer (9-2): Finished third, 5+ lengths behind top pick in latest; additional 1/16th might help close the gap but unlikely to get to wire first
Race 5 is Camptown Stakes ON THE TURF
#7 – Ring Knocker (4-1): Though bred to go long this5-year-old mare has earned a living sprinting on dirt but got SHOW purse in similar VA-bred/sired stakes, coming up a length behind #3 and just ahead back of #1; gets a more favorable pace scenario but needs to hope turf is playing fair    
#3 – Do What I Say (7-2): Longshot winner of similar stakes in June in spite of traffic trouble; earned a huge number over previous start so ya have to wonder if she'll bounce here
#1 – Sister Says (8-1): Speaking of "bounce", seems as if that's what this gal did against lesser one race after a huge move to be runner-up to #3; may have been comprised by rail assignment but has same obstacle today
Race 6
#3 – V.I.P. Code (8-5): Ran a winning race in debut as he was much the second best behind a potential star (Barry Lee); all he needs to do is duplicate that effort and it will be graduation day
#8– Clouded Judgment (6-1): KY-bred FTS by Awesome Patriot out of an Indian Charlie mare shows just 3 workouts, each spaced 20 days apart, not ideal for being ready at first asking but have seen similar from trainer L. Gaudet who has won with 4 of 13 FTS
#4 – Owen's Mo (12-1): Only other runner besides #3 to have raced; showed brief speed in debut while 5-wide down back stretch, jostled at 3/8 pole and retreated; gets V. Carrasco in irons today who is 4 for 10 with trainer A. Farrior the past year
Race 7 is ON THE TURF
#7 – Bealestreet Dancer (7-2): *** BEST BET *** Was uncoupled entry w/ gate-2-wire winner (Bombs Away) for trainer "Shug" McGaughey in latest as this one ran against a speed bias turf, was not encouraged in the lane until late to get SHOW purse by default and never felt the whip; adds Blinkers
#5 – Dothat Dance (9-2): Runner-up in latest, finishing a neck ahead of top pick when rallying 4-wide at the quarter pole; does well in MD as he won state-bred/sired AlwN1x on Pim lawn and ITM all 3 Lrl turf tries (3:0-2-1) at today's condition
#10 – How's Your Sugar (8-1): Owns top turf BRIS# (91) of this assembled group which was earned last Oct.; needs an honest pace to have a chance to unleash closing kick; exits victory in state-bred/sired AlwN2x
Race 8 is Meadow Stables Stakes ON THE TURF
#9 – Tiz Our Time (3-1): Cross-entered in race 5 but connections see this event as a more likely route to get to Winners' Circle even though it's against the boys; should be lone speed has no other foes is a "need the lead" type
#4 – Homespun Hero (9-5): Certainly appears to be the best of this crew IF race was run on dirt but it's on turf, a surface this colt has tried just once, in second career start and failed miserably (11th by 10½-lengths) as a maiden; makes first start after $40k claim for outfit who may have had these VA stakes in mind?
#8 – Lawyer Dave (12-1): Winless in eight starts on turf but has four runner-up finishes, the latest coming two back in similar stakes behind top pick; it was his first turf outing in over a year
Race 9
#4 – Deep Red (6-1): Smart $25k claim by trainer D. Dilodovico out of maiden breaking second start as this filly had all sorts of trouble in debut and still managed to be fourth on her own will; 2-year-old are hard gauge as they can greatly mature from one start to the next
#3 – Dance Or Stroll (4-1): Ran into a buzz-saw (Contrarity) at Del after her debut win over a sloppy Pim surface; she's the only one in here to have faced winners
#5 – Little Stormin (15-1): Third time was a charm as this KY-bred daughter of Flat Out was all out in game maiden breaker here v. $25kMCL when equipped with blinkers; will need to take another step forward
Race 10 is William M. Backer Stakes ON THE TURF
#6 – Amoire (9-5): Looks to turn the tables on 7-5 ML favorite Queen Caroline (#4) and the extra 1/16th certainly will help; makes third start after layoff and working lights out at Fai since her runner-up effort to the "Queen"
#5 – Sweet Sandy (15-1): Late mover against this crew two back finishing a non-threatening sixth; came back since to be runner-up in 12-furlong AlwN1x on Del turf; just a bit more improvement today could find him in the top 3
#8 – Complete St. (8-1): Grabbed SHOW purse behind #4 and #6 in June's VA-bred/sired states going one mile; needs to find a way to Winners' Circle which has eluded her for the past 11 starts 
Race 11 is ON THR TURF
#10 – Chilly Magician (10-1): $$$ LONGSHOT $$$ Cut back to sprint for first time in latest but couldn't beat turf speed bias that weekend; jock/trainer are 4 for 6 at meet and foes will provide plenty of early speed to ensure opportunity to catch leg-weary leaders late
#11 – King of the Jungle (10-1): Trainer M. Eppler has yet to figure out this son of Gio Ponti who she claimed out of $16kMCL win; has natural speed going long so maybe cut back to sprint will find him doing his best running in deep stretch
#7 – Dr. Koy (3-1): Second of two entries on the card for trainer L. Rice (27%) whose runners aren't finding the Winners' Circle as often as they did during winter meet (55% v. 20% now) but this NY-bred should give a good account of himself on drop from $40kN2L at Bel
YESTERDAY'S NEWS  
On Friday August 4th at Laurel had 6 winners from the 11-race card (2 Top Selections; payoff in BOLD) having $2 WIN pay-offs of $10.00 (1st race), $7.80 (2nd), $3.40 (3rd), $8.60 (8th), $6.80 (9th) and $24.40 (11th). Top Selections in 2017 are 224 for 824 (27.18%). In 2016, Top Selections were 304 for 1,213 (25.02%).
BEST BET of the Day (88: 29-21-14; in 2016 127: 31-29-19) Star Too (6th race: 8-5 M/L; 3-5 PT) steadied off the heels of the winner leaving the half mile marker, angled out mid turn then swung six wide for the drive, closed steadily and gained the place in the final jumps behind a $124.00 winner to return $2.60 to PLACE and $2.20 to SHOW.
LONGSHOT PLAY of the Day (78: 11-9-13; in 2016 124: 13-13-16) Fly and Flutter (5th race taken off the turf: 10-1 M/L; 7-2 PT) stayed with this one as field got decimated by scratches reducing the field to five when taken off the turf as did the odds, raced three deep around the turn, failed to menace eventual winner and passed a tired foe in the stretch to return $4.00 to PLACE and $3.20 to SHOW.