The GQ Approach – Laurel August 4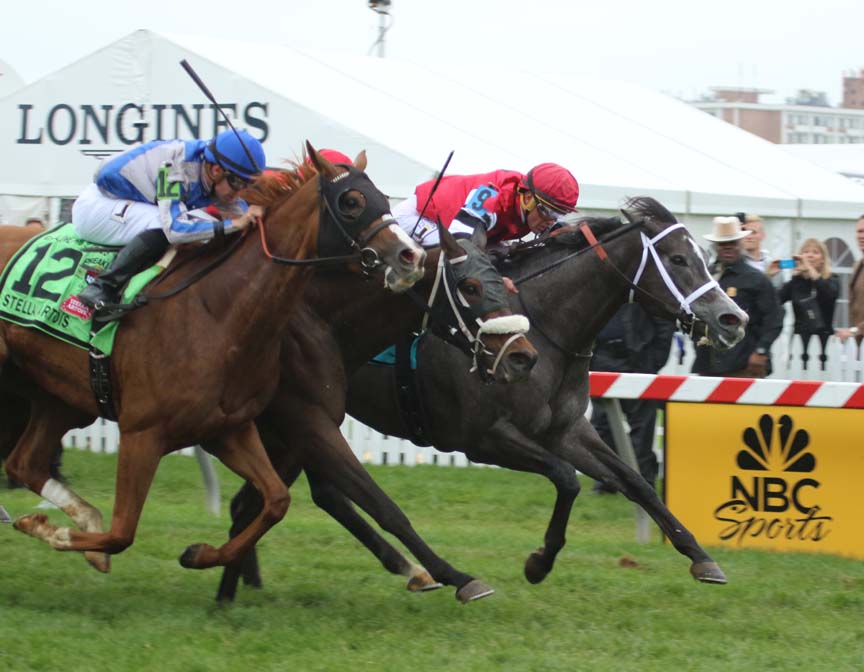 Mizz Money (#9) held off Vielsalm (in between) and Heath (#12) to win the Grade 3 Gallorette. Photo by Laurie Asseo.
The GQ Approach features full-card selections from Laurel Park for the live summer racing meet, Post Time 1:10pm EDT including a daily Best Bet, Longshot Play, and multi-race wagers — including the 20 cent Rainbow Pick-6, 50 cent Early and Late Pick-5s, as well as Pick-4s and rolling Doubles, Pick-3s and the Super High-5.

[su_box title="
Today's Carryovers
" style="glass" box_color="#66ADCC"]
Rainbow Pick 6: $9,465.96
Super High 5: no carryover
Late Pick 5: no carryover[/su_box]
[su_box title="GQ's Handicapping Tip of the Day" style="glass" box_color="#66ADCC"][stray-random][/su_box]
[su_box title="Best Bet of the Day" style="glass" box_color="#66ADCC"]Race 6 / #6 – Star Too (8-5)[/su_box]
[su_box title="Longshot Play of the Day" style="glass" box_color="#66ADCC"] Race 5 / #9 – Fly and Flutter (10-1)[/su_box]
[su_box title="
Multi-race Wagers
" style="glass" box_color="#66ADCC"]
None due to selections based for ON THE TURF but taken OFF late (10:18am EDT) 
[/su_box]
[su_heading size="21″ align="left"]Analysis[/su_heading]
Weather: Partly Sunny w/ chance of thunderstorms; highs in the mid-80s
Scheduled turf races: 1st, 3rd, 5th, 7th, 8th, 10th and 11th
Projected track conditions… Main: FAST; Turf: OFF
Post Time for 1st race is 1:10pm EDT
DISCLAIMER: ALL TURF RACES ARE OFF – SELECTIONS WERE BASED FOR ON TURF
Race 1 is OFF THE TURF
#5 – Brindabella (3-1): Gets A. Cintron back in the irons who was aboard for maiden win two back in first start after claim for trainer K. Magee; runner-up behind big class dropper in latest makes her prime to get the best of these gals
#1 – Twelve Tricks (7-2): Nice late run to earn diploma from Post #1 over what was a speed favoring Lrl turf course that day; adding blinkers may have been the difference maker
#6 – Faith 'n Works (10-1): Has best last turf race middle-late pace numbers of this group; need toss one mile dirt outing as she run similarly in last race prior to owner switching trainers; we'll know how turf is playing based on results on this lid-lifter as she's 1 of 3 "need the lead" type
Race 2
#3 – Slick Man (2-1): Takes 3rd consecutive class drop after a troubled trip when making first start in 7-months; for a runner who made career debut in MD Million Nursery, then talent is there but connections have no use for low-level claimers; trying to cut bait and surely someone will get this gelding via shake
#1 – Slim (3-1): Adds Lasix for sixth career start after rallying for third as runner-up returned to break maiden and winner came back to be runner-up first time versus and winners in $5kN2L
#5 – My High Roller (5-2): Big money isn't always smart money as this 0 for 13, 5-year-old gelding was a $650k yearling purchase; C. Lynch is his third trainer and seems to have found the level where he might be able to graduate; runner-up in latest when dropped from $25kMCL to $10kMCL
Race 3 is OFF THE TURF
#3 – Big Joe Candy (5-1): Pen shipper is lone entry on card for trainer T. Kreiser (29%); makes third start after layoff and brings along jock W. Otero for the ride; though Pen BRIS#s seem a bit higher than other tracks IMHO, this one got SHOW purse here last Oct. v. $35kb Claimers
#10 – Soup d'Coupe (7-2): age in this contest is 7½ years old so this 9-year-old is ago peers and has improved BRIS#s since trainer K. Magee ($11k) claim three back; hasn't visited Winners' Circle in past 14 outings but always right there
#5 – Top Prospect (3-1): No excuses in latest other than a bit over his head even though PLACEd at that level four back; drops back one slot to where he won two races back
Race 4
#5 – Southern Touch (5-2): When none of them appear to be able to win, need to go with the percentages… Prx-based trainer M. Zuelueta (25%) gets 21% to Winners' Circle in first start for barn and 27% coming off short layoff; a good race to get a dog & a beer and just watch it
#1 – Mazzy Star (5-1): Best races have come at this one mile distance (6:1-1-1) and showed some of her old self rallying to be runner-up going 7 furlongs in first start after a brief vacation
#3 – Reward the Gypsy (8-1): Unable to improve turf form in two tries after trainer J. Cruz claim returns to dirt and tag for which he was claimed three back; lone win came at this distance and with J.D. in the irons this gal might flash early speed trying to steal it
Race 5 is OFF THE TURF
#9 – Fly and Flutter (10-1): $$$ LONGSHOT $$$ Game in latest but squeezed late losing a few positions while just over 2-lengths behind winner; makes third start for trainer D. Capuano after a brief layoff and can upset this group with a clean trip
#1 – Linda Nin (10-1): Top turf rider H. Karamanos picks up mount for trainer G. Capuano as this duo is 5 for 10 in the past year; this Closer was up against a speed friendly turf course in latest yet made up 5-lengths in the stretch; if grass is playing fair it could result in a Capuano Exacta
#3 – Royal Brown (5-1): Fresh off maiden breaker this daughter of Big Brown won't get an easy lead today but may still be the quickest from the gate and turf BRIS#s are good enough to repeat
Race 6
#6 – Star Too (8-5): *** BEST BET *** Unless either of the FTS (#2 or #3) show any ability, it's hard to imagine this filly not earning her diploma here; second best in latest behind a speedy filly who came back to win easily v. winners
#2 – Prerogative (8-1): MD-bred FTS by Rock Slide out of an One Way Love mare who didn't win until her thirteenth try… so why pick her? There's something to be said for jock-trainer combo who is 2 for 2 with a $34.40 ROI
#4 – Giving (5-1): After three career starts, all on turf going long, trainer R. Jenkins switches her to dirt and cuts back to sprint while dropping her down to the lowest tag in MD; pedigree is there
Race 7 is OFF THE TURF
#2 – Real Power (8-1): 8-year-old Pen shipper has back class on the grass so don't get fooled by the $4kn1y dirt races; owns best turf BRIS# of this bunch; showed nice late run in latest which was first turf start in quite a while; regular rider makes the trip to ride
#9 – Storm Net (7-2): Drops back from AlwN1x where he was outclassed but needed to get in a race and yet earned best last turf race speed figure of this bunch; reunited w/ Toledo who won with him two back
#7 – Therestishistory (15-1): Wide trip throughout in latest which was second race after 11-month layoff and stretching out to preferred distance; has been successful at this open claiming level in the past; wouldn't be shocked to see him in Winners' Circle
Race 8 is OFF THE TURF
#14 – Hurricane Harold (6-1): Connections were asking a lot in latest stretching out from turf debut sprinting to 9 furlongs; left himself w/ too much to do late; second time going long usually results in a move forward
#4 – Earned It (4-1): MTO entry was second best in similar off the turf event behind strong looking winner who was a competitive third in next outing v. $16kN2L
# 7 – Chocomount (4-1): Failed as Post Time favorite sprinting when first time in for ($40k) tag and couldn't stand the heat on the front end just 13 days ago; drops to $16kMCL back to two turns and should have an easier time on the front end
Race 9
#7 – Honey Bun (6-1): Connections take advantage of Waiver Claiming rule to protect this 3-year-old filly making fourth career start but first in just over 6-months; showed willingness in 3 previous sprints so maybe time off has helped her mature; bullet work in latest of 3 A.M. drills
#8 – She Be Fierce (9-2): Got the best of top pick when she was runner-up in her debut, getting an education needing to negotiate through rivals; no Lasix then and none today
#2 – Leola Lily (5-2): Made debut at CT going 4½f hesitating a bit at the start then rushed up to get lead, got clear on the turn but bore out to the 9-path handing rival the win; like the pair of 5f works to simply learn to handle turn; gets good gate rider in J.D. Acosta
Race 10 is OFF THE TURF
#6 – English Minister (5-1): Always brings "A Game" but just 3 for 35 lifetime and 0 for 13 at distance; couldn't fend off "Phlash" in '17 debut for both sprinting; has gotten the better of that one going long as they will today; too much talent to continue to keep coming up short; working well and new rider could make the difference
#11 – Phlash Phelps (2-1): Local turf star (8:4-1-1) made winning '17 debut just getting up late sprinting which is not his game but couldn't resist state bred stakes; much more comfortable going two turns but faces tough group here
#8 – Ghost Bay (15-1): Sky is the limit IMHO for this 5-year-old gelding who has taken his time stepping through each condition; the water gets deeper but there's enough early speed to help make his presence known late 
Race 11 is OFF THE TURF
#4 – Dats Dares Gold (9-2): Surprising runner-up when 12-1 in turf debut, career start #4 but sire Bustin Stones has thrown some runners who took to the turf; the fact H. Karamanos takes the mount over Eppler's FTS speaks volumes 
#3 – Crags (5-1): Was up against a speed favoring turf course in latest when she "flattened out" in deep stretch; third start since being claimed and must improve as A. Cintron stays aboard trying to get her diploma
#5 – Rill in the Hills (8-1): Best move was to turf after four uninspiring dirt starts; was runner-up by a head then got SHOW purse with strong rally in the stretch, both at this level; F. Boyce becomes seventh different jock in as many career starts
YESTERDAY'S NEWS  
On Sunday July 30th at Laurel had 8 winners from the 10-race card (3 Top Selections; payoff in BOLD) having $2 WIN pay-offs of $10.00 (1st race), $12.60 (2nd), $7.20 (4th), $3.60 (5th), $6.40 (7th), $7.80 (8th), $3.80 (9th) and $5.00 (10th). Of the suggested multi-race wagers hit the R9-R10 $2 DOUBLE paid $12.20 (cost: $12). Top Selections in 2017 are 222 for 813 (27.31%). In 2016, Top Selections were 304 for 1,213 (25.02%).
BEST BET of the Day (87: 29-20-14; in 2016 127: 31-29-19) Turbo Booster (6th race: 5-2 M/L; 9-5 PT) between foes early, chased three wide around the turn and into the lane, continued willingly and was clearly second best to return $3.20 to PLACE and $2.80 to SHOW.
LONGSHOT PLAY of the Day (77: 11-9-12; in 2016 124: 13-13-16) Lil Love Machine (1st race: 8-1 M/L; 4-1 PT) disputed the pace racing in the two path then drew out the final furlong while under pressure to prevail by one-and one-quarter-lengths to return $10.00 to WIN, $5.20 to PLACE and $2.80 to SHOW.