The GQ Approach – Laurel July 30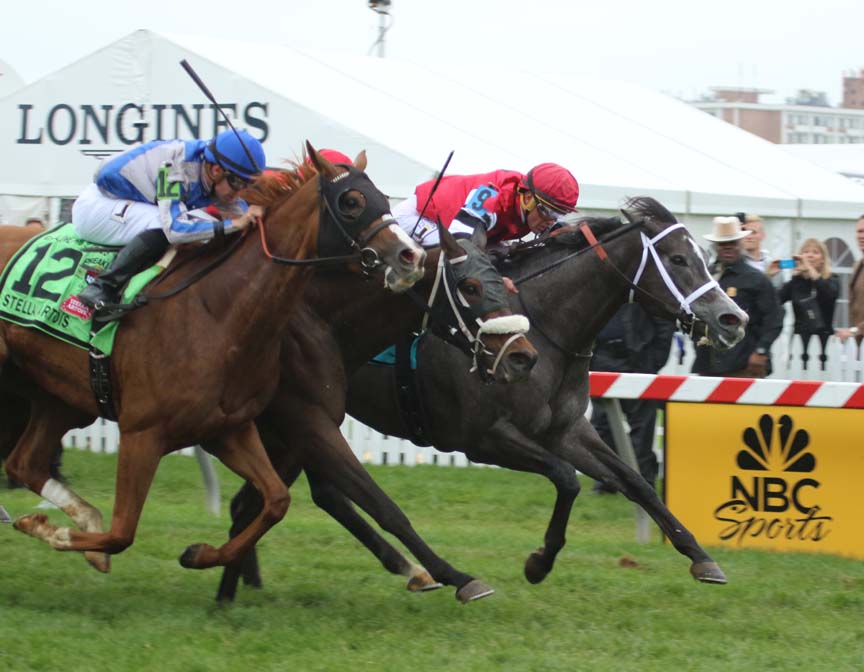 Mizz Money (#9) held off Vielsalm (in between) and Heath (#12) to win the Grade 3 Gallorette. Photo by Laurie Asseo.
The GQ Approach features full-card selections from Laurel Park for the live summer racing meet, Post Time 1:10pm EDT including a daily Best Bet, Longshot Play, and multi-race wagers — including the 20 cent Rainbow Pick-6, 50 cent Early and Late Pick-5s, as well as Pick-4s and rolling Doubles, Pick-3s and the Super High-5.

[su_box title="
Today's Carryovers
" style="glass" box_color="#66ADCC"]
Rainbow Pick 6: $8,258.45
Super High 5: $1,008.95
Late Pick 5: no carryover[/su_box]
[su_box title="GQ's Handicapping Tip of the Day" style="glass" box_color="#66ADCC"][stray-random][/su_box]
[su_box title="Best Bet of the Day" style="glass" box_color="#66ADCC"]Race 6 / #7 – Turbo Booster (5-2)[/su_box]
[su_box title="Longshot Play of the Day" style="glass" box_color="#66ADCC"] Race 1 / #5 – Lil Love Machine (8-1)[/su_box]
[su_box title="
Multi-race Wagers
" style="glass" box_color="#66ADCC"]
Race 2: $2 DOUBLE   1, 4, 5  w/ 3 ($6)
Race 3: $0.50 cent Pick-3  2, 8, 10  w/ 2, 4, 7  w/ 1, 5, 6  ($13.50)
Race 6: $0.50 Pick-5   7  w/ 3, 5, 8  w/ 4, 6, 8  w/ 3, 5, 9  w/ 9, 10  ($27)
Race 9: $2 DOUBLE   3, 5, 9  w/ 9, 10 ($12)
[/su_box]
[su_heading size="21″ align="left"]Analysis[/su_heading]
Weather: Mostly Sunny; highs in the upper-70s
Scheduled turf races: 1st, 3rd, 5th, 7th, 9th and 10th
Projected track conditions… Main: FAST; Turf: GOOD as races 3 and 7 ON; others OFF
Post Time for 1st race is 1:10pm EDT
Race 1 is OFF THE TURF
#4 – Lil Love Machine (8-1): $$$ LONGSHOT $$$ Cruised to maiden score at Pen in fourth career start but early fractions were on the slow side so not sure if he beat much; K. Davis back in irons for trainer H. McMahon, duo has won at 29% clip the past year
#1 – Cherokee Spirit (12-1): Catches a break with sprint races coming off the turf; carried out in first start of '17 v. much better yet was still game finishing less than 4 behind winner; trainer G. Rosenthal had 2 winners on Friday's card
#3 – Love You Much (3-1): Interesting that other half (#2) of Allen's uncoupled entry scratches when this one who does best work on turf was the likely scratch; plan should be to get out early and hope to hold off others
Race 2
#3 – Sharon Gunther (8-5): Speedy Pen-shipper for trainer T. Kreiser (29% and 1 for 2 at Lrl) brings along regular rider D. Whitney (42% past year w/ trainer) trying for natural Hat Trick
#4 – Lemon Lover (4-1): Will need help from an unlikely source to press top pick early, if not everyone will be running for the PLACE purse; confident move in first start for trainer J. Maldonado (21%) ass horse is out of "jail"
#5 – Hug a Tree (9-2): Been earning a living over the past year exclusively on turf but dirt in not his weakness (26: 5-4-2); trust that she's in here not just to fill the race  
Race 3 is ON THE TURF
#10 – Censure (5-1): Bred to do best work going two turns and finally gets to go that route in fifth career start; showed late interest in both turf sprints; most recent one saw top two finishers come back to win next outing
#2 – Larrikin (5-1): West coast export lands in the barn of C. Gonzalez (35: 12-9-8 at meet) and first work resulted in first ever bullet work; add V. Carrasco (33% w/ trainer at meet) and you have a "must use" runner; first start since being gelded which wasn't reported in PP's
#8 – Maryland Pride (3-1): Only a fool would leave a Sagamore Farm runner off his/her ticket these days as saying the barn is hot (10:4-2-2 at meet) would an understatement; they've won multiple races at Sar as well; the bad news is their 0 for 8 w/ runners first time on turf
Race 4
#2 – Joyful Noise (6-1): Should find these six foes much easier to compete against than the AlwN1x she faced in her past three races; thinking her first two turn start last time where she showed early speed then faded was used as a freshener
#4 – Fergie Lady (4-1): No way should we entertain that winning a $10kMCL on a 20+ point BRIS# "hop" makes her a threat first time v. winners in an OC$2kN2L but when trainer is on a hot streak you should ride along
#7 – Truly Hot (5-1): Model of consistency as far as BRIS#s go when sprinting, especially on natural dirt which he hasn't run on last three starts; duo of M. Trombetta/A. Cintron is 3 for 4 at meet
Race 5 is OFF THE TURF
#5 – Charm City (3-1): Has strongest turf speed figs of this bunch, too bad race was taken off the turf; exits a pair of Alw7500s where she uncharacteristically showed early speed; was carried out in latest when F. Lynch wasn't in irons but returns today; 0 for 14 on dirt but still nice figs      
#1/1A – Crystal Pier/No More Excuses (2-1): "Crystal" is the reason this duo is 2-1 ML making first start after $7,500 Claimer by K. Magee off L. Rice, which typically isn't a positive move as she was dropped after beating N3L but still won; if "Excuses" runs it's to be a rabbit, period
#6 – Paper Dollie (15-1): Though chances were better on turf than off despite lofty ML, her two OTB starts on dirt, first two of her career were not horrible v. MSW
Race 6
#7 – Turbo Booster (5-2): *** BEST BET *** In spite of just breaking maiden at Lrl bottom level ($10kMCL) by a nose, that foe romped on Friday; both of his fast track starts BRIS#s tops among his six rivals
#9 – Davy's Fancy (6-1): Connections place runners where they can be successful, just wonder if anyone will take the bait and claim this MD-bred for a nickel; first time on dirt after two career starts, both sprinting on turf
#8 – The Iron Bank (6-1): Try to ignore that 0 for 11 fast track record and see that cutting back from 7 furlongs should make a world of difference; gets good ol' gate rider J.D. Acosta
Race 7 is ON THE TURF
#3 – Wild Dynaformer (3-1): Only two-time winner in this N2L due to one coming in a steeplechase event; got flat track maiden score on dirt in last outing looking strong splitting foes
#5 – Don't Poke the Cat (3-1): Game runner ran into traffic issues in latest v. better; bit of a negative that E. Prado bails without another mount in here but willing to roll the dice w/ X-Man
#8 – He's One Wild Dude (2-1): Will only be a matter of time before this dude gets back to the Winners' Circle as he and S. Russell have hit the board in all 3 starts as a team; might show early speed on cut back to one mile as this field lacks it
Race 8
#6 – Jehozacat (3-1): KY-bred daughter of Tapit out of a Catienus mare gets Lasix for debut which is usually a no-no for Lael Stables, so one must believe she requires it; love the 5f bullet to complete prep work
#4 – In Jail (6-1): KY-bred FTS by hot sire Into Mischief out of a Put It Back mare fetched $175k at Kee Sept. '16 sale; extended work pattern progressed to 5f then a smart gate work 5-days ago
#8 – Chauncey (10-1): Took plenty of action in debut when off as 9-5 favorite but broke slow going 5 furlongs and never had a chance; the education of that race should serve its purpose and if she's talented will be better w/ J. Toledo in the irons
Race 9 is OFF THE TURF
#5 – Hissy Fit (5-1): Reunites with J. Toledo as they just missed on open $15k on turf two back; his dirt form is better so with some early speed from the gate he could steal it
#9 – Bayshore Drive (10-1): Seems as if the drop to the $16k level fit her like a glove as she notched consecutive victories v. N2L and N3L; takes big step into allowance company and race being taken off the turf may be a blessing in disguise
#3 – Discreet Deceit (8-1): That ill-advised start in the G3 Miss Preakness three races back is almost erased from her mind as she showed a bit of her old self in latest in the mud against a tough field of 3 y.o. and up2q
Race 10 is OFF THE TURF
#9 – Awesome Type (5-2): MTO is a speedy sort who has been in the money last three starts, all as Post Time favorite at Del and a level lower; should know by now how main track is playing   
#10 – Saint Ignatius (10-1): Sabboth Day hunch play going for natural Hat Trick after maiden win at Pen in ninth start followed up by a 5-length win here v. $10kN2L; first start after trainer A. Farrior claim (25% in this scenario); will need pace help from others to make impact late           
#8 – Sunrise Sunset (7-2): Tough call leaving out other MTO runner for Stidham (#12) but it's time for trainer T. Keefe to get to Winners' Circle (0 for 30 at meet) and suddenly hot riding S. Russell will be the one to do it
YESTERDAY'S NEWS  
On Saturday July 29th at Laurel had 6 winners from the 10-race card (4 Top Selections; payoff in BOLD) having $2 WIN pay-offs of $2.40 (1st race), $3.20 (2nd), $18.60 (3rd), $10.00 (6th), $7.60 (7th) and $2.10 (8th). Of the suggested multi-race wagers hit the R1-R2 $5 DOUBLE paid $11.50 (cost: $5). Top Selections in 2017 are 219 for 803 (27.27%). In 2016, Top Selections were 304 for 1,213 (25.02%).
BEST BET of the Day (86: 29-19-14; in 2016 127: 31-29-19) Ask Me I Might (4th race: 6-1 M/L; 8-1 PT) moved clear and set the pace off the rail, was joined from her inside mid turn, battled into the lane, ceded command to the winner past the quarter pole, stayed willingly to a sixteenth out then faded to finish 4th.
LONGSHOT PLAY of the Day (76: 10-9-12; in 2016 124: 13-13-16) Hot N Spicy Love (6th race: 10-1 M/L; 7-1 PT) grabbed a short lead early and secured the rail, dueled, ceded command a quarter mile out then gave way grudgingly in the final furlong to finish 4th.