The GQ Approach – Laurel July 29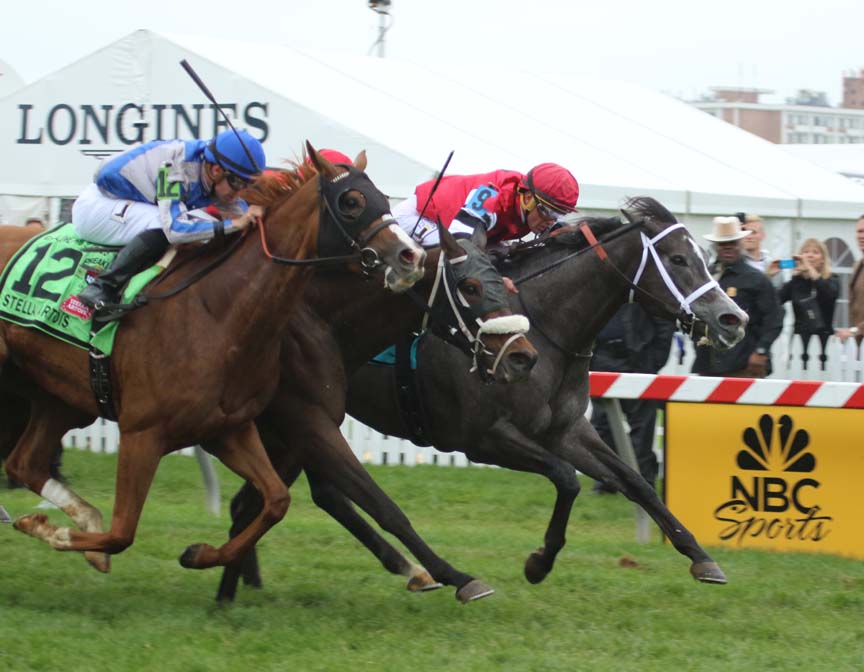 Mizz Money (#9) held off Vielsalm (in between) and Heath (#12) to win the Grade 3 Gallorette. Photo by Laurie Asseo.
The GQ Approach features full-card selections from Laurel Park for the live summer racing meet, Post Time 1:10pm EDT including a daily Best Bet, Longshot Play, and multi-race wagers — including the 20 cent Rainbow Pick-6, 50 cent Early and Late Pick-5s, as well as Pick-4s and rolling Doubles, Pick-3s and the Super High-5.

[su_box title="
Today's Carryovers
" style="glass" box_color="#66ADCC"]
Rainbow Pick 6: $7,111.45
Super High 5: $2,369.63
Late Pick 5: no carryover[/su_box]
[su_box title="GQ's Handicapping Tip of the Day" style="glass" box_color="#66ADCC"][stray-random][/su_box]
[su_box title="Best Bet of the Day" style="glass" box_color="#66ADCC"]Race 4 / #2 – Ask Me I Might (6-1)[/su_box]
[su_box title="Longshot Play of the Day" style="glass" box_color="#66ADCC"] Race 6 / #9 – Hot N Spicy Love (10-1)[/su_box]
[su_box title="
Multi-race Wagers
" style="glass" box_color="#66ADCC"]
Race 2: $5 DOUBLE   3  w/ 1 ($5)
Race 3: $0.50 cent Pick-3  2, 3, 6  w/ 2, 5, 7  w/ 3, 5, 7  ($13.50)
Race 6: $0.50 Pick-5   4, 9, 10  w/ 3, 5  w/ 2, 3  w/ 3, 7, 9  w/ 1, 5  ($36)
Race 9: $2 DOUBLE   3, 7, 9  w/ 1, 5 ($12)
[/su_box]
[su_heading size="21″ align="left"]Analysis[/su_heading]
Weather: Mostly Cloudy w/ thunderstorms; highs in the upper-70s
Scheduled turf races: 3rd and 8th
Projected track conditions… Main: MUDDY to SLOPPY; Turf: OFF
Post Time for 1st race is 1:10pm EDT
Race 1
#3 – Wazzala (1-2): The Lightbulb Theory (i.e. finally breaks maiden) is in affect here as she graduated in tenth try having been ITM 7 of 9 previous starts; then again, let's call a spade a spade… this is a weak group of $5kN2L
#5 – Sweet Georgia N (10-1): At least she showed early speed in latest albeit on the turf in a $16kN2L contest; broke maiden going 4½ furlongs at CT and will likely be best of the rest
#8 – Capture the Sun (15-1): Blinkers Off and has pedigree to take to an off track; been finishing 4th and 5th in these sprints at this level; jock change to K. Gomez could help hit the board
Race 2
#1 – The Hardest Way (8-5): In this short field of three-year-old maidens based on first two outings he'll be the speed of the speed; stopped over a sloppy GP surface in debut but after a 6-month layoff just missed on turf earning a 91 BRIS#
#5 – Cedartown (2-1): This $620k two-year-old in training Goldophin purchase last March was sent off even money at Del in debut but couldn't keep pace with eventual winner, Parade Blue who is one to watch in his next outing for Graham Motion
#2 – Notjudginjustsayin (9-2): Most experienced runner in here with three previous starts, the last two on turf but most recent was 5 months ago at GP; trainer A. Goldberg is 20% after such layoff
Race 3 is OFF THE TURF
#6 – Beautiful Nite Sky (7-2): First start after trainer K. Magee claim (24%) catches a break coming off the turf onto a sloppy surface as she's never been OTB (3:1-1-1) when the main track was off; seems like this is K. Magee's world and we're all just living in it
#3 – Heaven's Door (20-1): Lone win came on an off track and got SHOW purse in only other start surface was sloppy; need to take command early as he did in those contests
#2 – Cherished Prize (15-1): Beat top pick in maiden win in the slop at Pim when trainer M. Trombetta claimed her; no energy in two races since; adds blinkers and L. Luzzi (0 for 25 at meet) gets a shot to prove himself all over again 
Race 4
#2 – Ask Me I Might (6-1): *** BEST BET *** Destroyed five rivals at Del when making first start in nearly a year which was a maiden breaker at Dmr; wise move to protect her in this OC$16k event
#5 – Crookit (9-2): Trainer L. Albert must have done a rain dance as this filly's only two victories came on a sloppy track and was runner-up in her only other off track race; been ITM 6 of 7 starts going this one mile distance
#7 – Untaken (2-1): On paper she's the most likely winner coming off a fourth place effort in a minor stakes at Mth on turf but very wary of her ability to handle the off track; vulnerable favorite
Race 5
#7 – Singing Praises (9-2): Couldn't carry early speed 7 furlongs against the likes of other speedy foes in latest; SHOW runner has come back to win twice on steps up; should have easier time on front end on cut back to 6
#5 – Demon Buster (2-1): Prudent C. Gonzalez claim for $5k when he won easily in last outing; this gelding has tons of back class so it would not be a shock to see a similar win big hop up in class
#3 – Ice Tea (5-1): Appears to bring A-Game every race since leaving FL last Nov.; has taken to the Lrl fast main track (3:1-1-1) while earning PLACE money in only off track start; first start after claim from 6% trainer to 25% one
Race 6
#9 – Hot N Spicy Love (10-1): $$$ LONGSHOT $$$ As FTS here broke in air from rail post, rushed up but ran evenly thereafter; expect speed from the gate today from a more ideal outside post
#4 – Fenton's Four (5-2): Game in debut when runner-up just ahead of stablemate as they went off 3-5 Post Time favorite; that education will be huge in second start
#10 – Dynamic Asset (12-1): KY-bred FTS by Astrology out of a Red Ransom mare has steady work tab but concerned needed last 3 to be from the gate; still trainer L. Gaudet has positive ROI with two-year-olds, FTS and those who Debut in maiden claimers
Race 7
#3 – Clubman (2-1): Bit off a bit more than he could chew in both races against winners on turf after breaking maiden in seventh career start while PLACE and SHOW runners graduated next out; expecting S. Russell to give him a nice stalking trip behind the #6 and #7
#5 – Stand Guard (8-5): Hard to trust a 1 for 6 lifer at these odds especially when trainer is 1 for 22 in '17 even though it's T. Ritchey of Afleet Alex fame; 2 for 2 as runner-up on an off track
#7 – Brute Force (15-1): Has an outside chance IF #6 somehow does go with him early; first start for trainer M. Trombetta after $10k claim; out of "jail" but shows signs of confidence with multiple step up
Race 8 is OFF THE TURF
#2 – De Marquee (7-2): Makes first start in over 13-months for outfit (Sagamore) who have been white hot this year (34%) and even better locally (10:4-2-2); the fact all previous six starts have been on turf yet she wasn't scratched indicates she's sitting on a big effort
#3 – Expressly (9-5): MTO runner for Mth shipper trained by K. Breen must have checked out the Farmers Almanac for potential to come off the turf; 3-year-old is no lock here
#1 – Anissa (15-1): Finally broke maiden in fourteen start but first when dropped in for a $40k tag and equipped w/ blinkers even though she only had to beat 3 others; could surprise top two
Race 9
#9 – Lucky in Malibu (7-2): If the track is still off, it will be her first time on such a surface but breeding says she'll handle it as she gets a perfect set up with plenty of early speed in front of her; even though track might favor speed, yesterday in a similar setup winner came from off the pace
#3 – Miss Nosy (8-1): Still eligible for this N1x because when she won two back it was for state-bred/sired; without naming names a fellow horseplayer swears by certain "jockey off" angle and it fits here
#7 – No Picnic (8-1): This gray 3-year-old filly looked sharp in getting diploma after taking 8 months off to regroup; stretching out an additional furlong is the right move for this daughter of Include who should love the off track
Race 10
#5 – Atascaderan (7-2): No reason to believe he cannot duplicate that effort here in latest outing even though he was lone speed and dictated a moderate pace, he cuts back a furlong and IMHO only the #7 or #9 will possibly be at his throat early
#1 – Mongolian King (7-2): Rally to catch top pick in latest came up a head short when off as Post Time favorite but didn't get the cleanest of trips; gets sixth different jock in last six starts 
#4 – Dazzling Oak (3-1): Never a good sign dropping a level in first start after being claimed BUT there aren't too many open claimers for runners out of conditions and the purse alone will make the connections money even if someone wants to claim this 7-year-old in third consecutive race
YESTERDAY'S NEWS  
On Friday July 28th at sloppy Laurel where 6 races were taken off the turf had 7 winners from the 10-race card (3 Top Selections; payoff in BOLD) having $2 WIN pay-offs of $14.80 (1st race), $6.00 (2nd), $2.60 (4th), $7.80 (6th), $11.00 (8th), $3.20 (9th) and $4.40 (10th). Top Selections in 2017 are 215 for 793 (27.11%). In 2016, Top Selections were 304 for 1,213 (25.02%).
BEST BET of the Day (85: 29-19-14; in 2016 127: 31-29-19) Disqualified (1st race was taken of the turf: 3-1 M/L; 6-5 PT) disputed the pace two wide for a half mile, gave way leaving the turn and faltered to finish 5th.
LONGSHOT PLAY of the Day (75: 10-9-12; in 2016 124: 13-13-16) More Now Than Ever (5th race was taken of the turf: 10-1 M/L; 11-1 PT) three wide leaving the backstretch, dropped back on the turn, angled to the five path in upper stretch and continued to retreat through the stretch finished 5th.